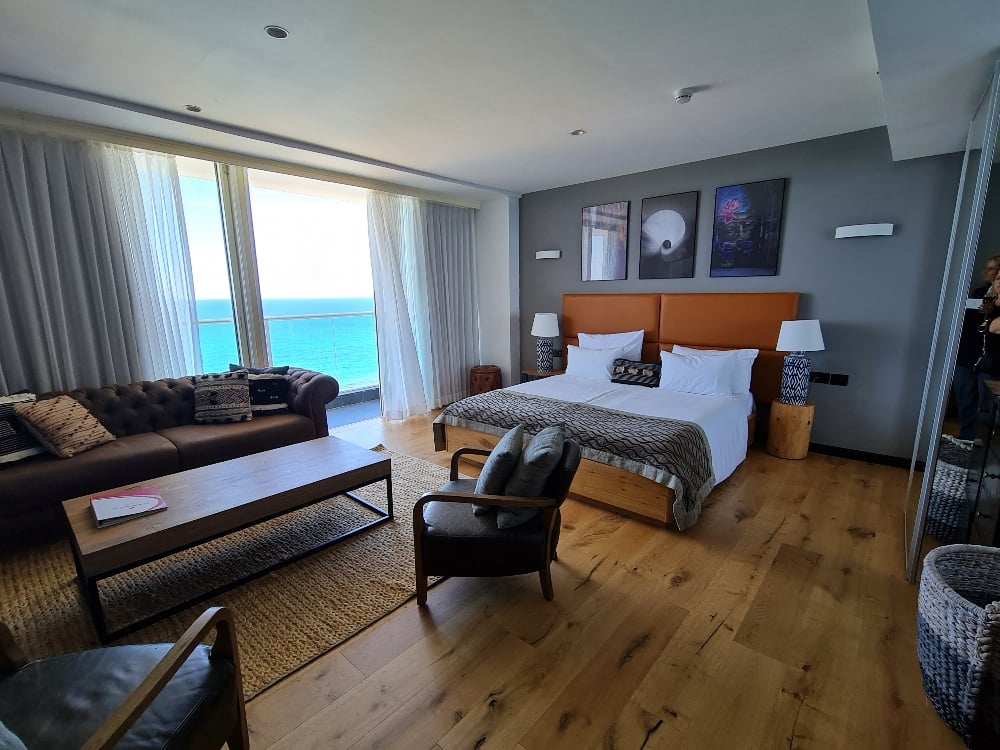 GREAT NEWS ISRAEL WELCOMES A NEW HOTEL CHAIN JACOB HOTELS
In the downtime when the country was quarantining during Covid-19, a new hotel chain appeared on
The Jacob Hotel Chain includes 5 unique hotels with a total of some 430 rooms covering more than 28,000 sq.m. (more than 300,000 square feet). Jacob Hotels are located in Jerusalem, Tel Aviv, Tiberias, Nahariya and Hadera. Each excels in its particularized character, and although differentiated from each other they nonetheless share certain traits, such as uncompromising standards, a warm, inviting aura, and top quality service. Each hotel is like a world of its own, each having a specific atmosphere which draws diverse types of guests. In this way, the chain offers a total experience to a wide range of people. Our focus on quality service, styling which pays attention to the finest of details, and the unique atmosphere of vacation felt in these hotels, delights and pampers our guests. Our hotel staff's courtesy assures guests that they will enjoy an unforgettable experience.
These hotels are privately owned by an Israeli businessman who decided to perpetuate and commemorate his late father's name by calling the hotel chain after him. The past few months have seen the hotels undergo wide scale upgrades and renovations to the tune of some NIS. 100 million! As the summer season opens, the Jacob Hotel Chain is ready to receive guests and provide outstanding service.
The Jacob Hotel Chain aims to set women in key and senior managerial roles. Some weeks ago the chain appointed Ms. Anat Shaul as CEO of the Ramada Hadera, and Ms. Tali Kadosh began her position as CEO of Sea Life Nahariya a week ago. Out of our 5 hotels, the CEOs of four are women. Overall, the chain's administration is 80% women.
The chain's employees are driven by their inherent love of people and their love of hosting. Jacob Hotels offer a warm and caring hosting experience that will make every guest feel wonderful.
Tali Pessach, representing the proprietors: "I'm excited to launch the Jacob Hotel Chain today. It's Israel's newest chain, numbering 5 hotels with a national spread earmarked for the Israeli public and its various preferences. Right now we're examining options for expanding the chain and look forward to Israelis filling our hotels, enjoying themselves, and appreciating quality that is true value for money."
The hotels:
Nahariya Sea Life Hotel
Sea Life Hotel is located on Israel's northern shore line. Every room overlooks the stunning Mediterranean sea, infusing the experience with the sense of being in a resort that presents the beachfront, open lawns facing the sea, an outdoor pool, and sun tanning and seating areas. The hotel's covered pool is open for use year round. Sea Life's spa is built around a unique concept with a natural salt room, the only one of its kind in Israel and imported specially from Romania. Salt rooms are known for their numerous health benefits. Sea Life Spa offers a range of body and facial treatments integrating minerals and salts which boost the health of your body and skin. Enjoy the Jacuzzi, the wet sauna and the dry sauna. With 64 rooms, choose from 40 overlooking the sea, or 24 stylized garden and terrace suites which give you a sense of privacy and comfort in a boutique structure. Conveniently located adjacent to tourist attractions and the recently renovated Nahariya pedestrian promenade, Nahariya Sea Life Hotel is also close to wonderful and highly popular treks and outings throughout the Galilee.
74 Haaliya Street, Nahariya. Details: *6367 | email | website
Hadera Ramada Resort Hotel
The Hadera Ramada Resort Hotel focuses on relaxation and leisure, spa options and luxury business solutions. It is located on one of Israel's most beautiful shorelines and is actually one of the few hotels in Israel that are almost on the beach. The hotel, fully renovated in the past few months at a cost of millions of shekels, bears the unique stylistic and elegant stamp of Emanuel Stern. Its touches of Mediterranean atmosphere are now ready to receive guests and provide you with a rich, well-appointed hosting experience as befits a premium hotel. Modern and accessorized, all 171 rooms face the sea with its stunning lagoon and picturesque vistas. The hotel's spa includes an outdoor pool, open in the summer and overlooking the sea, sun tanning lawns, the baths including the year round covered pool, Jacuzzi, Finnish sauna, wet sauna and gym. Near the hotel is the open air shopping area where you'll also find the first slide pool of its kind in Israel, an ice rink, children's games and amenities, and more. A few minutes' drive away you'll find the Alexander.
2 Rehavam Zevi Street, Hadera. Details: *6367 | email | website
Tel Aviv Shenkin Hotel
This boutique hotel is right in the throbbing heart of the world famous White City in one of the swankiest, hippest and mythological Tel Aviv neighborhoods. The hotel is literally surrounded by dozens of bars, restaurants and eateries of countless cuisines, and curiosity arousing boutiques and shops. The hotel's contemporary styling and superb chic integrate classic Israeli design with meticulous attention invested in every detail and object, all of which are carefully chosen to create a calm restful atmosphere which envelopes guests in a sense of endless tranquility. The patio, together with the hotel's delightful lobby café offering snacks on the house, makes these spaces inviting and relaxing. The hotel's 30 rooms present stylization with close attention to the finest details. Tel Aviv Shenkin also offers two spa areas for guests wanting relaxing treatments. Spacious and overlooking Tel Aviv's urban vistas, the hotel's rooftop is where you'll find sun tanning beds, seating areas, a Jacuzzi, and refreshing shower.
Tel Aviv Shenkin won the TripAdvisor's Travelers' Choice Award for its outstanding hosting to each and every guest.
21 Brenner Street, Tel Aviv. Details: *6367 | email | website
Jerusalem Bat Sheva
Bat Sheva Boutique Hotel is in Jerusalem's heart, and adjacent to all the leading sites, attractions and historic locations of importance, from the Great Synagogue to the Western Wall, the Mamilla Complex and the Mahane Yehuda Market, and everything else that makes up the vibrant holy city. Bat Sheva Hotel is a truly old-new encapsulation, simultaneously ancient and modern, a mosaic of tastes and aromas. The hotel's 79 rooms face the city of Jerusalem's historic views: the golden dome, the western wall, the city rooftops with their quirky and wonderful shapes. The hotel's stylistic concept is founded on capturing and freezing a moment in time in a city where its rich past become an evident and dominant motif, turning it into a contemporary Jerusalem language. The rooms are designed to convey nostalgia, warmth, and memories of times gone by, or as Dana Oberson, the project's architect, noted, "The hotel is the story of the bridging of eras, of a journey through time." The hotel's kitchen is ably managed by Chef Moshe Asoulin. You'll find unique breakfasts and brunches based on locally available food of the freshest and highest quality and offering you Jerusalem's unique flavors and scents. The hotel has an outfitted gym, a luxurious business lounge, conference and events hall for up to 80 people, and a stunning rooftop overlooking Jerusalem's amazing skyline where you can also rest in the pleasant seating area and enchanting atmosphere.
42 King George Street, Jerusalem. Details: *6367 | email | website
Tiberius Jacob Hotel
The Tiberius Jacob Hotel is situated in a historic Ottoman building in the city center. The hotel blends old and new, classic and contemporary. Yehuda Gedalyahu outfitted the hotel with European elegance seamlessly merged with the typically Ottoman architecture. The hotel's refined styling infuses a sense of otherworldliness and prestige. This hotel slips a modern twist into the historic city of Tiberius, an ancient location which makes up part of the most important holy sites for several religions. Tiberius Jacob Hotel overlooks the Sea of Galilee, its 78 spacious and comfortable rooms having been outfitted for the modern tourist. Of those, 18 rooms come with balconies overlooking the city of Tiberius. Rooms are air conditioned, outfitted with 32" TVs, everything you need to make yourself a hot drink whenever you feel like it, a work table and safe, minibar fridge, and bathroom with hair dryer and washing amenities suited to the lone traveler, couples or touring families. In the heart of the city and close to restaurants and numerous tourist attractions, the hotel is just a 10 minute walk from the Tiberius promenade and 15 minutes from the Sea of Galilee shores.
2 Ohel Yakov Street, Tiberius. Details: *6367 | email | website
Photo Silvia Golan