Science & Technology
Details
Israeli computerized model of cancer cell metabolism provides a brand-new platform for finding tailored drug candidates.(By the MFA)
Details

Written by

Technion

Distinguished Professor Dan Shechtman of the Technion-Israel Institute of Technology has won the Nobel Prize in Chemistry, it was announced today. Of the four Israeli scientists to have ever won the Nobel Prize, three are Technion professors.

Prof. Shechtman, of Technion's Faculty of Materials Engineering, won the award for his discovery in 1982 of quasicrystals – an entirely new form of matter with a mosaic-like chemical structure that researchers previously thought was impossible.

Israeli President Shimon Peres called Prof. Shechtman to congratulate him: "I salute you, you gave the people of Israel a wonderful gift. This is a great day for Haifa, a great day for the Technion."

"That an Israeli has once again been awarded a Nobel Prize is a mark of distinction for Israeli science in general and for the Technion," said Technion President Peretz Lavie. "And the fact that this is the third Nobel Prize in Chemistry for Technion researchers in eight years is a clear indicator of the world-class research being done here."

The Royal Swedish Academy of Sciences said Shechtman's discovery in 1982 fundamentally changed the way chemists look at solid matter. It initially faced strong objections from the scientific community, and even got him kicked out of his research group in the United States.

Since then, quasicrystals have been produced in laboratories and a Swedish company found them in one of the most durable kinds of steel, which is now used in products such as razor blades and thin needles made specifically for eye surgery, the Nobel citation said.

Scientists are also experimenting with using quasicrystals in coatings for frying pans, heat insulation in engines, and in light-emitting devices, or LEDs.

On April 8, 1982, when Shechtman first observed crystals with 10-point pentagonal symmetry, in the NBS laboratory in Maryland, crystallography had long been considered a "closed field" promising no revolutionary breakthroughs. Shechtman's groundbreaking quasiperiodic structure was first described in Physical Review Letters in 1984, marking the birth of a new scientific field of quasiperiodic crystals.


The scientific community, led by two-time Nobel laureate Linus Pauling, rejected Shechtman's findings, but in 1987, the pattern which had previously been considered contrary to the laws of nature was observed with the help of the electron microscope.

More than 40 scientific books have been dedicated to quasiperiodic crystals, and hundreds of materials are known to exist with the structure discovered by Shechtman. In the wake of his discovery and its proof, the International Society of Crystallographers changed its basic definition of a crystal.

Prof. Shechtman's Nobel Prize follows many other prestigious awards including the Aminoff Prize from the Royal Swedish Academy of Sciences (2000), Wolf Foundation Prize in Physics (1999), Israel Prize in Physics (1998), Weizmann Prize in Science (1993), Rothschild Prize in Engineering (1990) and International Award for New Materials of the American Physical Society (1987). He is a member of the Israel Academy of Sciences and the U.S. National Academy of Engineering.
Details

Written by

MFA
The Jerusalem AIDS Project is in the frontlines of the battle against the deadly virus.



Through Israeli circumcision operations, thousands of African men have improved their chance of reaching old age by 60 percent. This ancient Jewish ritual has proven to reduce the AIDS/HIV epidemic considerably, and Jewish Israeli expertise is transferring this public health tool to Africa. Now a new agreement with the United Nationsmakes Israel an official "contributing nation" to the UN's efforts to fight the deadly disease. Israel's Health and Foreign ministries will earmark an initial fund totaling $250,000 toward a special task force called UNAIDS.
The agreement was signed in April by Aharon Leshno Yaar, Israel's ambassador to UN institutions in Geneva, to battle an infectious disease that knows no political borders and has killed millions of people in Africa over the last 30 years. With lack of access to anti-viral medications, or refrigerators to keep the medication effective, African nations are overwhelmed by the rate of AIDS-related deaths, and the millions of orphans the virus has created.
This development exemplifies Israel's commitment to providing foreign aid, and also gives credence to the work of hundreds of Israeli volunteers who have been educating South Americans in AIDS prevention for more than two decades, mainly through picture flashcard kits innovated by the non-profit Jerusalem AIDS Project.

A history of helping
Dr. Inon Shenkar, director of the Jerusalem AIDS Project, says Israel's involvement dates from 1988, when the Ministry of Foreign Affairs enlisted MASHAV, its center for international cooperation, to work with the organization to implement AIDS education in Latin America, starting with Guatemala, Costa Rica, El Salvador, Peru, and later on Argentina and Brazil.
"Israel's Foreign Ministry paved the way for these countries to launch school-based education programs," Shenkar says, citing his organization's involvement in training according to the MASHAV model: Don't give the hungry fish, but the skills so they can fish for themselves. The programs became a resounding success, says Shenkar, and have become part of the national training programs in the respective countries.
Today, the Jerusalem AIDS Project is very active in Africa. While coordinated through the Israeli government, its work is made possible by donations. Shenkar says he is happy that the government has decided to fund the initiative in Africa, but millions more are needed to address the problem fully.

The Jerusalem AIDS Project has maintained its area of focus on education in African nations such as South Africa, Swaziland, Ethiopia and Uganda, and it recently ran a teacher training workshop in Myanmar.
What drives Shenkar is a desire to alleviate human suffering, but at the same time he is proud that the work of his organization helps to "rebrand Israel, to show we are much more than a country in conflict." Shenkar says he is constantly getting calls from backpackers asking for a copy of his flashcard kit. "They travel with it and do miracles," he says.
Details

Written by

MFA
A red-carpet gala celebrated the opening of the power-generating field at Kibbutz Ketura in the Negev.


On a dusty path on Kibbutz Ketura, one of the sunniest spots in Israel, there was cause for celebration this past World Environment Day, June 5. On that day, the Israeli companyArava Power marked an historic event for Israel, the solar energy industry and the environment. It took five years to get the permits needed, but Arava Power finally inaugurated its 4.95-megawatt solar power field in Israel in the presence of VIPs from the press, government and business worlds, along with investors including Siemens and even the rapper Shyne.
There was a tangible excitement in the air, heralding hope as Israel quite literally heads toward an energy drought - since tapping into its offshore natural gas reserves is still far off.
Developing its green tech brand
Though Israel is known worldwide for developing clean technologies, it has yet to prove itself locally in generating its own form of renewable energy, enough to reach its 10 percent renewable energy goal by 2020. Arava Power executives hope that their company, now with a foothold in the sand and sun, can play a major role in that production by providing an eventual 400 megawatts of power to fulfill its vision of being a "renewable light unto the nations."
Their recent launch at Ketura can provide enough power to serve the energy needs of about three kibbutzim, or communal-style villages, in the hot sunny region of Eilat. Though the energy produced at Kibbutz Ketura is only a drop in the bucket, Arava Power is concurrently establishing its second solar field nearby, which will be eight times larger than the field launched on June 5.
In total, Arava expects to launch 40 solar energy fields in the Negev desert region, with the help of attractive feed-in tariffs for investors supplied by and guaranteed by the state.
Jonathan Cohen, the CEO of Arava Power, believes that Israel's Negev could provide about 2,000 to 2,500 megawatts of solar power to the grid, and his company's role in achieving this might require about $2 billion in financing. Obviously, there will be investment opportunities for individuals and companies looking to reap the profits of Israel's evolving solar industry.
A red carpet in the sand
Meanwhile, the recent launch at Kibbutz Ketura, a half hour drive north of Eilat, will show the embryonic industry in Israel how it's done, growing pains and all. Those present at the gala event, which included a red carpet running through the sand, may reasonably hope to be invited to similar celebrations in coming years.
The tentative date for flipping the switch on the power plant is June 15. "The government of Israel is intent on ensuring that Israeli technology, research and development is aggressively developed. It plays an important role in the ongoing development of solar entities within Israel, as something that is going to be budgeted and addressed," says Cohen. "At this very moment, Israel is in need of electricity. We are going through an electric drought, with hundreds of megawatts needed."
He explains that Arava Power chose to work with the Chinese-produced Suntech solar panels because Israel's nascent solar energy technologies have not yet stood the test of time. "The technology needs to be time-proven to prove its bankability," says Cohen, acknowledging the chicken-and-egg conundrum. "When the means are made available to ensure Israeli novel technologies are included in Israel's solar drive, we and others will be looking to employ them as much as possible."
Details

Written by

Cleantech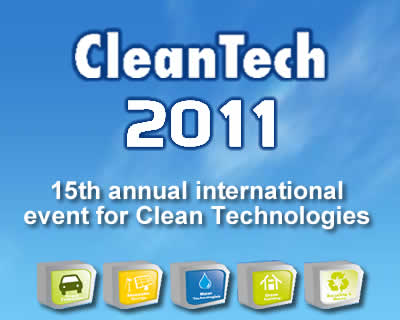 The 15th "Clean-tech" exhibition of the environment and clean technologies, will open in July at the Tel Aviv Exhibition Grounds. The 15th "Cleantech" exhibition is considered to be an international breakthrough in the field and is putting on the public agenda issues of renewable energy, conservation and energy efficiency, dealing with the problem of water shortage, advanced recycling processes and green building.


Today the world faces two serious crises. The first is the increasing problem of water shortage, which, if not resolved, could lead to conflicts between states. The other crisis - global warming, which has already caused many natural disasters, will worsen and could lead to ecological disaster if changes are not made.

Developing the clean-tech industries will solve these two serious crises and in addition will bring economic growth to the world.


Israel runs the program "Israel NewTech" – a national program for promoting the water and energy technology industries and which aims at making Israel a world leader in these fields.

The 15th "Clean-tech" exhibition will this year focus on 4 key issues: Israel's transition to energy independence based on renewable energy development; dealing with the global water problem due to population growth and pollution of groundwater reservoirs; solutions and innovations in the field of energy conservation and greater energy efficiency in order to encourage green building, use of "grey" water etc; and the display of innovations in recycling water (in the context of groundwater pollution), paper products, glass, plastic and nylon in Israel and throughout the world.


Within the framework of the 15th "Clean-tech" exhibition, a special conference will take place on the environment and clean technologies, alongside a display of dozens of booths and innovations spread over 5,000 square meters. It is expected that hundreds of leading Israeli companies in the areas of clean-tech, including government agencies, environmental organizations, technological start-ups, venture capital funds and educational institutions active in the field will be displayed at the forthcoming exhibition.

The 15th "CleanTech" exhibition will be open on 5th-6th July 2011at the Tel Aviv Exhibition Grounds.
For more information: Mashov Group, tel: +972-8-6273838 Email: This email address is being protected from spambots. You need JavaScript enabled to view it.

To visit the exhibition website click here