Science & Technology
Details

Written by

Cyber Security Conference
APERIO systems was recognized as the most innovative cyber security startup; The five finalists included Cybellum, Sepio Systems, Cymulate & Intezer The announcement was made during a special panel at Cybertech 2017, held in Israel for the fourth time at Pavilion 2 in the Israel Trade Fairs & Convention Center
Buky Carmeli, Head of the Israel National Cyber Security Authority, BG (res) Dr. Daniel Gold, Head of Defense R&D Directorate, IMOD/IDF & Head of Israel National Civilian R&D committee and other cyber security executives were among the prominent speakers at the conference
Tel Aviv, Israel - APERIO Systems was selected as the most innovative startup in cyber security at "The Cybertech Startup Competition powered by YL Ventures", that took place during Cybertech 2017. Yoav Lightersdorf founder of YL Ventures, awarded the winning prize to company founders Yevgeni Nogin and Michael Shalyt. Winning over dozens of other applicants, APERIO Systems secures critical control systems with a last line of defense against both internal and external cyber threats and malicious actors. APERIO Systems enables unprecedented resilience and operational integrity for critical infrastructure such as power plants, water and waste control, manufacturing, oil and gas, energy, transportation, pharma, and food and beverage. The company uses statistical physics and state-of-the-art machine learning techniques to detect operational data forgery attempts and reconstruct the true state of industrial control systems in real time. More information at www.aperio-systems.com
Finalists in the competition included Intezer, who developed a "Shazam" like technology for software, able to identify the name and manufacturer of any unknown file or code, be it secure software or malware. Cymulate- a platform for extended simulation of cyber-attacks, enabling multiple controlled cyber-attacks in the main attack channels simultaneously at any given time, & Cybellum who developed a technology that stops zero-days attacks in the initial and critical stage of the breach.
The startup competition distinguished panel of judges are leading executives from information protection companies, cybersecurity industries and technological corporations as well as partners of American VC funds. The judges included David Cross, Cloud Security Engineering Director, Google Security and Privacy organization, USA, Glenn Chisholm, CTO, Cylance, Jacques Benoski, Partner, USVP,Jay Leek,CISO, The Blackstone Group & Doug Russell, Managing Director & SVP of Strategy & Corporate Development, MassMutual Ventures (Link to the complete Judges list) .
APERIO Systems won two tickets to the prestigious RSA convention, the world's leading cyber conference, being held this coming February in San Francisco. This will be an incredible opportunity for an Israeli start up to attend the largest and most influential Cyber security conference in the world.
Conference highlights – Feb. 1st:
Speaking at the conference's opening plenary on Feb 1st, BG (res) Dr. Daniel Gold, Head of Defense R&D Directorate, IMOD/IDF & Head of Israel National Civilian R&D committee, stated that: "Holistic approach and collaboration are essential to our ability to address cyber security issues". In his speech, Gold said that "Cyber-attacks will become more powerful & frequent in the near future, and that the same trends are predicted for Ransom ware, SCADA cyber-attacks and DDOS attacks. Cyber-attacks at large are expected to become increasingly malicious and hazardous, creating greater damage and lasting longer".
Gold reviewed the responsibilities of the Defense R&D Directorate, Israel Defense Authorities' largest R&D organization, which include: Military R&D, production and manufacture, spaceships and satellites, UMV's, intelligence, aerial defense systems, electro optics, electronic warfare cyber, smart weapons and munitions, sensors, SIGINT etc.
Gold announced that the Directorate he's heading is working on a program to be submitted to the Government, which will position Israel as a world leader in the cyber arena. The project, lead in collaboration with Academia, focuses on current developments in the field: "The most important issues in Cyber defense are a pro-active approach for cyber-attacks, environmental awareness - knowing who's behind the attacks and responding accordingly- and damage control. A Holistic view of the field and complete cooperation on all sides, including government officials, can advance the development of systems and techniques for Cyber defense."
Buky Carmeli, Head of the Israel National Cyber Security Authority, spoke at Cybertech about the role of the NCSA: "Our aim is to ensure that every person in Israel will be able to use the computer and the cyber space safely and securely. The NCSA was founded a year ago with only a few workers. Today it employees 170 people in Tel Aviv and Beersheba, engaged in the broad field of cyber protection in the civil sector. In September last year NCSA established the National CERT already operating successfully these days."
Carmeli added: "A national scale cyber-attack is a national scale emergency just like a weather emergency situation or a terror attack. The results of an attack can be severe and require building roadblocks & calling-up a large number of people for reserve duty." The NCSA is formulating regulations, instructions and orders on how to handle such situations and is also involved in the preparation of the Cyber Law.
Other interesting assessments were made by Jeffrey Berkowitz and Gerson Panitch, partners at Finnegan who warned Israeli companies that lack sufficient patent protection: "Your competitors are applying for patents in an effort to block you". The Finnegan representatives explained that "The cyber market for the next four years is estimated at a trillion dollars. That's a lot of money. In 2015 there were about -35 000 patents in Cyber. This is a huge amount. But, while American companies register thousands of patents a year, Israeli companies only register dozens. It's a huge difference. It shows that Israel is far behind in the patent world. This means that Israeli companies are in trouble because anyone can block their ability to sell on the global market. There's a huge market for Cyber, but if you are not protected by a patent, you won't have any protection from a lawsuit with competitors".
Cybertech 2017 Conference, was held in Israel for the fourth year at Pavilion 2 of the Israel Trade Fairs & Convention Center on January 30th - February 1st. It is considered the second largest conference and exhibition of cyber technologies in the world. Cybertech, bringing together leading investors, entrepreneurs and cyber companies, is consisted of a conference with prominent international speakers in the field of cyber security, as well as an exhibition hosting over 250 companies and 100 startups, presenting innovative problem-solving strategies and solutions to challenges relevant for a wide range of sectors.
Photo Credit: Gilad Kavalerchik
Details

Written by

Cyber Security Conference
Zuk Avraham, Founder and Chairman of 'Zimperium' at Cybertech 2017: "We will allocate 1.5 Million dollars to open a new
program for researchers, scientists and communication companies that will enrich the knowledge gathered on
mobile attacks"
Zuk Avraham made this announcement today at the second largest cyber conference in the world at the Israel Trade Fairs & Convention Center, Pavilion 2,
Tel Aviv.
Participants in Cybertech, closing today, included heads of state, senior global cyber industry decision-makers and officials from the Cyber industry.


Yitzhak Zuk Avraham opened his speech by describing the main current challenge he identifies: Everyone is talking about IoT security, but we need to put things into perspective. The real threat today is right inside our pockets- a 24/7 active microphone and camera, a continuously transmitting and always available device, without adequate protection- the real danger is in our cellphones. Why aren't there enough companies providing mobile protection? This is a complex market with high entry barriers. Providing protection solutions is a complicated task." Zuk Avraham is the Founder and Chairman of 'Zimperium', a San Francisco based company that has raised millions of dollars, with the majority of its investors from Japan".
Avraham also declared that 'Zimperium' will open a new program designated for researches, scientists and communication companies designed to enrich and expend the knowledge gathered regarding mobile attacks. The company has appropriated 1.5 Million dollars to establish the data base that will in turn help enhance the company's computer learning capabilities: "we will acquire programs that have proven themselves efficient to learn more about different local and global attacks that occurred that will improve the abilities of our platforms. We will have an open code that we'll share with the community so that people will be able to learn how to handle malfunctions and develop the knowledge in the field".
Cybertech 2017 Conference, held for the fourth year in Israel at Pavilion 2 of the Israel Trade Fairs & Convention Center on January 30th - February 1st is the second largest conference and exhibition of cyber technologies in the world. Cybertech, bringing together leading investors, entrepreneurs and cyber companies, consists of a conference with prominent international speakers in the field of cyber security, as well as an exhibition hosting over 250 companies and 100 startups presenting innovative problem-solving strategies and solutions to challenges relevant for a wide range of sectors.
Photo Credit: Gilad Kavalerchik
Details

Written by

Weizmann Institute
A new approach to stabilizing protein structures could be key to an efficient vaccine
Despite decades of malaria research, the disease still afflicts hundreds of millions and kills around half a million people each year – most of them children in tropical regions. Part of the problem is that the malaria parasite is a shape-shifter, making it hard to target. But another part of the problem is that even the parasite's proteins that could be used as vaccines are unstable at tropical temperatures and require complicated, expensive cellular systems to produce them in large quantities. Unfortunately, the vaccines are most needed in areas where refrigeration is lacking and funds to buy vaccines are scarce. A new approach developed at the Weizmann Institute of Science, recently reported in Proceedings of the National Academy of Science (PNAS), could, in the future, lead to an inexpensive malaria vaccine that can be stored at room temperature.
The RH5 protein is one of the malaria parasite's proteins that have been tested for use as a vaccine. This protein is used by the parasite to anchor itself to the red blood cells it infects. Using the protein as a vaccine alerts the immune system to the threat without causing disease, thus enabling it to mount a rapid response when the disease strikes, and to disrupt the parasite's cycle of infection. Research student Adi Goldenzweig and Dr. Sarel Fleishman of the Institute's Biomolecular Sciences Department decided to use the computer-based protein design tools they have been developing in Fleishman's lab to improve the usefulness of this protein.
Based on software they have been creating for stabilizing protein structures, Goldenzweig developed a new program for "programming" proteins used in vaccines against infectious diseases. Such proteins, because they are under constant attack by the immune system, tend to mutate from generation to generation. So the program she developed uses all the known information on different configurations of the protein sequence in different versions of the parasite. "The parasite deceives the immune system by mutating its surface proteins. Paradoxically, the better the parasite is at evading the immune system, the more clues it leaves for us to use in designing a successful artificial protein," she says.
The researchers sent the programmed artificial protein to a group in Oxford that specializes in developing a malaria vaccine. This group, led by Prof. Matthew Higgins and Simon Draper, soon had good news: The results showed that, in contrast with the natural ones, the programmed protein can be produced in simple, inexpensive cell cultures, and in large quantities. This could significantly lower production costs. In addition, it is stable at temperatures of up to 50o C, so it won't need refrigeration. Best of all, in animal trials, the proteins provoked a protective immune response. "The method Adi developed is really general," says Fleishman. "It has succeeded where others have failed, and because it is so easy to use, it might be applied to emerging infectious diseases like Zika or Ebola, when quick action can stop an epidemic from developing."
Fleishman and his group are currently using their method to test a different strategy for treating malaria, based on targeting the RH5 protein itself and blocking its ability to mediate the contact between the parasite and human red blood cells.
Dr. Sarel Fleishman's research is supported by the Rothschild Caesarea Foundation; Sam Switzer, Canada; and the European Research Council. Dr. Fleishman is the incumbent of the Martha S. Sagon Career Development Chair.
A Rusty Green Early Ocean?
Though they may seem rock solid, the ancient sedimentary rocks called iron formations – the world's chief economic source of iron ore – were once dissolved in seawater. How did that iron go from a dissolved state to banded iron formations? Dr. Itay Halevy and his group in the Weizmann Institute of Science's Earth and Planetary Sciences Department suggest that billions of years ago, the "rust" that formed in the seawater and sank to the ocean bed was green – an iron-based mineral that is rare on Earth today but might once have been relatively common.
We know there was dissolved iron in the early oceans, and this is a strong indication that Earth's free oxygen (O2) concentrations were exceedingly low. Otherwise, the iron would have reacted with oxygen to form iron oxides, which are the rusty red deposits familiar to anyone who's left a bike out in the rain. Today, says Halevy, iron is delivered from the land to the oceans as small insoluble oxide particles in rivers. But this mode of sedimentation only came about as free oxygen accumulated in Earth's atmosphere, about 2.5 billion years ago. With almost no oxygen, the oceans were iron-rich, but that did not mean that iron remained dissolved in seawater indefinitely: It ultimately formed insoluble compounds with other elements and settled to the seabed to give rise to banded iron formations.
The idea that one of those insoluble compounds could be a rusty green mineral, says Halevy, occurred to him during his doctoral research, when he was trying to recreate the conditions on early Mars, including its rusty-red iron sediments. "I got some green stuff I didn't recognize at first, which quickly turned orange when I exposed it to air. With a little more careful experimentation, I found that this was a mineral called green rust, which is extremely rare on Earth today, owing to its affinity for oxygen." Today green rust quickly transforms into the familiar red rust, but with not much free oxygen around, Halevy reasoned, it could have been an important way for dissolved iron to form solid compounds and settle to the seafloor.
Support for these ideas comes from Sulawesi, Indonesia, where green rust forms today in iron-rich, oxygen-poor Lake Matano, thought to be similar to the seawater that existed during extended periods of Earth's early history. To test his ideas in detail and explore their significance, Halevy set up experiments in which he and his team recreated, as closely as possible, the conditions of the ancient, oxygen-free, Precambrian ocean. They found that green rust not only forms under these conditions, but that when left to age, it transforms into the minerals found in Precambrian iron formations – a combination of iron-bearing oxides, carbonates and silicates.
Could green rust have been a main vehicle for settling iron out of seawater? Halevy and his team developed models to depict the iron cycle in Earth's early oceans, including the possibility of green rust formation and competition with other mineral shuttles of iron to the seafloor. Their findings suggest that green rust was probably a major player in the iron cycle. The iron in the green rust later transformed into the minerals we can now observe in the geologic record. "Of course, it would have been one of several means of iron deposition, just as a number of different processes are involved in chemical sedimentation in the oceans today," says Halevy. "But as far as we can tell, green rust should have delivered a substantial proportion of iron to the very early ocean sediments."
Dr. Itay Halevy's research is supported by the Helen Kimmel Center for Planetary Science; the Deloro Institute for Advanced Research in Space and Optics; and the Wolfson Family Charitable Trust. Dr. Halevy is the incumbent of the Anna and Maurice Boukstein Career Development Chair in Perpetuity.
Uncovering the Secrets of White Cell Power
White blood cells push their way through barriers to get to infection sites
One of the mysteries of the living body is the movement of cells – not just in the blood, but through cellular and other barriers. New research in the Weizmann Institute of Science has shed light on the subject, especially on the movement of immune cells that race to the sites of infection and inflammation. The study revealed that these cells – white blood cells – actively open large gaps in the internal lining of the blood vessels, so they can exit through the vessel walls and rapidly get to areas of infection.
Prof. Ronen Alon and his group in the Weizmann Institute's Immunology Department discovered how various white blood cells push their way through the lining of the blood vessels when they reach their particular "exit ramps." Using their nuclei to exert force, they insert themselves between – as well as into – the cells in the vessel walls called endothelial cells. Dismantling structural filaments within the cytoskeletons – the internal skeletons – of the endothelial cells creates the large holes – several microns in diameter.
Alon explains that the nucleus is the largest, most rigid structure in the cell. When driven by motors specifically engaged for this function, is tough enough to push through the barrier imposed by the blood vessel walls.
The scientists tracked the cytoskeletons of endothelial cells as they were crossed by immune cells in real time, the behavior of the nuclei of various white blood cells during active squeezing and the fate of the various types of actin fibers that make up the endothelial cell skeletons. The researchers used a number of methods, including fluorescence and electron microscopy, in collaboration with Dr. Eugenia Klein of the Microscopy Unit; a unique system in Alon's lab for simulating blood vessels in a test tube; and in vivo imaging with Prof. Sussan Nourshargh of Queen Mary University of London. The results of this research, conducted in Alon's lab by research students Sagi Barzilai and Francesco Roncato and postdoctoral fellow Dr. Sandeep Kumar Yadav, were recently reported in Cell Reports.
Common wisdom in this field had held that the endothelial cells must help immune cells squeeze through by contracting themselves like small muscles, but the present study found no evidence for such contraction-based help. Alon says: "Our study shows that the endothelial cells, which were thought to be dynamic assistants in this process of crossing of blood vessel walls, are really more responders to the 'physical work' invested by the white blood cell motors and nuclei in generating gaps and crossing through blood vessels."
Significance for cancer research
In addition to increasing the basic understanding of how the various arms of the immune system reach their sites of differentiation and activity, these findings may aid in cancer research. "We believe that small subsets of metastatic tumor cells have the ability to adopt the mechanisms used by immune cells to exit the blood vessels into the lungs, the bone marrow, the brain and other organs. If this is true, we might be able to identify these subsets and target them before these cells leave their original tumor sites and invade distant organs," says Alon.
Prof. Ronen Alon's research is supported by the Herbert L. Janowsky Lung Cancer Research Fund; Mr. and Mrs. William Glied, Canada; and Carol A. Milett, Aventura, FL. Prof. Alon is the incumbent of the Linda Jacobs Professorial Chair in Immune and Stem Cell Research.
The Weizmann Institute of Science is one of the world's leading multidisciplinary research institutions. Comprising five faculties, 17 departments, a graduate school and 50 multidisciplinary centers, hundreds of scientists, laboratory technicians and research students work on the Institute's lushly landscaped campus, embarking daily on fascinating journeys into the unknown, seeking to improve our understanding of nature and our place within it.
http://wis-wander.weizmann.ac.il/
Facebook Weizmann Institute of Science
https://www.instagram.com/weizmanninstitute
Photo : by "thinkstock". provided by Weizmann Department of Media Relations
Details

Written by

Cyber Security Conference
"We have excellent relations with Mexico" stated Prime Minister Benjamin Netanyahu this morning at the second largest cyber conference in the world, taking place today and tomorrow at the Israel Trade Fairs & Convention Center, Pavilion 2, alongside heads of state, senior global cyber industry decision-makers and officials from the Cyber industry.
Panels, events and special compounds dedicated to Cyber also operating throughout the exhibition, feature collaborations between global law enforcement authorities; International panels discussing challenges and missions; Hackers arena; Start-up competitions and more.
Prof. Rivka Carmi, President of Ben Gurion University of the Negev, addressed Beersheba's status as Israel's new cyber capital and the university's leading role in its development: On behalf of BGU I am honored and proud to welcome you to the cyber tech conference that we are cohosting with Israel defense since it's inception 4 years ago. We have created a robust echo system of cyber technologies' research and development in Beer Sheva, an international model of collaboration between academia, industry and business supported by the government and the municipality.
With close to 50 multinational companies, and about 1800 employees, many of them BGU graduates and graduate students, we have started a new Silicon Valley or, more appropriately, Wadi, which tackles cyber security challenges in diverse areas looking for advanced, evolving and ever changing solutions to the ever growing world of data and digitalization that we are all facing and experiencing. This collaboration is an engine of growth and development but also one of originality and innovation that are key factors in moving ahead rapidly in imagining the future."
Dr. Eviatar Matania, Director General, the Israel National Cyber Directorate said that the years that have passed attest to the abundance of cyber threats worldwide. Israel has been one of the first countries to prepare for the cybersecurity challenges through three primary processes. The first process – providing education and information on all cyber-related issues to the business world and the industry. The second process – the establishment of the National Cyber Authority, another move where, once again, Israel has been a world pioneer. The third process – developing cyber technology R&D processes throughout the country, including the industry, academia and educational institutions. In all of these fields, Israel is an established world leader in education, information and the development of cybersecurity technologies."
The Director General of the Israel Electric Corporation, Yiftah Ron-Tal, called at the CyberTech 2017 Conference for the establishment of a global "Cyber Event Reporting Center" (CERC) that would concentrate all of the information, knowledge and data regarding cybersecurity for the entire world. The Director General of IEC also reported that in the past year, the number of cyberattacks staged against the Israel Electric Corporation decreased, but the attacks became more sophisticated. In the past the number of cyberattacks had reached 5.5 million per month. Ron-Tal is convinced that the world is currently involved in a continuous, on-going cyber war so the most important concept these days is cybersecurity "
Rick Snyder, Governor of the State of Michigan stated that: "in Michigan, we also have a national service cyber unit, much like the IDF. We established The Michigan Cyber Civilian Corps, gathering talented individuals who can respond if anything occurs, which I am very excited about because I believe it is the forefront of the future".
Addressing the opening plenum of the CyberTech 2017 Conference, Gil Shwed, founder and CEO, Check Point Software Technologies Ltd. presented statistics indicating that more than 90% of users fail to acquire cybersecurity systems and new protective technologies, mainly owing to the mistaken assumption that "we will not be harmed." Shwed suggested that "The correct approach is to develop and build a single, standard cybersecurity system that would handle the various types of threats against the cloud, against mobile devices and against data centers and computer systems. The key word is prevention – preventing cyberattacks, and in order to develop systems for preventing cyberattacks, intelligence should be collected regarding the various attackers. The architecture should be developed and various cybersecurity technologies should be integrated into a single system that would be offered to the clients and provide them with effective protection against attacks aimed at the cloud, mobile devices, data centers and computer systems. Today the industry is aware of the dangers and threats, and we should develop standard cybersecurity systems and convince people to use them so as to cope with the potential damage to cybersecurity through preventive measures."

Prime Minister Benjamin Netanyahu spoke proudly of Israel's contribution to global Cyber security: "It is no coincidence that you are here in Israel. This conference has more than 10,000 visitors from five continents. The physical size of Israel has not restricted Israel's power in cyber technology. Israel draws about one fifth of the global investment in cyber technology. This is a coefficient of 200 relative to the size of the population."

Netanyahu has also signaled to prospective investors. "Do not add regulation in the field of cyber," Netanyahu said. "The temptation of more regulation is substantial, but once you impose regulation, you will hinder the development of the cyber technology industry. Help where you can to encourage development. We are currently offering tax benefits to entrepreneurs. We also have support programs for companies that will come to Israel to establish development centers here. Additionally, we are developing the human capital of Israel through training programs in the military and in academia. I encourage everyone present to invest in Israel."

Netanyahu addressed the cyber terrorism threat. "Terrorist organizations use the same tools we use – against us," said Netanyahu. "In recent years, Iran has been developing a terrorist infrastructure in the Middle East. The Internet of Things can be used by these terrorist organizations for dangerous purposes. Unless we work together and cooperate, the future can be very menacing. In this context, Israel, the USA and other countries should cooperate at the government level as well as among the industries."

Toward the end of the Prime Minister's address, Netanyahu referred to his Twitter post regarding President Trump's initiative to build a wall along the USA-Mexico border. "I would like to clarify something regarding my tweet," said Netanyahu. "I spoke about the success of the fence in Israel. I made no remark regarding the USA-Mexico border. We have excellent relations with Mexico."

Cybertech 2017 Conference, held for the fourth year in Israel at Pavilion 2 of the Israel Trade Fairs & Convention Center on January 30th - February 1st is the second largest conference and exhibition of cyber technologies in the world. Cybertech, bringing together leading investors, entrepreneurs and cyber companies, consists of a conference with prominent international speakers in the field of cyber security, as well as an exhibition hosting over 250 companies and 100 startups that will present innovative problem-solving strategies and solutions to challenges relevant for a wide range of sectors.
Photos Gilad Kavalerchik
Details

Written by

Forbes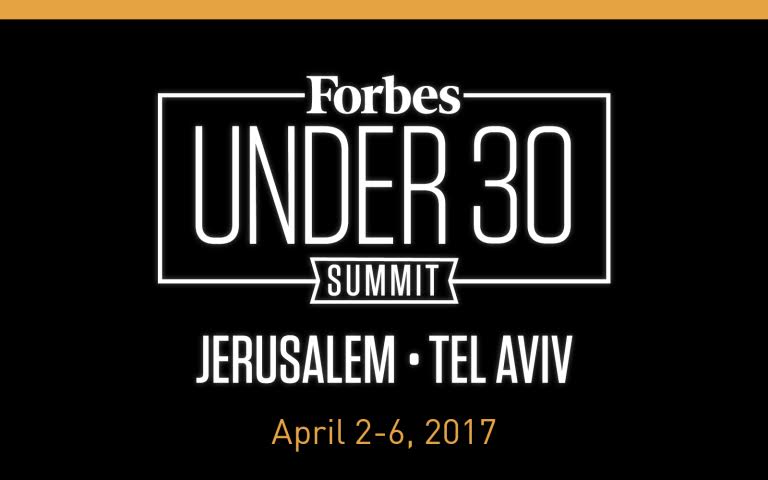 Forbes Announces First Round of Speakers for 2017 Forbes Under 30 Summit EMEA
Speakers for Forbes' Under 30 Summit EMEA include Sean Rad, Cofounder and Chairman, Tinder; Yossi Vardi, Internet Entrepreneur; Teddy Sagi, Founder of PlayTech, Market Tech and SafeCharge; Steven Izen, Founder & CEO, Lokai; and Farah Abdi, Somali Refugee, Author, Blogger and Human Rights Activist
750 Young Entrepreneurial Game Changers and Legendary Mentors Are Expected to Gather in
Jerusalem and Tel Aviv, April 2-6, 2017
TEL AVIV (January 26, 2017) – Forbes announced today the first round of speakers and participants for the second Under 30 Summit EMEA (Europe, Middle East and Africa), which will take place in Tel Aviv and Jerusalem, April 2-6, under the theme "Innovation, Exploration, and Inspiration." For the summit, an invitation-only event, Forbes is expected to bring together over 750 of some of the world's most influential young entrepreneurs -- 250 from the U.S., 250 from Europe and 250 from Israel, as culled from Forbes' 30 Under 30 lists. The speakers announced today include:
Sean Rad, Cofounder and Chairman, Tinder (U.S.)

Yossi Vardi, Internet Entrepreneur (Israel)

Teddy Sagi, Businessman and Entrepreneur, Founder of PlayTech, Market Tech and SafeCharge

Steven Izen, Founder and CEO, Lokai (U.S.)

Farah Abdi, Somali Refugee, Author, Blogger & Human Rights Activist (Germany)

Obinwanne Okeke, Chairman and CEO, Invictus (Nigeria)

Lawrence Brand, Founder, Porterlight Bicycles (U.K.)

Joséphine Goube, CEO, Techfugees (U.K.)

Sofia Hmich, Founder, Future Positive Capital (U.K.)

Anne-Marie Imafidon MBE, CEO and 'Head Stemette', Stemettes (U.K.)

Netanel Rubin, CEO, Vaultra (Israel)
For more information on the summit, please visit:
www.forbesconferences.com/event/2017-forbes-under-30-summit-jerusalem-tel-aviv/.
Building on last year's successful entrepreneur-driven summit and cultural immersion, Forbes is expanding its celebration of innovation and startups. For five days, innovators, inventors, pioneers, mentors and investors will focus on breakthrough ideas that tackle the most intractable problems facing our society and the planet.
Forbes will feature -- as part of the summit's agenda, panels, interviews, performances, product demos and keynote addresses, showcasing the most cutting-edge innovators and disruptors, and will provide mentorship from successful business leaders. The conversation will focus on using innovation to reimagine humanity. At the event, participants will hear from visionaries -- entrepreneurs, artists, activists and inventors -- shaping the future in powerful ways.
"As these innovators explore the intersection of Big Data, smart design, AI, robotics, virtual and augmented reality and other accelerating tech trends, participants in our summit will realize an evident truth: We have the tools and technologies to create a better world, if we can muster the comity and the will," said Randall Lane, Editor of Forbes magazine and creator of Forbes' Under 30 franchise.
The summit will offer rich cultural-immersion activities and a unique global-networking environment. Forbes 30 Under 30 Summit attendees will also have the opportunity to mentor and inspire the next generation of young superstar entrepreneurs in the local communities of Israel.
The summit will kick off with a welcome party on the shores of the Mediterranean.

On April 3, participants will gather in Tel Aviv for a day of content focused on "Innovation," while enjoying access to an entire Forbes Under 30 Village with joined booths, displays and demonstrations.

April 4th will be devoted to "Exploration" and cultural immersion. Rothschild Boulevard will be transformed into an Open House, as summit participants will be able to explore and join tours, including a guided tour of the Old City in Jerusalem.

April 5th will focus on "Inspiration -- Making a Difference, Healing the World." Participants will visit sites across Greater Israel to cultivate conversations about achieving actionable solutions. The day will end with the Forbes Under 30 Music Festival, featuring acts from across Israel, Europe and America.

On April 6, the summit will conclude with a day of inspiration and reflection, starting at sunrise at Masada and the Dead Sea.
The Presenting Sponsors for the summit are Lokai and Market Tech.
Forbes' Under 30 franchise is a global multichannel platform that comprises 30 Under 30 lists featuring young global game changers and published in print and online all over the world; live summits in the U.S., Asia and Israel; an Under 30 channel on Forbes.com; and a Forbes Under 30 app. To access Forbes magazine's 2017 30 Under 30 U.S. list, please visit www.forbes.com/30under30.
About Forbes Media:
Forbes Media is a global media, branding and technology company, with a focus on news and information about business, investing, technology, entrepreneurship, leadership and affluent lifestyles. The company publishes Forbes and Forbes Asia as well as Forbes.com. The Forbes brand today reaches more than 94 million people worldwide with its business message each month through its magazines and 38 licensed local editions around the globe, Forbes.com, TV, conferences, research, social and mobile platforms. Forbes Media's brand extensions include conferences, real estate, education, financial services and technology license agreements.
About Lokai:
Lokai is a socially responsible lifestyle brand that represents the importance of finding balance along life's journey. Steven Izen founded the company in 2013, on the heels of a deeply emotional and transformative experience. Realizing that life is a cycle of highs and lows, he grew to appreciate the importance of remaining both humble and hopeful. The company infuses its trademark bracelets with elements sourced from the highest and lowest points on Earth -- water from Mt. Everest and mud from the Dead Sea. The Lokai lifestyle is devoted to finding balance, sharing success during life's peaks and gaining perspective during lows. Lokai supports this message by donating 10% of net profits to various charitable organizations. Since launching, Lokai is sold in over 160 countries.
Please visit www.lokai.com for more information. www.Instagram.com/livelokai | www.Twitter.com/livelokai | www.Facebook.com/livelokai
About Market Tech:
Market Tech is an LSE-listed property company that owns, manages and is developing a unique 16 acre estate (valued at £1 billion as of September 30, 2016) of office, retail, leisure and living spaces centred around the iconic Camden Markets, and supported by three e-commerce businesses, referred to as Market Tech Digital. These are Stucco Media, an e-commerce marketing platform, Glispa; a Berlin-based mobile marketing business and Fiver; a B2C online fashion retailer. www.market-tech.com