Enoteca, has taken over the clocktower square in the center of Jaffa's old city with a wine popup bar serving alcoholic beverages at an unbeatable price of 20 shekels a glass, along with authentic dishes from the Arab-Mediterranean kitchen. Yes--20 NIS for a glass of Moreau or Cordon Negro in the heart of old Jaffa!
Owned by the Hinani family, Enoteca, specializing in imported wines and alcoholic beverages, is bringing its rich flavors to the old city of Jaffa, with a modern twist, in the form of a popup wine bar. The popup bar adjoins Cafe Rozette, opposite the Setai hotel, and is a fusion of traditional Arab culture with a top brasserie, serving international quality beverages at the unprecedented price of 20 NIS for a glass or 100 NIS for a bottle.
Among the wide range of wines that the company imports from various countries around the world, white and red wines have been carefully selected to suit the Israeli palate: Chablis from J. Moreau, Cordon Negro-Cava from Freixenet, Rioja Rosado from Muga, Gewürztraminer from
Dresden, Sauvignon Blanc and Pinot Noir from Fornier, Rioja Reserva from Solar Viejo, evacuated Noir from the Fornier Winery's Loire. Alcoholic beverages such as Ouzo, San Miguel beer from the tap, white and red sangria, and more will also be served.
The wines and alcohol complement perfectly the Mediterranean menu, with light dishes carefully prepared by Rosette Hinawi as the perfect complement to a glass of wine, or alternatively serve as appetisers to a full meal with meat from the iconic family butcher shop: merguez sausage (46 NIS); Kebab with a grilled salad (46 NIS); Yoghurt and fresh mint beside stuffed grape leaves and tomato prepared in a Taboon (hearth oven) (NIS 54) and more.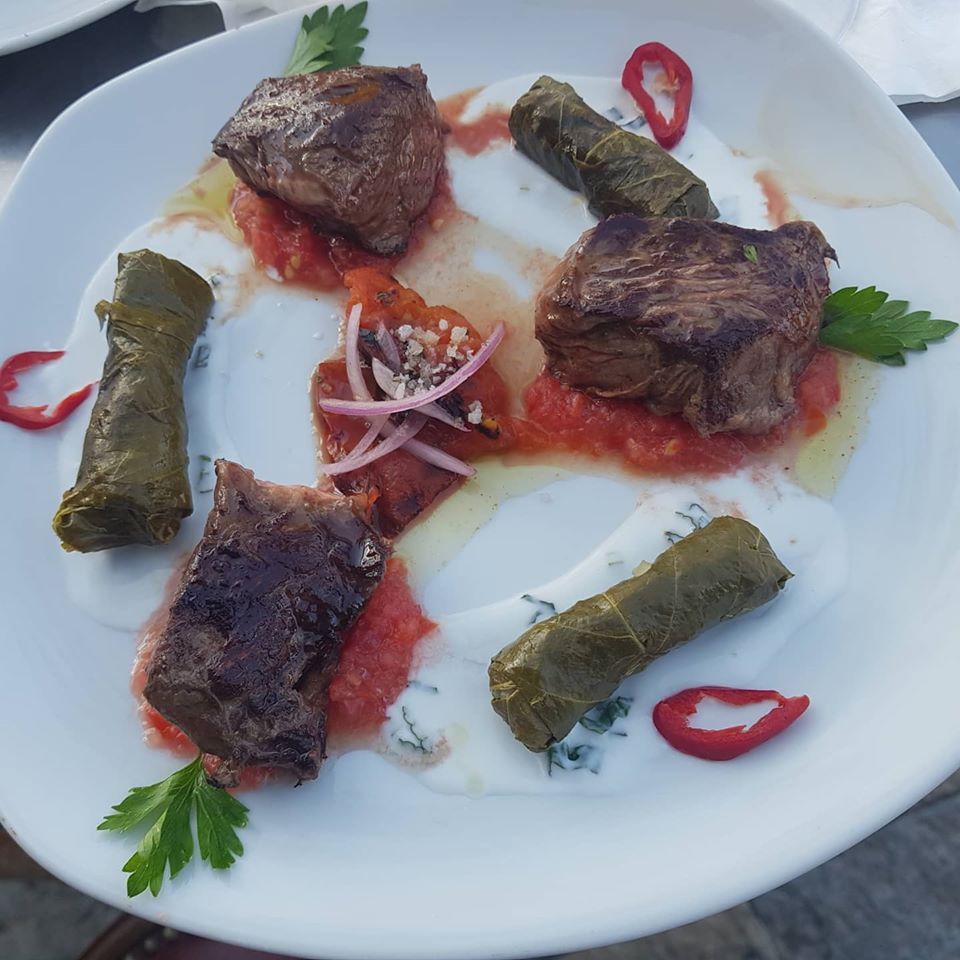 Enoteca Wine Pop Up, provides a relaxing and scenic atmosphere in one of the most popular destinations in Israel. Minutes from the Mediterreanean Sea, it includes a spacious and well-kept courtyard that complements the overall experience. The music, the lovely courtyard, the meticulous interior design and the high ceilings all contribute greatly to the atmosphere, and guests may imagine that they have been momentarily transported abroad. This is sure to become one of the most top spots in Jaffa.
Alongside the pop-up that invites the general public to try a wide range of international beverages at surprisingly low prices, specialty alcoholic beverages from a variety of categories and countries, including imported wines, whiskey, brandy, San Miguel beers, and more will be for sale.
Roget Restaurant
Address: Marzouk and Ezer 2, Jaffa - Clock Square.
Opening hours: Mon-Wed - 8 am - 10 pm, Thu - Sat 8 am - 11 pm.
About Enoteca
Enoteca is a wine and alcohol beverage importing company owned by the Hinawi family.
Enoteca holds a rich portfolio of premium products including well-known wine brands such as Frescobaldi, Freixenet, Pol Roger Champagne, Muga, Tzuba Winery and more.
At the same time, the group also imports alcohol brands - such as KREMLIN AWARD Vodka and HINE Cognac. The beer sector imports the world's leading Spanish beer brand San Miguel and more.
Highly recommended!!!!!!!!!!!
Photo credit: Silvia Golan