India reopens to tourism beginning with info session hosted by the Embassy of India at the Indian Cultural Center in Tel Aviv.
India is one of the most popular tourist destinations for Israelis, with tens of thousands of Israeli tourists arriving annually, prior to Covid-19. To celebrate the reopening of India to foreign tourists, the Embassy of India hosted a special information session at the Indian Cultural Center (ICC) in Tel Aviv.
Dorit Blaj, public relations officer at the Embassy of India invited guests to use the resources at the ICC- "the first stop en route to India, which is a hub for Indian heritage in Israel. Among the activities at the ICC are free Yoga classes offered twice daily by an instructor from India. On Thursday, November 18 the center will host a book launch by Shaul Sapir about Mumbai heritage walking tours. Information on ICC activities can be found on social media (https://www.facebook.com/ICCRinIsrael/).
Mr. Naveen Ramakrishna, Head of Chancery at the Embassy, emphasized that with India finally reopening to tourists, the embassy staff stand ready to assist with facilitating travel back and forth between the countries, whether for business or pleasure, individual or group travel.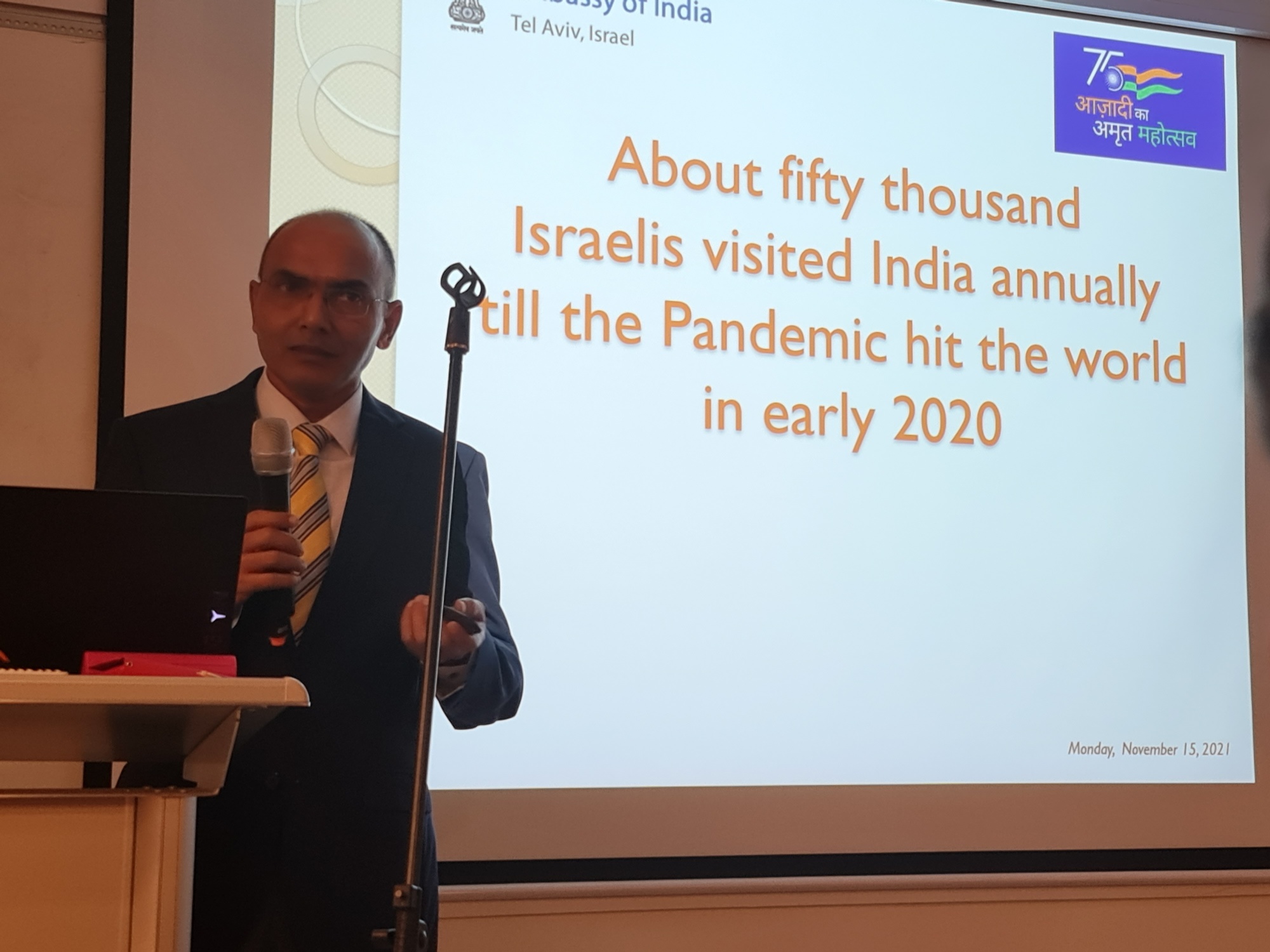 Counselor Dinesh Udeina then discussed the relevant travel restrictions and guidelines that need to be followed for a seamless trip to India. These include filling out an entry form (https://www.newdelhiairport.in/airsuvidha/apho-registration) and taking a PCR test within 72 hours of one's departure flight, as well as a Covid test upon arrival (prebooked online https://www.newdelhiairport.in/covid19-test-appointment-booking) in India. Vaccinated passengers can use their Covid 19 certificate (downloaded via the Israeli Ministry of Health website (https://corona.health.gov.il/en), while unvaccinated visitors will need to home-quarantine (in hotel or other place of residence) for a week before taking an additional Covid test. The same visa categories (tourist, medical, conference, etc.) apply, and visa applications can be made online (e-visa): https://indianvisaonline.gov.in/evisa/tvoa.html, or in person at the Embassy (cash payment only), and visas take minimum 72 hours to process so travelers should plan accordingly.
For traveling to Israel, the standard Israeli regulations apply, which currently include completing an entry form 24 hours prior to travel to and from Israel (https://corona.health.gov.il/en/flights/), a PCR test 72 hours before travel, and a valid Green Pass (https://corona.health.gov.il/en) . For non-Israeli citizens, additional guidelines and restrictions apply, and the relevant vaccination/Covid recovery certificates must be uploaded in advance to ensure entry into Israel (https://corona.health.gov.il/en/directives/air-travel-covid19-green/?tab=by-air). All passengers arriving must take a Covid test upon arrival in Israel (pre-booked here: https://testngo.femi.com/en/sign-in).
Following the technical presentation, a series of films were shown highlighting the incredible beauty and diversity of India, further elevating the excitement to travel to India, whether for the first time, or on a return trip. Mr. Pankaj Tiwari, Israel's country manager for Air India, gave a presentation about Air India, and its services in light of Covid 19. He explained that the airline recently reprivatized, and features a large fleet of over 250 aircraft, as well as being a member of the Star Alliance. For travelers to and from Israel specifically, Air India was the first airline in the world to fly from Israel over Saudi airspace, greatly reducing travel time. Air India also offers the most generous baggage arrangements of any airline, with passengers receiving two checked bags along with their hand luggage for international and domestic legs of the trip. While flights were reduced due to Covid-19, by January 2022 there are expected to be Tel Aviv-Delhi flights on Tuesdays, Thursdays and Saturdays, before increasing to six weekly flights by the summer season. Reservations, and more information on flights and club information can be found on the Air India website (https://www.airindia.in/).
To close the evening, Raz Hellwing, an Israeli tour guide, musician, and expert on travel to India, gave a presentation, highlighting upcoming tours to different parts of India through his company, Masala Chai (www.masa-la-chai.com).
Travelers are advised to check all relevant government websites prior to travel, as the situation is dynamic and restrictions may be added or removed.
Photos credit Silvia G. Golan
More Pics at Facebook Diplomacy Israel / Israel Diplo
Steven Aiello
Founder--DebateforPeace