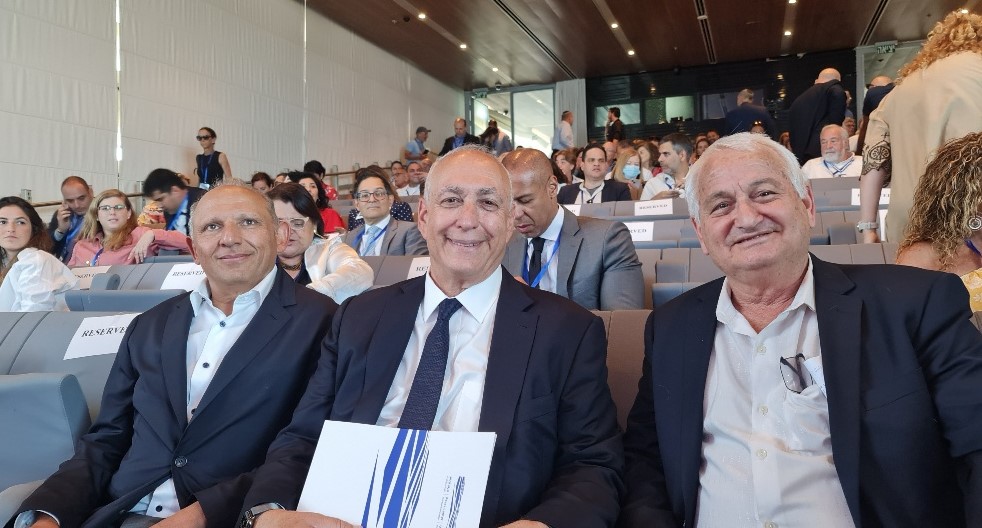 The Peres Center for Peace and Innovation was the host of the award ceremony of ILAN – Israel Latin America Network .
"Global Circle of Friends of Peres Center" was established and is managed by Ms. Yona Bartal, who has worked closely alongside president Shimon Peres for over 20 years. She served also as deputy director-general of his offices for Galilee and Negev regions, lieutenant prime minister, and the deputy director-general at the Presidents House for seven years.
The circle of friends consists of opinion influencers and policy makers, prominent businessmen and visionaries from Israel, London, North America, Europe and China.
The Circle of Friends participates in educational projects of the Peres Center for Peace and Innovation, supports and assists at major events such as launches and special visits throughout the Middle East. They have just returned from an important visit to the UAE where they met with policy makers and heads of government. They are about to pay an important visit to Morocco.
Yona Bartal initiates meetings with groundbreaking technological innovators and introduces The Circle to heads of leading companies, delegations and international investors.
ILAN – Israel Latin America Network has awarded on June 9th 2022, several prominent entrepreneurs with the Innovation Award in memory of Shimon Peres. It was a celebration of Israeli innovators, strengthening the relations with Latin America for greater good. The event took place at the Peres Center for Peace and Innovation, a beautiful venue on a hill overlooking the Mediterranean in Tel Aviv.
The invitees gathers in front of the building on a sunny day with a refreshing sea breeze to mingle and enjoy Tania Sax's saxophone music, until the ceremony started inside the auditorium.
The celebratory gathering of diplomats and Latin American Ambassadors to Israel included also Israel's deputy minister of defence Alon Shuster, and ILAN founder, businessman and philanthropist, Isaac Assa, reinforcing the bridges between the countries. For the first time, the ceremony was held in the Peres Center, for presenting the Shimon Peres lifetime awards by ILAN – the pro-Israeli lobby for promoting Israel - Latin-America relations, awarded to key and world-renowned leaders in the fields of health, environment, economy and technology. Also participating in the ceremony were Chemi Peres, chairman of the Peres Center for Peace and Innovation, director of ILAN Dov Litvinof and ambassadors of Latin America to Israel.
Among the award winners were Prof. Shulamit Levenbert of The Technion, who has developed, for the first time ever anywhere in the world, a lab-manufactured steak entrecote; Dr. Amir Kershenovich, manager of the neurosurgery unit at Shneider hospital who, together with his wife Hila, set up a charity project for complex brain surgery for third-world children; Mr. Henrique Cymerman, an Israeli journalist of a Spanish-Portuguese origin, who works as a field reporter in the Middle East for several communication organizations. Mr. Cymerman serves also as the president of the chamber of commerce for Israel-Jordan and the Persian Gulf states. Another award winner is Jack Tato Bigio founder, partner and CEO of UBQ Materials – a start-up company for conversion of household waste into reusable materials. Award winner Ela Castellanos is a newcomer from Mexico, founder of HolaLand website – a platform for connecting South Americans and Israelis and a partner in Canera Caipal venture fund for enterprises in Israel and in Mexico
In his speech, ILAN founder Isaac Assa said that during the past year we have established unique ties directly between Israel and the Latin American countries. Through ILAN they have established a strategic treaty with several branches throughout America, who will strengthen its economic, political and social robustness.
Chemi Peres, Chairman of Peres Center for peace and Innovation noted that President Peres used to say 'The future mustn't just be imagined - it must be created'. He added that it is a great honour to see the people we are honouring today are creating the future. He said: "Each one of you is striving for change in your field, a change for the better, a change that will effect Israel, Latin America and the entire world". Chemi addressed Isaac, saying that he was glad to see in Isaac, a dear friend and a partner in a journey into a better future, and to share with Isaac Chemi's father's vision of global cooperation and innovation as a way to march forward.
Deputy Minister of defence Alon Shuster gave his best wishes to the winners of the lifetime achievement Shimon Peres award via ILAN, with the cooperation of Peres Center for Peace and Innovation. He added that the winners are trail blazers proving that a combination of social activism and innovation is a winning recipe for a better world. In the winners' unique way they are strengthening our important ties with the states of Latin America and with the growing Hispanic population in the United States.
ILAN is a pro-Israeli lobby for Israel-Latin America ties, which was established last year by Isaac Assa, a Jewish Mexican-Syrian businessman and philanthropist. The lobby works for advancing and tightening Israel-Latin America and the USA connection, by exposing to the Latin American states the Israeli innovation in the fields of hi-tech, health, and economics.
Among the distinguished guests in attendance were also : Former Minister Uzi Bar Am; Jonathan Peled- Deputy Director General for Latin America Israel MFA ( Former Israeli Ambassador to Mexico) ; Dov Litvinoff CEO ILAN Israel ; Efrat Duvdevani · Director General at Peres center for peace and innovation; Ayelet Frish spokesperson and media advisor; Former Ambassador from Chile to Israel Sally Bendersky; Former Minister Ophir Pines Paz; Shlomo Sapir - IAI ( Israel Aerospace Industries) ; Edu Pollak Director for Latin America , Spain & Portugal at the hebrew University of Jerusalem; Efi Stenzler former KKL-JNF World World Chairman; Gaby Miodownik & Esteban Socolsky - Netafim; Zeev Kirtchuk Ilan Israel - Latin American Network; Genaro Hurtado Brive Company ( Mexico); Dr. Mira Marcus - Kalish TAU; Monica Nagel - Costa Rica; Deby Roitman ( mexico) and more...
Following the Awards the guests enjoy the beautiful performed of Moran Levi ( singer) and Itay Abramovitz ( piano)
Diplomacy.co.il congratulates the winners , ILAN – Israel Latin America Network and the www.peres-center.org on this wonderful event
Photos by Silvia G. Golan
More Pics at Facebook Diplomacy Israel / Israel Diplo / Silvia G. Golan