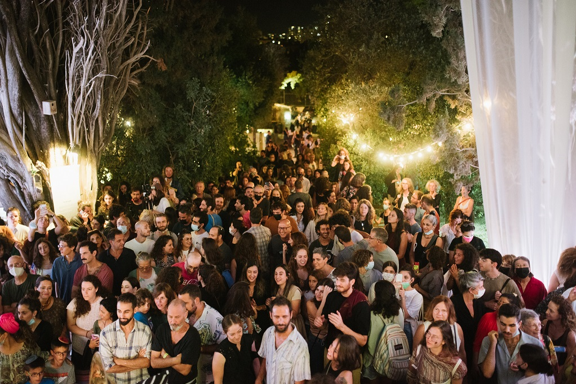 Hansen House Presents: FOR NOW | לעת-עתה | الوقت الراهن Jerusalem Design Week 2022 June 23-30, 2022
Hansen House Center for Design, Media and Technology
The eleventh edition of Jerusalem Design Week takes place in the Hansen House Center for Design, Media and Technology, from 23rd–30th June 2022. The flagship event of Hansen House—and Israel's foremost design event—Jerusalem Design Week will showcase a wide range of exhibitions, installations, and special projects by more than 150 Israeli and international designers. Rooted in the discipline of design, each one is based around the event's annual theme: 'For Now'. This year's theme explores the ephemerality of design and the design of ephemerality, and asks how time can be harnessed for a positive effect in uncertain times.
On the festive opening night, alongside the exhibitions and installations, Hansen House will present a series of musical interventions and interactive performances. Designers will welcome their audience to experience, in real time, what happens when sound sensors are connected to a working pottery wheel, participate in an endless loop created by an Austro-Italian artist, musician, and dancer, receive custom-made shoes in 15 minutes, witness a robot grow a structure from the ground, and many more exciting surprises.
Highlights include, a performative project by Italian artist Aldo Giannotti will question time and repetition. The artist's diagrammatic style will envelop Hansen House, alongside an ongoing performance that incorporates music and dance. 'Clean motion' an exhibition curated by Takeshi Yamamura, Natalia xSanz, Arieh Rosen, and Noam Levinger, is an exhibition that explores cleaning as part of Japanese culture and the tools used in Japanese cleaning rituals. Istanbul-based design collective Piknik will create real-time illustrations in Hansen House, using its signature electric blue style. Works by Piknik will address the question of time, with content built on both random and planned conversations.
In its fifth year, the 'Matchmaker' project is spearheaded by designer Daniel Nahmias. For its 'third age' edition, the project will once again connect local contemporary designers and Jerusalem-based artisans, with a focus on the elderly. Working together, older craftspeople and younger designers will create new objects and stories. An exhibition curated by designer Shahar Kedem, will show both new works and antiquities- In partnership with the Israel Antiquities Authority, the exhibition will explore the connection between archaeological findings and the stories we weave around them.
Focusing each year on creating new work and harnessing its public funding for the support of non-commercial design work, these are just fragments of a myriad of projects, installations, exhibitions and performances that create the| meta exhibition which is Jerusalem Design Week.
@hansen_house
General Management: Smadar Tsook and Ran Wolf, Ran Wolf Ltd.
Chief Curator: Tal Erez
Artistic Director: Anat Safran
Jerusalem Design Week was initiated by the Ministry of Jerusalem and Heritage and the Jerusalem Development Authority, and is managed by the Ran Wolf Company.
Hansen House Center for Design, Media and Technology
14 Gedalyahu Alon St, Jerusalem
Opening Hours:
June 23, 2022 - Opening Night 19:30-24:00
June 24, 2022 10:00-16:00
June 25, 2022 10:00-23:00
June 26-30, 2022 16:00-23:00
Jerusalem Design Week events are open to the public and free of charge
Photos by Dor Kadmi