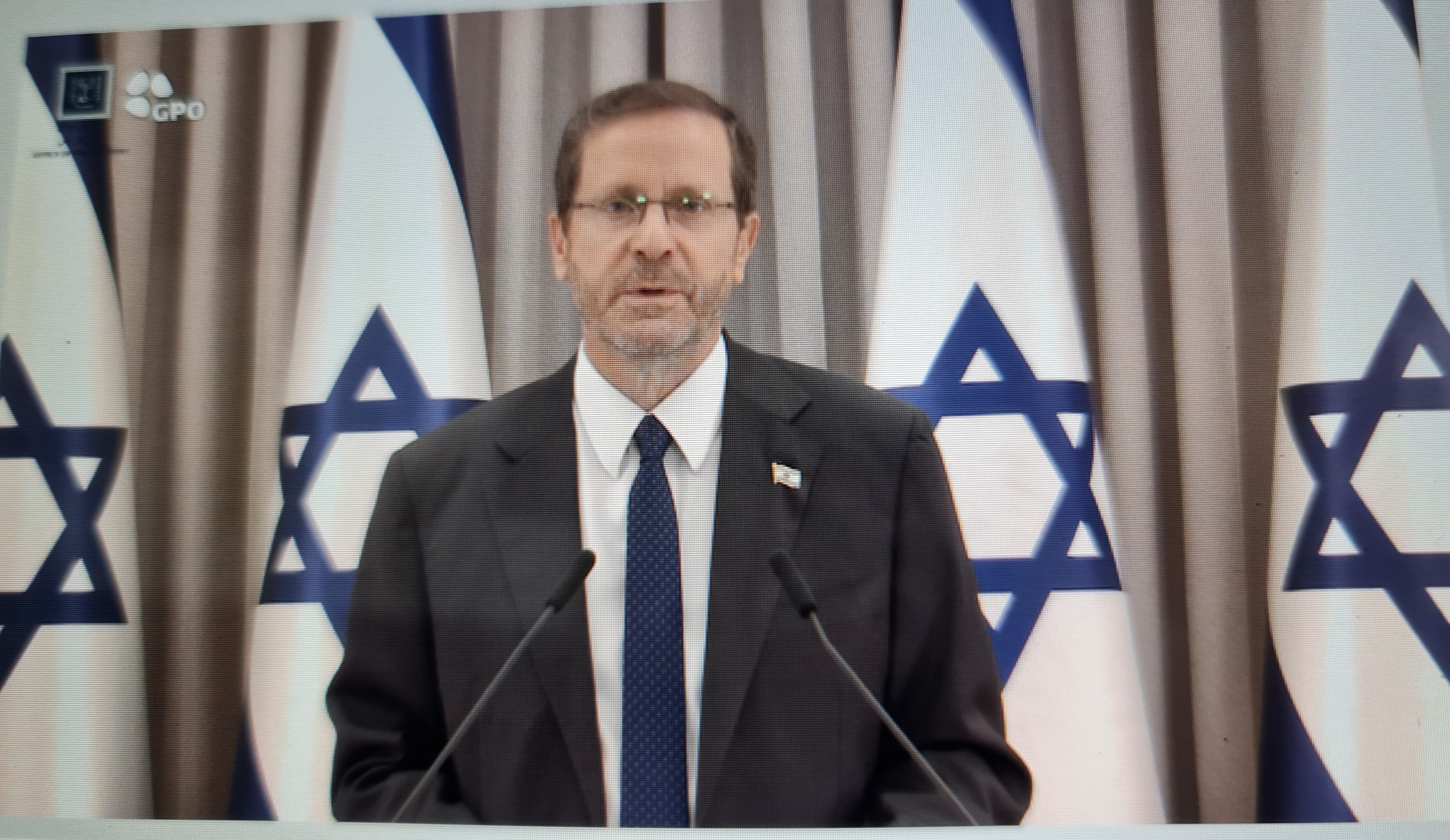 Wednesday, 1 November 2023 / 17 Marcheshvan 5784
President Herzog addresses the nation
President Isaac Herzog this evening made an address to the nation, in which he stressed the strength and resilience of Israeli society.
Text of the President's address
"Citizens of Israel, tonight I would like to address each and every one of you, personally, and talk about resilience, spirit and soul, on a personal and national level. It's been almost a month since our country underwent a serious change. For almost a month we have been in a war like no other. Almost a month has passed since that cursed day, when the sun rose, the flowers blossomed, and butchers slaughtered, slaughtered and slaughtered - women and men, elderly and infants, from kibbutzim, communes, communities, cities and towns. It is close to a month since that utter horror – which flashes again and again before our eyes, day after day, hour after hour.
Degrees of grief overflow in a way that cannot be contained at all, in a way that cannot be grasped in heart or mind. It surrounds and rocks us. We all feel it, for ourselves, for the parents, for the children. The displacement of hundreds of thousands of people from their homes, hundreds of thousands of reservists recruits, and the war being fought – from the frontline to the back – affects us, all of us mentally, both personally and nationally. And the fallen – the best of our children – whom we have mourned over the last days, only adds to the pendulum of pain that we are all experiencing at this time. We will forever remember those who fought bravely and fiercely in the mission of defending the people and our homeland. We embrace their families and pray that they will know no more sorrow. In war, each of us endure moments which are simply unbearable. Every day, I meet families and communities displaced from their homes, I visit the wounded in the hospitals, and families of those missing or being held hostage. Truly an Israeli mosaic like no other. The pain of the families of the hostages and the missing is simply unfathomable. My conversations with them are the most painful conversations I have held in all of my life. Mothers and fathers, families, spouses and partners, have not slept for more than three weeks. The cruelest and darkest abyss, engulfed these families and us as a nation. I say you what I told the families, unequivocally, the hostages are in our thoughts, and their return is an integral part of the success of this campaign – of course – alongside victory in this decisive war against the enemy and restoring security to all Israeli citizens.
I knowingly commit to you, that the best minds - thousands of Israelis, from the country's leadership to every level of the security services – will work with professionalism and dedication, every minute of the day, to fulfil our moral duty as a country – to bring them back home.
Just this week we saw an example of success in these efforts, with the rescue of the soldier, Uri Megidish, from Hamas, in a bold, resourceful, and determined joint operation by our forces. Last night, I was at the operational headquarters of the security forces, and I can testify firsthand, that the response of Hamas – as if they had not been holding Uri – was false and reflects the level of pressure they are feeling.
The monstrous enemy is trying with all its might to conduct a psychological campaign against us as well, employing the most abhorrent of tools. We saw it this week many times, and I estimate that we will also see it many times in the future in different forms. They want to scare us with videos, rumors, and lies. They try to undermine us psychologically, to hurt our personal and national spirit. We will not let them succeed. We just won't give it to them. Our spirit cannot be broken. Hamas must not be trusted. Human monsters must not be believed. You must not fall into the traps of psychological warfare. We must not let them play cruelly with our heads and souls. Please, we must all act responsibly at this time. Don't spread unfounded rumors.

I would like to express my appreciation for the responsibility shown by the Israeli media in their decision not to play into the hands of the brutal psychological terror of our enemies.
This is true for us as a country, and this is true for each and every one of us.
Among other things, the enemy seeks to incite hatred within us - between Jewish citizens and Arab citizens. Such attempts must be fought uncompromisingly and unequivocally. We must eradicate any incarnation of enmity, racism and violence towards different groups within us. Remember that there are dozens of Arab citizens here who paid with their lives in the terrible massacre, and as part of the security forces and the IDF. Remember the mutual responsibility as displayed by the overwhelming majority of the Arab society in Israel.
Citizens of Israel, we are in a time of war that has been imposed on us, that unfortunately - as is the nature of a fierce and protracted war – will bring more ups and downs, moments of hope and moments of sadness and pain.
I would like to share with you, words that I said just this morning to the mother, and the bereaved family, of nine year old Tamar from Ashdod, who died as a result of an anxiety attack, after having tripped on the way to a shelter during a siren for a missile attack.
Words that I have said repeatedly over recent weeks to hundreds and thousands of individuals, families, and whole communities.
On a very personal level, I understand how overwhelming and challenging these moments are. These feelings are so very natural and human, and must be given space to be felt. It is appropriate, even recommended, to express the pain, concern, and tears. It is appropriate and recommended to verbalize the anxiety. Looking after and tending to the soul at this time is so important. With such a reality, it is important that each of us finds strength, even a modicum of strength, in something that provides a little calm, soothes, keeps busy, however mundane and simple it may be. Both Michal and I find this strength on the road, as we journey through the country and meet the Israeli people. This strengthens and moves us. This empowers us and gives us hope.
I would like to speak of another source of great hope at this time, even now- in the fog, especially now. The Israeli spirit. An unbreakable spirit. The spirit of a storm which rose from ashes and destruction and is already blowing with all its might. This spirit has revealed itself mightily, in thousands of heroic stories from the frontline and the home front. It blows through each outreached hand, in the exemplary Israeli volunteerism and mutual responsibility, seeking to strengthen, to embrace, to support. It blows in every corner of our remarkable country – every corner. It is an eternal spirit, passed on to us from the generations before us, a spirit which will continue to guide us, generation to generation.
This spirit is you- my sisters and brothers – the people of Israel. Israeli society is our true secret weapon. You are my greatest hope, our greatest hope. Am Yisrael Chai (The People of Israel lives).

I pray from here for the healing of the wounded - in body and soul. I embrace the bereaved families stricken with grief, I wish to offer strength and encouragement to the forces of the IDF, the ISA, the Mossad, the police and the prison services, their commanders, all the security, emergency and rescue forces, along with the welfare, health and education workers. All those engaged in the holy work.
I appreciate the national responsibility shown by the Opposition, and their desire to back and strengthen the leadership of the country and the war cabinet in conducting the war, so that it will lead to victory - with God's help.
We have a solid country, and a wonderful and magnificent people. We have important and powerful allies all over the world. We have Jewish sisters and brothers in the Diaspora, who stand by us with all their might despite the attacks and threats against them. And above all, we have national resilience and unending strength. And with us at every moment, we have the power of hope. A hope that has existed for thousands of years, the breath in our lungs, a hope unparalleled in history, of a people to return to their country, to their homeland. A hope that we will rebuild, we will build, we will plant and grow. A hope - that the crops in the fields and orchards of the kibbutzim, communities, towns and cities, will grow again and again and again, and we will grow with them, all the people in all their diversity, all over the country.
We will always remember the eternal words: "Our hope is not lost. The two thousand years old hope. To be a free people in our country, the land of Zion and Jerusalem."
Link to the address (Hebrew)
https://media.gostreaming.tv/?r=512&k=87a8cfc6d6