Art & Culture
Details

Written by

Sillvia Golan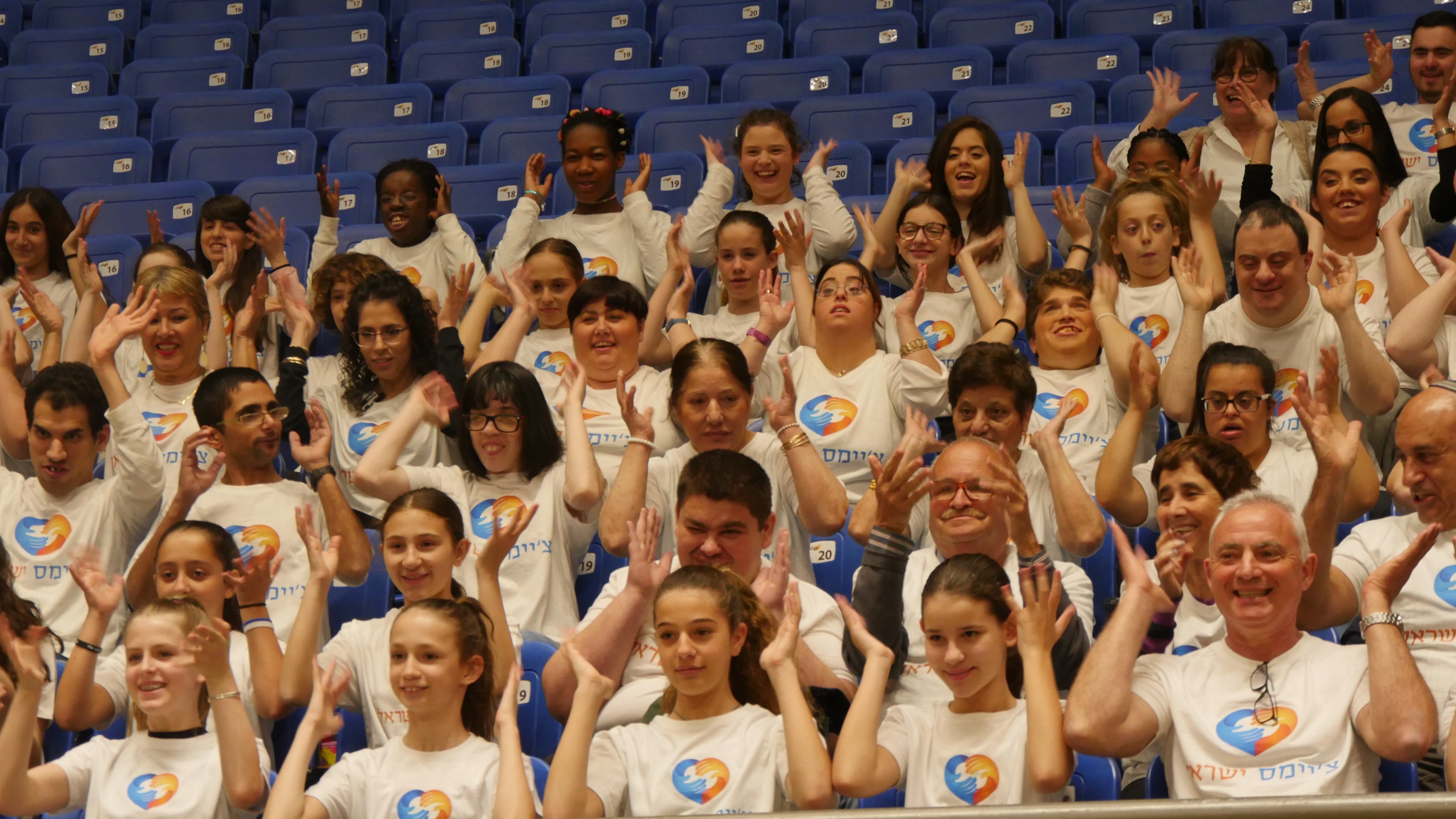 Dance the integration - TOYA
In preparation for the Eurovision Song Contest, an exceptional video clip of social value for TOY is currently being released.
The unique video calls for raising awareness of the integration of people with disabilities in the community, and it is attended by children and adults with special needs, alongside dozens of teenagers from the Tel Aviv Arts School.
In preparation for the Eurovision Song Contest, "CHIMES Israel" initiated the TOYA project, which calls for raising awareness of the integration of people with disabilities in the community. In the framework of the project, they produced a special and moving video clip, in which children and adults with disabilities from the age group of 10-70 dance the song "TOY" by Neta Barzilai, along with dozens of teenagers, dance students from the Tel Aviv arts school and employees of the association.
TOYA was inspired by the Eurovision Song Contest and its social message, about accepting the different and the other and the right of people with disabilities to participate equally and actively in the community in all spheres of life. Alongside the apprentices and dancers, makeup artists from the Ravit Assaf School of Makeup came to the project voluntarily. They made up the participants and made them feel stars. In addition, specially prepared costumes worn by participants during the clip.
The project is the result of the collaboration of the Chimes Israel association with the "Maon Dehu" association, led by choreographer Nachshon Stein, who specializes in dance and movement for people with special needs.
George Zimmerman, CEO of "CHIMES Israel", said: "The value of the "integration" of people with disabilities in the community, is one of the core goals of the association. Art in general and dance in particular, provide valuable tools, meaning and opportunity to create communication and dialogue for people with disabilities and the community, alongside educational activities rich and experiential".
"Chimes Israel" believes that every person with special needs has the right and ability to integrate into the community and live a life of dignity, independence and fulfillment while realizing its potential. The association has been leading for 27 years in providing many and varied services, to promote and integrate people with special needs in the community from birth to old age, under the supervision of the Ministries of Welfare, Health, Education and in cooperation with the National Insurance Institute.
"Dance is the secret language of the soul" Martha Graham, dancer and choreographer.
Photo Micha Hadar
Details

Written by

David Goland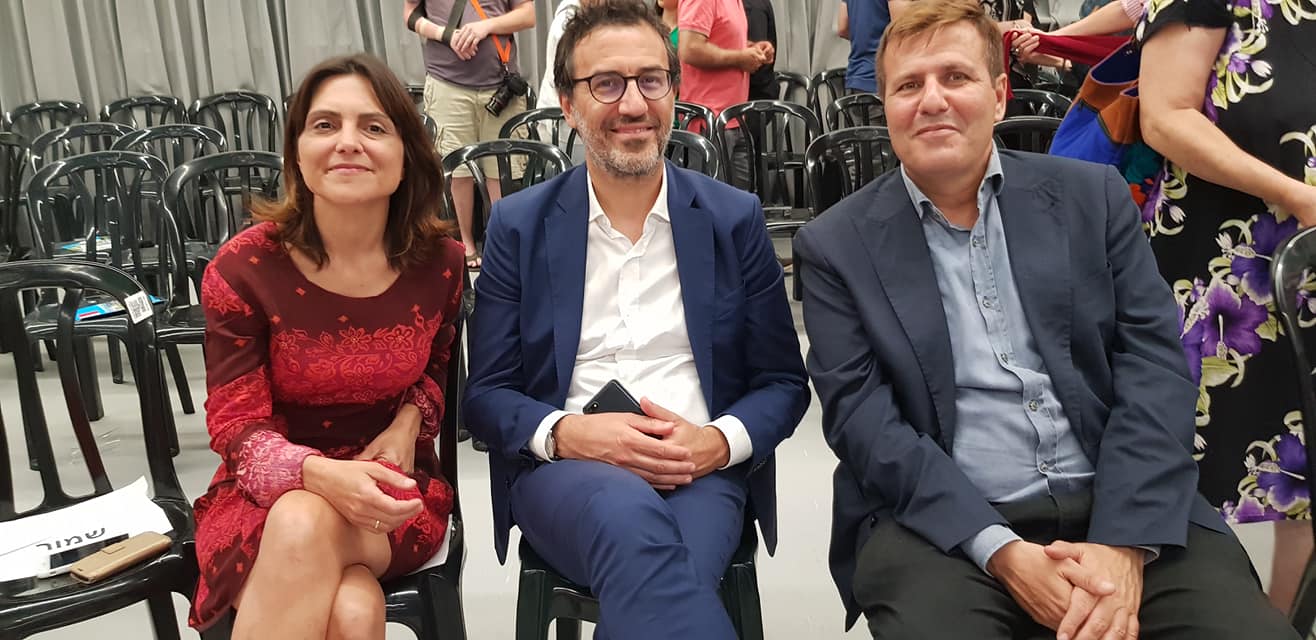 The Italian Institute for Culture in Tel Aviv gladly accepted an invitation by Bikurei Ha'itim Community Centre in Tel Aviv, for an evening of Italian Culture. Bikurei Ha'itim Municipal Centre is a professional studio for performing arts.
Fabio Ruggirello, the director of the Italian Institute of Culture, the guest of honor, accompanied by his lovely secretaries, Barbara and Miriam, greeted a local crowd of about a hundred people who gathered to experience the wonders of Italy. The Institute gave out copies of a beautiful booklet in Hebrew describing the cultural, historic and culinary treasures of Italy. The Italian Institute for Culture (Instituto Italiano de Cultura) is attached to the Italian Embassy in Tel Aviv with a branch in Haifa. The Institute offers Italian language courses and various cultural events.
Within the framework of the Eurovision Song Contest currently taking place in Tel Aviv, several Tel Aviv community centers "adopted" European delegations, and invited them to visit the centers. Bikurei Ha'itim is proud to host the Italian delegation to Eurovision.
The program included song, drama, dance, all performed by the students of Bikurei Ha'itim, and food provided by Pasta Mia restaurant. Three dance ensembles from Bikurei Ha'itim performed a Tarantella dance, a contemporary dance to Monteverdi's music (what an ingenious juxtaposition!), as well as a children's Hip-hop style dance choreographed, to the Italian song entry to be performed next Saturday's Eurovision final stage by Italian singer Bilal Hassani. Orr, an a ten years old boy, played a piano version of a Tarantella song and Vivaldi's "Spring". Mr. Alberto Levy sang a Hebrew version of the Neapolitan song Maruzzella, Mr. Gletzki acted out a humorous monologue of Geppetto complaining about his rogue son Pinocchio, and finally a trio dressed in red-white-green performed a Hebrew song.
Pasta Mia restaurant provided to each guest a glass of refreshing prosecco and a slice of tasty focaccia at the door, and then a taste of fine pasta in a rich tasting sauce at the end of the evening. Chef Ilan Moses was represented by Tsadok who told the audience the history of pasta, the traditions associated with pasta, and its serving style. Charming Mr. Riccardo Hoffman, the restaurant's promoter, was there to assure that we can all enjoy the food.
Websites:
Photos by Riccardo Hofmann and David Goland
Details

Written by

Yad Vashem
On 13 April 1944, sisters Susan-Zsuzsa and Lili Klein wrote their father Hugo a short letter: "Dear Daddy, We are well – goodbye." Hugo had been drafted into a forced labor battalion in 1943; his wife Matild had stayed with their two daughters in their hometown of Hencida in the Bihar district of Hungary. Hugo survived the war, but Matild, Susan-Zsuzsa (9) and Lili (7) were deported to Auschwitz on 24 May 1944 and murdered shortly after their arrival.
Exactly 75 years later, Susan-Zsuzsa and Lili's letter is among a dozen last letters included in Yad Vashem's latest online exhibition entitled, "Last Letters from the Holocaust: 1944" which is being uploaded to mark Israel's Holocaust Martyrs' and Heroes' Remembrance Day 2019. The final in a series on last letters sent by Holocaust victims from Nazi-occupied Europe, this exhibition highlights the hopes, wishes and shattered dreams of Jewish men, women and children in their final correspondence to their families and friends.
Many of the documents included in the online exhibition, as well as the photographs, were donated to Yad Vashem as part of its national "Gathering the Fragments" campaign.The missives, long and short, were sent from their homes, hiding places, ghettos, camps and even thrown from deportation trains in an attempt by their authors to express their desires to be closer to their loved ones during this extreme period of uncertainty, and often included a hopeful message of once again reuniting.
"This exhibit – the fourth and final chapter in a special series on last letters in which all the writers were murdered in the Holocaust – shows us the shared fate of Jews in the year 1944," explains Yad Vashem's Online Exhibitions Coordinator Yona Kobo. "1944 was the year in which the Nazis were already heading to defeat and their army was retreating towards the German borders. Despite that, the destruction of European Jewry continued at full pace. The last Jews of Greece, Italy, France, Holland and Slovakia were being murdered in 1944 and the Nazis began the mass deportation of 500,000 Hungarian Jews to Auschwitz for extermination.
"At the same time that Paris and Rome in the West and Vilna and Minsk in the East were being liberated from Nazi hands, we see in many of the last letters a glimmer of hope by the writers to be reunited with their loved ones. The letters presented in the exhibition were found in the collections of documents housed in the Archives at Yad Vashem. They were written 75 years ago on small pieces of paper or the back of postcards, which sometimes are stained with the tears of both the sender and the recipients. Through the prism of these letters, we tell the story of the individual in the Shoah, and restore the names and faces to the victims.
"Personal letters from children are some of the rarest things we have in our collections. Normally young children vanished without a trace, which is why these letters are so exceptional. These letters show – despite the cruel circumstances of the Nazi pursuit to murder Jews – that keeping familial connections and protecting their children was the most important element for so many Jews."
One of the stories of a child in this exhibition is ten-year-old Jacob Hijman Marcus, from Amsterdam. He wrote a letter to his grandparents on 16 May 1944 while in hiding with his aunt Rosa. "Dear Grandma and Grandpa how are you doing? Here, everything is going well… I send you all good wishes on the occasion of the birthday of your only son. Please congratulate him for me."
Only three weeks later, Marcus and Rosa were discovered and deported to the Terezin ghetto. Shortly after, Jacob's name appeared on a transportation list to Auschwitz; Rosa decided to accompany him, and switched her name with another person on the same list.
On 23 October 1944, they were deported to Auschwitz. Jacob was murdered upon arrival in the gas chambers of Auschwitz, while Rosa passed the selektion and survived until the liberation of the camp. Two months later, in March 1945, she tragically died of food poisoning after buying and eating what she was told was kosher food. Jacob's parents, grandfather and grandmother survived the war.
These irreplaceable letters are just two examples of the millions of pages of documentation housed in Yad Vashem's Archives. Together with the tens of thousands of Holocaust-era artifacts and artworks in Yad Vashem's collections, these priceless historical testimonies are due to be conserved and stored in the new Shoah Heritage Collections Center – the heart of the new Shoah Heritage Campus being built on the Mount of Remembrance in Jerusalem.
"The Germans Nazis were determined not only to annihilate the Jewish people, but also to obliterate their identity, memory, culture and heritage," remarked Yad Vashem Chairman Avner Shalev. "For many, all that remains are a treasured work of art, a personal artifact that survived with them, a photograph kept close to their person, a diary, or a note. By preserving these precious items – that are of great importance not just to the Jewish people, but also to humanity as a whole – and revealing them to the public, they will act as the voice of the victims and the survivors, and serve as an everlasting memory."
Sisters Suzan-Zsuzsa (right) and Lili Klein. Photo: Yad Vashem
Details

Written by

Pamela Hickman
MUSIC & TOURS IN JERUSALEM GOLDEN BELLS
An exciting new spring event is about to take place very soon in Jerusalem from May 16th to 18th. A long weekend of fine music and walking tours, Golden Bells offers visitors and locals a variety of concerts and an opportunity to discover the many fascinating quarters of Jerusalem, its history and magic. Thursday 16.5.19 16:00-17:30 Balabuste tour & flavors of the Old Yishuv Court Museum, the Jewish Quarter
Guide: Ora Pikel Tzabari • Meeting point: 6 Or Haim st., the Jewish Quarter NIS 75/65 19:00-20:30 The Jerusalem Experience, a tour of Beit Ot Hamutzar • Guide: Issac Weiss NIS 75/65 20:00-21:30 Schumann Quartet (Germany) concert • Jerusalem YMCA NIS 95/85 20:30-22:30 El Greco, a Greek celebration of music & flavors NIS 75/65 22:30-23:15 KING DAVID show, a night experience at the Tower of David Museum NIS 65/60 22:00-23:30 Night Birds in Machnejuda, a night tour to the most famous market
Guide: Itamar Ben David • Meeting point: 88 Agripas st. NIS 75/65 Friday 17.5.19 11:00-12:00 The Jerusalem Experience, a tour of Beit Ot Hamutzar • Guide: Issac Weiss NIS 75/65 12:00-13:00 Thalamus Vocal Quartet, an a-capella concert • Beit Ot Hamutzar NIS 75/65 13:30-14:30 The Jerusalem Experience, a tour of Beit Ot Hamutzar • Guide: Issac Weiss NIS 75/65 14:00-16:00 From Scotland to Jerusalem, a tour from Beit Ot Hamutzar to St. Andrew's Church
Guide: Ester Sa'ad • Meeting point: Beit Ot Hamutzar NIS 75/65 16:00-17:15 Near Eastern Voices concert
Abaad Ensemble, Bertini Choir • St. Andrew's Church NIS 75/65 19:30-20:00 Carillon concert, Gaby Shefler, YMCA courtyard Free 20:00-22:30 Coral ensemble hosting Koolulam, concert + mass-singing.
Singing together "One Love" by Bob Marley • Jerusalem YMCA NIS 95/85 Saturday 18.5.19 10:30-11:00 Carillon concert, Gaby Shefler, YMCA courtyard Free 11:00-12:15 Bach: Anna Magdalena • Barrocade Ensemble • Concert at the Jerusalem YMCA NIS 95/85 12:45-15:00 Tour-Concert No. 1: Russian & French in Jerusalem • Guide: Shmuel Langer NIS 130/120
Meeting point: Sergei courtyard, corner of Heleni Hamalka & Monbaz streets 15:00-16:00 Night at noon time, a-cappella concert • Jerusalem Oratorio Chamber Choir
Jerusalem Notre Dame Cathedral 12:45-14:00 Tour-Concert No. 2: Between Heaven & Hell. Guide: Ester Sa'ad NIS 130/120
Meeting point: Jerusalem YMCA gate, 26 King David St. 14:00-15:00 Classical Israeli songs • Bertini Choir • Christ Church 15:00-16:00 The tour continues from Christ Church to the Christian Quarter 12:45-15:00 Tour-Concert No. 3: Architecture & Romance in Jerusalem. Guide: Nir Ortal NIS 130/120
Meeting point: Jerusalem YMCA 15:00-16:00 Israeli songs • A-cappella concert • Adi Choir • St. Andrew's Church 17:00-18:00 Bach, Fauré, Cantata & Requiem, a festive final concert
The Jerusalem Street Orchestra, Bertini Choir, The Jerusalem Academy Chamber Choir • Jerusalem YMCA NIS 95/85
art-jerusalem.co.il | Tel: 02-6717430
Photo Tali Raz
Details

Written by

Ariella Rose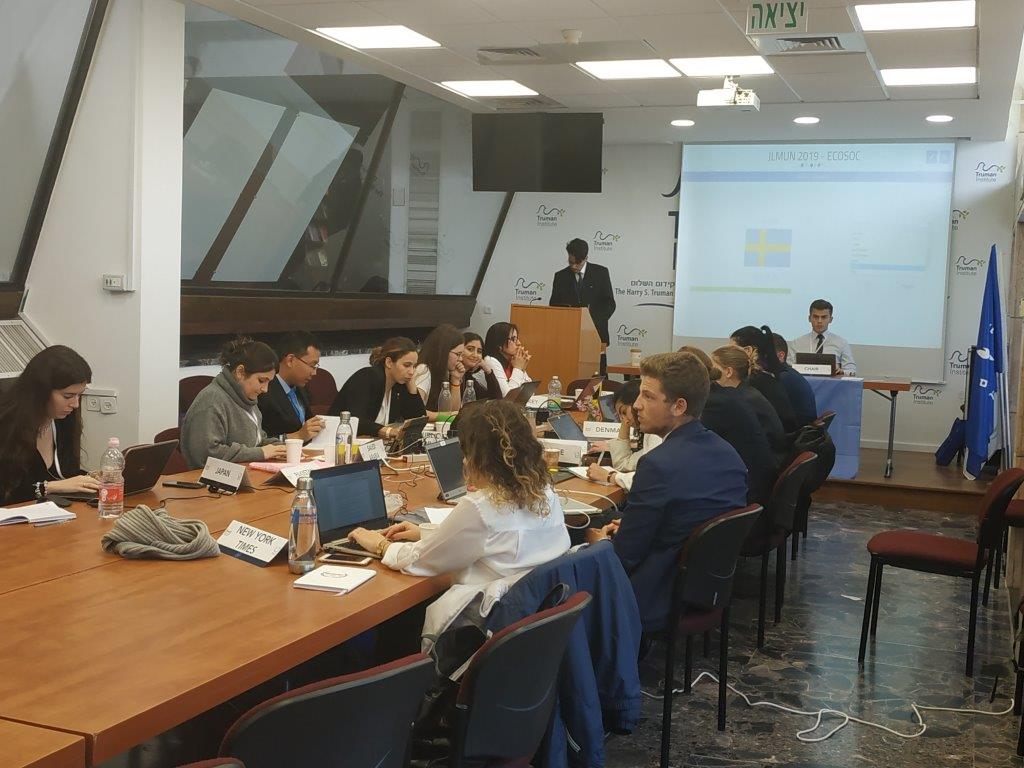 Model UN in Israel went up a notch when 150 delegates and chairs from 30 different countries got together in for the JLMUN 2019 conference.
JLMUN 2019 started on April 14th, 2019, and concluded on April 18th, 2019. The conference was held to very high expectations, which were, with no doubt, met. The conference was run by IMUNA (Israeli Model United Nations Association) and held at the Hebrew University in Jerusalem with support from the American Center Jerusalem, and the American, Dutch, and Canadian embassies, and other international sponsors. As the first international level, 5-day MUN conference to be run by IMUNA in Jerusalem, it was the brainchild of Secretary-General Natalie Raidl and Under-Secretary-General Ari Karp.
The conference included 7 committees: Security Council, NATO, United Nations General Assembly – Sixth Committee (Legal), ECOSOC, European Council, Joint Cabinet Crisis, and the Press Corps.
The Security Council debated Cybersecurity and Cybercrimes, and their second topic was agreeing upon an international definition for terrorism. The Delegate of the Dominican Republic, Eliran Ben Yair said that "the delegates' level is very high, and I feel challenged. I enjoy challenges, it makes the committee more fun and interesting."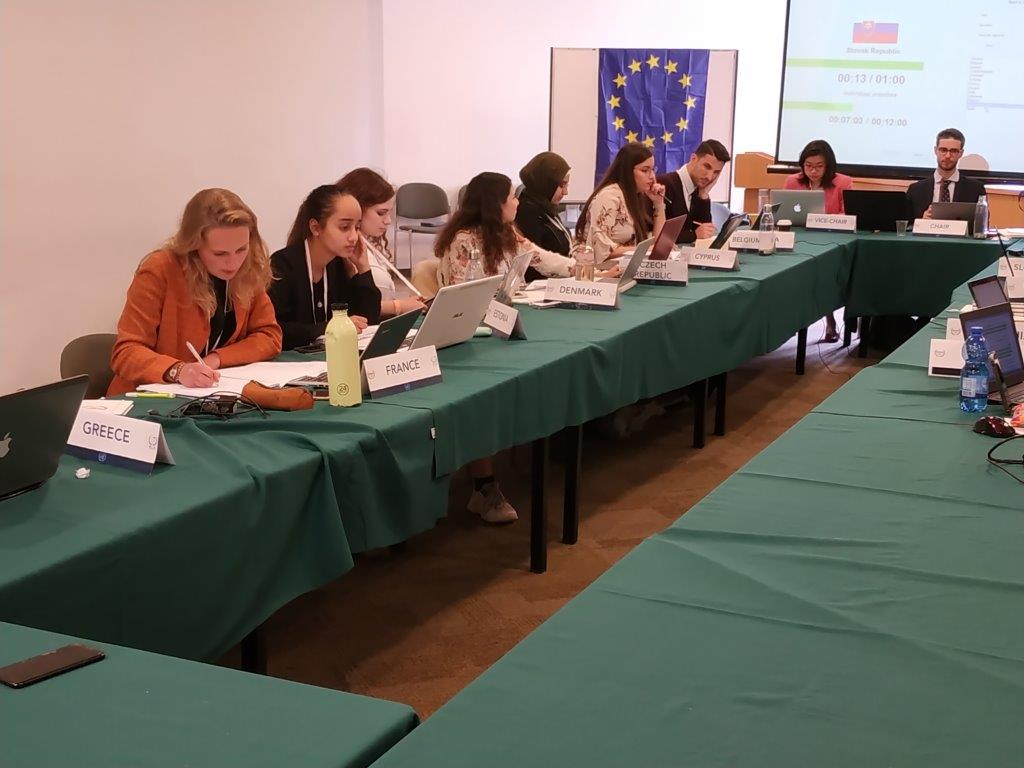 While NATO (The North Atlantic Treaty Organization) is not a UN committee, it is no less exciting. They too debated two topics – the future of NATO (potential enlargement) and countering Russian aggression in Eastern Europe. The Delegate of Estonia, Gaia Kinrot, described the committee as "very interesting. There are a lot of opinions, and the delegates are very intelligent people."
The Legal Committee (the Sixth UN General Assembly Committee) debated criminal accountability of UN personnel as their first topic and Immunity of heads of state and other state officials as their second. This was one of the advanced committees and included only 12 delegates. "When we were debating the first topic (accountability of UN personnel) we started off with two coalitions, but we ended up merging resolutions and working together. We believed we accomplished a lot, and it's really great working with all countries", said the delegate of the UK.
The ECOSOC Committee (UN Economic and Social Council) discussed two topics as well:
"Reconciling cultural traditions with the need to educate girls and women", and "How emerging technologies can be utilized in order to accomplish sustainable development goals."
Regarding the committee, the Delegate of Argentina said: "the committee has good vibes, amazing chairs, and very fruitful discussions."
The European Council (EC), like NATO, though not a UN committee was certainly interesting. In the EC the delegates will be reviewing the Dublin III Regulation on Asylum Seekers and will be discussing The Future Direction and Priorities for Establishing the Energy Union within the Single Market. This committee was described as "very productive, we came right to a conclusion. Everyone is very supportive," by the delegate of France.
The Joint Cabinet Crisis runs in a very different way from traditional MUN committees. It is far more dynamic and much less formal. The Crisis topic in Vietnam in 1954, starting with the Geneva Accords, and following North and South Vietnam from there. The delegates write directives, which is an action they decided to take, and later on, they will see the outcome of their actions. Binyamin Voskoboynik from the backroom (the staff that decides how the directives are implemented) told Diplomacy that this crisis "is very strong and will end in a bang!"
Last but not least, the Press Corps. The Press writes articles about all that's going on in the conference, so don't forget to follow us! Shelly Kopatz, the representative of the New York Times, said that "I had a lot of fun. I think the press is very important, it gives another perspective on the topics. Sometimes I hear delegates discussing our articles!"
Altogether, this conference was run very smoothly, with fascinating topics, and amazing people. It is a highly recommended conference, and will only be better next year!
Photo Credit: Debate for Peace