Embassy of Kazakhstan Brings the Sights and Sounds of Spring to Israel with Joyous Nowruz Celebration at Ambassador's Residence
The Embassy of Kazakhstan brought the sights and sounds of Spring to Israel on Sunday afternoon, with a joyous Nowruz celebration at the home of Ambassador Satybaldy Burshakov and his wife Maira Karakeshova.
Nowruz, or "New Day", marks the spring equinox, and has been celebrated by various nations for thousands of years, ranging from Afghanistan and India to Turkey, and of course Central Asia. This year UN Secretary General António Guterres' noted the twin features of Nowruz, a celebration of renewal, as well as the beauty of human diversity:
"Nowruz is a celebration of new beginnings. The beginning of a new year. The arrival of spring…Nowruz is also a celebration of our diversity. It unites over 300 million people…It is a time to learn about each other, our cultures and our world."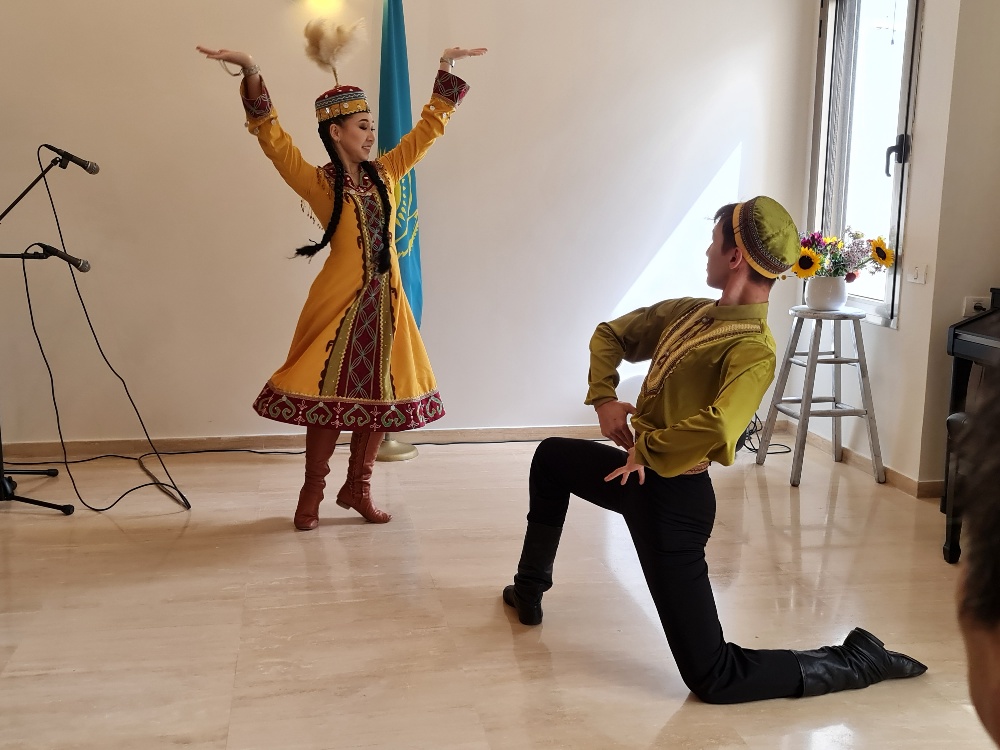 In that regard, the embassy of Kazakhstan in Israel championed the spirit of Nowruz, with a colorful and engaging celebration that regaled guests with the colors, sounds and flavors of Nowruz. Ambassador Satybaldy Burshakov invited the guests to enjoy the cultural richness of Nowruz with music and dance performances by Kazakhstani students studying in Israel. Amirlan Nazhmetdinov. an international student at Bar Ilan University, performed several traditional Kazakhstani songs. Then Amre Nursaulet and Melissova Diana, dancers from the Kazakh National Academy of Choreography who are spending a semester studying at the Jerusalem Academy of Music and Dance, performed several synchronized dance pieces, to the delight of the guests.
Following the music and dance performances, guests enjoyed a lavish lunch, with numerous traditional Central Asian delicacies, like baursak and samsa. A well-decorated Yurt outside of the ambassador's residence, including traditional clothing and various books published by the embassy, further added to the rich cultural experience.
Nowruz was recognized as an intangible cultural heritage practice by UNESCO in 2009, at the initiative of Kazakhstan, together with Afghanistan, Azerbaijan, India, Iran (Islamic Republic of), Iraq, Kyrgyzstan, Pakistan, Tajikistan, Turkey, Turkmenistan and Uzbekistan. In 2010, UN General Assembly Resolution 64/253 proclaimed the "International Day of Nowruz".
Among the distinguished guests to join in the celebration were H.E. Mr. Khaled Azmi, the ambassador of Egypt; H.E. Mr. Sanjeev Singla, the ambassador of India; H.E. Mr. Mizushima Koichi, the ambassador of Japan; H.E. Ms. Feruza Makhmudova, the ambassador of Uzbekistan, H.E. Evgeny Vorobyev, the ambassador of Belarus; H.E. the Charge d'Affaires of Turkey Mr. Mehmet Fazil Sekerci , Mr. Nikoloz Chaloev, Senior Counselor of the embassy of Georgia; Mr. David Luxemburg, Honorary Consul of the Republic of Kazakhstan in Israel, Mr. Dmitry Shkaf, the honorary consul of Kyrgyzstan and Mrs Zina Polyanskaya Chairman of the All- Israel Association of Immigrants from Kazakhstan.
Diplomacy.co.il congratulates the Embassy of Kazakhstan on this wonderful celebration, and wishes a happy Nowruz to all those celebrating.
Steven Aiello
Founder--DebateforPeace
Photos credit Silvia G. Golan
More Pics at Facebook Diplomacy Israel / Israel Diplo