Details

Written by

President's Media Advisor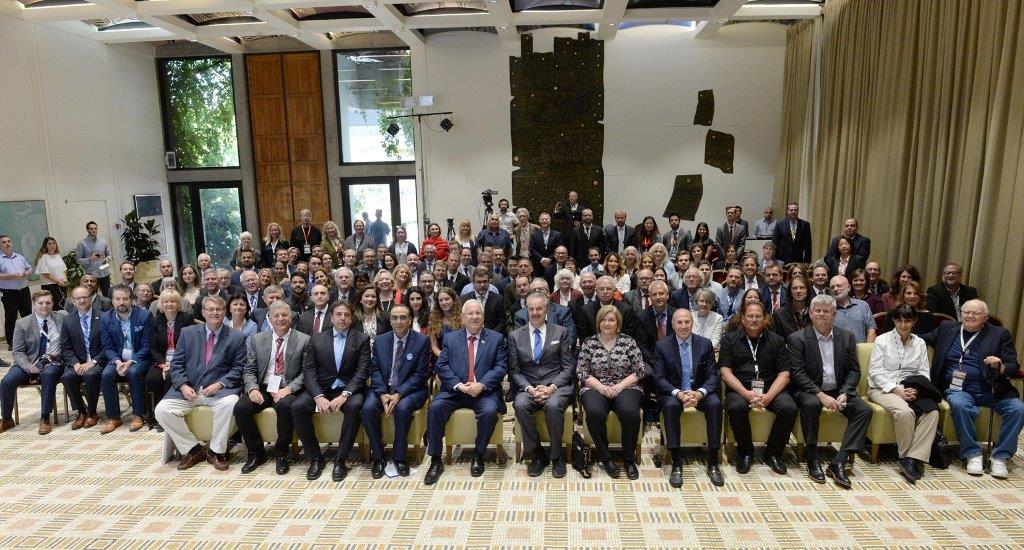 President Rivlin: "Israel will never stop trying to find a way to bring an end to the tragedy between us and the Palestinians. We must work to build understanding between the two sides. I am hopeful. Israel has built new and better friendships with many in our region"
President Reuven Rivlin today (Wednesday), addressed more than 100 journalists and editors from Christian media outlets from more than 30 countries around the world gathered in Jerusalem for Christian Media Summit arranged by (inter alia) the Government Press Office. The four day summit which concluded today, was entitled "50 Years of a United Jerusalem", and included a range of keynote speakers, and panels on a range of topics.
President Rivlin welcomed all the participants, and told them of his family's long history in Jerusalem, he told them that, "Since 1850, Jerusalem has had a Jewish majority; living side by side with the Christians and Muslims of the city." He noted that even though the Jewish community in the city was growing over the years, they continued to pray for the city to be rebuilt. He said, "After painful wars and years of separation Jerusalem was liberated, reunited as the capital of Israel. Jerusalem is now a city of modern innovation, and ancient inspiration. Just yards from the world's holiest places, are technology companies, making self-driving cars. This is a miracle."
The President added however, "There is much more to do. Jerusalem is a microcosm of all our abilities to live together; Jews, Muslims, Christians, religious and secular," he stressed, "If we can do it here in the city of Jerusalem, we can do it all over the Middle East, and all over the world."
The President stressed Israel's commitment – as a Jewish, democratic state – to defending freedom of religion. He said, "I want to reassure you all, that Israel will continue to stand firm to keep the holy sites for all faiths safe and secure."
On the issue of the peace process with the Palestinians, the President stressed, "Israel will never stop trying to find a way to bring an end to the tragedy between us and the Palestinians. We must work to build understanding between the two sides. We must work to build confidence between the two peoples. And I have to tell you, I am hopeful. Israel has built new and better friendships with many in our region; economic and diplomatic cooperation. This is an important step." In particular, the President noted, "I want to say, how much we appreciate in particular, King Abdullah of Jordan, and all he is doing, for peace, security, and stability in our region. The State of Israel and the Kingdom of Jordan, face many challenges. But our relationship is built on a shared commitment, to the dream of a better future, for both our peoples. I hope this friendship grows stronger and stronger, and that the bond of peace between us will be an example to the whole region, for many generations."
Photo credit: Mark Neiman (GPO)
Details

Written by

Steven Aiello
On Monday, March 27th, a group of visiting NYU alumni was welcomed on their first trip to Tel Aviv with an event at the award-winning Na Laga'at center. The restaurant and nonprofit cultural center, which aims to spark dialogue between visitors and its blind and deaf staff, was described as "informative" and "unique" by event attendees.
At the Na Laga'at event, visitors were given an introduction to Na Laga'at and its mission by Limor, the center's events manager, followed by a short presentation on Israeli Sign Language. The alumni then heard from the club's president and founder, Oded Agam. He delivered a presentation on entrepreneurship, speaking from his experience leading strategic innovation programs as Senior Director of the Strategic Technologies Group at Intel Israel.
Details

Written by

Prime Minister's Media Adviser
Prime Minister Benjamin Netanyahu made the following remarks on the first night of Chanukah this evening (Saturday, 24 December 2016) at an event in salute of wounded IDF and security forces veterans and victims of terrorism:
"Citizens of Israel, I would like to reassure you. The resolution that was adopted yesterday at the United Nations is distorted and shameful but we will overcome it. The resolution determines that the Jewish Quarter [in the Old City of Jerusalem] is 'occupied territory'. This is delusional. The resolution determines that the Western Wall is 'occupied territory'. This too is delusional. There is nothing more absurd than calling the Western Wall and the Jewish Quarter occupied territory. There is also an attempt here, which will not succeed, to impose permanent settlement terms on Israel. You might recall that the last one who tried to do this was Carter, an extremely hostile president to Israel, and who just recently said that Hamas is not a terrorist organization. Carter passed sweeping decisions against us at the UN of a similar kind, and this was also unsuccessful. We opposed this and nothing happened.
All American presidents since Carter upheld the American commitment not to try to dictate permanent settlement terms to Israel at the Security Council. And yesterday, in complete contradiction of this commitment, includingan explicit commitment by President Obama himself in 2011, the Obama administration carried out a shameful anti-Israel ploy at the UN. I would like to tell you that the resolution that was adopted, not only doesn't bring peace closer, it drives it further away. It hurts justice; it hurts the truth. Think about this absurdity, half a million human beings are being slaughtered in Syria. Tens of thousands are being butchered in Sudan. The entire Middle East is going up in flames and the Obama administration and the Security Council choose to gang up on the only democracy in the Middle East – the State of Israel. What a disgrace.
My friends, I would like to tell you on the first night of Chanukah that this will not avail them. We reject this resolution outright, just as we rejected the UN resolution that determined that Zionism was racism. It took time but that resolution was rescinded; it will take time but this one will also be rescinded. Now I will tell you how it will be rescinded. It will be rescinded not because of our retreats but because of our steadfastness and that of our allies. I remind you that we withdrew from Gaza, uprooted communities and took people out of their graves. Did this help us at all at the UN? Did this improve our relations at the UN? We were hit with thousands of rocketsand at the UN we were hit with the Goldstone report!
So I will tell you what is clear, I know, to the vast majority of Israeli citizens: We learned this lesson, and we will not go there. But I also want to tell you something else: We are not alone. I spoke last night with many American leaders. I was pleased to hear from members of the American Congress, from Democrats and Republicans alike, that they will fight an all-out war against this resolution with all the power at their disposal. I heard the exact same things from our friends in the incoming administration, who said that they will fight an all-out war against this resolution. And I heard this from across the spectrum of American public opinion and American politics – Republicans, Democrats, Jews and non-Jews. As I spoke yesterday with leaders in Congress and the incoming American administration, they told me unequivocally: 'We are sick of this and it will not continue. We will change this resolution. We will not allow anyone to harm the State of Israel.' They are declaring their intention to pass legislation to punish countries and bodies that try to harm Israel. They say that this will also include the UN itself. I remind you that the UN receives a quarter, 25%, of its budget from the US alone.
In my most recent speech to the UN, in September, I said that a storm was expected in the UN before it gets better there. We knew that this is possible and we expect that it will come. The resolution that was passed at the UN yesterday is part of the swan song of the old world that is biased against Israel, but, my friends, we are entering a new era. And just as President-elect Trump said yesterday, it will happen much sooner than you think. In the new era there is a much higher price for those who try to harm Israel, and that the price will be exacted not only by the US, but by Israel as well.
Two countries with which we have diplomatic relations cosponsored the resolution against us at the UN; therefore, I ordered yesterday that our ambassadors be recalled from, Senegal and from New Zealand. I have ordered that all Israeli assistance to Senegal be halted, and there's more to come. Those who work with us will benefit because Israel has much to give to the countries of the world. But those who work against us will lose – because there will be a diplomatic and economic price for their actions against Israel. Additionally, I have instructed the Foreign Ministry to complete, within a month, a reassessment of all of our contacts with the UN, including Israeli financing of UN institutions and the presence of UN representatives in the country. But I am not waiting; already now I have ordered to halt approximately NIS 30 million in financing for five UN institutions, five UN bodies that are especially hostile to Israel. I have already ordered that this be stopped, and there is more to come.
We are on a campaign of improving our relations with the nations of the world. And it will take more time, and I have said this as well, until our improved relations with countries on five continents are also reflected in their decisions in UN institutions. But I would like to tell you something else, and listen closely to what I'm saying. Contrary to what you might expect, it is very likely that last night's scandalous resolution will accelerate this process, because it is the straw that broke the camel's back. Last night's resolution is a call to arms for all of our many friends in the US and elsewhere around the world, friends who are sick of the UN's hostility toward Israel, and they intend to bring about a fundamental change in the UN. Therefore, this evening I tell you in the language of our sources, the sweet will yet come forth from the bitter and those who come to curse will yet bless.
Here, on the first night of Chanukah, I stand next to the Maccabees of our times, IDF soldiers and wounded IDF heroes. I salute you and I say to you clearly: The light will dispel the darkness. The spirit of the Maccabees will overcome. Happy Chanukah."
Photo Silvia Golan
Details

Written by

Prime Minister's Media Adviser
Prime Minister Benjamin Netanyahu, this morning (20 March 2017, China Standard Time), met with the heads of China's largest corporations, each of which has a turnover of tens of billions of dollars. Among those present were the chairpersons of Wanda, Alibaba, Wahaha, Lenovo and Baidu.
Details

Written by

foemer president Peres Office
Chemi Peres, son of the Ninth President, and Rafi Walden, Peres' son-in-law and personal physician, addressed the terrible news regarding the death of Shimon Peres of blessed memory
Chemi: "The loss we feel today belongs to all of Israel, we all share this pain."
Rafi: "His life ended abruptly while he was still working on his great passion – strengthening the state and striving for peace. His legacy will remain with us all."
Chemi Peres, son of the Ninth President, and Rafi Walden, Peres' son-in-law and personal physician, addressed the terrible news regarding the death of Shimon Peres of blessed memory. Chemi Peres began by saying: "Today, with deep sorrow, we bid farewell to our beloved father, the Ninth President of Israel, Shimon Peres.
Chemi referred to the many years of dedication by his father to the people of Israel and said: "He was one of the founding fathers of the State of Israel, and served our people before we even had a country of our own. He worked tirelessly for Israel from the very first day of the state to the last day of his life.
Throughout his 70 years of public service he was committed and devoted to Israel, serving as President, Prime Minister, Minister of Defense, and in many other key positions, which shaped our history.
My father used to say: "You are only as great as the cause you serve". He had no interest other than serving the people of Israel, in whom he had great faith and whom he loved dearly, until his final breath."
He also thanked the medical staff who treated his father with great devotion, and sent a message for a speedy recovery to the patients in the ICU saying: "On behalf of our family, I would like to thank the medical staff at the Sheba Medical Center, who worked tirelessly, with boundless dedication, professionalism, and devotion to our father's life.
We would like to send our warmest wishes to the families we met daily in the corridors of the ICU. We pray for your loved ones' full and speedy recovery.
We extend our deepest gratitude to all of you who offered support, sending words of comfort, hope and prayers from within Israel and all over the world; young and old, Heads of State and religious leaders.
You enveloped our father in love, and we know how much he loved you.
Our father's legacy has always been the future. Look to tomorrow, he taught us, build Israel's future with courage and with wisdom and always continue to strive for peace. We were privileged to have been part of his private family. But today, we sense that the entire nation of Israel and the global community mourn this great loss. We share this pain, together."
Following Chemi Peres' message, Rafi Walden, son-in-law and personal physician to Shimon Peres, said: "Shimon Peres left us without suffering. The wonderful team at the Sheba Medical Center fought for his life with all of their might, while protecting his dignity and ensuring that he did not experience pain. He was in good health up until the day of his stroke. Ten months ago he suffered a minor heart attack, and his recovery was astounding. He returned to his work as usual at the Peres Center for Peace, including trips to South Africa and Canada, meeting with the Pope, and many others."
Walden also referred to Peres' meetings with world leaders, saying: "During his meetings around the world we were amazed, time and again, to see world leaders standing before him like students before a Rabbi, eager to hear his wisdom. Just an hour ago we had a conversation with President Obama, who talked to my wife, Tsvia, expressing his great admiration for Peres and his condolences to the family.
Three weeks ago I traveled with him to an international conference in Italy, where he held meetings with statesmen, religious leaders, and business leaders, and gave numerous interviews. The speech he delivered was brilliantly received. On the morning of his stroke he delivered an hour long speech, as usual without notes, before business and high-tech leaders, about his favorite topic: innovation.
We all believed that so much more still awaited him, and that Israel and the world would continue to benefit from his contributions. His life ended abruptly, while he was still working on his great passion – strengthening the state and striving for peace. His legacy will remain with us all."
Statement from the Office of Ninth President Shimon Peres
The Office of the Ninth President of the State of Israel bows its head in deep sadness at the passing of Shimon Peres; Israel's Ninth President, former Prime Minister, Minister in numerous governments, Nobel Peace Prize Laureate, and a man of vision and of action.
Shimon Peres was one of Israel's founding fathers; he secured the country's deterrent capability and its defensive strength in the early years, stood at the forefront of arming and building the IDF, established the reactor in Dimona and led the formation of Israel's defense industries. He served the people of Israel for decades, from before the establishment of the State and until his final breath. Shimon Peres worked to establish true peace within Israel as well as between Israel and her neighbors, and stood at the head of the country's transformation into a technological superpower – the Startup Nation.
As Prime Minister (1984-1986), Peres turned Israel's economy around and saved it from collapse following the worst economic crisis in its history (with a peak inflation of over 400% per year) through his Economic Stabilization Program.
Shimon Peres believed that it was the right of every Jew in the world to live in Israel. As Prime Minister, he worked to open the gates of the Former Soviet Union and enable the immigration of Soviet Jewry to Israel, oversaw Operation Moses, during which 8,000 Ethiopian Jews were brought to Israel, and pushed for the release of the Prisoners of Zion.
As President, he worked to promote Israel's standing in the world and established centers to encourage breakthrough Israeli science and innovation. In recent years he secured the necessary resources and opened research funds at Israeli universities, which contributed to the development of Israeli science and to breakthroughs in a variety of fields including neuroscience, robotics and nanotechnology. In July 2016, Shimon Peres laid the cornerstone for the new Israeli Innovation Center at the Peres Center for Peace in Jaffa, together with the Israeli Prime Minister and President.
It is with great sadness that we part from one of Israel's great leaders, a man who devoted his life to the service of his country and loved the people of Israel with all his heart.
May his memory be a blessing.
Photo Silvia Golan