Details

Written by

President's Media Advisor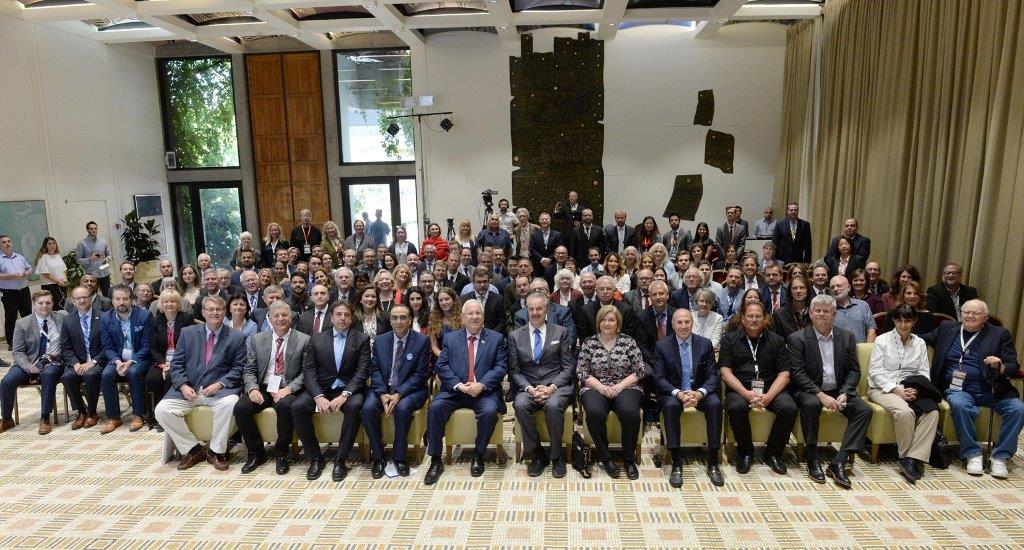 President Rivlin: "Israel will never stop trying to find a way to bring an end to the tragedy between us and the Palestinians. We must work to build understanding between the two sides. I am hopeful. Israel has built new and better friendships with many in our region"
President Reuven Rivlin today (Wednesday), addressed more than 100 journalists and editors from Christian media outlets from more than 30 countries around the world gathered in Jerusalem for Christian Media Summit arranged by (inter alia) the Government Press Office. The four day summit which concluded today, was entitled "50 Years of a United Jerusalem", and included a range of keynote speakers, and panels on a range of topics.
President Rivlin welcomed all the participants, and told them of his family's long history in Jerusalem, he told them that, "Since 1850, Jerusalem has had a Jewish majority; living side by side with the Christians and Muslims of the city." He noted that even though the Jewish community in the city was growing over the years, they continued to pray for the city to be rebuilt. He said, "After painful wars and years of separation Jerusalem was liberated, reunited as the capital of Israel. Jerusalem is now a city of modern innovation, and ancient inspiration. Just yards from the world's holiest places, are technology companies, making self-driving cars. This is a miracle."
The President added however, "There is much more to do. Jerusalem is a microcosm of all our abilities to live together; Jews, Muslims, Christians, religious and secular," he stressed, "If we can do it here in the city of Jerusalem, we can do it all over the Middle East, and all over the world."
The President stressed Israel's commitment – as a Jewish, democratic state – to defending freedom of religion. He said, "I want to reassure you all, that Israel will continue to stand firm to keep the holy sites for all faiths safe and secure."
On the issue of the peace process with the Palestinians, the President stressed, "Israel will never stop trying to find a way to bring an end to the tragedy between us and the Palestinians. We must work to build understanding between the two sides. We must work to build confidence between the two peoples. And I have to tell you, I am hopeful. Israel has built new and better friendships with many in our region; economic and diplomatic cooperation. This is an important step." In particular, the President noted, "I want to say, how much we appreciate in particular, King Abdullah of Jordan, and all he is doing, for peace, security, and stability in our region. The State of Israel and the Kingdom of Jordan, face many challenges. But our relationship is built on a shared commitment, to the dream of a better future, for both our peoples. I hope this friendship grows stronger and stronger, and that the bond of peace between us will be an example to the whole region, for many generations."
Photo credit: Mark Neiman (GPO)
Details

Written by

Steven Aiello
On Monday, March 27th, a group of visiting NYU alumni was welcomed on their first trip to Tel Aviv with an event at the award-winning Na Laga'at center. The restaurant and nonprofit cultural center, which aims to spark dialogue between visitors and its blind and deaf staff, was described as "informative" and "unique" by event attendees.
At the Na Laga'at event, visitors were given an introduction to Na Laga'at and its mission by Limor, the center's events manager, followed by a short presentation on Israeli Sign Language. The alumni then heard from the club's president and founder, Oded Agam. He delivered a presentation on entrepreneurship, speaking from his experience leading strategic innovation programs as Senior Director of the Strategic Technologies Group at Intel Israel.
Details

Written by

Silvia
For the third year in a row (2014-2015-2016), Tel Aviv is the #1 Aliyah destination, concluding 2016 with an additional 2900 immigrants who chose to make Tel Aviv their new home in Israel. In the past year, Israel welcomed some 27,000 immigrants, according to a report by the Jewish Agency for Israel and the Ministry of Aliyah and Immigrant Absorption. 11% of the new immigrants chose to settle in Tel Aviv, the Nonstop City. The report also showed that most of the immigrants who arrived in Tel Aviv hail from Russia (715), France (526) and the United States (252).
Immigration to Tel Aviv has come to be characterized by youth; approximately 9,500 of the new immigrants are between the ages of 18 and 35, joining a third of Tel Aviv's population that is of the same age sector. Tel Aviv embodies many of the things these young professionals are looking for when they come to Israel. On top of Tel Aviv's attractive beaches, nightlife and culinary scene, the Startup City is also home to 1,450 early stage startups, the highest amount of startups per capita. That constitutes 28 startups per square kilometer and 1 startup for every 290 residents. 2,400 of the Olim have a background in high-tech and engineering, a perfect match while the Tel Aviv startup scene is looking to scale-up to international markets, providing plenty of jobs for International immigrants.

The Tel Aviv-Yafo Municipality supports the Aliyah and absorption of new immigrants by offering them unique career benefits, including workshops covering important topics such as job search, resume writing and entrepreneurship, offered in 3 languages. All activities are done in cooperation with the Ministry of Aliyah and Immigrant Absorption.

The Mayor of Tel Aviv-Yafo, Ron Huldai: "Absorption and Aliyah is an important asset for Tel Aviv-Yafo, and I am proud that the support that this city is providing to immigrants, proved itself over the years. We feel honored and welcome the immigrants, who chose to make Tel Aviv their new home and contribute by making this city more interesting, diverse and cosmopolitan".
Shlomo Maslawi, Chairman of the Immigration and Absorption Committee: "I am proud to be standing at the head of a municipal system determined to integrate immigrants effectively into the Tel Aviv-Yafo society. These new immigrants contribute immensely to the diversity of the local culture and economy. I would like to thank our partners at the Ministry of Aliyah and Immigrant Absorption who are working with us in order to make sure these new immigrants feel at home in Tel Aviv-Yafo".
Amir Dor, Director for the Department of Immigration Absorption:" I am happy and proud to be standing at the head of the municipal absorption department, which is devoted to providing new immigrants with the assistance they need, in a variety of languages, in order to help them build their home and future in Tel Aviv-Yafo".
Tel Aviv Global & Tourism's CEO, Eytan Schwartz: "Tel Aviv offers Young Jewish professionals from around the world an innovative and creative nonstop lifestyle that is comparable to global cities such as New York, London and Berlin. Out of the 61 cities studied, Tel Aviv was ranked 8th in the Global Cities Ranking".
Photo credit:Kfir Bolotin
Details

Written by

Prime Minister's Media Adviser
Prime Minister Benjamin Netanyahu, this morning (20 March 2017, China Standard Time), met with the heads of China's largest corporations, each of which has a turnover of tens of billions of dollars. Among those present were the chairpersons of Wanda, Alibaba, Wahaha, Lenovo and Baidu.
Details

Written by

President's Spokesperson
President Reuven Rivlin this morning (Sunday), addressed at his residence in Jerusalem, a meeting of Israel's ambassadors to European countries. Before the meeting, the President was updated by Israel's Ambassador to Turkey Eitan Na'eh who was attending the meeting, regarding the Israelis caught up in the terror attack in Turkey.
"This is a complex and turbulent time for the State of Israel, but not only for the State of Israel," began the President and went on to speak about the attack which had taken place in Turkey the night before. "Last night, Turkey endured yet another terror attack. I send from here my sympathies and wishes for better days, to the families who have lost their sons and daughters, and to the Turkish people after another disaster which has befallen them."
He continued, "The world around us is unsettled and shifting – axes are taking shape; some on a diplomatic level are more comfortable for Israel, like the Sunni axis, and some are hostile and dangerous, like the Syrian-Hezbollah-Iran axis. In the wider sense these changes are not just regional, the shock-waves occurring in the Middle East impact more than metaphorically, but significantly on Europe: as waves of refugees, as terror attacks, and Jihadists, which rove from here to there, and from there to here. As a result of these developments, and other important other progressions of globalization, western democracy is enduring change. The term 'defensive democracy' seems accurate in relation to the election results in the US, Brexit, and the strengthening of the populist, national and nationalist and other movements in many countries in Europe. The political agenda for the continent in 2017 is certain to be far from boring for us – and certainly not for you. None more than you know the significance each of these elements for the State of Israel; on what occurs here, on its relations with the West, with the whole world."
He added, "Our sovereign power preserves our independence and defends our interests, and will continue to stand forever as the highest priority for the State of Israel. Yet military strength and erecting high walls will never suffice in safeguarding our sovereignty and security. The strength of the State of Israel is drawn from its first days, and the combination of military and diplomatic strength, the integration of industry and technology, of human resources and the ability to build ties. And today – perhaps more than ever – professional diplomacy is a central and crucial component to preserving Israel's national and international resilience. I stress these elements in Israel's foreign policy, specifically against the background of UNSC Resolution 2334. In professional terms Resolution 2334 which was adopted against Israel is 'soft power'; tanks, jets, and missiles were not launched against us and yet the decision harms the legitimacy of the State of Israel. Resolution 2334 and the speech by the Secretary of State place Israel in the dock. In a world where countries use 'soft power' such as sanctions and slurs in order to influence and shape global policy, 'soft power' also represents a real challenge for the State of Israel. If we will not be sure of our strength and the justness of our path, and in our ability to convince that we act justly, with respect, fairness, and with morality with all the residents of this land, we will be stuck forever in this war. The adoption of the Resolution proves that the Israeli-Palestinian conflict is not only a central issue in your day to day work behind the scenes, but is on the world's stage and we cannot look the other way in the hope it disappears. At the same time, the Resolution exposes the central point of contention between Israel and the international community."
The President went on to say, "The existence of a clear disagreement between Israel and the international community on the question of the 1967 borders, is sacred to the resolution of the conflict.The international community still sees the 1967 borders as sacred to the solution of the conflict, while within the Israeli Jewish consensus, there are perhaps none who see a return to the 1967 borders as realistic. There are those who would enlarge or narrow, but the majority of the public knows what would not be accepted. This is a genuine, deep, and even sometimes difficult disagreement between Israel and the international community, yet it needs to be clear and open, and we have the duty to address and explain it. And the job of making our views understood rests greatly on you. More than ever we need you."
The President concluded by thanking the ambassadors for their important work for the State of Israel, "In no small way thanks to your work, there is no doubt of Israel's great achievements in the fields of science and technology, of our military and intelligence strength, and economic capability."
Photo credit: Mark Neiman (GPO)