Details

Written by

Israeli Mission to the European Union
The 9th joint Seminar of Israel and the European Commission on Combating Anti-Semitism, Xenophobia and Racism is taking place on December 16th and 17th, 2015 in Brussels.
The Seminar will bring together experts on anti-Semitism and hate crime from both sides in order to discuss two major issues: (1) Anti-Semitism, incitement and racism on social networks and the internet in general as they are prevalent phenomena today. (2) The security of Jewish communities in Europe - a subject, which is unfortunately on the agenda due to threats posed to Jewish communities by terrorists in Europe.
The seminar has been held for nine consecutive years, alternately in Jerusalem and in Brussels. It has been attributed great professional importance due to the issues discussed and the high quality and diverse backgrounds of its participants.
The Israeli delegation is headed by Ambassador Yuval Rotem, Senior Deputy Director General, Head of Department of Public Diplomacy at the Ministry of Foreign Affairs of the State of Israel (MFA). He will be accompanied by a delegation of experts in the field of combating anti-Semitism, among them Akiva Tor, Head of the Department for Religious and Diaspora Affairs at the MFA and Gideon Behar, Director of the Department for Combating Anti-Semitism at the MFA.
On the European side, Věra Jourová, European Commissioner for Justice and Consumers will be opening the Seminar, and EU representatives from law enforcement bodies, court and media of the European Union will take part, as well as participants from a wide range of countries in Europe. Additionally, a meeting with First Vice President of the European Commission, Frans Timmermans will be held in order to discuss anti-Semitism.
Ambassador Yuval Rotem: "The level of anti-Semitism in Europe remains high, and the number of anti-Semitic incidents have been increasing in recent years. This requires thorough action from the EU and European countries in order to counter this phenomenon. In this context, the current expert seminar is an important tool for achieving the goal of eradicating anti-Semitism, and we highly welcome this annual gathering."
In her opening statement Commissioner Vera Jourova said: "The European Commission is extremely concerned about the rise of anti-Semitism and a general increase of hatred-based violence. I am happy that today we come together to look for common solutions for an extremely worrying phenomenon. We are focusing on what unites us: the fight against racism, against xenophobia, and in particular against anti-Semitism.

The recent terrorist attacks in Europe confirm the need for a comprehensive EU response to terrorism and security threats, taking account of all available tools. We must address the root causes of terrorism and of extremism. And this starts with prevention. We are working to ensure that the EU response to extremism does not lead to the stigmatisation of any one group or community."

Ambassador Yuval Rotem, Senior Deputy Director General, Head of Public Diplomacy Directorate at the Israeli Ministry of Foreign Affairs said: "We must understand, political leaders and lay leaders alike, that our rhetoric and the words we say, or neglect to say, have meaning. Silence in the face of hatred is meaningful; muteness in face of anti-Semitism is dangerous. We must rise to the occasion of condemning manifestations of hatred and appearances of anti-Semitism, wherever and whenever they appear, and against whoever reveals them. I therefore welcome the occasion of the EU's engagement in tackling the issue."

Among the issues which were addressed in the framework of the dialogue were
Addressing on-line anti-Semitism in social media and on the internet: Enforcing legislation and the technological capabilities of IT companies
The security of Jewish communities in Europe
De-radicalization policies, security and EU hate crime legislation
Operative Conclusions of the Israel's 5th Global Forum for Combating Anti-Semitism
Operative Conclusions of the European Commission's First Annual Colloquium on Fundamental Rights
Details

Written by

Prime Minister's Media Adviser
PM Netanyahu addresses Paris Climate Conference Monday 30 November 2015
​The terrorists fail to realize that our common, shared values are the source of our strength - the strength we summon to overcome the pain of our losses, and the strength we summon to defeat the tyranny the terrorists seek to impose on our civilization.
Following are Prime Minister Benjamin Netanyahu's remarks at the climate conference in Paris today (Monday, 30 November, 2015):

"Thank you Mr. President.

Ladies and gentlemen,
I take this opportunity to again express the solidarity of the people of Israel with the people of France.

Both our peoples have long and bitter experience confronting terrorism. This is not surprising, because Israel and France have in common precisely those qualities that the terrorists seek to destroy: freedom, equality, pluralism, tolerance – democracy.
But the terrorists who struck down innocent people in Paris, well, they make the same mistake as their counterparts who strike down innocent people in Israel.
They fail to realize that those same shared values are the source of our strength – the strength we summon to overcome the pain of our losses, and the strength we summon to defeat the tyranny of the terrorists, the tyranny they seek to impose on our civilization, which always gets stronger, passing each test, overcoming each challenge.

We have to recognize that radical incitement and lies feed terrorism. Those who are committed to peace must fight incitement, must speak the truth.

If President Abbas is committed to peace, he must stop inciting his people against Israel, and start condemning the murder of innocents in Israel.

Ladies and Gentlemen,

Today we must focus on the security, not just of the nations of the world, but of the world itself.

And even as Israel plays a leading role in the fight against terrorism, we are also playing a leading role in addressing climate change. This is a pivotal issue of our time. It's a pivotal issue for developed nations; it's a pivotal issue for developing nations. We are one planet, and climate knows no bounds.

I heard the statements made here by representatives of many countries, including from Africa. We understand the distress and the need to have a global solution. Many initiatives have been brought forward in this conference and elsewhere, and I want to say first that Israel is committed to those goals and will act accordingly, in deed and in word to fulfill them.

But of all the solutions that we are talking about, there will be one element that ultimately will decide, in addition to our cooperation, whether we can meet the challenge. And that one element is technology.

Technology gives us the ability to do the unimaginable.
Last year Israel was ranked number one in the Global Clean-Tech Innovation Index.We are a world leader in making the use of water more efficient, therefore more energy efficient. Israel is the number one recycler of water in the world. It has the highest ratio of water efficiency in the world – 70-80%, this is thanks to innovative technologies like drip irrigation, which I know many of you are familiar with.

For decades, Israel has been a pioneer in solar energy. We are also developing state-of-the-art techniques to increase crop yields and to make desert agriculture possible.

This all optimizes the use of water and the use of energy, and that's important for our environment.

My office has launched an initiative to reduce global dependence on crude oil, especially in transportation, by establishing Israel as a global leader in the search for fuel alternatives.

Israel is developing what I can call a smart energy grid, and that includes using residential housing, not merely as a consumer of energy, but as individual plants producing energy. This is truly the wave of the future.

Everything that I'm talking about here has one goal. It's to optimize our resources; optimize the way we allocate our resources.

Israel has had to optimize all its life. We had no material resources. We had precious water, very little water, we had to do more with less. Since I mentioned water, understand that our rainfall in the 67 years of Israel's independence has almost halved, our population has grown ten times, our GDP per capita has grown forty times. We have no water problem. We have learned to do more with less. This is what we as a planet must learn to do. We must learn to do more with less.

Israel is a small country with big ideas. I believe that it's not enough that we have those ideas, or that we apply those ideas in our own country. We are eager to share them with you, both individually and as a collective body as well.

So I invite you to join us in working to address climate change and other environmental challenges, to make our world a safer, healthier and more peaceful place for our generation and for generations to come.

And since I spoke about efficiency, I think, I'm not sure, but I think I actually kept my time allotted, so I thank you very much for your attendance.

Thank you very much.

Thank you all."
Photo Copyright: GPO/Amos Ben Gershom
Prime Minister Benjamin Netanyahu's remarks at the UN Climate Change Conference in Paris
Details

Written by

MFA
International Conference on Countering Radicalization and Violent Extremism Leading to Terrorism: The Challenge of Terrorists Acting Alone or in Small Cells.
The Israeli Ministry of Foreign Affairs hosted (November 9-11) an International Conference on Countering Radicalization and Violent Extremism Leading to Terrorism: The Challenge of Terrorists Acting Alone or in Small Cells, with delegates from 41 countries and 10 regional and international organizations, as well as representatives from civil society organizations. The Conference was hosted in cooperation with the Terrorism Prevention Branch of the United Nations Office on Drugs and Crime and the Organization for Security and Co-operation in Europe, and in consultation with the United Nations Security Council Counter-Terrorism Committee Executive Directorate. The hosting of the conference in Israel highlighted its important role internationally in the field of counter-terrorism.

During the Conference, high level officials and experts dealing with this critical issue in their different countries, examined the phenomena of terrorists acting alone or in small cells in a holistic manner. Each of the panel discussions focused on a specialized topic, such as detection, prevention and intervention; criminalization and prosecution of terrorists acting alone; countering the use of different internet platforms by terrorist groups for the purpose of inciting, recruiting and training individuals for terrorism; and the role of penitentiary services in rehabilitating and reintegrating violent extremist offenders. Participants exchanged information, views, lessons learned and good practices based on their national experience during an interactive breakout session with a case study of hypothetical attacks by a terrorist acting alone.

In recent years, states have strengthened their law enforcement measures to prevent the departure and travel of suspected foreign terrorist fighters. As a result, states might be confronted with a potentially growing number of individuals, who might rather seek to commit acts of terrorism at home. The threat posed by self-radicalization, terrorists acting alone or in small cells, and newly emerging terrorist groups, and the potential of the Internet to be utilized by recruiters and to promote violent extremist ideologies and incite the commission of terrorist acts, have all prompted greater international concern. This conference is considered as a major step towards building better understanding of this phenomenon, its origins and driving factors, and how international cooperation is key in order to counter it successfully.
Details

Written by

Pamela Hickman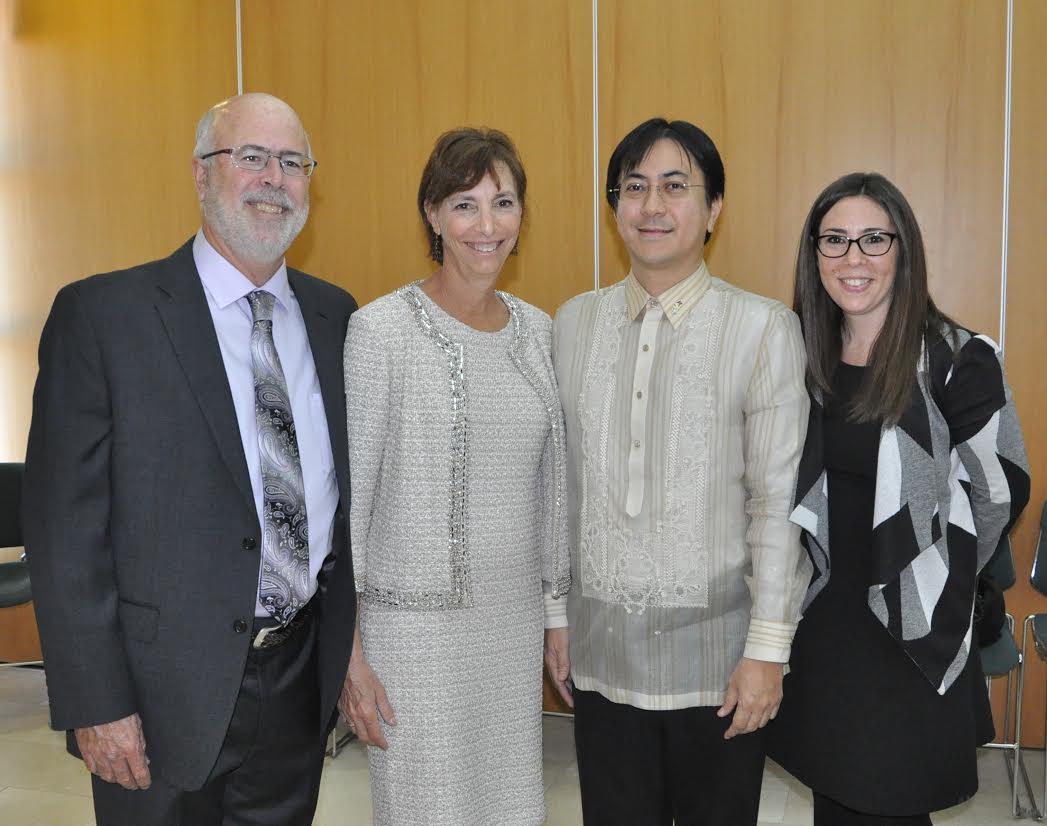 The Jewish Refugee in World War II -The Philippines as a Case Study
On November 24th 2015 a symposium focusing on "The Jewish Refugee in World War II – the Philippines as a Case Study" was held in the Constantiner Lecture Hall of the International School of Holocaust Studies at Yad Vashem (Jerusalem). The meeting was a collaborative event of the Philippines Embassy of Tel Aviv and of Yad Vashem, with people from the Philippines Embassy graciously welcoming all guests as they arrived. The meeting opened with words from His Excellency Nathaniel Imperial, Ambassador of the Philippines in Israel. He spoke of the Philippines in the 1930s and 1940s and of how a small number of good men had made the Philippines the sanctuary for 1200 Jews from the late 1930s to 1941. Of this group of fortunate Jews, who called themselves "Maniliners", there was one lady was in attendance at the meeting. Ambassador Imperial also made reference to Berlin-born Frank Ephraim (1931-2006), who arrived in Manila at age eight and who has written his story in "Escape to Manila: From Nazi Tyranny to Japanese Terror". It was decided to hold the Jerusalem meeting in November to connect with commemoration of Kristallnacht (Night of Broken Glass) which occurred on November 9th 1938. Referring to the film "Rescue in the Philippines" to be viewed at the symposium, the Ambassador mentioned with pride that it had been shown at the Presidential Palace of the Philippines with the President in attendance.

Next to speak was Mr. Yossi Gevir, senior assistant to the chairman of the Yad Vashem directorate Mr. Avner Shalev. Mr. Gevir spoke of the importance of Yad Vashem's educational and cultural activities – each event adding insight and sensitivity to our knowledge of the Holocaust - claiming that this event had its own special uniqueness. The aim of Yad Vashem, founded in 1953, he explained, was not for Jewish people to wallow in self-pity resulting from the Holocaust tragedy, but to build a bright, new future for Jews as based on their past. Referring to the Philippines, he reminded the audience that Manuel Quezon, first president of the Philippine Commonwealth, and his associates could have turned a blind eye to the fate of Jews during the Holocaust, but that they gave expression to their own moral principles and values; in his words: "Yad Vashem salutes these people".

We then heard "Hoping to Be a Refugee: Jewish Migration Efforts during the Holocaust", a talk given by Dr. David Silberklang, senior historian of the International Institute for Holocaust Research and editor of "Yad Vashem Studies". He opened by quoting Chaim Weizmann as having said at the time that the world consisted of countries where "Jews cannot live or cannot enter". Silberklang spoke of the situation of the Jews as not even having been discussed at the 1936 British Royal Commission and that Europe's Jews had become trapped and were becoming increasingly desperate. There had been thoughts of sending them to such countries as British Guiana and Madagascar. In 1930, President Hoover tightened immigration to the USA, limiting the issuing of visas till 1938. Other countries, such as Mexico, South Africa and Argentina tightened regulations. Australia opened its doors but Canada did not, its doors remaining closed till 1948. In some countries, Jews being classified as "enemy aliens" were singled out and then deported. In 1938 and 1939, Swiss border guards were returning Jews to Germany. In 1941, Turkey turned away the "Struma", a vessel carrying more than 700 Jewish refugees; the passengers met a tragic end when the boat was torpedoed by a Soviet submarine in the Black Sea. Denmark restricted immigration as had Latin American countries and the USA expressed the desire to send Jews elsewhere during World War II. So Jews all over Europe found themselves in the bizarre situation of wishing to become refugees! There was the Hotel Polski affair in 1943, a plan to bring Warsaw's Jews out of hiding, with the promise that they would be transported to freedom, mostly to South America; this vile trap ended up with some 3000 of them being deported to the camps. Some Jews saved themselves by jumping from trains, then walking for thousands of kilometers. Some made it to Israel, this being referred to as the "tiyul" (hike). But so many Jews had none of this luck. Some came close to getting out, others had no hope. Those who managed to get to the Philippines were the lucky ones.

Guest-of honor Dr. Barbara Sasser, one of the producers of the film "Rescue in the Philippines" and granddaughter of one of the Frieder brothers instrumental in the operation, opened her talk by expressing how honored she was to be a part of the Yad Vashem symposium. She spoke of the eclectic group of men involved in bringing Jews to the Philippines – General Eisenhower, American high commissioner to the Philippines Paul McNutt, Commonwealth President Manuel Quezon and the five Jewish Frieder brothers from Cincinnati who were involved in the cigar industry, growing tobacco in the Philippines. These eight men, who met over poker games and cigar-smoking, saw the need to help Jews in Europe. Dr. Sasser spoke of the film we were about to watch as honoring these men, that this little-known story, whose message remains relevant till today, should be told widely, especially in schools. And she asserts that the film also honors the Philippines for accepting the Jews, reminding the people attending the Yad Vashem meeting that the Philippines was among the 33 countries and the only Asian country to support the creation of the State of Israel in 1947. Dr. Sasser has derived much pleasure from meeting people who have lived the story, some of whom had immigrated to Israel.

The vital importance of "Rescue in the Philippines" (USA, 2014, 3 Roads Communications and Frieder Films, English with Hebrew subtitles) directed by Cynthia Scott Johnson and Russell Hodge and produced by Barbara Sasser and Peggy Ellis, is in bringing the details of this important chapter of Holocaust history to public awareness. Some of the film's several speakers vibrantly piecing the story together with first-hand information and personal recollections (some of the speakers quite elderly) are members of the Frieder family, others are Jews who were among the immigrants to the Philippines and there are also speakers from Manuel Quezon's family. We learn of the closely-knit Frieder family – the five brothers with their cigar empire, their lavish lifestyle and their dedication to Manila's Jewish refugee community and synagogue. We learn of their open house on Friday nights and of the fact that they did not view themselves as heroes. We hear about the relaxed lifestyle Jews were leading there, both adults and children: we see a photo of a Passover Seder with 10-year-old George Lowenstein asking the three questions traditionally asked by a young child. President Quezon had requested that those Jews immigrating to the Philippines should not be a burden on the community, hence the heartbreaking process of selection. Indeed, the film clearly brings home of the fact that thousands more Jews could have been brought to the Philippines had the Japanese not brought the process to a screeching halt with their attack on Pearl Harbor and invasion of the Philippines in December 1941, followed by their indiscriminate murdering and brutal prison camps. Paul McNutt tricked Phillip Frieder into leaving the Philippines and the Quezon family had to leave. The Japanese allowed Germans and Austrians to "return home". General Douglas MacArthur liberated the Philippines in 1945, but the worst was yet to come, with the Japanese burning down everything they could get their hands on in their wake as they retreated from Manila. The Frieder cigar factory was leveled and rebuilt in the USA.

President Quezon, referred to by one speaker as a hard-core politician, a person who loved partying, a man of self-assurance, a person not colonial in his approach, and, above all, as a "kind of Schindler", died in exile in the USA.
The symposium at Yad Vashem was an informative, enriching and humbling experience.
http://pamelahickmansblog.blogspot.co.il/
Photos : courtesy of the Embassy of Phillipines
Details

Written by

Simon Wiesenthal Center
YOUTUBE REMOVES HAMAS CHANNEL AFTER SWC PROTEST Media Briefing Urges Social Network Giants to Bar Palestinian Online Terror
At a press conference today, Rabbis Marvin Hier and Abraham Cooper urged the public to report hate sites (at www.Facebook.com/SimonWiesenthalCenter) on social media platforms which are fueling the current spate of attacks in Israel.
Center officials announced that SWC protests have led to the removal of additional pro-terrorist postings from Facebook, YouTube, Twitter and Instagram.

The Rabbis also denounced:

• The unfair and one-sided portrayal of Israeli terror victims in the media

• The U.S. State Department's outrageous depiction of the current situation as a "cycle of violence" - "It is not a cycle of violence, but a campaign of Palestinian violence," Center officials declared.

• The use of social media platforms to celebrate murderous attacks against innocent people and instructional terrorism tutorial videos

• The BDS' movement's endorsement of the barbaric acts of terrorism and renewed calls to boycott Israel
Center officials, who presented Facebook postings from Europe calling for attacks against Israelis in their countries, said, "We are concerned that if this trend continues, we could see violent incidents on our own shores."
Photo provided by Simon Wiesenthal Center