Details

Written by

The Jewish Agency for Israel
Sharansky: "This is a year of record Aliyah. Beit Brodetsky is an excellent place to learn Hebrew, to get to know Israel—and also to find a shidduch (match)."
Landver: "Today you received a first home in Israel, a warm home and a social and professional structure. You are the future of the State of Israel."
JERUSALEM, ISRAEL – Chairman of the Executive of The Jewish Agency for Israel Natan Sharansky and Minister of Aliyah and Immigrant Absorption Sofa Landver dedicated a new center for young immigrants from around the world this morning (Thursday, December 11) in Tel Aviv. The Beit Brodetsky Center for Young Immigrants is a joint venture between The Jewish Agency and the Ministry of Aliyah and Immigrant Absorption and will be operated in conjunction with the Ministry of Education in order to encourage young people from around the world to immigrate to Israel and ease their integration into Israeli society.
294 young immigrants between the ages of 18 and 35 from 23 countries—most of whom have arrived in Israel over the past month, and more than half of whom hold academic degrees—will be participating in the first cycle of the live-in center dedicated in a festive ceremony this morning.
Jewish Agency Chairman Natan Sharansky told the hundreds of young immigrants in attendance: "This is a year of record Aliyah, with some 25,000 immigrants arriving in Israel from around the world. People around the world ask how immigrants continue to come despite the images of warfare. If they look at you, they will understand how good and complete life is in Israel. Beit Brodetsky is an excellent place to learn Hebrew, to get to know Israel—and also to find a shidduch (match)."
Minister of Aliyah and Immigrant Absorption Sofa Landver said: "Today you received a first home in Israel, a warm home and a social and professional structure, but at the same it is important to me that you know that even when you finish your stay at this center, the Ministry of Aliyah and Immigrant Absorption will be another home to you for many years, and the professional staff of the ministry will accompany you on your path to successful absorption and integration into Israeli society. You are the future of the State of Israel."
Located in northern Tel Aviv, near Tel Aviv University, the center for young immigrants is a joint venture between The Jewish Agency and the Ministry of Aliyah and Immigrant Absorption and is part of the expanded cooperation between the two bodies aimed at increasing the number of young immigrants coming to Israel and helping them as they take their first steps as Israeli citizens. The new center will serve as a bridge between the young immigrants and Israeli society, providing them with the infrastructure necessary for optimal integration while realizing their individual potential.
As part of the live-in program, the young immigrants will participate in intensive Hebrew lessons (ulpan) taught by educators from the Ministry of Education's Division for Adult Education. Participants will enjoy rich and diverse social and cultural programming and will be provided with counseling and guidance on continuing their education and advancing their careers in Israel. The center will eventually be home to some 600 young immigrants who will be divided into two cycles each year.
Uriel Benita and Elodie Assayag immigrated to Israel from Peru and France (respectively) two months ago and are living in the new center. They thanked the groups and individuals behind the venture for the warm welcome they have received. "One day, I was walking in the street in France and someone stopped me and told me to take off the Star of David necklace that was hanging around my neck. That was when I knew I would be making Aliyah," said Elodie. "I have made friends from around the world and I look forward to contributing to my new country."
PHOTO: Jewish Agency Chairman Natan Sharansky and Minister of Aliyah and Immigrant Absorption Sofa Landver join young immigrants from around the world in dedicating the Beit Brodetsky Center for Young Immigrants in Tel Aviv, December 11, 2014. Photo credit: Zed Films.
Details

Written by

MFA
Prime Minister Benjamin Netanyahu: "Prime Minister Sobotka, It's a pleasure to welcome you and your delegation to our inter-governmental meeting here in Jerusalem. I've been to Prague twice. I told you that I was impressed by the natural affinity between the Czech people and the Jewish people, both in character, the championing of freedom, the great value that we place on individualism, on curiosity, on creativity, in literature and science and the arts and every field. There was an easy sympathy that we could feel in the Czech Republic and I think that you feel here in Israel.

Israel and the Czech Republic are two vibrant democracies, free societies whose laws will always guarantee full and equal rights to all our citizens. These common values unite us, as does the thousand year old friendship between the Jewish and Czech peoples.

Our challenge today is to transform this historic friendship into greater cooperation, and we're doing so. We just spent, I thought, a very productive meeting discussing how we can not only continue our relationship, but strengthen it in so many ways, and we have just signed joint declarations in many fields that enhance this cooperation, in international affairs, in defense, in bilateral trade investment, in finance, in economic cooperation, in scientific R&D and technological research. You told me about your plans to enhance R&D in the Czech Republic in areas that I think fully match Israel's capabilities. We look forward to that cooperation.

I talked to you about cyber security and the efforts that we are making in this realm. I think it's important and we're prepared to cooperate on this, because we think this is essential for the functioning of modern states.

We spoke about Holocaust remembrance, and you mentioned how open and committed the Czech Republic is to maintain the Holocaust remembrance. I told you that my job, as the prime minister of Israel is to make sure that there are no further holocausts. That is something that we face with those who seek to annihilate the Jewish state, and openly say that that is their goal.
We talked about cultural education and youth exchanges; social services and senior citizens; energy and environmental protection; health and medicine; agriculture, just endless cooperation in many, many ways.

The Czech Republic and Israel are partners, are friends and allies, and as such, I believe that we face a common threat from militant Islam and specifically, the greatest threat is not merely from ISIS, but also from the militant Shiites led by Iran, who seek to arm Iran with nuclear weapons.

Yesterday the P5+1 made the right decision. The world's power rejected a bad deal on Iran's terms. What Iran wanted was to lift the sanctions while offering only cosmetic changes to its nuclear weapons program. They refuse to come clean before the IAEA about their secret nuclear weapons program. Such a deal would have left Iran with thousands of centrifuges that would have enabled them to enrich uranium for atom bombs in a very short time. I think it would have been exceedingly dangerous. So in the coming months as the talks continue, it's crucial that sanctions on Iran be maintained, and even stepped up.

Sanctions is the only thing that got Iran to the table and sanctions are the only thing that would get Iran to make real compromises that would dismantle its capacity to make nuclear weapons. And I believe that all of us should unite behind this effort. It's not over but I think that it's a challenge before us because the world will change, the world will change if a militant Islamic power has nuclear weapons or is on the threshold of having them.

Mr. Prime Minister, We spoke too about our quest for peace with the Palestinians. This is something we all dearly wish. We don't want war. We've experienced the horrors of war. We've lost friends and loved ones on the battle field. There's nothing that Israel wants more than peace. What we want is a genuine peace. We have left territories only to see them taken up by militant Islam, to have them become bases for Iran's proxies from which thousands of missiles are fired at us.

What we seek from out Palestinian neighbors is that this is not repeated. We want a firm commitment from them that they will recognize the Jewish state, the nation state of the Jewish people, just as they expect us to recognize the Palestinian state, a nation state of the Palestinians. So far, they've been unwilling to do that, to end the conflict with Israel, to end their demands to flood Israel with Palestinians, to accept the idea that the Palestinian state is there to end the conflict with Israel, rather than to continue it.

And secondly, we need, obviously, security arrangements on the ground to prevent the repetition of what happened when we left Lebanon to the last centimeter, when we left Gaza to the last centimeter, and these areas became launching grounds for violent attacks, including rocket attacks on our cities.

These twin needs of mutual recognition and solid security arrangements on the ground, which are so essential for peace, these are not addressed by the European countries that unilaterally give recognition to a Palestinian state. I think it's a big mistake for peace. It encourages the Palestinians to harden their positions, not to compromise on mutual recognition, not to compromise on the things that are needed to achieve genuine security. I think these European positions actually push peace away, and I believe that they make reaching a solution much harder.

We discussed this in length. I appreciated the fact that you said you believe what is needed in a negotiated arrangement and not unilateral actions. This is something we believe is true, and we hope that we can advance this understanding in Europe with you.

We have a lot to discuss, a lot of bilateral issues that, I think, could advance our cooperation, but equally, I think a more balanced and a more fair conception in Europe on how to advance peace and security in the Middle East.

I would to add, Mr. prime Minister, that it's a personal pleasure for me to welcome you in Jerusalem, and I accept your invitation to visit Prague. I hope I can do so in the near future. So welcome to Jerusalem".
Photo by Amos Ben Gershom, GPO
Details

Written by

Yad Vashem
(November 20, 2014—Jerusalem) On Sunday, November 23, 2014, a ceremony posthumously honoring Petro and Kateryna Durniak from Ukraine as Righteous among the Nations will take place at Yad Vashem. Christina-Ludmila Kril, daughter of the Righteous among the Nations Petro and Kateryna Durniak, will be in attendance from Ukraine to accept the medal and certificate of honor on her parents' behalf. Olena Ivanchuk, from the Ukrainian Embassy will be in attendance, as well as Freddy Gruber, son of Righteous Josef Gruber who was a friend of Petro Durniak. They will be joined by Holocaust survivors, family and friends. The medal and certificate will be presented by Irena Steinfeldt, Director of the Department of the Righteous among the Nations of Yad Vashem. A memorial ceremony in the Hall of Remembrance will be held at 11:00 a.m. followed by the presentation of the medal and certificate of honor and unveiling of the names in the Garden of the Righteous among the Nations at Yad Vashem. The event will take place in Hebrew and Polish. The event is open to the press, in coordination with the Media Relations Dept. 02 644 3410.
The Rescue Story:
In the summer of 1942, when 50,000 Jews from Lwow (today Lviv), were deported to their deaths at the Belzec Extermination Camp, David Winter and his wife decided to separate from their newborn daughter, Anna, in order to increase her chances of survival. They secretly took Anna out of the ghetto and asked David's Ukrainian friend Petro Durniak to watch over their baby daughter. Petro's wife, Kateryna was pregnant at the time and shortly after Anna's arrival the couple had a daughter of their own, Christina. The couple changed Anna's name to Barbara and presented the two girls as twins.
The Winter couple survived the Holocaust and the first news they heard of their daughter came from David's brother, Nachum Winter. Nachum was a soldier in the Red Army and after his hometown Lwow was liberated, he requested time off and travelled to search for any of his relatives who may have survived. He found his niece at the home of Kateryna Durniak (she and Petro were separated at this time) and gave her his monthly salary in gratitude for care of his niece. Before he left he took a photograph with his niece. When Nachum discovered his brother and his wife at one of the refugee camps in Central Europe, he informed them that their daughter was alive and sent them the picture he had taken with Anna-Barbara. David and his wife contacted Kateryna and organized for Anna-Barbara's transfer to them, across the border of the USSR.
The Winter family moved to Israel, but shortly afterwards they emigrated to Austria. With time, the Winters lost contact with the Durniak family. However, the Durniaks never forgot Anna-Barbara. Kateryna kept her picture in a family photo album and after her death, her daughter Christina kept the photograph.
The rescue story of baby Anna-Barbara came to light in 2013 when Freddy Gruber, whose father Josef Gruber was recognized as Righteous among the Nations in 2005, travelled from his home in Israel to Lviv to meet his father's family. Freddy also searched for any descendants of his father's friend, Petro Durniak. He arrived at Christina's home and she showed him the picture of Anna-Barbara as a small child. Upon his return to Israel, Freddy turned to Yad Vashem and told Anna-Barbara's rescue story. After further investigation, the Department of the Righteous among the Nations uncovered a testimony given by Freddy's mother, Antonia Gruber, in 2005. In a single sentence she mentioned that her future husband's friend, named Durniak, had rescued a Jewish girl. In addition, a testimony from 1961 of Nachum Winter was found in the Yad Vashem Archives where he gave a detailed explanation of how he discovered his niece. Attached to his testimony was the picture that was taken of Nachum and Anna-Barbara at Kateryna's home. These two photographs, the one saved by Nachum from the Durniak family, and the photograph that was in David Winter's testimony, clearly show the same child. Therefore, with the help of testimony which was given more than fifty years ago, Yad Vashem was able to connect the two parts of this story.
On July 10, 2014, Petro and Kateryna Durniak were recognized as Righteous among the Nations.
For more information about the Righteous among the Nations: http://www.yadvashem.org/yv/en/righteo us/index.asp
Yad Vashem, the Holocaust Martyrs' and Heroes' Remembrance Authority, was established in 1953. Located in Jerusalem, it is dedicated to Holocaust remembrance, documentation, research and education. www.yadvashem.org
Details

Written by

Prime Minister's Media Adviser
The Cabinet, at its weekly meeting yesterday (Sunday, 23 November 2014), was briefed by Prime Minister's Office Authority for the Advancement of the Status of Women Director Vered Swid on violence against women in Israel and on inter-ministerial treatment of the phenomenon, ahead of the International Day for the Elimination of Violence Against Women, which will be marked tomorrow.
Swid told the ministers that there has been a decline in instances of violence against women including sexual offenses and added that the improvement in the data is the result of joint work by Government ministries including the Social Affairs and Social Services, Public Security, Health, Aliyah and Immigrant Absorption, Justice and Education ministries which, along with shelters for battered women and women's organizations, brought about a series of activities throughout the country. These include: Operating emergency switchboards in five languages; operating 14 shelters for battered women and their children; operating 90 units and centers for both individual and group treatment of incidents of violence in the family; creating additional positions for social workers who deal with violence in the family; operating local council programs to prevent violence against women; locating, diagnosing and treating victims of violence in the family; operating the "Bridges" plan to reduce violence in the family among immigrants; educational pamphlets to identify "red lights"; operating therapy groups for men; self-defense workshops, etc.
Swid added that the "Put a Stop to Violence" campaign will soon be launched. The campaign, which was initiated by the Authority, calls for men to seek counselling and treatment. Swid recently presented the campaign to the UN, where delegates from various countries expressed an interest. The campaign will be featured in cinemas and on websites, including in Arabic.
Prime Minister Benjamin Netanyahu said, "We will not countenance attacks on women, murder of women by their partners, or treating women like property. These phenomena must be fought against and we will do so."
The Chairperson of the Ministerial Committee on Advancement of the Status of Women, Minister Limor Livnat, said, "Recently, we have witnessed a serious phenomenon in which women and girls are photographed without their knowledge, and contemptible and humiliating photographs are disseminated over social networks. This can cause terrible tragedies for those who have been photographed and this phenomenon as well must be fought against."
Details

Written by

Adis Urieta , Jerusalem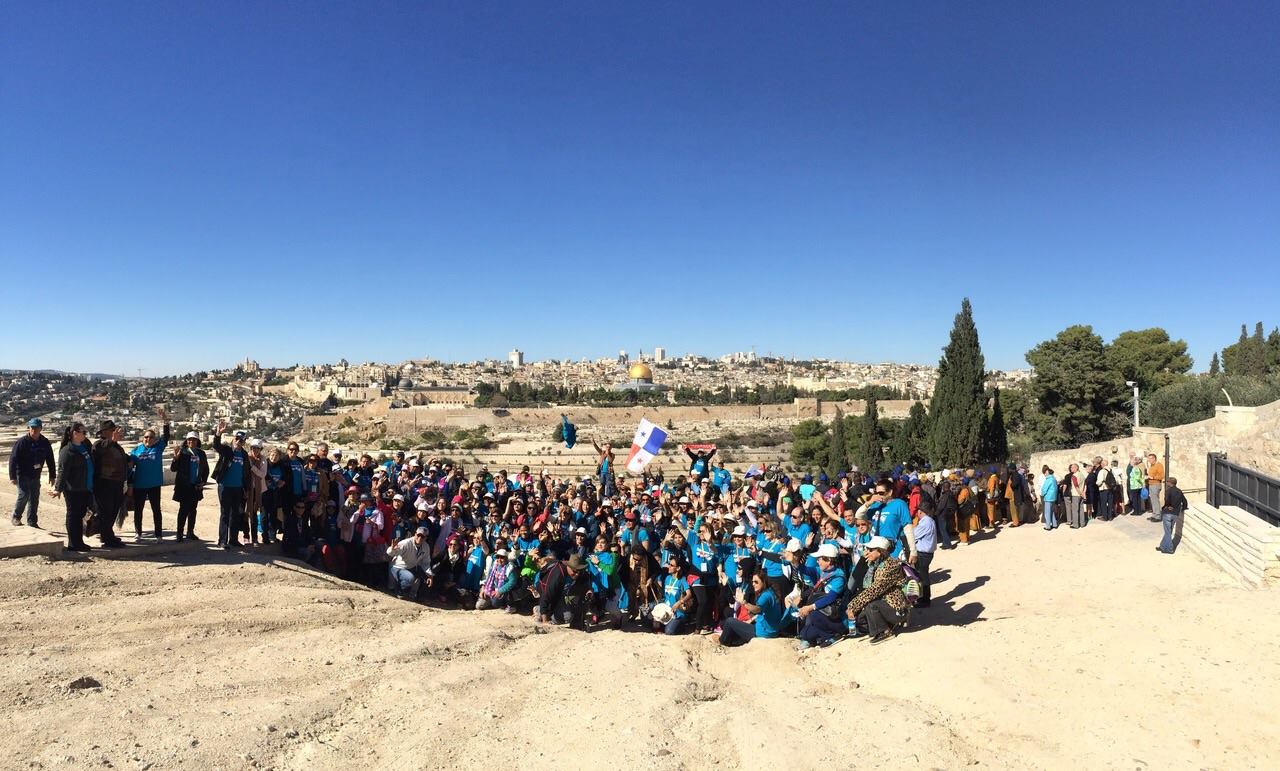 A group of 200 Panamanian Christians of Hossanna Vision completed a 10-day trip to the Holy Land despite the wave of violence that has shaken the country in recent days.
The group has been one of the largest of Latin America and even worldwide, even as on these weeks there have been several terrorist attacks.
Pastor Roger Serrano of the group noticed helicopter flew over the Old City, and the presence of Zeppelin balloons in the air. Also he noticed the police presence in the streets which all together gave them a high sense of security.
The latest attacks of Islamic militants on Israeli citizens included yesterday the murder of a young soldier stabbed in Tel Aviv. At the same day a young girl was also stabbed in a different incident. A week before a car driven by Islamic extremist hit and killed a baby and an Ecuadorian young girl.
The events coincide with 10th anniversary of the death of Palestinian leader Yasser Arafat.
Many of the Panamanian tour participants of Hossanna Vision said the next year they will attend the evangelical world meeting to be held here.
Photo provided by Panama Embassy