Economy and Tourism
Details

Written by

Linda Tomer and Silvia Golan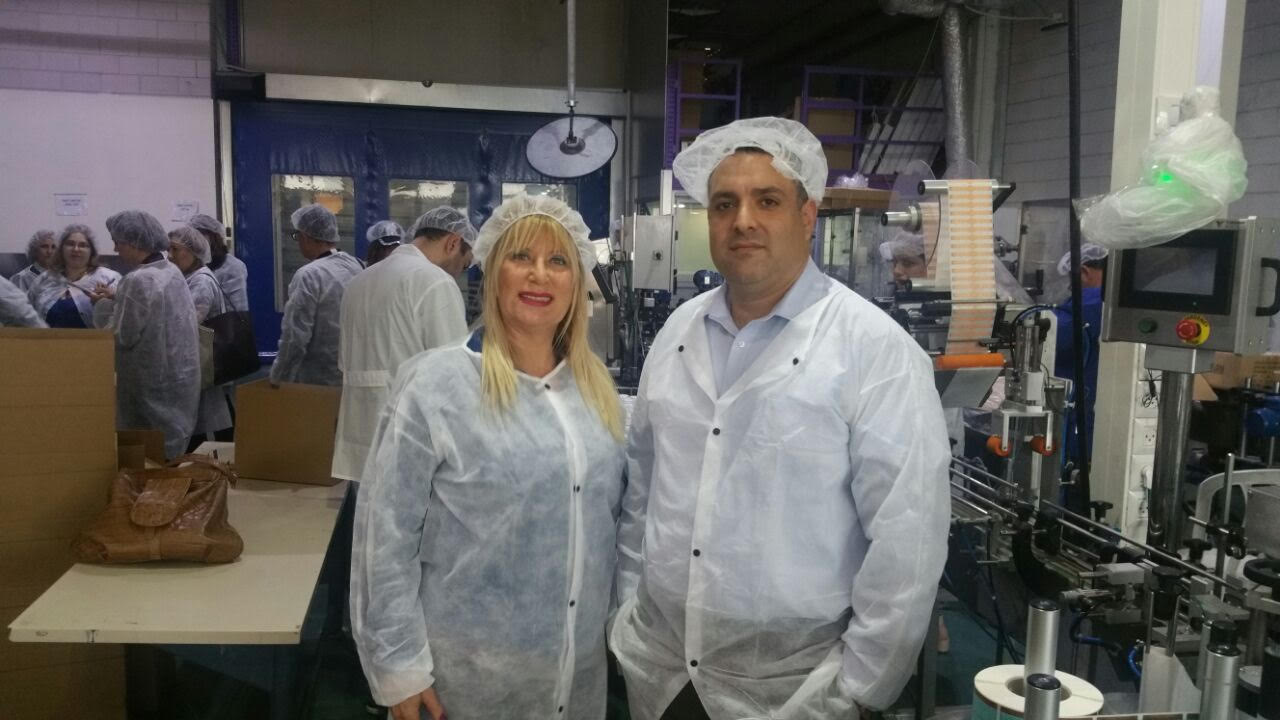 The Manager Association of Consumer Products' Manufacturers' Association expressed; "We must aspire to improve the competition capability in the cosmetic's export by cancelling the distortion of the licensing for export in the conditions for the product marketing license also in Israel".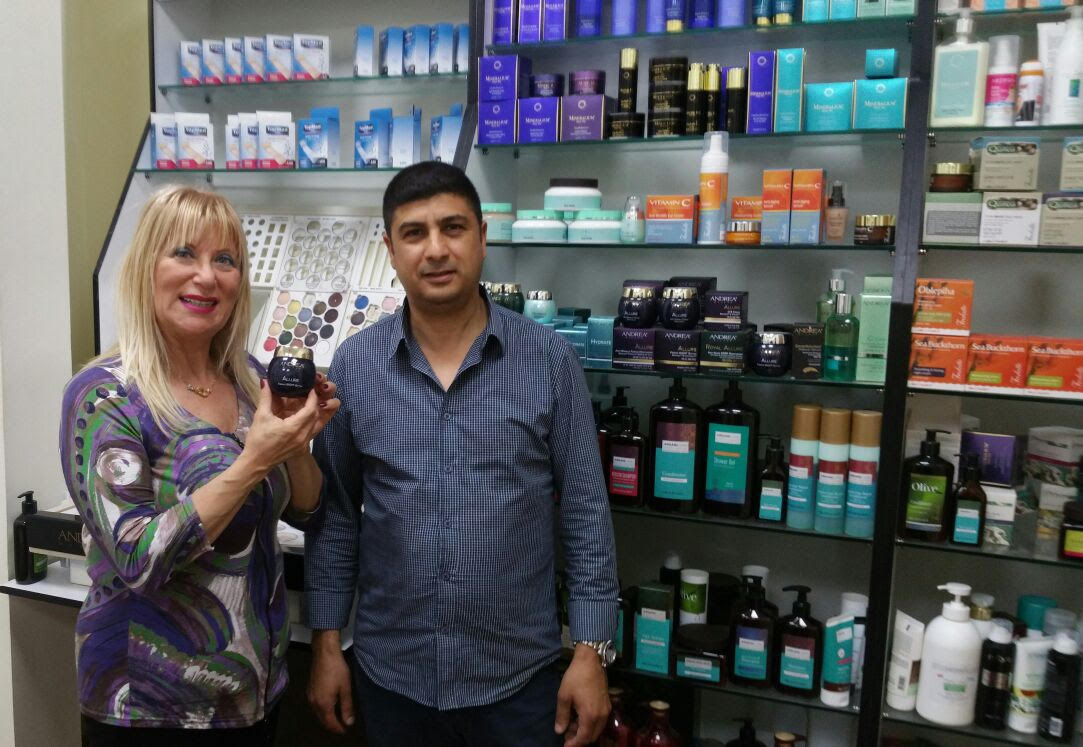 The Manufacturer's Association in Israel organized a tour of three of Israeli cosmetics companies for journalists on August 7th.
The visit to a few of the production plants by the journalists was extremely interesting and inspiring for us. It was truly a pleasure to witness the enormous production of the Israeli cosmetics products sent all over the world to various department stores and business networks. We are proud to be Israelis and admire the Managerial and working staff at these cosmetic plants. The production plants we visited operate in an organized manner under the cleanest conditions.
This visit allowed us to appreciate the high technology, professionalism and hygienic conditions of these cosmetic's production companies in Israel.
The data from the Manufacturer's Association in Israel indicates that, due to regulatory difficulties, there has been a withdrawal of 10% in the Israeli Cosmetics Industry exports in 2015. In 2014, the Israeli Cosmetics exports amounted to 609 million dollars, while in 2015 the exports amounted to 546 million dollars only – a decline of 63 million dollars.
The main export decline occurred In relation to Eastern Europe and Russia, amounting to about 40%, from 73 million dollars in the year 2014, to 44 million dollars in 2015. Also, there was a decline of about 31% in cosmetic's export to the European Union countries, from 250 million dollars in 2014, down to 218 million dollars in 2015.
On the other hand, there was an increase of 14% in 2015 in the Export to countries in the Asian Continent, from 67 million dollars in 2014, to 76 million dollars in 2015.
Likewise, according to the Manufacturers Association data, most of the Israeli Cosmetics Export in 2015 was directed mainly to the European Union States (40%), North America (31%), Asia (14%), and the remaining export to the developing countries in Central and South America, Africa and the rest of the world (7%).
The Cosmetics Industry in Israel in 2015 includes up to 80 production plants, most of which are small and medium size, employing some 10 thousands workers directly and indirectly. The annual activity cycle is estimated at about 4 milliard NIS, where about 50% of the production is intended for export. The net profit of the Industry-wide is estimated at about 2 – 5% from the cycle.
The Manager of the Association of Consumer Products and Construction, who manages the Cosmetic Branch in the Manufacturer's Association, Adi Shauli, states that: "The Cosmetics Industry Manufacturers Association is promoting nowadays, in collaboration with Knesset Member Merav Ben Ari, (in the Kulanu party) the legislation of Pharmacists' regulations, after many years of working together with the Ministry of Health, with the aim of bringing these legislation regulations for a speedy approval by the Knesset. The matter of exemption from licensing for a cosmetic product intended for export, which is not sold in the domestic market, will be resolved by regulatory approval that adopts the Cosmetics European Regulation aimed for alignment with the European regulation dealing with cosmetics. The industrialists see in this legislation an opportunity to work in coordination with advanced countries in the world. Even today, many of the industrialists meet the standards of new regulation requirements, in order to export abroad. They do this with much success, bringing about pride for the Israeli Industry in general, and especially for the Cosmetics Industry".
The "Peer-Pharm" owner, Haviv Peer, says: "Israel is considered today one of the leading countries in the world in the Cosmetics Field, among others, thanks to the Dead Sea, which is a wonderful and natural resource for beauty products. Also, Israelis have courage, which is expressed in innovation and new developments. Israelis are always open to adopt new standards and they do not adopt fixed stands, like European companies, most of which manufacture, until today, cosmetic products in the same formats used back in the 70's."
The "SPA Cosmetics" owner, Jacky Shklarsh , states: 'The Israeli cosmetic branch is developing, but there are great governmental barriers that prevent the export growth, and regulations that cause enormous workload. For example, when in Europe it's enough to fit and register, in Israel, one must pay a fee for each and every product. We would like to adopt the European standard also in Israel."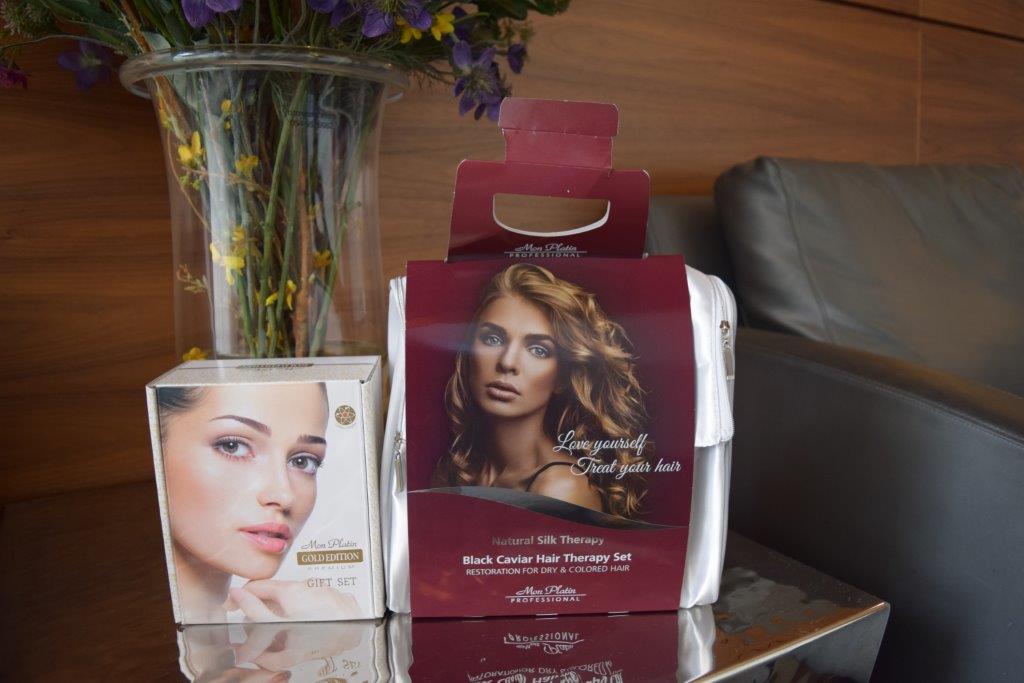 The "A. Meshi" owner, Irmiyahu Mizrahi, conveys : 'The cosmetics industry in Israel is innovative and very developed. Israeli cosmetics are greatly appraised in the whole world, especially in the field of hair care, in which we are making a major breakthrough. Nonetheless, the government regulations make it very difficult for the industry to progress. I wish that the government starts offering more support and assistance measures to the Cosmetic's Industry, so that we can export more abroad. We will appreciate assistance in grants and exhibitions abroad, and in reducing the regulation required to export abroad.'
Background material on the exhibited plants:
"Peer-Pharm" - This plant was established in 1991, and today manufactures a number of brand-name products such as: "Andrea Milano", "Frulatte", 'Spa-Pharm' and "Organi-Care". The companys' products include more than 7.000 items, exported to 20 countries, such as; United States, Korea, China, Sweden, Poland, France, Hong-Kong, Singapore, Denmark, Germany, Ukraine, Romania, and others.

"SPA Cosmetics" - This brand was founded in 1988, and today its products comprise 80 different brand-name products, including different 700 various, which are exported mainly to North America and other national networks, such as England, Germany, Hong-Kong, China, etc.

"A. Meshi" - This plant, which manufactures the product 'Mon Platin'' was established in 1994,and today in its products, include more than 600 items, exported to 50 countries; among these: United States, Italy, Spain, Belarus, Russia, Guatemala, Ecuador, Mexico, Canada, Cyprus, Greece, Lithuania, Slovakia, Check Republic, and others.
Details

Written by

Philippine Embassy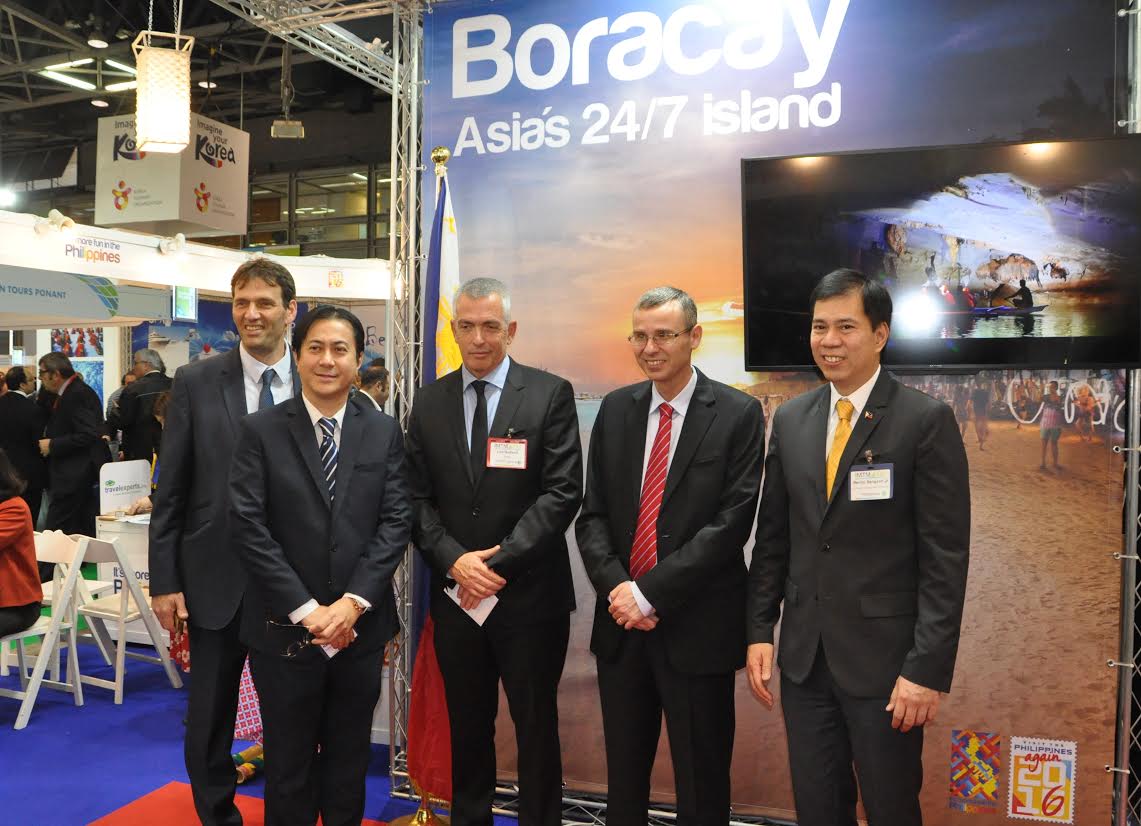 Philippine Pavilion Wows Crowd at Israel's International Tourism Fair
11 February 2016, Tel Aviv, State of Israel – The Philippine pavilion at the annual International Mediterranean Tourism Market (IMTM) instantly stood out as a crowd winner during the fair's 22nd edition, which was recently held at the Tel Aviv Convention Center.
The panoramic views of destinations adorning the pavilion, beautiful and upbeat videos, rich taste of Filipino delicacies, and the variety of song and dance performances, including flair bartending, attracted hundreds of visitors and showed them that, truly, "It's More Fun in the Philippines."
The Philippine pavilion was formally opened by Department of Tourism Undersecretary for Tourism Development Benito C. Bengzon, Jr., who led the first DOT delegation to the IMTM, and Philippine Ambassador to Israel Neal Imperial. Joining them were other DOT officials and partner travel agencies from the Philippines such as Annset Holidays, Inc., Flyeast Philippines, Intas Destination Management, Inc., Maman Aviation, Ltd., and Travel Experts, Inc.
Israeli Tourism Minister Yariv Gideon Levin also visited the Philippine pavilion during the first day of the travel fair and was delighted to watch the "Tinikling" performed by members of the Filipino community in Israel.
DOT officials also held a Country Presentation on the second day of the fair. Around 50 travel and tour agencies, including business organizations, attended the event. Through videos, photos, and cultural performances, DOT officials showed why the Philippines is the next best destination for Israelis in Asia.
This is the fourth time that the Philippines has participated in the IMTM. Previous participations were done through partnership between the Philippine Embassy and the Israel-Philippines Tourism Chamber. However, this is the first time that a Philippine pavilion was organized and led by DOT which has made Israel as one of its priority markets.
In an interview with the Israeli media, Undersecretary Bengzon said: "We are trying to position the Philippines as one of the newest, most exciting, and most fun destination in Asia. Last year we had about 12,000 tourists from Israel and we grew by about 34 or 35 percent. So for us, this is a very good sign. It's an indication that the Israeli outbound travelers who, by the way, are very very sophisticated are starting to see the potential of the Philippines as an exciting destination in Asia." --
Details

Written by

Ministry of Economy
"BUSINESS OPPORTUNITIES IN EMERGING MARKETS": THE FOREIGN TRADE ADMINISTRATION AT THE ISRAELI MINISTRY OF ECONOMY AND INDUSTRY HOLDS 2nd ANNUAL CONFERENCE



The second annual Foreign Trade Conference hosted by the Foreign Trade Administration at the Ministry of Economy and Industry was held today in Tel Aviv, with the theme: "Business Opportunities in Emerging Markets."
"Exports are the engine driving the economy," said Ohad Cohen, Head of the Foreign Trade Administration at the Israeli Ministry of Economy and Industry, who opened the event. "In addition to exports, we are focusing on emerging markets. The leading economies of Europe and the U.S. are still very significant, but there are also new awakening lions, such as Indonesia."
Cohen also commented on the recent slowdown in export activities. "The reason for the slowdown in exports is, first and foremost, that there are not enough new exporters entering the market and we are trying to fix this in three ways: by expanding exports by 50% to $135 billion, by widening the variety of exports, and by helping Israeli companies penetrate new markets."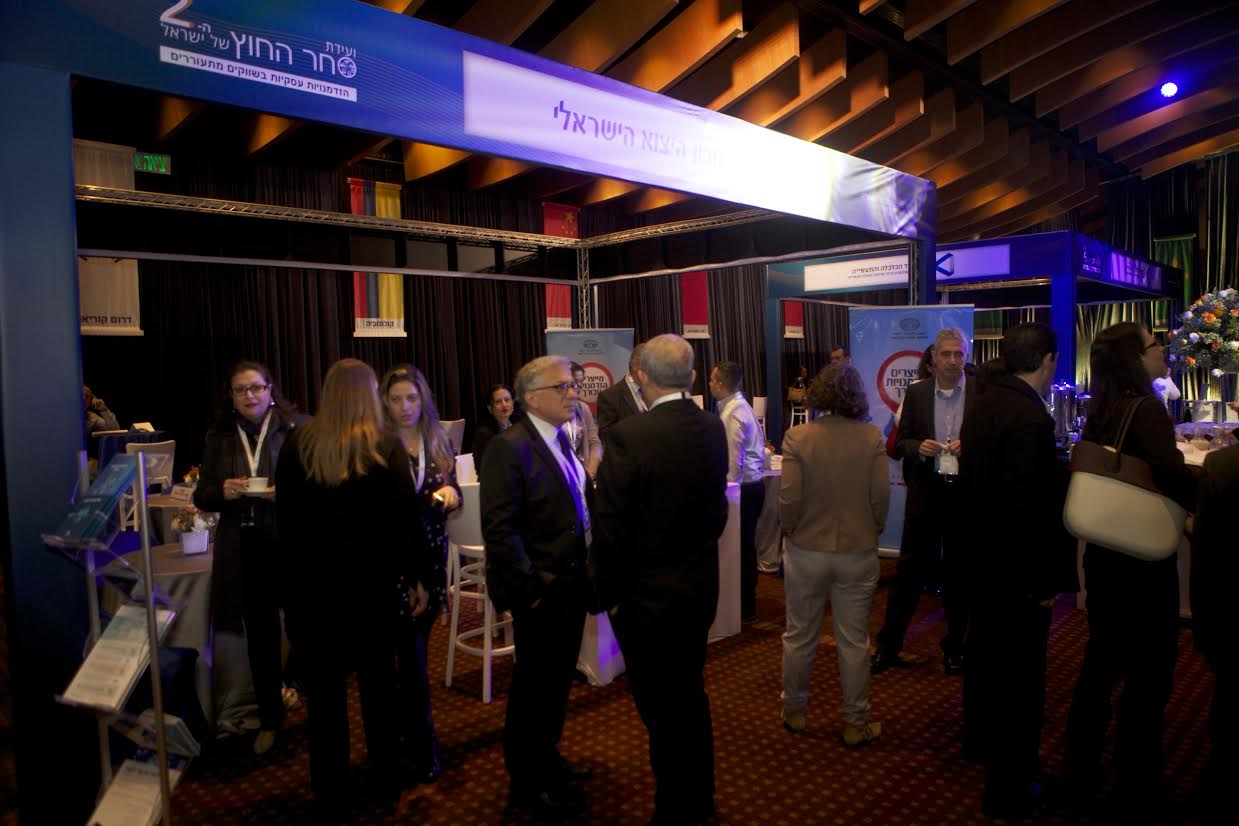 "We are not only troubled by the growth rate in exports, but also by the fact that over the past decade, there has been a worrying concentration, both in target markets and in the number of exporters themselves," Amit Lang, Director General of the Israeli Ministry of Economy and Industry, told conference participants during his opening remarks. "To counter this phenomenon, we are expanding our geographical presence in Asia -- so for example, we've increased the number of economic attaches there, which we're doing in Latin America as well, and we want to increase our support for exports in these areas. In addition, we want to enlarge our funds for providing aid to exporters. Our 2016 budget for this is larger than our 2014/2015 budget."
Alzbeta Klein, Global Co-Head, IFC Investment Fund of the World Bank Group, also participated in the conference, signing an agreement between the International Finance Corporation of the World Bank and the State of Israel: "I'm delighted to be here today to sign the agreement between Israel and the International Finance Corporation for a very exciting program called TechEmerge," said Klein. "We are looking at companies from Israel and elsewhere to be able to bring their technology to where it is needed most – emerging markets where there is an opportunity, where there is a scale and where there is a chance to do something which hasn't been done before."
The keynote speaker at the conference was Abby Joseph Cohen, President of the Global Markets Institute and Senior Investment Strategist at Goldman Sachs. Joseph Cohen presented an overview of global economic trends and their influence on the economies of the U.S., Israel and the world in general.
Joseph Cohen praised Israel's position regarding R&D funding: "Which countries are at the top in terms of spending on R&D as a percentage of GDP? Israel is number one. One of the things that is so clear is that in countries where there is an economic policy to grow by being well educated and have sophisticated technology, these countries are doing well in the global community. One other area in which Israel excels is the following: researchers. People in science and technology as a percentage of population - Israel is number one. There is an enormous investment not just in equipment, not just in so-called basic research, but also an investment in people."
Economic attachés from the Foreign Trade Administration posted in markets such as China, India, Brazil and others also presented Israeli exporters and investors with opportunities to increase their activities and penetrate new markets. These economic emissaries, situated in key trade centers around the world, help exporters and Israeli business entities break into new markets and locate international investments. At the conference, the attachés met with businesspeople, entrepreneurs and exporters interested in penetrating foreign markets or identifying new avenues of export.
Other participants at the conference included Ms. Yuan Zhou, Senior Vice President of the Credit Management Corporation Creditease, China; Mr. Andile Khumalo, Chief Investment Officer at MSG Afrika Investment Holdings; Mr. Marcos Holanda, President of the Bank for the Development of Northeast Brazil and Tzahi Malah, CEO of Ashra, Israel Foreign Trade Risks Insurance Corporation Ltd., as well as other senior executives from leading companies.
Photo: Shmulik Solomon
Details

Written by

Jonathan Danilowitz
The Africa You Didn't Know.
Africa is a giant continent with no less than 54 independent nations, yet many people consider "Africa" as a single unit. Nothing could be further from the truth, as Dr. Ayo Salami explained to his audience on Sunday, at a private meeting held at the Tel Aviv Stock Exchange for investors, accountants and lawyers. Dr. Salami, a distinguished graduate of the London School of Economics represents the Duet Group which controls assets to the tune of about $5 billion. He came to Tel Aviv for one day, specifically to deliver his lecture.
The event was hosted by the Israel-Africa Chamber of Commerce and the Tel Aviv Stock Exchange. The President of the Chamber, Mr. Eli Avidar introduced the speaker and welcomed the guests.
Dr. Salami gave a broad overview of the "dark Continent", surprising the guests with many startling statistics, including the fact that the world's fastest growing and most consistently successful economy over the past years is not China, not India, but Botswana.
Over 1 billion people live in Africa, speaking over 500 languages in the 54 countries. There are many anomalies, such as that the most successful country – Botswana – borders one of the worst failed states – Zimbabwe.
In his fascinating presentation, Dr. Salami focused on Nigeria, a powerhouse by any standards. He touched briefly on what he termed "lies by omission" by the media: leaving out facts that should be part of all responsible reporting, thus misleading the public who might otherwise have a much better-informed view of Africa. No one left without new insights into Africa, its economy and the startling investment opportunities in so many countries there.
Africa – it's not what you thought.
Photo Kobi Fuks
Details

Written by

Ministry of Economy
ISRAEL AND PANAMA COMPLETE NEGOTIATIONS ON FREE TRADE AGREEMENT
In 2016, Panama Will Join the List Of Countries with which Israel Enjoys Free Trade Agreements, Including the US, the EU, AFTA Countries, Canada, Turkey, Mexico, Colombia, Brazil, Argentina, Uruguay and Paraguay
JERUSALEM –November 26th, 2015 – Israel concluded negotiations with Panama on a free trade agreement: an Israeli delegation headed by the Foreign Trade Administration at the Israeli Ministry of Economy which included seven representatives from relevant government ministries held the fourth round of talks in Panama City between November16th -19th, 2015 and succeeded in bridging the remaining gaps between the sides and completing the talks.
Panama enjoys free trade agreements with several countries, including the US, the EU, Canada, AFTA countries, Singapore, Taiwan, Peru, Colombia, Chile and Mexico. The free trade agreement with Panama will put Israel in a similar position regarding trade benefits.
The agreement, which will include a clause on the services sector, represents another springboard for Israeli companies in the service industry (a field comprising 30% of all Israeli exports). Israeli companies will now be able to participate in this sector in Panama -- with an emphasis on software, communications, information security, engineering and research and development – and thus enjoy the potential of this and related markets. Negotiations took place within the framework of the Israeli Ministry of Economy's policy of expanding exports from Israel to new markets and the policy established in May, 2013 of tightening relations with Latin American countries.
In this latest round of talks, several work groups convened to discuss the following subjects: access to markets, customs and rules of origin, services, investments, protection of vegetation and livestock, trade obstacles and institutional issues. The agreement includes total reduction of customs on all industrial products (some will be reduced gradually over several years), partial lifting of tariffs on agricultural products and benefits for the export of services in various fields. The agreement is expected to take effect at the end of 2016.
With talks successfully concluded, Panama will join the list of countries with which Israel has signed trade agreements: the EU – since 1975, US – 1985, AFTA (Switzerland, Lichtenstein, Norway, and Iceland) – 1992, Canada – 1997, Turkey – 1997, Mexico – 1999, MERCOSUR (Brazil, Argentina, Uruguay and Paraguay) – 2007, Colombia – (signed in 2013 but yet to be ratified by the Colombian government).
Ohad Cohen, Head of the Foreign Trade Administration at the Israeli Ministry of Economy, said: "The Ministry of Economy continues to strengthen Israel's economic ties with countries around the world, with an emphasis on developing economies with high growth potential. This will strengthen Israel's foothold in Latin America, in line with our policy of expanding export channels for Israeli industry and various services sectors. The agreement will open new possibilities for Israeli industry while giving a competitive edge to Israeli manufacturers. Panama is a candidate to become member of the Pacific Alliance, a bloc of Latin American countries comprising Mexico, Colombia (both countries with which Israel has free trade agreements), Chile and Peru. The bloc includes some 200 million people and a combined GDP of more than $3 trillion; it covers 35% of the GDP of all Latin American countries and more than 50% of Latin American trade."
Mrs. Yifat Alon Perel, Director of Bilateral Trade and Economic Agreements at the Foreign Trade Administration and head of the Israeli negotiating team, said: "Free trade agreements constitute a significant infrastructural framework for Israeli exports. Today, some 65% of Israeli exports are directed to countries with which Israel has free trade agreements and this gives exporters customs benefits and a competitive edge, among other advantages. The Foreign Trade Administration continues to act for the benefit of exporters by ensuring their products remain competitive and by creating better access to new markets. This is done by striving to remove trade obstacles exporters may encounter when trying to enter new markets. As of today, Israeli industry enjoys a competitive advantage in Latin America in exports to the Mercosur bloc which includes Brazil, Argentina, Uruguay and Paraguay. Israel is the only non-Latin American country with an active free trade agreement with this important bloc. In addition, Israel has an active trade agreement with Mexico and two years ago signed a free trade agreement with Colombia which is expected to take effect in the coming year. Our goal is to expand the benefits Israeli industry enjoys to additional countries. The agreement with Panama will be the fourth one Israel has signed in Latin America. Strengthening economic relations with Panama is doubly important, both in opening new markets for Israeli industry but also in strengthening Israel's position among Latin American countries."
According to the Foreign Trade Administration at the Israeli Ministry of Economy, the economy of Panama is based mainly on a highly developed services sector, which represents more than three-quarters of the country's GDP, and includes management of the Panama Canal, logistics, banking, the Colon Free Trade Zone, insurance, operation of the ports, shipping registration and tourism. The rate of economic growth in Panama reached 8.4% in 2013 and 6.2% in 2014, significantly higher than the average for Latin America and the Caribbean Islands (1.7% in 2014, according to World Bank data). Panama's growth is attributed among other things to the widening of the Panama Canal, begun in 2007 at a cost of $5.3 billion. Additional infrastructure development projects expected to take place may also draw Israeli companies with relevant experience.
The country's modest exports reach only $25 million, but may grow in light of the agreement and in light of Panama's role as a bridge to other countries in the region.
Photos : Andrés Lacko