Details

Written by

Silvia G. Golan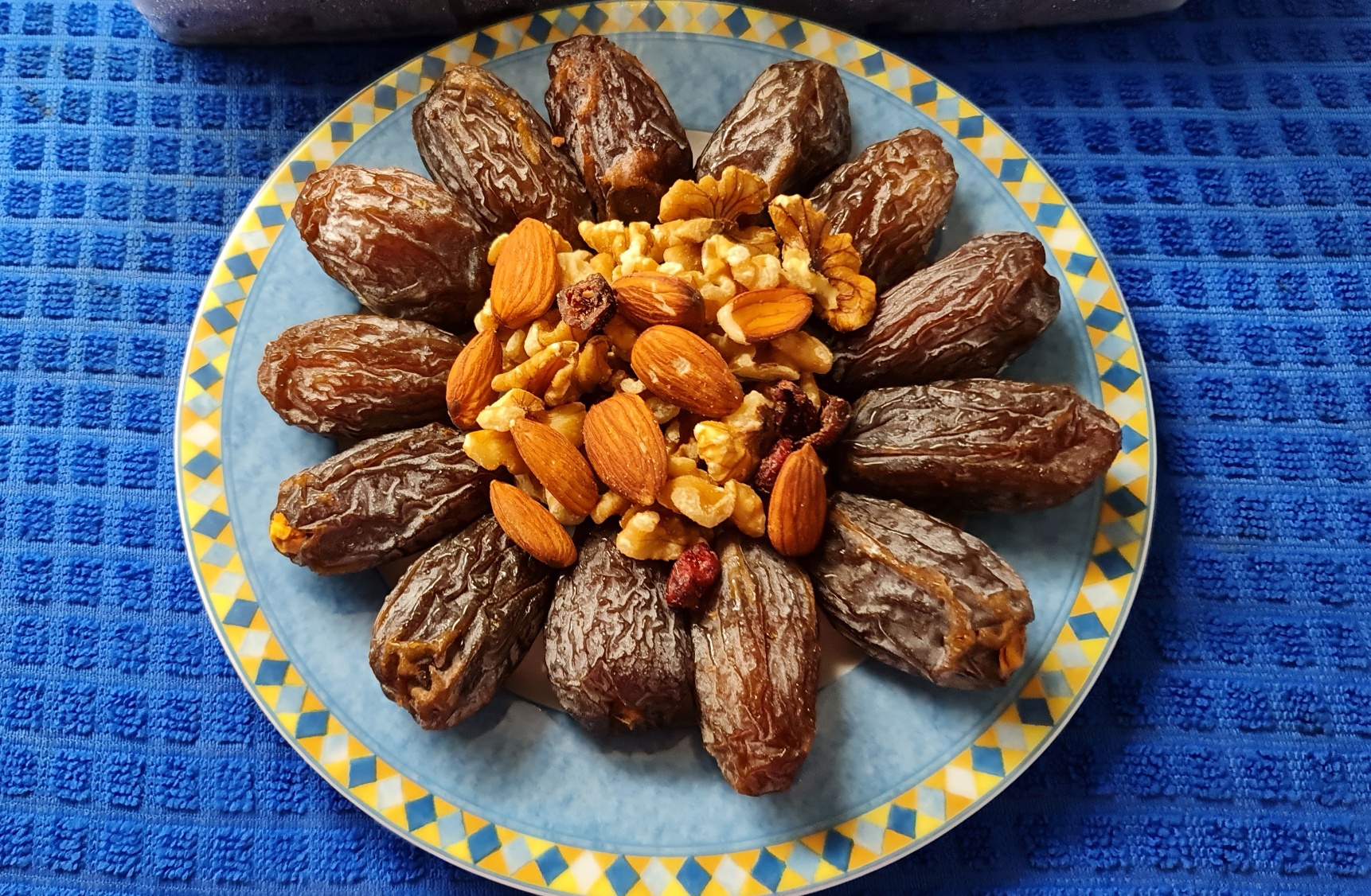 KOREN FARM DATES:VERY GOOD ALLIES FOR GOOD HEALTH
Koren Farm is proud to offer its fresh, premium quality Medjool dates, directly from
the palm tree to the freezer! known as "the king of dates"; for their culinary
characteristics, health benefits and exquisite taste.
The delicious, naturally sweet dates are hand-picked and packed without industrial
process, heat treatment or washing, and are available year-round in various
locations across Israel, or by delivery upon request.
Dates are ideal for sharing with friends, during family or corporate gatherings, and
are the favorite and recommended natural snack for athletes to achieve better
performance during their workouts.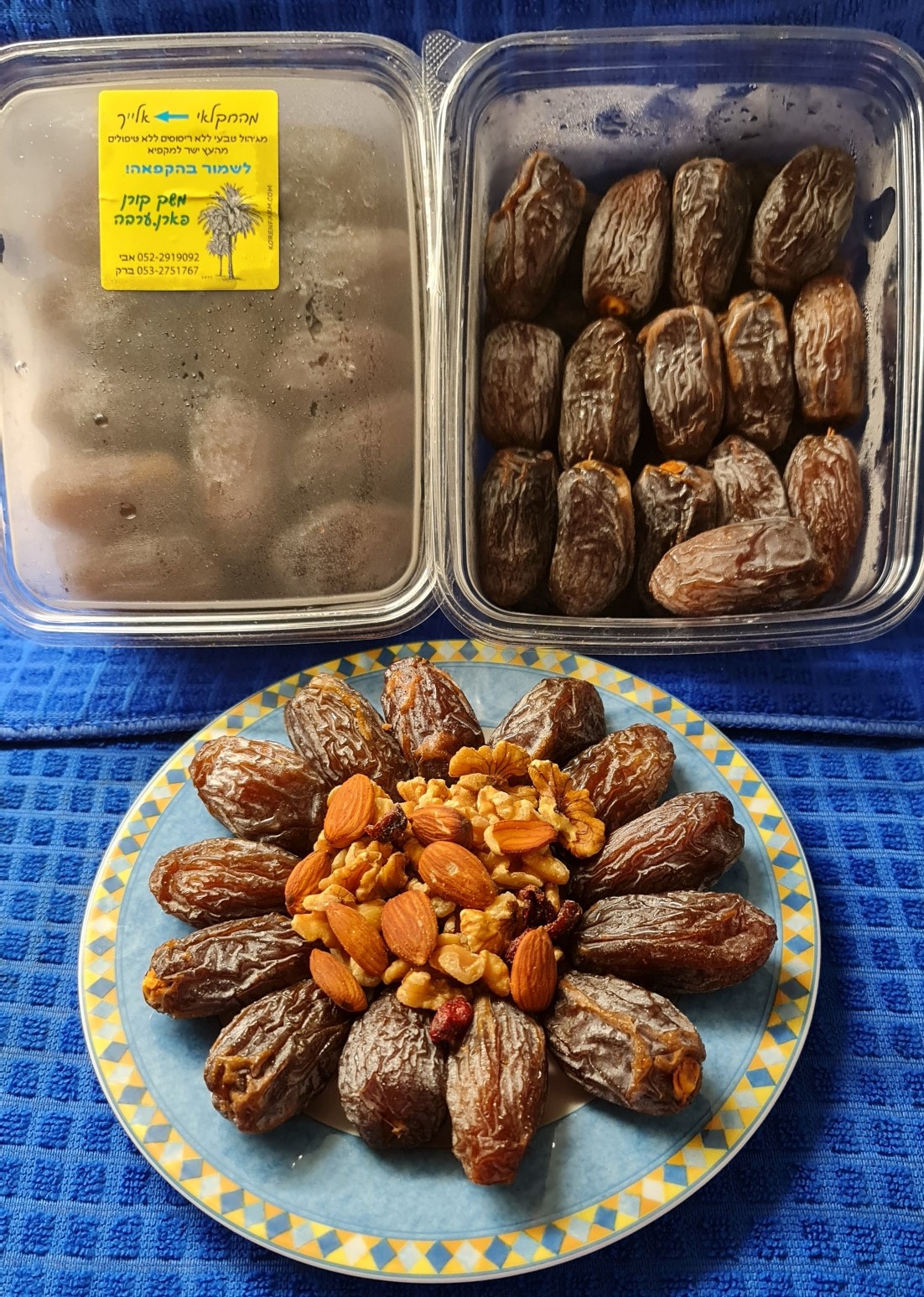 ABOUT THE KOREN FARM
The Koren Farm (משק קורן), family-owned business, established in 1977, in Moshav Paran,
Arava, specializes in the production and marketing of dates, which are distributed
locally and abroad.
The farm is committed to producing fruit in a responsible, sustainable and
environmentally friendly manner, meeting quality standards and contributing to
improving the health of consumers.
Each year, Koren farm's five hectares of desert land produces approximately 50
tons of this biblical fruit, under the supervision of agronomist Avi Koren and his team.
Dates are grown around the world in deserts with hot temperatures, low rainfall and
low humidity. However, the date palm grows under relatively high-water supply,
which limits its propagation and fruit production to very hot desert oases, generally
located in low altitude arenas (California Desert, Sahara Desert, Arabian Desert,
Israel Desert, South African Desert and Australian Desert).
The origin of the Medjool date is a desert in Morocco. Some palm trees were
shipped to the U.S. in the late 1920s, and merely a dozen mother plants yielded
most of the world Medjool palms we know today.
Dates are an important source of iron, potassium, vitamins A, C and E, calcium, magnesium and fiber.
Dates benefits:
Help relieve constipation and improve digestion

Help strengthen bones

Are beneficial to combat anemia

Reduce bad cholesterol

Cough relief

Have a great satiating power

Help increase your energy

Help your mental agility.
DATES PRICES:
Below 4 kg. : 40₪ per kg
4kg and over: ₪35 per kg
FOR ORDERS
Avi: 052-2919092
Barak: 053-2751767
CITIES FOR IMMEDIATE PURCHASES:
Kiryat Gat / Rishon Lezion / Petah Tikva / Etz Efraim / Herzliya / Kfar Saba
Hod Hasharon / Rosh HaAyin / Kadima / Hadera / Paran
Links:
https://www.facebook.com/korenfarm/
https://www.linkedin.com/in/avi-koren-852267b4
https://maps.app.goo.gl/NhUqxSThzm6V64tr8
https://www.facebook.com/korenfarm/
http://korenfarm.com/
Details

Written by

Silvia G. Golan
A new player in the local cuisine located in the landscape of the Galilee - "Porter House", an upscale meat restaurant, which combines a classic steak house and dishes from the Mediterranean cuisine, led by the leading chef David Elmakis (formerly, "David and Joseph").
The Porter House restaurant, owned by the Hinnawi Wine & More chain, is located in a unique culinary complex established by the chain in recent months, which includes a wine and alcoholic beverage store, a premium butchery, a deli, a meat aging room, a wine aging room, a cigar room and more.
Porter House is designed in the style that characterizes the area in which it is located. This restaurant has 55 seats and provides a different culinary experience. The meat comes straight from the butcher's next to the plate so its freshness is guaranteed. in addition, the restaurant serves up-to-120-day-old meats, premium meats as well as wagyu at the highest level.
The menu at the restaurant is based on the Hinnawi family's iconic and high-quality meat, combined with flavors from the Mediterranean cuisine created by David Elmakis, very cleverly with sophisticated dishes that uniquely combine raw ingredients and give a twist to dish preparation and plating.
The menu opens with locally baked bread accompanied by local spreads and salads, followed by starters such as Wagyu tartare (79 NIS ); Picania on coals (79 NIS ); roasted maraguez and cabbage (68 NIS ); Cheese cigar combined with beef carpaccio (64NIS ).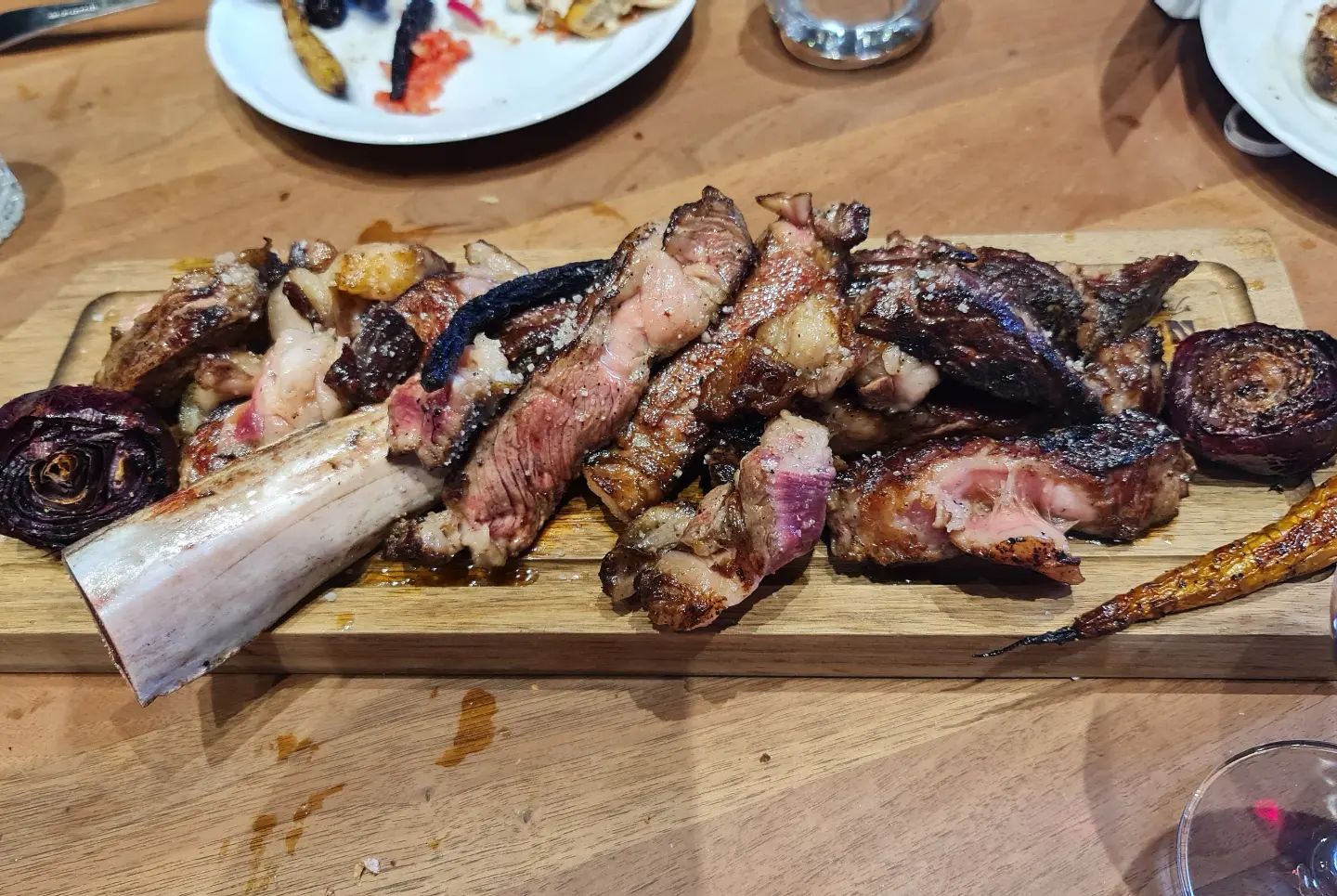 Among the main courses, Elmakis offers beef fillet with beef stock and red wine combined with potatoes (NIS 129); Hamburger (89 NIS ); Special chunks on the grill such as Lamb T BONE (99 NIS), Wagyu entrecote 300g (210 NIS), entrecote Black Angus 300 g (139 NIS). Chunks on the bone - Prime Rib, Porterhouse, Tomahawk, and more.
Chef David Elmakis, notes "It was important for us to produce and provide a different experience for the restaurant's guests. Therefore, most of the menu is based on familiar flavors, with different interpretations and plating. The presence of the premium butcher in" the common area of ​​the restaurant and under the same ownership allows us to serve the freshest and highest quality meat and it is a huge advantage for meat lovers. It is without a doubt the right place to eat meat, mainly thanks to a combination of unique meats."
Elmakis added, "It is important to understand that this is the only restaurant in the country adjacent to a wine and liquor store in the culinary complex of the Hinawi Wine & More chain so that each diner can choose the exact drink from an endless selection of products in the store, which is new in itself."
Porter House Restaurant, 3 Ma'ale Yitzhak Blvd., Nof Hagalil.
1 + 1 on the alcohol served in the restaurant On the occasion of the opening
Restaurant opening hours during the run: 18: 00-23: 30.
Routine opening hours: 12: 00-01: 00.
Phone for reservations: 077-5003626.
About the Hinnawi Wine & More chain
Hinnawi wine & more chain is a leading retail chain for marketing and distributing wines and alcoholic beverages from the oldest and most prominent in the country, in some branches the chain operates a premium butcher shop and a quality deli. The chain currently has 10 branches focusing mainly on the Central and Sharon area: 2 branches in Tel Aviv, Herzliya, Holon, Petah Tikva, Jaffa, Hod Hasharon, Airport City, and Nof HaGalil - a one-of-a-kind culinary complex recently launched that combines commerce and a restaurant.
The chain was established in the 1940s even before the establishment of the state, by Karim Hinnawi, and even then excelled in the supply and wide range of quality wines and alcoholic beverages as well as, personal import of antique wines from the world's leading wineries. Hinnawi has become synonymous with the love of fine wine, uncompromising quality, and professionalism at an international level.
Today, the chain is managed by the sons of George Hinnawi, who received the reins of management upon completion of their higher education in England - Andre, Wasim and Tawfiq Hinnawi, who continue to march the world-renowned brand and develop in new markets.
Details

Written by

Silvia G. Golan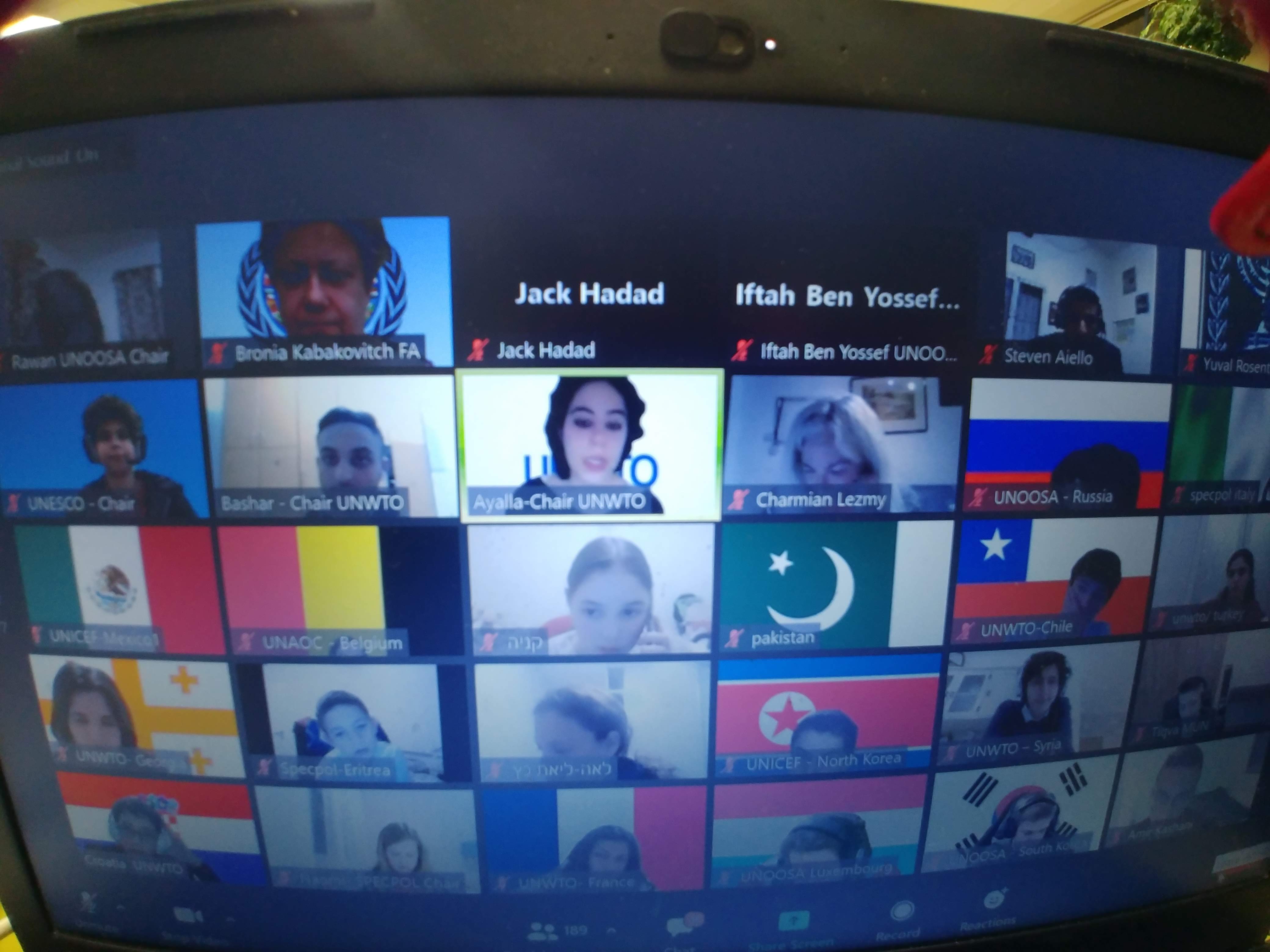 TIQVAMUN VII brings together 300 students from all over Israel, as well as Liberia, to address topics like the Civil War in Ethiopia, Juvenile Justice, Sustainable Tourism, and more.
TIQVAMUN VII, took place on Sunday January 23, with 300 students participating from 30 schools and two dozen cities. For the second year in a row the conference was held virtually, which allowed students from abroad to participate as well. TIQVAMUN, Israel's second oldest Model UN conference, is also the only national Model UN conference in Israel to include grades 5-12, with even a few intrepid third and fourth graders joining.
This year's committees and topics included UNEP (Saving the sea turtles), UNESCO (Returning stolen cultural objects), SPECPOL (Tigray conflict in Ethiopia), UNICEF (Juvenile justice), UNAOC (Rise of Hindu extremism in India), UNOOSA (Militarization of space), UNWTO (Sustainable tourism), Model Knesset (Violence in the Arab sector), and Crisis (Council of Olympus: Greek gods).
At the opening ceremony, Ambassador Amir Weissbrod, head of the international organizations unit at the Israeli MFA, welcomed students to the conference. Jessica Tesoriero, Deputy Cultural Attache at the US Embassy, also offered opening remarks, congratulating the students on their participation in the conference. Yoni Eshpar, political affairs officer at the UN Special Coordinator (UNSCO) office, talked about his belief in the empowerment of youth via Model UN. From there it was a full day of trying to resolve the various conflicts and challenges on the table. At the end of the day, the closing ceremony was held with students receiving awards for their participation. In total, over 300 students participated in the conference.
Participating schools and cities included: Rabin Keshet Branco Weiss Mazkeret Batya, Pelech Ruth Z Korman, Darca Ramon, Shaked Darca, Atid Lod High School for Excellence and Scientific Leadership in the Community, Misgav Upper School, Wizo Hadassim, Ironey Yud Dalet, Hand in Hand, Salvatorian Sisters' School , The Greek Catholic High School, Yahalom Middle School, Shoham HS, Atid Raziel, Ort Hilmi Shafie, Iksal high school, Young Ambassadors school, Ashkelon Gifted and Talented school, Ramon comprehensive school, Ahad Ha'am Jr High diplomacy class, Yeshurun comprehensive school, and elementary schools from Petah Tiqva: Amir, Bialik, Elimelekh Kaner, Hadar, Haim Hefer, Krol, and Shifer.
Ella Fishler from Hadar School told Diplomacy.co.il that "The conference was really fun, it's fun to express your opinions and fight for them and learn about our world where we live, it's fascinating. It's important to argue about what you believe in, and that's exactly what we did.
Shira Zehavi from Shifer school added "I really enjoyed the conference, it was an amazing and special experience where I got to learn a lot about the country I represented (Argentina) and the UNESCO committee. It was a great way to figure out when to compromise and when to take a hardline stance, and to learn to work in teams, plus the Chairs were very nice, which relieved the stress."
Tohar Levin from Haim Hefer school said that she learned many new things at the conference and thanked all of the organizers. Yagel Silko, representing the United States in UNESCO, said that he really enjoyed the conference, and recommended fellow students to join the Young Ambassadors program and the MUN club.
Omu Sow, one of the international participants from Muslim Congress high school and the IOMUN Liberia team, said "Thanks so very much, tt was a pleasure participating in this educational program."
Maayan Eina from Krol school noted that despite all of the challenges of Corona, and participating in MUN via Zoom, the conference had been a non-stop fun learning experience. She added that she learned new information about the civil war in Ethiopia, and commended fellow students for the respectful debates and discourse during the conference. Her classmate Lishay Nadawo (representing Ethiopia in SPECPOL) added her thanks for the efforts the chairs and organizers put in to ensure a fun learning experience for the students.
Olga Dudchuk, from Atid Raziel school was a delegate in UNOOSA. She said "It was great experience to participate in online MUN, it's always hard to get feedback via computer but here I saw that people are interested so much in this that even an online format allowed to organize a fantastic conference. It was nice to work with the chairs and get help from them, I really loved the organization."
Ruth Shemesh from Ahad Ha'am Junior high school said she "learned a lot about the procedure of UN. It was very interesting to practice and to be exposed to different solutions for India's problem. The chairs were really nice and they explained about the mods and unmods. My favorite part was when we had our debates in different rooms. It was really fun." Her classmate Noya Shchori added that MUN was "a very interesting and special experience for me."
Yair Levi, MUN coordinator at Darca Ramon school said "Thank you so much for organizing the Tiqvamun and giving the kids a chance to participate. They had a great time."
Noam Nawi, from Krol school said that he gained a lot of knowledge from participating in the conference, and commended the chairs for ensuring respect for all the students, and facilitating the committees expertly.
Shir Bachar (Romania in SPECPOL) from Hadar school enjoyed the MUN format, which allows everyone to have a voice. Zohar Glanz, from Hadar school represented Italy in SPECPOL. She said "It was very exciting especially because this is my first conference and I learned a lot for the next conference."
Elinor Almagor from Shifer school represented Egypt in UNESCO. She said the conference was "a lot of fun, while teaching us how to express ourselves, and stand up for our opinions. It's an experience I will never forget, I will always remember my first conference."
Shai Milstein, from WIZO Hadassim provided an enthusiastic summary:
TIQVAMUN was a perfect example of what an online MUN experience can be all about: creative, admirable, intriguing, fun, and a room for unique people to share a marvelous time. In 2022's TIQVAMUN conference, we got the opportunity to gather ideas and beliefs from several students from all over the country and combine them in creative ways to come up with solutions for both real-life and imaginary topics (such as the Crisis Committee, which I was in).
The amount I learned within the hours I spent on my committee is uncountable, and I'm sure the people I met will be great friends of mine in the future. I had a great time, and I'll be looking forward to the next conference hosted by the TIQVAMUN team.
Details

Written by

Silvia G. Golan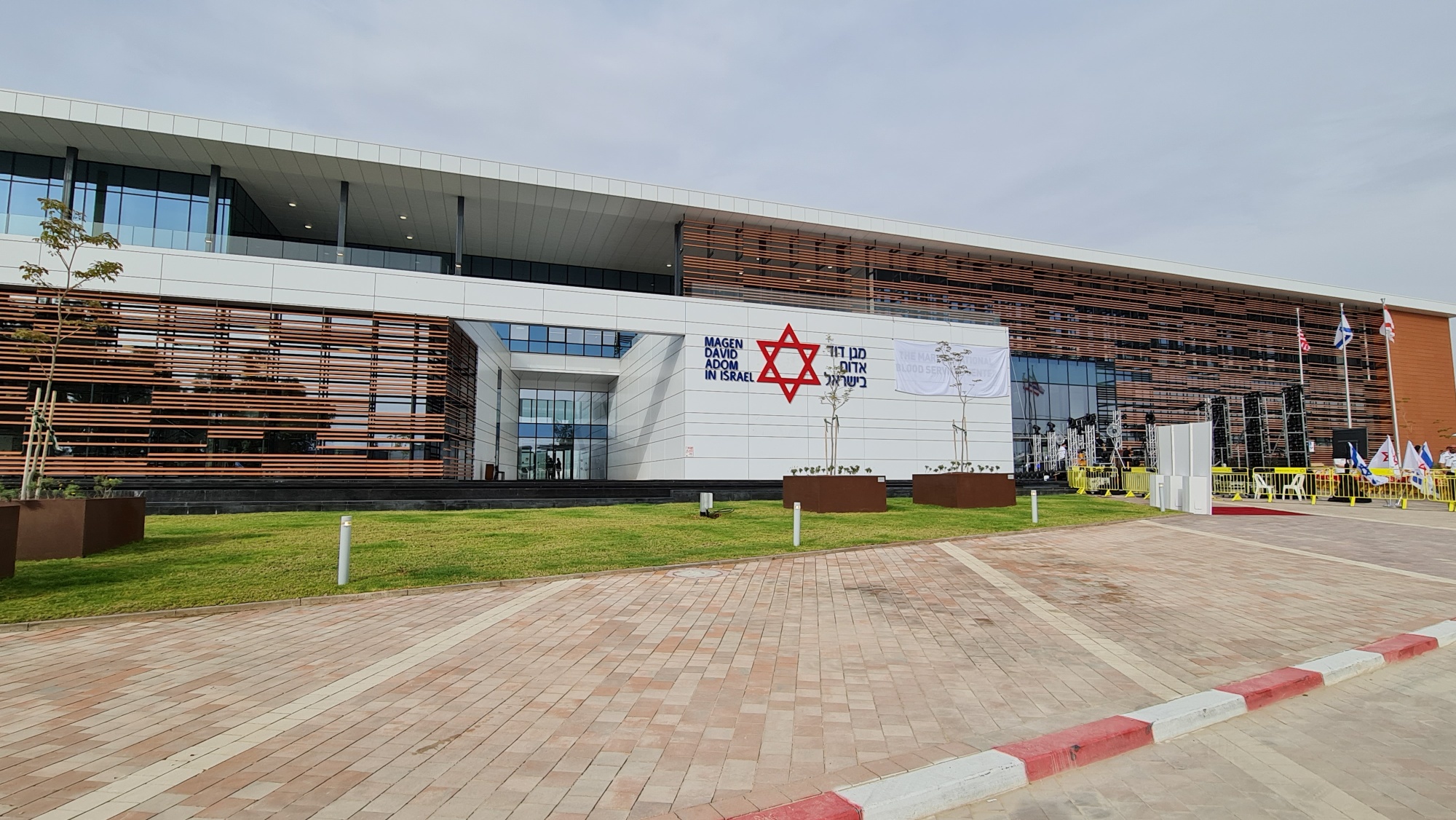 Magen David Adom's new Bernie and Billi Marcus National Blood Services Center The dedication has taken place of the underground blood bank, the first of its kind in the world
The dedication has taken place of the new Blood Services building in the "MDA quarter" in Ramle * In this location, the protected, underground blood bank, the first of its kind in the world, will begin operations * The new building will allow for increased operations, the implementation of new technologies, will provide protection and security, and will also contain MDA's Logistics Center * Among those present at the dedication ceremony were the President of the State of Israel, Minister of Defense, Minister of Health, Members of the Knesset, donors, MDA's friends from around the world, MDA senior staff, Ramle's Mayor and Chief Rabbi, and other dignitaries
Throughout the year, MDA Blood Services in Israel collect over a quarter of a million (some 270,000) units of blood, of which 71% are donated by males and 29% by females, 93% are donated in Magen David Adom's Blood Mobiles as opposed to 7% at MDA stations. Another statistic shows the 26% of donors are in the IDF, while the rest, 74%, are civilians. Also noteworthy is that 81% are returning donors, not giving blood for the first time, while the rest are new donors.
The dedication ceremony of the building, named in honor of Bernie and Billi Marcus, was held on Monday evening in Ramle. The building spreads across 48,000m2, is protected and can withstand earthquakes. Three of the six floors are built underground.
The event was the Blood Services' building's dedication. It is the first of its kind in the world to be underground and protected. The new building will allow for increased activity, providing an all-encompassing response to the needs of the health and medical services in Israel and in the IDF, alongside demographic changes such as the natural increase in Israel's population. Advanced laboratories will operate in the new Blood Services building, along with some of the world's most advanced, unique equipment and technology, in order to guarantee the quality and safety of the blood units.
MDA's current Blood Services building was built in the 80s of the previous century and is not large enough to cope with the growing population's demand. During military escalations over the past few years, the staff was forced to move the activity to bomb shelters in the ageing building, to reset the testing machines and then restart activities in the small shelter, and would then have to restart again when moving back to ground level.
In the new building, which was started in 2018, the Blood Services laboratories are underground. The new, protected building will allow regular activities to continue even during raised security threats, and there will be advanced equipment that will allow for rapid testing of the blood units. MDA's Blood Services will have the ability to increase work production and in future will be able to produce half a million units of blood annually. MDA's National Human Milk Bank and the public cord-blood bank that is also operated by Magen David Adom will move to the new Blood Services building, as well as MDA's logistics operation, which will make this Magen David Adom's central logistics center.
The cost of the Marcus National Blood Services Center (MNBSC) is $130 million, donated by generous donors led by the American Friends of Magen David Adom along with other Friends' Societies from around the world. Among them are Bernie and Billi Marcus, Dr. Miriam Adelson and her late husband Sheldon Z''L, and many others. The building contains three underground floors that are safe and protected, including a globally unique cold-storage room that can, in times of emergency, hold tens of thousands of blood units. The new Blood Services building will be able to function during emergencies and security escalations, and can keep up full and independent production using generators for the advanced equipment, and without relying on external factors. Magen David Adom, as Israel's National Rescue Service, is committed to working 24/7, around the clock, especially during times of crisis, leading to the planning and building of the blood bank with a special emphasis placed on continuing operations in emergency situations.
The blood donations room, accessible to the public, will operate at the entrance level of the building and allow members of the public to give blood. The laboratories and a secure, 400m2 cold room that is protected from threats, a transport center and parking for new equipped ambulances will all operate from the underground floors.
The special ceremony took place in the presence of the President of Israel Isaac Herzog, Defense Minister Benny Gantz, Health Minister Nitzan Horowitz, Members of the Knesset, honored donors, general manager of the Health Ministry Prof. Nahman Ash, Chief Medical Officer of the IDF Prof. Alon Glazberg, Deputy Chief Medical Officer of the IDF Dr. Noam Fink, Home Front Regional Command Medical Officer Dr. Tomer Koler, Hospital and HMO managers, Mayor of Ramle Michael Vidal and its Chief Rabbi Abuchatzeira, MDA President Avi Zohar, Chairman of the MDA Executive Committee Rabbi Avraham Manela, MDA Director General Eli Bin, Deputy Director General of MDA Blood Services Prof. Eilat Shinar and other honored guests.
Ziv Shilon served as an IDF officer in the Givati Brigade, was seriously injured and lost an arm to an explosive device during fighting in the Gaza Strip in 2012. He told how his life was saved thanks to the many units of blood that he received during his medical treatment. Mayor of Ramle, Mr. Michael Vidal greeted those present, and the town's Chief Rabbi placed the Mezuza at the main entrance to the building.
The main donors in whose honor the building is named, Bernie and Billi Marcus: "On a visit many years ago to Israel's blood bank, amid the missile and rocket attacks, I realized how delicate and vulnerable the blood system was. I am happy that we participated, from the very start, in the construction of this wonderful building, where Israel's blood supply will be protected for all its citizens, Jews, Christians and Muslims alike."
The sons of Bernie and Billi Marcus, Fred and Michael, and their granddaughter Chana: "The blood is life for all living beings. Thanks to the blood we become whole. Magen David Adom represents the best of Israel and its people. Our family has many roots in Israel and this is a gift to Israel from our family. This relationship connects us to Israel, all of us together to reach our aim. Magen David Adom's Blood Services show humanity at its best. We and the other donors are proud and excited to take part in the mitzvah of kindness and charity. Blood is the lifeline, and Magen David Adom is the agent. This is one of our family's most significant donations. We are proud to be here this evening and to strengthen our relationship with our family, the Jewish people in Israel."
CEO of American Friends of Magen David Adom, Catherine Reed: "Blood is the essence of life, our most precious gift; we must do everything possible to preserve it. History has taught us to always be prepared and no country on Earth has ever been this proactive in protecting its blood supply. The Marcus National Blood Services Center will enable Magen David Adom to save countless lives during times of war and peace, thanks to the Marcus's and the generous support of each and every one of our committed American donors."
MDA Deputy Director General of Blood Services, Prof. Eilat Shinar: "The new Marcus National Blood Center is a substantial leap forwards. The new installment has been planned in such a way as to ensure the continuous supply of blood units and blood products to all hospitals and the IDF, throughout peace and emergency times for the coming decades. We are grateful to all our donors in the Friends' Societies in Israel and across the world, and in particular to the donors in AFMDA who allowed us to make this dream into a reality and to build a protected, modern blood bank, with advanced laboratories that will allow for new technologies, in order to continue to supply blood units and supplies to anyone who needs them to save their life."
Health Minister Nitzan Horowitz: "I am pleased, in the name of the health service in Israel to mark the dedication of MDA's new Blood Services building. The building can continue to work underground during war times and provide blood supplies in the coming decades. This is our national and precious blood bank. Up until today, MDA staff would have to move the blood units to the bomb shelter. This is a complex and dangerous task. Today we fulfil the dream of opening a modern, protected National Blood Services Center that will manage Israel's citizens' blood supplies in a secure, uninterrupted manner. MDA's strength and preparedness are a strategic requirement of the State. We will continue to work in full cooperation with MDA for the benefit of the health of Israel's citizens."
Defense Minister Benny Gantz: "Tonight we are dedicating a national treasure that is vital for all our lives. Thank you to the people of MDA, to all of the donors and those involved in building the new blood center. We must be prepared for any threat at any time. An underground blood bank sounds like science fiction, but it's real and the first of its kind in the world. The new building will save the lives of our loved ones and will be a model and example to the world. In Israel, donating blood is a moral and communal obligation to which we adhere from a young age."
President of the State of Israel, Isaac Herzog: "There is no replacement for human blood. In a world where we have learnt how to 3D print a heart, and how to use organs from live donations in order to save lives, we have yet to find a suitable replacement for the blood itself, even though the State of Israel is leading the way in this field too. The human blood is undoubtedly extremely complex. Which is why it makes finding a replacement so difficult. Perhaps it is also as written, in another context – "For the blood is the soul," meaning that it is the fluid of life and the purest form of humanity. The President continued: "Here, in this important, precious blood bank, do we feel the essence of human codependence. It teaches us that we are brothers and sisters, even if we argue and disagree – but blood donations must be above any disagreement." In his closing remarks, the President thanked all those involved: "For me, Magen David Adom is a symbol both for an incredible ideal as well as a daily establishment that provides life-saving care. I would like to thank first and foremost to the heads of the organization – to MDA Director General Eli Bin, as well as the volunteers, the paramedics, the medical teams, the employees, the drivers, the dispatchers, to those in the field, those working on networks, in laboratories, the management, and more. I want to thank all of you, for your vital and extraordinary work."
MDA Director General Eli Bin: "Many years have passed since the initial idea of building a blood services center, during which time the challenges facing the State of Israel and Magen David Adom have changed. However, today more than ever, we know how vital this center is, that stand at the pinnacle of modernization and technology in the field of blood services. While we always hope for peace, we are also prepared for war, and the new Marcus National Blood Services Center is an important, central addition to facing the challenges faced by Magen David Adom and the State of Israel. It is stated in our scriptures that anyone who saves a life, it is as though they have saved an entire world. I am proud to be surrounded by so many good people who save worlds on a daily basis. People who work tirelessly in order to improve and advance emergency medicine and blood services in Israel. One of the central causes of this success is the donation of Mr. and Mrs. Bernie and Billi Marcus, Dr. Miriam Adelson and her late husband Sheldon, and hundreds of other donors from Israel and across the world, and for this I express my thanks and great appreciation."
Diplomacy.co.il congratulates the Magen David Adom for this wonderful dedication , that will help lives
Photos credit Silvia G. Golan
More Pics at Facebook Diplomacy Israel / Israel Diplo / Silvia G. Golan
Details

Written by

Leket Israel
Leket Israel, the largest food rescue organization in Israel, releases its Sixth Annual National Food Waste and Rescue Report in Israel
on the topic of the urgent need for action in the treatment of food waste and rescue in Israel
The Covid-19 pandemic has shown that a comprehensive national plan is needed to reduce food waste and increase food rescue volumes immediately according to data from BDO
According to the Report's findings, there was a decrease of 50,000 tons in food loss, due to changes in consumption habits; an increase in online food purchase, a reduction in purchase from open markets and a shift from consumption from the closed institutional sector to food consumption at home, where the public spent most of 2020.
In the household sector, food worth NIS 9 billion (US $2.59 billion) was discarded, an increase of NIS 800 million (US $230 million) compared to 2019. On the other hand, there was a decrease of NIS 2.2 billion (US $634 million) in the institutional sector which is a 50% reduction in the value of food loss compared to the year before.
In the retail sector (supermarkets etc.), the total loss of food in 2020 was approximately 420,000 tons which constitutes a decrease of about 4% compared to food loss in 2019. This resulting from the transition from buying in open markets which are categorized by high loss rates, to online purchase which is categorized by low loss rates. The total value of food loss in the retail sector amounted to NIS 4.3 billion (US $1.25 billion).
In the agriculture sector, there was an increase of 20,000 tons of food loss. A total loss of 640,000 tons of agricultural produce valued at NIS 2.6 billion (US $749 million) which is up about 3% in the quantitative loss compared to 2019.
In 2020, 150,000 people joined the circle of food insecurity. The pandemic exacerbated the issue of food insecurity in Israel and emphasized the importance of food rescue as a key policy tool to diminish it. This illustrates the ability to reduce food loss by changing habits and consumption patterns. According to the
Report, rescuing just 25% of all the wasted food in Israel, at a cost of NIS 1.1 billion (US $.3 billion), will close the entire food security gap in Israel.
The Covid-19 crisis is an inequitable pandemic from both a health and an economic perspective. The populations whose health has been most impacted in Israel are the elderly, ultra-orthodox Jews, and Arabs, which are characterized by the highest rates of poverty and food insecurity.
The environmental cost of food waste in Israel as of 2020 is estimated at NIS 3.42 billion (US $1 billion), of which NIS 1.35 billion (US $.4 billion) is due to the unnecessary waste of land and water resources, NIS 1.27 billion (US $.4 billion) in greenhouse gas and air pollutions and NIS .8 billion (US $.2 billion) as a direct cost of waste collection and processing.
The result of food waste in Israel, in 2020, is that additional manufacturing resources were wasted as well: 180 million cubic meters of fresh water that could fill 56,000 empty Olympic size pools, 210 million cubic meters of effluent, 1 million dunams of agricultural land equivalent to 20 times the size of Tel Aviv, 1,230 million kWh of electricity required to produce computers and electrical equipment, 70,000 tons of fuel which could fuel 160,000 cars a year, 200,000 tons of waste (packaging and industrial waste etc.), 50,000 tons of fertilizers as well as livestock ammonia emissions of about 3,000 tons. Food waste contributed to the emission of 5 million tons of greenhouse gases in 2020 which constitutes about 6% of the total greenhouse gas emissions in Israel.The total amount of food loss in Israel is 2.5 million tons, valued at NIS 19.1 billion (US 5.5 billion) which is equivalent to NIS 615 (US $177) per month per household in Israel. Of the total food waste, 50% (1.1 million tons) of it is edible saleable food, worth NIS 6.4 billion (US $1.85 billion) a year. In monetary value: approximately 21% of the food loss value, which constitutes NIS 4 billion (US $1.15 billion), is already lost in the production stages, equivalent to approximately 13% of the total value of agricultural output in Israel. The remaining 79% of the loss value, worth about NIS 15.1 billion (US $4.35 billion) is in the retail and distribution stages.
Gidi Kroch, CEO – Leket Israel: "The findings of the Sixth Annual Food Waste and Rescue Report illustrate the dire consequences and effects of the Covid-19 pandemic on the social and economic aspects and emphasize the urgent need for action and recognition by the state on food rescue, which can provide a complete response to millions of people already living with food insecurity and the tens of thousands of people who joined them due to COVID. The great advantage of rescuing food is the ability not only to close the entire food insecurity gap in Israel by a quarter of the budget, but also higher utilization of resources and waste prevention. Additionally, food rescue helps reduce emissions and pollutants and strengthen the fight against the global climate crisis. Therefore, as recommended in the policy chapter of the Report, the Prime Minister's Office should lead and promote the preparation of an inter-ministerial plan to advance the field of food rescue in a way that will holistically reflect the many benefits of food rescue."Chen Herzog, Chief Economist – BDO and Editor of the Report: "The loss to the national economy due to food waste in 2020 amounted to NIS 19.1 billion (US $5.5 billion), with an additional environmental cost of NIS 3.4 billion (US $1 billion). The cost of food waste comes out of the pocket of the consumers and taxpayers in Israel and therefore also affects the cost of living, imposing a surplus burden of NIS 3,600 (US $1,045) per year per household. The lessons of the Covid-19 pandemic reinforce the need to formulate a routine and emergency food rescue plan. It is an economic folly that in the year of Covid-19, in which there was an increase of 150,000 people living with food insecurity, no national food rescue policy was formulated. Food waste prevention and food rescue are economic, social, and environmental policy tools. Without formulating a national plan to rescue food and prevent food waste, we will not meet the climate goals and declarations of the Glasgow Conference to reduce greenhouse gas emissions in the field of waste."Tamar Zandberg, Minister of Environmental Protection: "The Food Waste and Rescue Report in Israel indicates a close connection between food loss and the environment and the inconceivable cost we pay for this waste. Food loss becomes waste that we then have to invest a lot of resources to treat. Food: land, water, energy, pollutant emissions etc. Reducing food loss is an important contribution to Israel's compliance with the greenhouse gas emission reduction targets that Israel pledged on the eve of last month's climate conference of National Climate Change. "
About Leket Israel: Serving as Israel's largest food rescue organization, in 2020, Leket Israel rescued 2.4 million cooked meals from IDF army bases, hotels catering companies, and restaurants and 18.5 thousand tons (41 million pounds) of agricultural produce. All this rescued food was redistributed to 246,000+ needy people weekly through Leket Israel's network of 330 nonprofit agency partners throughout Israel. For more information, please visit: www.leket.org/en.
Photos Shira Woolf – Leket Israel