Details

Written by

Silvia G. Golan

You've never taken a tour like this; the Western Wall Tunnels right in your home!
The Western Wall Heritage Foundation is proud to present The Western Wall Tunnels 360 LIVE in the comfort of your own home. The Western Wall Tunnels were filmed, especially for you, using state-of-the-art technology that allows you to take a full tour of these famous Tunnels without leaving your house. Join us for an amazing hour on a moving 3D tour with your own guide who will take you to see hidden underground treasures that convey the fascinating history of the Jewish nation in Jerusalem.

The tour is suitable for groups or individuals. It combines film clips and unique illustrations alongside a "real" three-dimensional tour. The tour is guided by the best of our guides and you will even be able to ask questions and get personalized responses.

Join us for a walk along the entire route of the Western Wall Tunnels. Visit hidden underground spaces. Stand opposite the Holy of Holies. And walk through a Hasmonean water aqueduct. All without even getting wet or leaving your house!
For information and registration:

* The Western Wall tour web page

* Our customer service hotline *5958

* Email: This email address is being protected from spambots. You need JavaScript enabled to view it.
* https://youtu.be/MccQtsHDWvY
www.instagram.com/western.wall
We look forward to seeing you in person soon, but until then – see you in Jerusalem – in your own home!
Photo Silvia Golan
Details

Written by

Beit Hatfutsot

Passover is Chag Ha'Aviv and like spring it brings with it the prospects of renewal.
Passover is Chag Ha'Cherut.
Winds of freedom are always blowing in the air.
Let's hope for the swift waning of the current crisis affecting humankind globally.
Let's hope that those aspiring for renewal will achieve it.
Let's hope that those seeking freedom will attain it.
May you have the strength and resilience to overcome present and future challenges.
May you accomplish all that you aspire to and have good health above all else.
May you experience an inspiring and memorable holiday.
Our very best wishes for a meaningful Passover are with you.
The Gutwirth Zucker Praque Haggadah c. 1707
Donated by Benjamin Zucker and on display in the Alfred H. Moses and Family Synagogue Hall
www.facebook.com/BeitHatfutsotEnglish
www.instagram.com/beithatfutsot/
https://twitter.com/BeitHatfutsot
www.youtube.com/user/beithatfutsotmuseu
www.bh.org.il/about-us/american-friends-beit-hatfutsot
About the Museum of the Jewish People at Beit Hatfutsot
---
You Are Part of the Story
The Museum of the Jewish People at Beit Hatfutsot is more than a Museum. This unique global institution tells the ongoing and extraordinary story of the Jewish people.
The Museum of the Jewish People at Beit Hatfutsot connects Jewish people to their roots and strengthens their personal and collective Jewish identity. The Museum of the Jewish People conveys to the world the fascinating narrative of the Jewish people and the essence of the Jewish culture, faith, purpose and deed while presenting the contribution of world Jewry to humanity.
The Museum opened in 1978 thanks to the vision of Nahum Goldmann, president of the World Jewish Congress 1954-1977. In 2005, the Israeli Knesset passed the Beit Hatfutsot Law that defines Beit Hatfutsot as "the National Center for Jewish communities in Israel and around the world".
Photo provided by Beit Hatfutsot
Details

Written by

Technion Spokesperson's Office
Technion scientists mobilized in the worldwide effort to find solutions for the current global health crisis
Researchers in more than 20 Technion labs are working round the clock to help fight the spread of COVID-19. Their research includes early detection and diagnosis of the virus, development of a vaccine and therapies, and designing robotic solutions for remote monitoring and care of patients.
"Technion is at the forefront of science and technology worldwide, and during this time of crisis, we are collaborating closely with the health system and the hospitals in order to find immediate solutions to the challenges they are facing," said Technion President Prof. Uri Sivan. "We are working on advanced diagnostic techniques, personalized medical treatment, technologies that enable pinpointed drug delivery, treatment protocols based on machine learning and artificial intelligence, data mining and Big Data management, developing robots for remote medical care, and more. Technion's added value is apparent in the close interaction between medicine and engineering at our university, and in the interdisciplinary collaborations that are generating rapid and sophisticated solutions to help fight COVID-19."
Technion emergency projects include:
Diagnostics
Prof. Hossam Haick, Wolfson Faculty of Chemical Engineering: His lab is developing a diagnostic test for pre-symptomatic coronavirus carriers. Research focuses on two approaches: diagnosing the virus with a breath test, and monitoring the virus with an inexpensive patch adhered to the arm or chest.
Prof. Roy Kishony, Faculty of Biology: Pooling method for accelerated testing of COVID-19.
Prof. Amit Meller, Faculty of Biomedical Engineering: Identifying and quantifying viral RNA using nanopores.
Prof. Moran Bercovici, Faculty of Mechanical Engineering: Innovative and rapid diagnostic test using blood and saliva.

Vaccine development
Prof. Avi Schroeder, Wolfson Faculty of Chemical Engineering: Developing a vaccine for coronavirus based on a vaccine for shrimps, he invented at Technion – and is being commercialized by his Technion start-up ViAqua Therapeutics.
Prof. Zaid Abassi and Prof. Oded Lewinson, Rappaport Faculty of Medicine: Prof. Lewinson is developing recombinant ACE-2 receptors in collaboration with Prof. Ofer Mandelboim of The Hebrew University of Jerusalem. The aim is to develop antibodies for ACE-2 receptors on which the coronavirus attaches itself to the host organism's cells.

Therapeutics
· Prof. Josué Sznitman, Faculty of Biomedical Engineering: Innovative technology for delivering drugs to the lungs. Especially suitable for treating acute respiratory distress syndrome (ARDS), which is the principal cause of death among coronavirus patients.
Prof. Roee Amit, Faculty of Biotechnology and Food Engineering: Developing an ointment to treat coronavirus infections.
Prof. Marcelle Machluf, Faculty of Biotechnology and Food Engineering: Trapping the coronavirus using the existing nano-ghost technology developed in her lab.
Prof. Avi Schroeder, Wolfson Faculty of Chemical Engineering: Developing a targeted drug for treating acute respiratory distress syndrome (ARDS), based on existing drug delivery methods.

Aids for medical teams
Prof. Eyal Zussman, Faculty of Mechanical Engineering: Developing filters and coatings using nanometric fibers.
Prof. Yotam Bar-On, Rappaport Faculty of Medicine: Virologist specializing in COVID-19 – expert advice to medical teams.
Prof. Shai Shen-Orr, Rappaport Faculty of Medicine: Identifying infected individuals based on their immune response; monitoring disease progression and complications in infected individuals; triage for the aged population and predict those with higher risk of complications or death. Additional collaboration is to develop rapid cell-based diagnostics for infections.
Prof. Shady Farah, Wolfson Faculty of Chemical Engineering: Developing anti-viral disinfectants.
Prof. Shie Mannor, Viterbi Faculty of Electrical Engineering: Artificial Intelligence research to evaluate the patients' condition and the progress of the disease, in collaboration with Prof. Uri Shalit, Davidson Faculty of Industrial Engineering and Management and Prof. Joachim Behar, Faculty of Biomedical Engineering.
Prof. Alex Bronstein, Faculty of Computer Science is developing ultrasound for lung imaging. The researchers are adapting inexpensive ultrasound sensors in order to identify infections in the lungs caused by the coronavirus. Prof. Ron Kimmel, Faculty of Computer Science and Doron Shaked of General Electric are collaborating on this project.
Prof. Ezri Tarazi, Faculty of Architecture and Town Planning: Design and produce novel protective equipment for medical personnel using 3D printing; establishing a national network of designers who will plan and produce products for immediate use in the COVID-19 crisis.

In addition, Technion researchers and Rambam Health Care Campus medical staff are working together in high gear on numerous emergency projects. This collaboration is led by Technion VP for External Relations and Resource Development Prof. Alon Wolf, Rambam Director-General Prof. Michael Halberthal and former Rambam Director-General Prof. Rafi Beyar
Facebook הטכניון - מכון טכנולוגי לישראל | Technion
Instagram www.instagram.com/technion.israel
Details

Written by

Spokesperson of the President's Office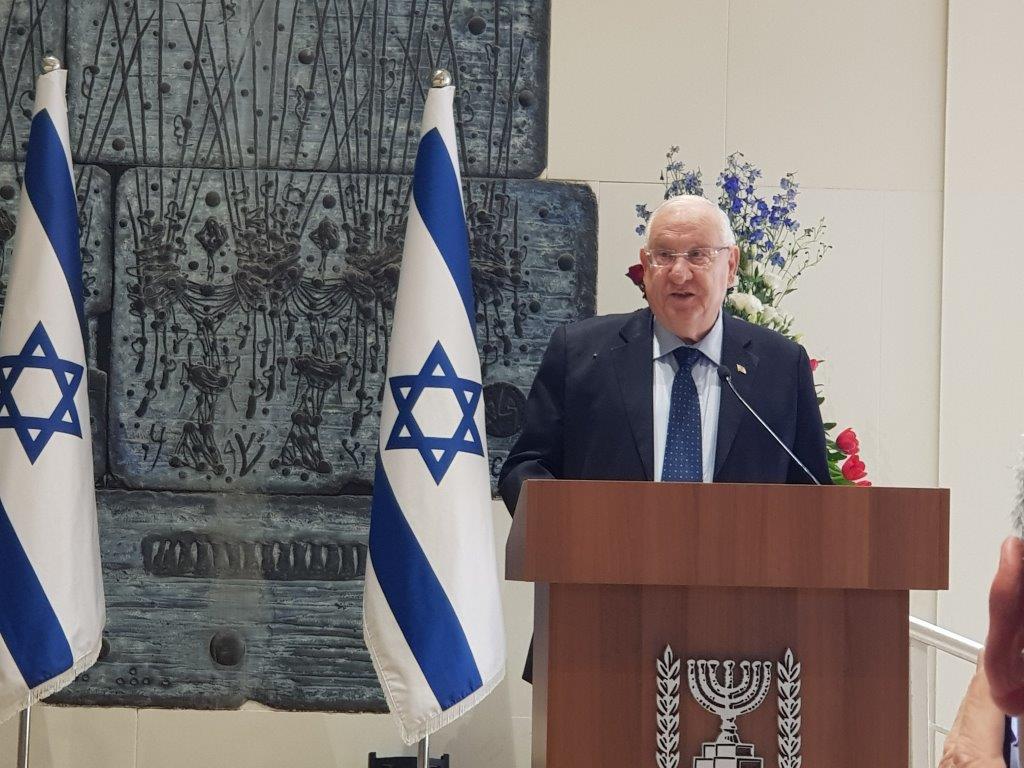 Visit the Louvre, Disney World, national parks around the world – and now Beit HaNasi!
Find time to join us in Jerusalem and visit Beit HaNasi with its rich and fascinating history.
President Reuven (Ruvi) Rivlin today, Tuesday 31 March / 6 Nisan, invited people from Israel and around the world to take a virtual tour of the President's Residence. Four years ago, Beit HaNasi opened its visitors' center and every year tens of thousands of people come and visit, but because of the coronavirus outbreak the tours have been suspended.
Every week, a different part of the tour will be uploaded to the president's social media accounts. Director-General of Beit HaNasi Harel Tubi said, "we have created the virtual tour for kids and families stuck at home, but it is no substitute for the real thing. Enjoy the virtual tour, but don't forget: when things get back to normal, come on a real tour with the visitors' center at Beit HaNasi."
On the first tour, visitors will hear about the history of building Beit HaNasi and will visit the Avenue of the Presidents in the gardens. In the next tour, we will see the ceremonial spaces in Beit HaNasi, looking at its history, the personal stories and see the art and the archaeology on display. The third tour will focus on the famous gardens of Beit HaNasi, where the president holds the annual "All Israel from Jerusalem" ceremony, where 120 outstanding IDF soldiers are honored on Yom Haatzmaut, Israel's independence day. It will include the Avenue of the Leaders, trees planted over the years by global leaders on their visits over the years, including HRH The Prince of Wales, US Presidents Barack Obama and Donald Trump, and the tree planted in memory of the president's late wife, Nechama Rivlin ז"ל.
On becoming president, President Rivlin gave an instruction that Beit HaNasi would be the home of all Israeli people and that anyone who wanted to visit would be able to do so. Since the official opening of the visitors' center in the second year of his presidency, some 100,000 visitors have come to Beit HaNasi.
The tours will be posted on the president's social media channels:
· YouTube: youtube.com/user/PresidentRivlin
· Facebook: https://www.facebook.com/ReuvenRivlin/
· Instagram: @presidentruvi, https://instagram.com/presidentruvi
President photo credit Silvia Golan ( ( Published: 28 November 2018)
Details

Written by

Prime Minister's Media Adviser
The Cabinet has approved emergency regulations to reduce the spread of the corona virus in Israel. These include a further limiting of going out into the public sphere, the imposition of restrictions on public transportation and more.
The Cabinet, last night, approved emergency regulations to limit activity in order to reduce the spread of the coronavirus in Israel. The regulations include a further limiting of going out into the public sphere, the placing of responsibility on employers, the closure of non-essential shops and the imposition of restrictions on public transportation.
The regulations will take effect at 17:00 today (Wednesday, 25 March 2020), for a period of seven days.
According to the new emergency regulations, it will not be permitted to leave one's place of residence or regular domicile and go into the public sphere except or one of the following actions or objectives:
1) An employee going to permitted work, according to the regulations
2) Purchasing food, medicines, essential products and receiving essential services
3) Receiving medical treatment
4) Donating blood
5) Legal proceedings
6) Demonstrations
7) Going to the Knesset
8) Receiving treatment by social services

9) An individual or people who live in the same residence may leave said residence for a short time but may not venture more than 100 meters from said residence.
10) Providing medical assistance to a person in distress or who needs assistance
11) Prayer in an open space, funerals, weddings or circumcisions and women going to immerse in a mikveh provided her arrival is coordinated in advance.
12) Taking a minor to a designated educational framework (as per health regulations) for the children of essential workers
13) Transferring a minor, whose parents live apart, by one parent to the home of the other parent
14) Transferring a minor, when the parent responsible for him or her must attend to an essential need and when there is no one at the place of residence to assume responsibility for the minor
It was also decided to reduce public transportation to 25% of what currently prevails, as per the directives of the Ministry of Health.

Taxi services will be permitted for one passenger only or an additional accompanying person for medical treatment. Passengers will sit in the back; the windows of the vehicle shall be open.
The regulations stipulate that in the public sphere and in workplaces, a distance of at least two meters shall be maintained between individuals. Essential travel in private vehicles shall be limited to two passengers. Transportation to places of work shall be permitted subject to the limitations.
It is further determined that employers shall be responsible for taking temperatures at the entrance to the workplace. Anyone whose body temperature is 38 degrees Celsius or higher shall not be allowed to enter.
Food and newspaper delivery services shall be allowed to operate as will be essential services for home maintenance, electronic goods, communications services and medical devices. Online sales with home delivery is permitted for all types of products. Delivery personnel shall place the delivered items outside the door of the residence.

Businesses that sell food for consumption outside the premises where it is prepared and which is sent by delivery service only, pharmacies, optometrists or any shop the main occupation of which is the sale of hygiene products, will operate while maintaining a distance of two meters between individuals and preventing crowding. At no time will there be more than four customers per active cashier in the shop.

It is determined that violating the prohibitions will constitute a criminal offense; violators shall be subject to administrative fine. The regulations provide the police with the authority to enforce these instructions.
The final wording of the emergency regulations shall be published forthwith upon the completion of the necessary corrections by the relevant professional authorities.
In addition to the above, it will be underscored that there is a mutual need to adhere to the rules in order to defeat the spread of the virus. Individuals aged 60 and over, especially the elderly and at-risk groups, must remain at home and avoid risking themselves by going out.