Details

Written by

Silvia Golan
In a world of fast fashion, designer Sharon Chandally Pedrini is a rare breed: a jeweler who extols the virtues of jewelry made with integrity and respect, and an incredibly careful hand.
In the two years since her store opened on Dizengoff Street in Tel Aviv, the New York City-native has emerged as an important figure in the Israeli jewelry scene. Just this year, she participated in the Fashion Revolution sustainable fashion show, was featured on multiple segments on globally-broadcast i24 News, and her store was recently awarded "Best Luxury Jewelry Design Studio and Boutique" in MEA Market's 2019 Israeli Business Awards.
Nowhere is the designer's deep connection to her heritage more evident than her intimate shop, which doubles as a studio and workspace. Many of the pieces featured in the store's recessed displays feature intricate filigree detail, an ancient wireworking technique made famous by the Jewish silversmiths of Yemen. Sharon's grandfather and great-uncles were amongst them before emigrating to Israel, and the store even features a small museum, where an impressive collection of traditional pieces made by their hands are on display.
Sharon studied Industrial Design before travelling extensively around the world. She visited places like New Zealand, India, Ghana, Benin and Japan, and this experience awakened a deepening connection to her roots. She soon found herself drawn to metalwork, and when her grandfather's brothers—both in their 80s at the time—invited her to Israel to learn the craft, she jumped at the chance. Sharon apprenticed with them, and the filigree techniques they passed on formed the foundation of her trademark style.
Sharon vividly remembers how her grandfather would sit on his bed for hours, soldering small pieces of silver with a butane torch over a small table. At his bedside sat a collection of small containers, in which he kept old stones and coins, scraps of silver, and other artifacts he would amass to later integrate into his pieces. His work inspired great awe in Sharon, and she recalls how his pieces seemed like more than just jewelry. For her, they conveyed spiritual meaning alongside their aesthetic appeal. She remains deeply affected by the masterful torch her relatives passed on to her during this time.
With her intimate store as her home base, Sharon is taking strides to ensure the tradition of filigree wirework is carried on, and keeps in step with modern times. Not only does she combine contemporary sensibilities and high karat gold with ages-old techniques, but she also does it as a woman, fearlessly innovating a practice traditionally practiced exclusively by men.
Sharon is also working to elevate the integrity of the art form from the perspective of production, which in many cases suffers from a checkered supply chain. While many consumers are aware of blood diamonds and the importance of understanding where precious stones come from, few are as aware of the mining conditions and practices that affect how fine metals are sourced. By using both Fairmined metals and conflict free stones wherever possible, she challenges herself and other jewelers to make pieces whose origin story is as central to the piece as their aesthetic appeal.
The result of Sharon's own origin story and unique approach to craft is a body of work that is both exciting and culturally important. Together, Sharon's pieces walk a fine line between old and new with grace, glamor and a touch of grit, and discriminating customers within Israel and beyond are starting to pay attention.
Dizengoff 242A Tel Aviv
This email address is being protected from spambots. You need JavaScript enabled to view it.
+972 (0) 55.997.6829
www.facebook.com/chandallyjewelry/
www.instagram.com/chandallyjewelry/
Photos Silvia G. Golan / Keith Glassman
Details

Written by

Steven Aiello
The 2019-2020 MUN circuit opened in Israel with the PeaceMUN conference on Wednesday, September 25, 2019. Nearly 100 youth from Akko, Holon, Iksal, Lod, Mefalsim, Nahariya, Petah Tiqva, Shefaram, Sde Eliyahu, and other cities around the country met at the American Center Jerusalem for a full day of debating and negotiating around the theme of "Insurgencies."
Two beginner groups discussed the conflicts in the Sinai between Islamists and the government of Egypt, and in the Philippines between communists and the government of the Philippines, while a third committee of advanced students addressed the Anglophile-Francophile conflict in the Cameroon. Students, most who were first time MUN participants, researched, planned strategies, and then engaged in an intensive day of problem-solving before voting on their resolutions.
At the end of the day all delegates received Certificates of Participation as well as feedback from their chairs. The awards were then presented in the awards ceremony. Dr. Yehuda Stolov from the Interfaith Encounter Association spoke to students about the opportunities for continuing interactions, and Felicity Aziz welcomed students to the American Center Jerusalem.
In the UNGA committee, Maria Kaabiya, Nitzan Saban, and Samar Khateeb were chosen Outstanding Delegate, while Michal Ben Haim was the Best Delegate. In the HRC committee, Basma Assi, Ido Pogrund and Laila Amory received Outstanding Delegate, and Ido Vaktor was awarded Best Delegate. In the Security Council, Amit Ram and Hosni Grere were the Outstanding Delegates, and Eliran Ben Yair was chosen as Best Delegate.
Reema Shalabi, from Iksal, was participating in her first MUN. She told Diplomacy that as her first conference, "it was amazing...one of the best experiences in my life. I enjoyed every minute, and would like to do it again." Eyal Amsalem, from Nahariya, was another first time delegate. Eyal added that while he had been shy initially, "after the first hour, I felt better and understood everyone there. At the end of the day, I was very happy that I came and knew that I was going to continue to attend more MUN conferences."
The next MUN conference will be QassemMUN, on November 7th, 2019 at the Kfar Qassem Comprehensive School. For more information please see DebateforPeace.org
Photo Credit: Yusef Hanes
Steven Aiello
Founder--DebateforPeace
Details

Written by

Jonathan Danilowitz
Last week the outgoing Baha'i Secretary-General, Dr. Joshua Lincoln, took leave of his many friends, colleagues, and co-religionists in Israel and welcomed the new incoming protégé, Dr. David Rutstein, at a sparkling reception at Jerusalem's lovely David Citadel Hotel. The guests included what appeared to be the crème de la crème of Israel's religious, cultural, political and business society. Mingling with the guests were several volunteers from the world Baha'i centers in Haifa and Acre, who chatted with the visitors, explaining the faith and answering questions of the curious. The delicious buffet dinner, accompanied by a range of colorful fruit drinks, was the background for a friendly "shalom" to the two gentlemen. A musical interlude added to the pleasure, while brief welcome and farewell speeches rounded out the reception.
A new Baha'i international website for the 200th anniversary of the birth of the Bab was launched in early September. The website will unfold in stages over the next eight weeks. Currently featuring artistic endeavors created for the occasion, and articles on the lives and teachings of the Bab and Baha'u'llah, the site will expand dynamically over time. A special letter from the Universal House of Justice about the historic anniversary will be published. Dawn of the Light, a feature film commissioned for this upcoming bicentenary, will also be released by the end of this month. The website is available in 10 languages—Arabic, Chinese, English, French, Hindi, Persian, Portuguese, Russian, Spanish, and Swahili.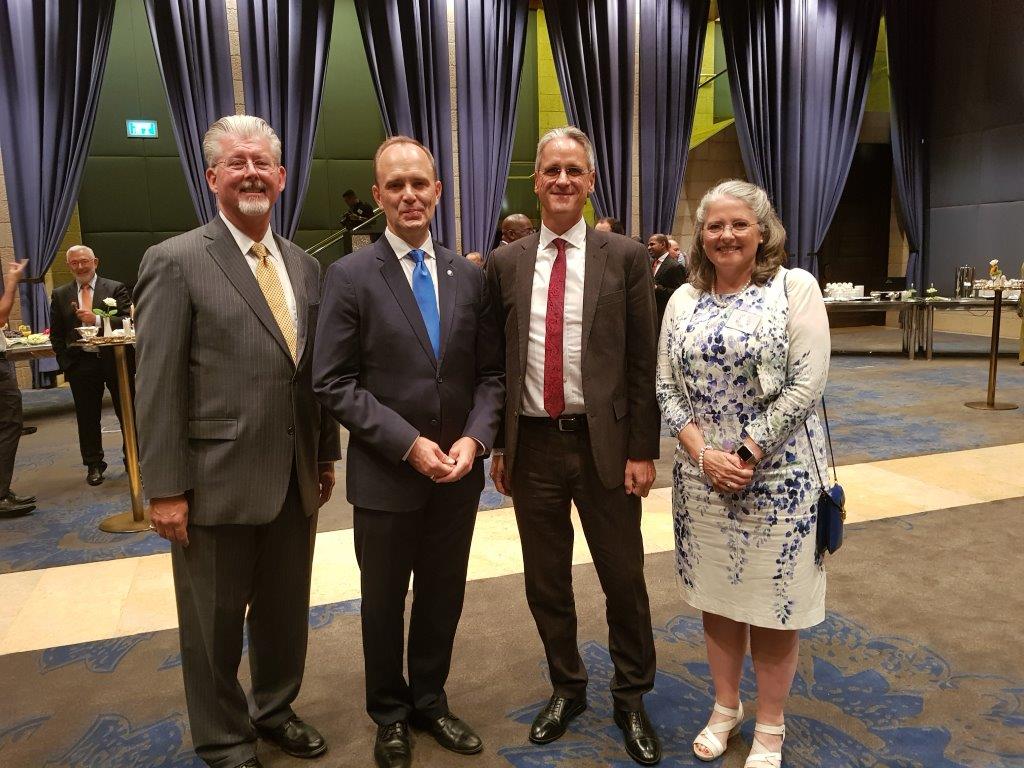 The bicentenary website will connect the world by capturing the celebrations of people in selected communities across the globe as they recall the lives of the Bab and Baha'u'llah and Their unifying message. These glimpses will be illustrative of the thousands of other celebrations that will be unfolding in virtually every country.
On the Twin Holy Days, the website will capture glimpses of a wave of celebrations that will sweep across the planet. This coverage begins at sundown on 28 October in Kiribati and ends at sundown on 30 October in Hawaii. Photos, news, and other media from scores of locations will be published over the course of those 72 hours. There are also plans to include video coverage from Baha'i Houses of Worship.
The worldwide energy of the bicentenary preparations is prompting an efflorescence of activity in country after country. In Europe, communities calling to mind this significant anniversary are producing music inspired by the Bab's life and teachings, bringing history to life through drama, and redoubling their commitment to constructive action.
France, Moldova, N.Macedonia, the UK and many other countries are deeply involved. For example, seeing the relevance of Bab's message to today is one of the topics explored in an album of music being recorded in honor of the upcoming bicentenary by Spain's Baha'i community. Artists from around the country and the Canary Islands are writing and recording pieces in a diversity of genres and styles as well as different local languages from Spain. Young people in Switzerland have written and narrated a short film about the life of the Bab in the style of a Kamishibai theater, a form of street theater and storytelling from Japan. Hungary's Baha'i community is one of several that are channeling interest in Faith's history into a printed publication. A 46-page book published in honor of the bicentenary details the 10 days that 'Abdu'l-Baha spent in Budapest toward the end of His two-year journey through Europe and North America.
The Director and staff of www.diplomacy.co.il join in extending their best wishes to Dr. Rutstein in his new position here in Israel.
With thanks toThe Baha'i World News Service forpermission to use the material.
Photos by Silvia Golan
Details

Written by

President's Spokesperson's Office
President Rivlin today decorated his Sukkah and invited Israelis to come and visit during the Open Sukkah event in intermediate days of Sukkot, this year on the theme of 'Finding Treasures in the President's Sukkah'
President Rivlin:
"Come and visit the Sukkah of peace and togetherness. The president's Sukkah is the Sukkah of all Israelis. We are looking forward to seeing you!"
President Reuven (Ruvi) Rivlin today, Thursday 10 October / 11 Tishrei, decorated his Sukkah with children of members of the Beit HaNasi staff and second- and third-grade pupils from Yavneh school in Hadera, which runs program to strengthen literacy and language skills designed by the Israel Center for Educational Innovation. The event was held ahead of the Open Sukkah during the intermediate days of Sukkot, which will happen in the gardens of Beit HaNasi as it does every year, during which thousands of Israelis will visit the Sukkah on 17 October / 18 Tishrei from 10:00 – 16:00.
"Come and visit the Sukkah of peace and togetherness, where everyone belongs and which belongs to everyone," said the president, inviting Israelis to visit the Sukkah. "Beit HaNasi is the people's home, and the president's Sukkah is the Sukkah of all Israelis. We welcome everyone and are looking forward to seeing you!"
The theme of this year's Open Sukkah at Beit HaNasi is 'Finding Treasures in the President's Sukkah', in cooperation with the Ministry of Jerusalem Affairs and Heritage. During their visit, people will be able to enjoy a range of activities for all the family and will receive a personal souvenir. During the day, the president will come out and greet visitors at different points. The event is open to all and is free of charge.
Among the activities during the day are a meeting with Theodor Herzl on the famous balcony in Basel, including a photo opportunity. Visitors can also uncover archeological remains and sieve earth that has been dug out of archeological sites around Jerusalem. The public is invited to bring with them pictures and letters from personal or family collections that will be scanned and added to the holdings of the National Archives in order to enrich the holdings from different era of the history of the Land of Israel. Another activity allows visitors to experience a virtual reality film where they can visit the Western Wall, the Temple Mount and the Church of the Holy Sepulchre. Stalls for engraving on antique coins will also be available. The president's Sukkah will be decorated in collaboration with the Ministry of Agriculture and Rural Development, and this year's theme is grapes, both for eating and for wine, and will include the history of wine production.
Entrance is from Rehov HaNasi 3, Jerusalem and requires a valid Israeli ID or passport. Weapons will not be permitted and there is no facility for depositing weapons. Please avoid bringing bags or packages with you. The event is mostly outdoors, and in the event of extreme weather there may be updates regarding the holding of the event. Groups are recommended to arrive after 14:00. It is recommended to use public transport to get to Beit HaNasi.
Photo credit: Koby Gideon (GPO)
Details

Written by

President's Spokesperson's Office
President Rivlin:
"We must work harder to ensure there are more women ministers and MKs. As elections approach, I urge all Israeli women to make your voice heard."
President Reuven (Ruvi) Rivlin today, Tuesday 10 September / 10 Elul, hosted the Women in Diplomacy Network at Beit HaNasi, which brings together Israeli women diplomats and women diplomats representing their countries in Israel.
The network was established in 2012 by Israeli women diplomats together with the diplomatic community in Israel. It is a support network for women diplomats throughout their career and a platform for ideas and initiatives to address the question of gender equality in the world of diplomacy.
"Women have fought and continue to fight for the right to represent their countries as diplomats. The fight for equality was and still is, a just cause, and you are proof of its success," said the president. "In your professional life, you bring greater diversity, a different perspective and fresh thinking to the world of foreign policy conflict resolution and diplomacy. In our complex and challenging world, that has never been more important. It is not just for women to fight for gender equality. We must all demand it and work towards it."
The president added, "We cannot imagine history without the many great and courageous woman who did not wait for any man's approval in order to fulfill their calling and change the world. Here in Israel, Golda Meir served as an early role model for us." The president also remarked that he hopes to see a woman president in the coming years.
"We are proud to see Israeli women in the roles of President of the Supreme Court, Governor of the Bank of Israel, government ministers, party leaders, IDF general, Nobel Prize winner and CEOs of major companies. But there is still much more to do. We must do more to bring Arab and ultra-Orthodox women into the workforce and to positions of leadership, and we must work harder to ensure there are more women ministers and MKs. As elections approach, I urge all Israeli women to make your voice heard and seek elected office and positions of influence, especially in decision- making on conflict resolution, foreign policy, and security," he concluded.
Photos by Silvia Golan
More pics at Facebook Israel Diplo