Details

Written by

Jerusalem Muni
Today (Sunday, 30 June 2019), Jerusalem Mayor Moshe Lion inaugurated Jerusalem Square in Paris in the presence of Mayor Anne Hidalgo and the Israeli Ambassador to France, Aliza Bin-Noun, Head of the Consistoire, Joel Margi, the Chief Rabbi of France, Haïm Korsia, and the Chief Rabbi of Paris, Michel Gugenheim. The square is located in Paris's 17th arrondissement.
Last January, the President of Israel, Mr. Reuven Rivlin and his wife, Nechama, visited Paris. During the visit, they were informed by the mayor of Paris that there is an "Israel Square" in the city, but there is no sign that bears the name of the capital of Israel - Jerusalem. Today, a few months later, the two mayors inaugurated this square.

Mayor Lion: "I want to thank Mayor Hidalgo and the city of Paris for this beautiful initiative to name a square in honor of Jerusalem. This act strengthens the bond between our cities - two cities that have left their mark on the world. As Mayors, promoting tolerance, love, and peace in our cities is a top priority. We must do all in our power to create and ensure coexistence and companionship between different sectors and religious groups."
Photo Credit: Jerusalem Municipality Spokesperson's Unit
Details

Written by

Silvia Golan
On Thursday evening, June 13th, Debate for Peace celebrated a year of impressive achievements with a reception at the home of the Cultural Attache of the US Embassy, Elizabeth Fritschle. Dozens of students and teachers from the program were joined by diplomats and civil society leaders for an evening dedicated to youth empowerment, intercultural communication, and peace-building.
In tribute to the youth empowerment theme, the evening was student-led, with Michael Backlund, Neven Atawna, and Tal Zaidman introducing the speakers. After opening remarks from CAO Fritschle and Debate for Peace director Steven Aiello, four speakers were called up to present from the Empathy Storytelling project. Eliran Ben Yair, Sharehan Alwakily, Amit Weinstock, and Eman Otman each presented their Jewish or Palestinian partner's story in passionate monologues. After all four had spoken, the floor was opened for questions from the audience.
Following the storytelling session, Eiman Darawshi, an English instructor and Model UN coordinator from Iksal high school, spoke about the impact that she has seen from Model UN on her students. She noted, in particular, her students who had been able to travel abroad, Shada Darawshi to Yale University for an MUN conference there, and Eman Otman to the Netherlands with the storytelling project.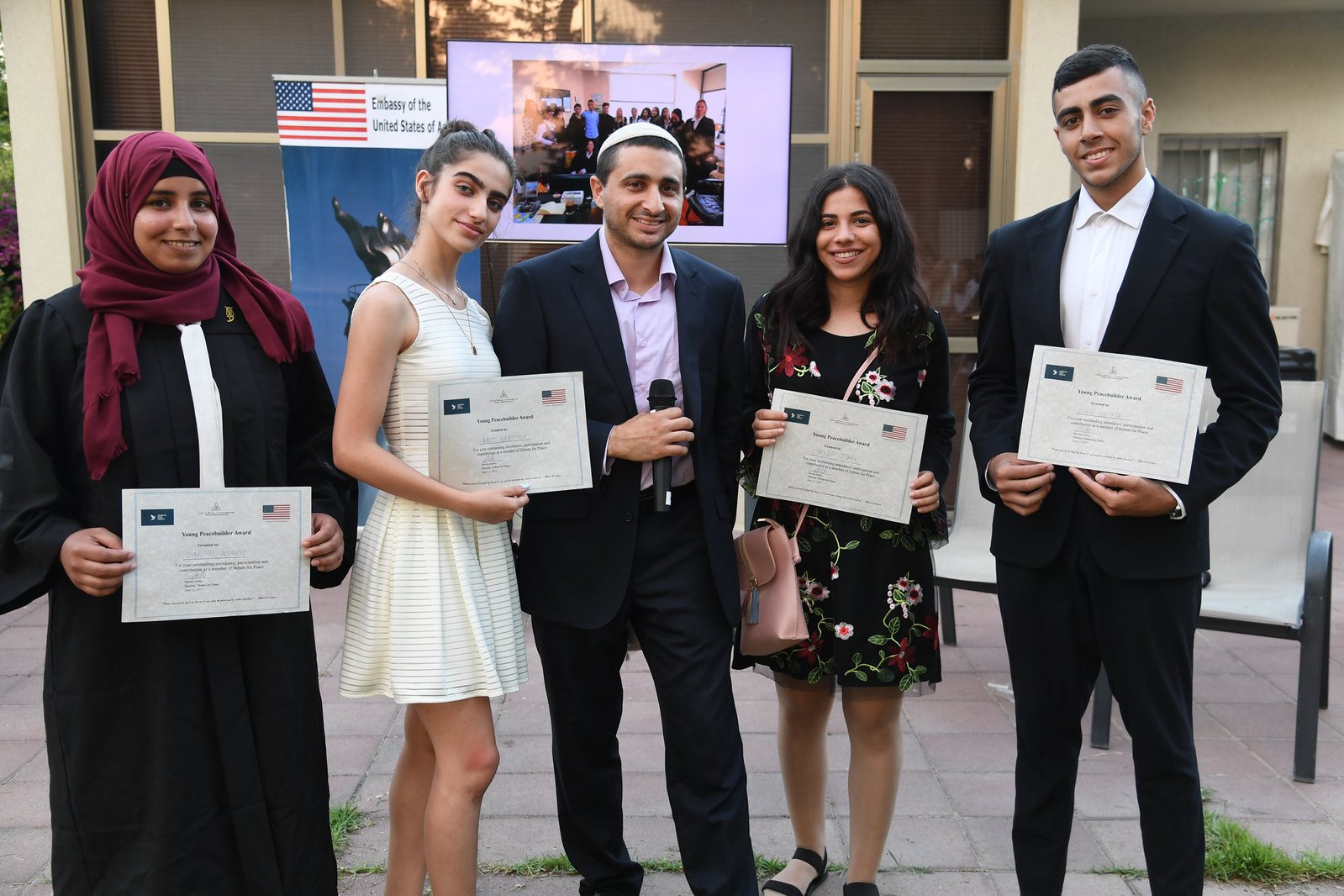 An abbreviated Youth Moot Court simulation was then held, showcasing a project in which several Debate for Peace students participated. The moot court is one of several youth empowerment projects run by Avi Omer's Social Excellent Forum, a close partner of Debate for Peace.
Following the presentations, Debate for Peace members were called up to receive awards for hard work and outstanding performance throughout the year. The students who received awards were Alon Mor, Amit Weinstock, Aviv Hanuka, Eliran Ben Yair, Eman Otman, Hannah Zohn, Mihal Mizrahi, Sharehan Alwakily; and Yafa Nassar. In addition to Jewish and Palestinian students visiting one another's homes, some of the projects they worked on this year included organizing iftaar (breakfast meal) for hospitalized children from Gaza; presenting in their schools about what they've learned through Debate for Peace programming; presenting in Jewish schools about the perspective of Arab students as minorities in Israel, and a forum for Jewish and Arab students to meet, first discussing social topics online, and then meeting in person.
Steven Aiello, Director of Debate for Peace, told Diplomacy that "this program is changing lives and building future leaders. This year we engaged over 1,000 students and led six delegations abroad, and we couldn't have done it without the continued support of the US Embassy in Israel!" He added his gratitude for Silvia Golan and the Diplomacy news portal www.diplomacy.co.il for providing coverage of Debate for Peace conferences and delegations throughout the year.
Photos by David Azagury US Embassy ( more pics at https://www.facebook.com/diplomacy.israel )
-DebateforPeace
Details

Written by

Silvia G Golan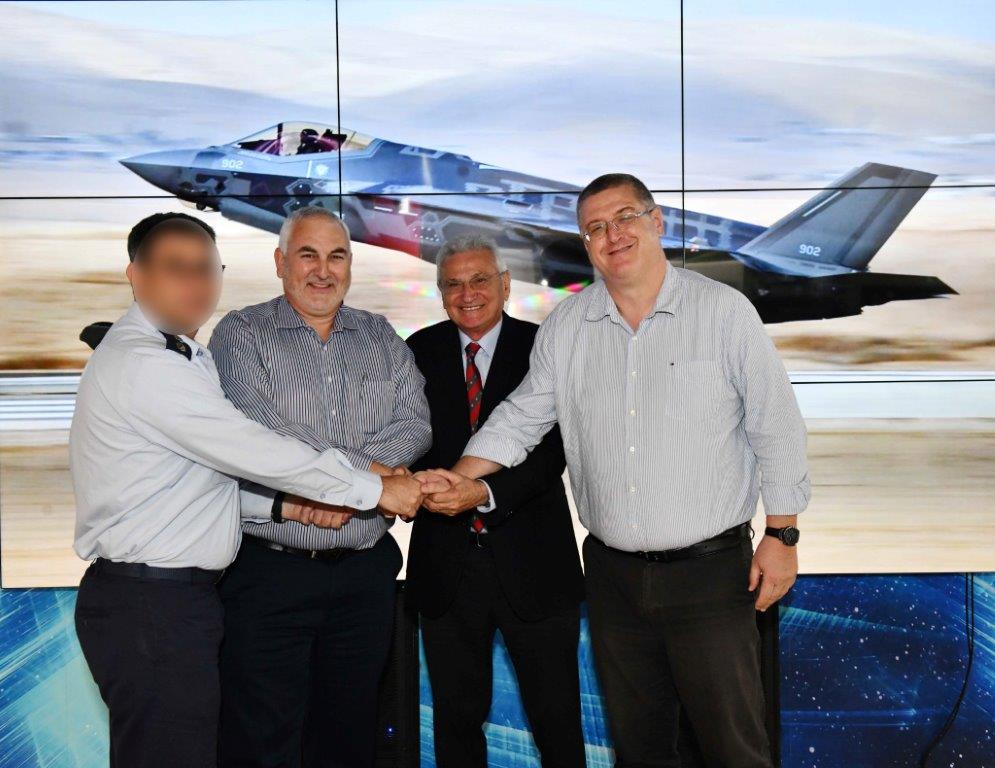 The U.S. aircraft manufacturer was awarded a contract worth over NIS 150 million in order to operate and maintain the advanced training center for the F-35 aircraft at Nevatim Air Force Base, over the next decade. As specified in the contract signed with the Production and Procurement Department of the Israel Ministry of Defense, the company will recruit around twenty-five new employees from the country's southern region.
This morning (11/06/2019), the Production and Procurement Department of the Israel Ministry of Defense and Lockheed Martin Israel have signed a first-of-its-kind, F-35 aircraft maintenance agreement. Chief of Air Force and Navy Procurement, Zeev Landau and CEO of Lockheed Martin Israel, Joshua (Shiki) Shani, both attended the signing ceremony.
Photo Ministry of Defense
Details

Written by

Israel Ministry of Defense
The Israel Ministry of Defense has completed preparations for the opening of an Israeli exhibit at the world's largest aerospace trade exhibition. The International Paris Air Show will commence on Monday, June 17th, at the Le Bourget exhibition center. The show takes place at a time marked by an increase of defense budgets by the European members of NATO. The International Defense Cooperation Directorate (SIBAT), of the Israel Ministry of Defense, along with Israeli defense industries will exhibit advanced tactical UAVs, missiles, radars and more.
SIBAT, The International Defense Cooperation Directorate at the Ministry of Defense has completed preparations for the inauguration of an Israeli exhibit at the International Paris Air Show at Le Bourget, near Paris. This is the largest aerospace trade show and among the most important exhibitions in the world. Five of Israel's leading defense industries will partake in the exhibition: Rafael, Elbit Systems, Israel Aerospace Industries (IAI), Aeronautics Defense Systems, and UVision. Two additional companies, Bet Shemesh Engines and BIRD Aerosystems will also participate in the exhibition.
Director of SIBAT, Brig. Gen. (Ret.), Yair Kulas - recently appointed to the position:
"The European Defense Market is among the most competitive and rapidly growing markets in the world. The European continent is encountering various security challenges including domestic security, counter-terrorism and border defense. The [show] is an opportunity for exporters and innovators to present their solutions, and this is particularly true for Israel, which is considered a global leader in defense technologies. The demand
for advanced Israeli technologies has been on the rise in Europe in recent years, and we will work hard, together with the Israeli industries, to maintain and enforce this trend."
The products and technology that will be displayed at the Israeli exhibit:
Elbit Systems will reveal new technology in the fields of intelligence, aerial precision guided munitions, and civil aviation. Among the new systems:
The Hermes 45 is a new small tactical UAS that combines airborne and operational capabilities that are typical of large aircraft. The UAS offers a unique combination of extended range and duration with point launch and recovery, to and from land and maritime platforms thus enhancing Intelligence, Surveillance, Target Acquisition and Reconnaissance (ISTAR) capabilities at the brigade and division levels and also for naval squadron units.
The Rampage is a long-range, precise, supersonic missile.
The i-FMS is a flight management system that tackles the challenge that pilots face today with FMS operations- the need to propose changes to the FMS during critical phases of flight such as takeoff and landing.
IAI will unveil two new products:
The T-Heron is a tactical UAV suitable for missions undertaken by ground troops, coastal guards and similar forces.
The MS-MMR radar features new active and passive sensors to generate an enhanced aerial situation assessment.
Throughout the show, IAI is expected to announce new venues of business cooperation in various fields.
Rafael will reveal:
A new navigation system for fighter aircraft - the first in the world with electro-optic capabilities combined with SAR radar capabilities. The combination of these capabilities provides a broad response to a variety of environmental conditions.
The Iron Dome System - in its various forms: land, marine and mobile versions of the Iron Dome (i-Dome) - in which all system components are installed on a vehicle.
Le Bourget (Figures from 2017): Approximately 330 thousand square meters of exhibition space in the exhibition halls and outside area, 2,400 companies from 48 countries, 290 official delegations from the field of defense and government offices, 27 national pavilions, about 150,000 visiting professionals and about 200,000 visitors from the general public.
Photo Israel Ministry of Defense
Details

Written by

GPO
Shavuot, one of Judaism's three pilgrimage festivals (along with Passover and Sukkot), will take place this year between sunset on Saturday, June 8, and nightfall on Sunday, June 9. The Government Press Office would like to offer the following as a brief summary.
Shavuot is a legal holiday. There will be no public transportation; schools, shops and offices will be closed; and newspapers will not be published.

Shavuot marks the giving of the Torah (Genesis, Exodus, Leviticus, Numbers and Deuteronomy; Judaism's most basic scripture) at Mt. Sinai, seven weeks after the exodus of the Jewish people from Egypt. Indeed, Shavuot literally means "weeks" and is celebrated exactly seven weeks after the first day of Passover, which marks the exodus itself.
The celebration of Shavuot is specified in Exodus 34:22 and Deuteronomy 16:10. On Saturday night, June 8, after festive evening prayers and a festive meal, many people will follow the custom of staying awake all night and studying religious texts, and then saying morning prayers at the earliest permitted time – thus expressing the enthusiasm of the Jewish people to receive the Torah. Most synagogues and yeshivot will organize special classes and lectures throughout the night of Shavuot. In Jerusalem, there is a widespread custom of going to the Western Wall – which will be exceptionally crowded – for Shavuot morning (Sunday) prayers, often accompanied by dancing and singing.
The Shavuot morning prayers are marked by special hymns and scriptural readings, including the Book of Ruth. Special memorial prayers for the departed are also said. Some communities maintain the custom of decorating their synagogues with green plants and flowers; this is in keeping with traditions that Mt. Sinai was a green mountain and that Shavuot is a day of judgment for fruit trees. On Shavuot, some hold the custom of eating dairy dishes; there are many explanations for this custom.
In ancient times, Shavuot marked the end of the barley harvest, and the beginning of the wheat harvest. Jewish farmers brought their first fruits to the Temple in Jerusalem (Deuteronomy 26:1-11), where special offerings were brought (Numbers 28:26-31). In honor of Shavuot's status as the "Day of First Fruits" and the "Harvest Festival" (as it is referred to in Numbers 28:26 and Exodus 23:16, respectively), many kibbutzim and moshavim also organize special celebrations revolving around these themes, including ceremonies in which new produce from the kibbutz or moshav is highlighted.
Shavuot Events
Israel Nature and Parks Authority Shavuot events (Hebrew)
Shavuot in Film
Following are clips from ten films (courtesy of the Steven Spielberg Jewish Film Archive) that depict the various ways in which Shavuot has been celebrated:
Jerusalem Online 21/93 (1993) – Rabbi David Hartman speaks about the spiritual significance of Shavuot (from 4:48 min.)
Sofer Stam (1981) – An in-depth look at the work of the Torah Scribe, in French.
Israel Journey (1950s) - An extremely rare close up view of an ancient 1800 year old Torah Scroll belonging to the Zinati family of Pekiin. They are the only Jewish family acclaimed never to have left the Land of Israel (from 11:55 min.)
Palestine in Song and Dance (1931) – Ceremony celebrating the bringing of first fruits for kindergarten and school children in Tel Aviv (from the beginning of the film).
Hadassim: A Children's Village (1950s) – Film documenting life on a youth village in the Sharon region. Scenes of the bringing first fruit ceremony from 12:21 min.
First Steps (1953) – Film summarizing Israel's achievements on its fifth anniversary. Ends with a first fruits parade (from 26:53 min.)
Youth at the Crossroads (1980s) – Film about centers for youth in distress, including a first fruits parade (from 15:32 min.)
Omer Dancing at Ramat Yohanan (1950s) – On the eve of Shavuot, Jews finish counting the Omer, which began on Passover. This film beautifully illustrates the bringing of the "omer", a measure of barley which was offered in the Temple. This ceremony was adapted by agricultural settlements in modern Israel.
Songs of Israel: Harvest in the Galilee (1952) – Shavuot is also called the Harvest Festival because it occurs during the wheat harvest season in Israel. This film shows scenes of reapers singing while working in the fields (from 11:48 min.)
This Is the Land (1935) – Depicts renewed settlement in the Land of Israel. The last scenes of the film, wonderfully illustrate the abundant harvest and climaxes in a group of young pioneers dancing in the fields to celebrate a successful harvest (from 53:43 min.)
Photo Silvia G. Golan