Details

Written by

Prime Minister's Media Adviser

"I want to wish Jewish communities around the world a very happy Rosh Hashanah. I hope the New Year will bring the Jewish people everywhere security, prosperity and peace. The New Year is of course a time for taking stock, it's a time for reflection, and as we look back over the last year, there have been many achievements of which we can be proud. Just in the last week we have witnessed some remarkable achievements. We've successfully relaunched the Amos 4 communication satellite. You should know that Israel is among a very small and elite group of countries capable of launching such satellites. This is yet another testament to Israel's technological prowess. Today, Israeli technology and innovation are sought after commodities around the globe, and as a result and despite the world's economic downturn and malaise, Israel leads the developed countries in sustained growth. Israel stands out economically and in so many other ways. Our young people continue to make us proud. Israeli high school students have brought home numerous prizes from global competitions, including gold, silver and bronze medals from the Science and Computer Olympics. These are important, they are intellectual sports events and I think they are very, very indicative. In international test scores, Israeli youngsters lead the Western world in math and they are in the top tier in science.



During a period in which the rest of our region is experiencing unprecedented turmoil, violence, extremism, we in Israel held elections and we formed a new government. I am proud to serve as Prime Minister. We remain an oasis of democracy, an oasis of stability, of tolerance and liberty where the rights of all are protected, where all are equal under the law. Of course we have many challenges too. We have to make sure that our economy continues to grow, that all Israelis enjoy the benefits of that economic growth and we also have external challenges.



We seek to advance peace with the Palestinians while maintaining our security and ensuring that the peace will be a real and enduring peace. Not a ceremony, not an agreement that we celebrate for two minutes and then collapse. We want a real, genuine and enduring peace and this must be anchored in recognition of Israel as a Jewish state and in our security. This is what ultimately is needed. Now of course as we look around we see the situation in Syria, it's of great concern, great tragedy, and we follow the developments there very closely, and while we're not involved in the internal conflict in Syria, we will defend ourselves and if it is necessary, we will act with resolve to protect our people. No one should doubt our resolve. And of paramount importance, we also see Iran continue to pursue its nuclear weapons program, and this poses a great threat to Israel, to the region, to the peace of the world. Iran's nuclear program must be stopped. We simply cannot allow the world's most dangerous regime to obtain the world's most dangerous weapon. We already have enough indication of what this could do.



In meeting these and in meeting other challenges, I have no doubt that Jewish communities around the world will continue to stand by Israel, just as Israel will continue to be there for the Jewish people everywhere, for Jewish unity is a major source of our collective strength, and together, no challenge is too great. When we've acted together, we defied the laws of history, we've overcome such tremendous odds, and Israel is such a thriving, bustling, prosperous, modern, advanced country, and you can look at a very very far distance, to the west and to the east and to other directions and you see that Israel is a beacon of stability and modernity and progress and it's because we're united, because together I believe we can continue to achieve great things for the Jewish people and for the world. So as we gather with family and friends to welcome the New Year, I wish you all a happy new year. We say Shana Tova Umetuka, it means a good year and a sweet new year, so have both. Shana Tova."
Details

Written by

Tourism Ministry
Tourism Minister Dr. Uzi Landau: "During the Jewish Year 5773, the tourism industry witnessed investment in over 1000 hotel rooms in the cities and the periphery, the signing of the open skies agreement, the advancement of low-cost flights, the hotel grading regulations and the first steps towards regulations related to lowering vacation costs in Israel. A year of significant activities and an increase in incoming tourism, a strengthening of "blue and white" tourism and an increase in income for the state coffers. We wish everyone, including the tourists who are visiting this wonderful country, a Happy New Year!"



* 3.5 million visitors

* Domestic tourism increased by 4%

* The hotel grading regulations came into effect

* Grants allocated to 45 projects, including 22 new hotels amounting to 1,378

additional hotel rooms at an investment of about NIS1.1 billion

* Israel Government Tourist Office opened in India



3.5 million visitors arrived in Israel over the last 12 months, of whom about 2.9 million stayed more than one night - similar to last year. The record month for tourism during 5773 was Cheshvan (October), after the High Holydays, with 391,000 visitors. The greatest increase in 5773 was recorded in cruise ships (15%) with 298,000 visitors.



Despite Operation Pillar of Defense in November 2012 and the security tensions on Israel's borders which hindered the tourism industry over the past year, the industry has shown resilience and remains hardly touched thanks to, among others, the swift actions of the Tourism Ministry overseas in marketing campaigns worth tens of millions of shekels. Tourism is on the ascent - for example, last July registered an increase of 11% in the number of tourist bednights in hotels and a 2% increase in Israeli bednights on last year. Both Tel Aviv and Jerusalem registered exceptional increases in Israeli bednights - 236,000 and 229,000 respectively. This might be attributable to accommodation for the Maccabiah Games, which the ministry supported with a budget of NIS 1 million.



There has also been a significant increase in initiatives to establish new hotels. In 5773, the Investment Center of the Tourism Ministry approved 45 grant requests to the sum of NIS 261 million for the establishment, expansion, conversion and renovation of hotels and certain tourist attractions. These included grants for 22 new hotels that will add 1,378 hotel rooms throughout the country.



12 of the 45 grants approved are for projects in Jerusalem which are expected to add 709 rooms to the city's hotel supply - an investment of NIS 142 million in 5773. The total amount of grants approved in 5773 stands at about NIS 1.1 billion.



Today, 3.9.13, the hotel grading regulations come into effect. The Tourism Ministry is currently in the middle of the tender procedure for grading hotels, which is expected to be concluded by January 2014 with the selection of the company that will immediately commence the implementation of the hotel grading.



Last month the ministry opened a new Israel Government Tourist Office in India. There has been a significant increase in recent years in incoming tourism from India, whose population includes 28 million Christians. The middle class in India - about 300 million people - who earn relatively high salaries represent a potential market sector for incoming tourism to Israel. There has been increasing interest in Israel as a tourism destination for Indians in recent years, in particular for business tourism and incentive tourism. Tourism from India has grown by tens of percentage points in recent years. 40,000 tourists arrived from India this year, as opposed to 23,000 four years ago.



The Tourism Ministry has been making preparations to welcome the 300,000 tourists who are expected to visit Israel during the holidays in Tishrei (September). The inspection teams have been checking the readiness of hotels, the maintenance of tourist sites and cleanliness throughout Israel in order to ensure a pleasant vacation for both Israelis and tourists.



Shana Tovah! Happy New Year!

_____
Details

Written by

Defense Ministry Spokesperson


The Defense Ministry Israel Missile Defense Organization (IMDO) and the US Missile Defense Agency (MDA), today (Tuesday, 3 September 2013) completed a successful flight test new version of the Sparrow target missile. This is the first flight out test of this new version of the Sparrow, and was conducted at Israeli test range over the Mediterranean Sea.



At 09:15 the Sparrow missile successfully launched and performed its planned trajectory, in according with the test plan. The Arrow weapon system's Super Green Pine Radar successfully detected and tracked the target while transferring the information to the Citron Treebattle management control system. All the elements of the system performed according to their operational configuration.



Israel Missile Defense Organization and US Missile Defense Agency officials conducted the flight test.
Details

Written by

Office of the President
President Peres on the situation in Syria:
"Assad will disappear one way or the other"
"If Syria attacks us, we will overcome them"
"Assad has lost the right to be a leader by killing a hundred thousand people"
President Peres on a possible American response in Syria:
"I admire President Obama's attempt to examine every possibility to bring this horrible situation to an end."
The President of the State of Israel, Shimon Peres, hosted a reception and raised a toast for the Jewish New Year with the foreign ambassadors in Israel (the diplomatic corps). President Peres delivered remarks in which he addressed the tension in Syria, the Israeli-Palestinian peace negotiations and other major diplomatic issues while stressing again that Israel has no part in the Syrian conflict but would defend itself if attacked, ""If Syria attacks us we will overcome them and that is why I believe it won't happen. We have enough of a deterrent, enough strength and defense. We have one of the best security infrastructures and one of the best militaries in the modern world."
President Peres addressed the killing in Syria and said, "Assad has lost the right to be a leader by killing a hundred thousand people. He caused it. He wasn't elected properly, it was never a real democracy but even in a democracy you don't have the right to kill your own people. Assad will disappear one way or the other."
On President Obama's decision regarding an American attack on Syria, President Peres said, "War is a very serious business and I would suggest to every leader to think as much as they can before rather than afterwards. I admire President Obama's attempt to examine every possibility to bring this horrible situation to an end. None of us can ignore it, we do not have the right to. I believe it will reach an end because moral borders are not less important that physical borders. Physical borders can be crossed by missiles, moral ones cannot be crossed. You are either wrong or right."
Addressing the resumption of peace talks between Israel and the Palestinians President Peres said, ""We begin this year with good news and bad news. The good news is that the peace process has been renewed, t wasn't simple for the Prime Minister of Israel, who had to overcome serious problems, who has had to take a risk and to embark upon the desired but also the unknown. He did it, he did it rightly and I think he, and his government, deserves our appreciation. Abu Mazen continues to be against terror, he continues to strive for peace and I think he has shown courage by saying that though he's from Safed he won't return there which is a meaningful declaration. Before the start of negotiations there was a great deal of doubt but the fact that the two parties are talking is a victory for reason, I hope we shall continue."
We used to live in a world where children buried their fathers who fought in war but to see babies being killed by their own ruler, I do not believe that any human being can pass over it without considering it as the worst demonstration of evil. The peace process has been given nine months so at least we have nine months of optimism."
photo Mark Neyman
Details

Written by

Office of the President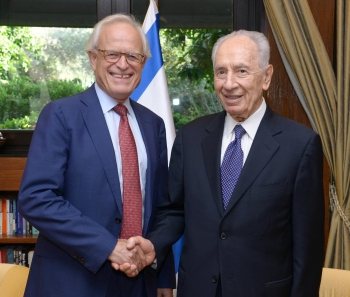 President Peres met with the US Special Envoy for Israeli-Palestinian Negotiations, Martin Indyk
The President of the State of Israel, Shimon Peres, conducted a diplomatic work meeting this evening with the United States Special Envoy for Israeli-Palestinian Negotiations, Martin Indyk. At the beginning of the meeting President Peres welcomed Indyk to Israel and congratulated him for the efforts undertaken by the United States to progress the peace process. President Peres said, "The support of the United States for the peace talks is crucial to produce real long lasting results between the two sides," The two discussed at length the peace process and the current situation in the Middle East.
Photo Credit: Mark Neiman/GPO