Details

Written by

President's Spokesperson
Marking a year since Operation Protective Edge, President Rivlin conducts a security and civilian tour of the area around the Gaza Strip
A year on from Operation Protective Edge, President Reuven Rivlin this morning, (Thursday), conducted a tour of the Eshkol Region near the Gaza Strip, where he was greeted by new regional authority head, Gadi Yarkoni.
Visiting nearby Kibbutzim of Nir Oz and Nirim, the President received a security update from Col. Eyal Rozen, of the Southern Front Command. The President began by speaking with reference to Abraham Mengistu, who was being held in Gaza, as was today cleared for publication. He said, "This is a painful situation which I, together with the relevant officials at the President's Office, have been following closely since it began. I am in contact with the Mengistu family and I know that all the relevant authorities have been working tirelessly, and monitoring the issue closely, from the moment Avraham crossed over the fence. This is a humanitarian issue, and we expect those holding him to behave accordingly and return him in good health. According to the information which has arisen, Mengistu is being held by Hamas in the Gaza Strip. We will continue to make every effort in order to bring an end to this incident, as soon as possible."
The President went on to speak about the year that had passed since Operation Protective Edge. He said, "A year has passed and I am very pleased to be here as the guns have been silenced, and tranquility has returned to encompass the area. I came here - as I have on several occasions this year - to see the way in which the area has returned to daily routine, and to see up close the necessary rebuilding and rehabilitation. I have no doubt that at any moment in which the quiet is violated, the IDF knows how to return calm swiftly to the people of the region, and enable them to return to their daily lives. It is also well understood by those in Gaza, that peace and quiet for the citizens there, means first of all, the peace and quiet for the Israelis in this region and all the citizens of Israel."
Later, the President spoke with the agricultural manager of Kibbutz Nir Oz, David Moshe, who explained to the President about their development and cultivation projects in the area close to the Gaza border, and spoke about the danger of being exposed to snipers. The President was moved to hear of the thriving agricultural successes, and said, "I am seeing here today the most important achievements of last year's operation. The south is thriving, and new families are coming to make their homes in the western Negev. The south is a place of tourism and development. I am proud to be here once again, and meet with those special people who epitomize the area and communities near the Gaza Strip. The residents of this region are a power of strength and resilience for all Israel, and it is a true honor to be with you today."
The President concluded his tour by visiting Shorashim flower and vegetable nursery in Ein HaBesor, which suffered a direct hit by a missile fired from Gaza during Operation Protective Edge. The President toured the nursery and spoke about the various plants and vegetables being grown, and discussed the process of rebuilding since the operation.
Photo : President Reuven Rivlin during a visit to the northern border on May 27, 2015. (Mark Neyman/GPO)
Details

Written by

President's Spokesperson
President Rivlin hosts Bedouin council heads along with Minister for Agriculture and Rural Development
President Reuven Rivlin this morning (Monday), hosted at his residence the forum of heads of the Bedouin councils, together with Minister of Agriculture and Rural Development, Uri Ariel MK, to discuss possible solutions to the problems of Bedouin communities in the Negev.
At the beginning of the meeting, President Rivlin congratulated Minister Ariel for his concerted efforts on this issue and said, "We must find a solution. It is important to say that previous governments sought not to leave the issue unanswered, but worked to create the necessary budgetary conditions - though we are yet to reach our target."
The President added, "The Goldberg Report formulated the way for important steps to be taken, which sadly were not brought to be ratified. These are issues need to be passed by the widest possible majority and I think the Begin Report is the right place from which to move forward. I express my faith in the Minister, that he will know how to move forward from here, in order to find an acceptable solution to all sides."
Minister Ariel said, "We are not 'doing a favor' for the Bedouin citizens. We are working in order to provide Israeli citizens what they rightfully deserve. Time is working against us all, and we are making every effort, with the help of regional leaders, in order to reach the necessary understanding,"
The Minister invited the President to tour the region, and then asked the attending leaders to raise in their discussion the issues which needed resolving. Issues raised by the regional heads included: Problems relating to recognized and unrecognized towns; shortage of employment of opportunities; the allocation of resources during a period when the communities were growing constantly; severe lack of education infrastructure, and the destruction of homes. The President and the Minister listened closely to the regional leaders and ensured them of their cooperation and partnership to find the necessary solutions as soon as possible.
Details

Written by

Institute of International Education (IIE)
On June 22, the Institute of International Education presented Yehuda Stolov and Salah Aladdin, two leaders of The Interfaith Encounter Association, with the 2015 IIE Victor J. Goldberg Prize for Peace in the Middle East for leading grass roots interfaith dialogue and cross-cultural study groups that bring Jews, Muslims, Christians and Druze together on a very personal level to share their cultures, beliefs, and traditions across religious and cultural divides.
The award, which includes a $10,000 prize, was presented at a ceremony in Jerusalem by Victor J. Goldberg, a retired IBM executive who is a longtime Trustee of the New York-based organization, and who established and endowed the prize in 2005. Thomas Genton, Counselor for Press and Cultural Affairs at the American Embassy in Tel Aviv and Richard Buangan, Consul for Press and Cultural Affairs at the American Consulate General in Jerusalem spoke at the Prize ceremony.
Mr. Stolov and Mr. Aladdin believe that the different communities have to learn to interact positively as a pre-condition for sustainable political agreement, and the process towards it has to include all parts of the respective societies, regardless of their political aspirations. Their work facilitates interaction among individuals who might not otherwise ever have a chance to meet one another, and encourages individuals to confront their own prejudices and fears of "the other." Their goal is to replace mistrust and fear with mutual understanding, respect and trust, making it possible to explore the differences between the traditions respectfully and constructively and to develop friendships among people who may disagree.
In its thirteen years of existence, the IEA has held more than 1,900 programs. Since its first group in 2001, the IEA has expanded to include 71 ongoing interfaith community groups from the Upper Galilee to Eilat. Currently, there are 15 groups that bring Israelis and West Bank Palestinians together on a regular basis. In 2014, more than 4,000 men and women of all ages took part in IEA projects such as Women's Interfaith Encounters, Youth Interfaith Encounters, The Israeli-Palestinian Dialogue, and The Middle East Abrahamic Forum. Some IEA groups are open to everyone, while others are specifically for young adults or women, for educators, religious leaders, midwives, or college students.
These individual groups and participants make great stories – and since there are so many different groups, Yehuda and Salah can help connect you with people from almost any age group, profession, or geographic location, based on your particular interest and audience.
Here is the write-up of the award ceremony and biographical information on Yehuda and Salah.
http://www.iie.org/Who-We-Are/News-and-Events/Press-Center/Press-Releases/2015/2015-06-22-IIE-Goldberg-Prize-2015
This article in Israel21c provides further details on the impact of the encounter groups.
http://www.israel21c.org/headlines/interfaith-encounter-association-wins-peace-prize/
Background:
Video: TedXJaffa: Dr. Yehuda Stolov "The Easy Way to Peace in the Holy Land"
Yehuda Stolov -- TedXJaffa Talk
In his TEDxJaffa talk, Dr. Yehuda Stolov presents the belief that peace in the Middle East is really quite simple -- if we focus on our commonalities of our faith, rather than that which separates us.
Yehuda is the executive director of the Interfaith Encounter Association, an organization that works to establish peaceful inter-communal relations in the Holy Land through active interfaith dialog.
Video: Israel 21C
Finding peace in Hebron
Interfaith Encounter, a Coexistence Group founded by Yehuda Stolov, arranges monthly meetings between Israelis and Palestinians. 8 Israelis visited their Palestinian counterparts in the West Bank city of Hebron, the first time Israelis had been in the Palestinian area of Hebron for 10 years.
Audio: Voice of Israel -- Radio interview: Forget All the Formal Peace Talks
Just Start Talking
Would you join a group of Muslims, Jews and Christians, just to talk, listen and learn about one another? Salah Aladdin and Yael Gidanyan from the Interfaith Encounter Association are doing exactly that, along with dozens of coordinators who have been leading hundreds of groups throughout Israel for over a decade. What happens when women from both sides of the conflict -- Jews from Jerusalem and Muslims and Christians from Bethlehem -- meet? Listen in to find out whether these kinds of peace talks are the ones we all need.
For more information please visit www.iie.org/GoldbergPrize
· About Victor J. Goldberg and the IIE Goldberg Prize
· Previous Winners (2005-2014)
· Interfaith Encounter Association website
· Institute of International Education website
See IEA's latest news and activities on Facebook and Twitter
Photo provided by IIE
Details

Written by

Prime Minister's Media Adviser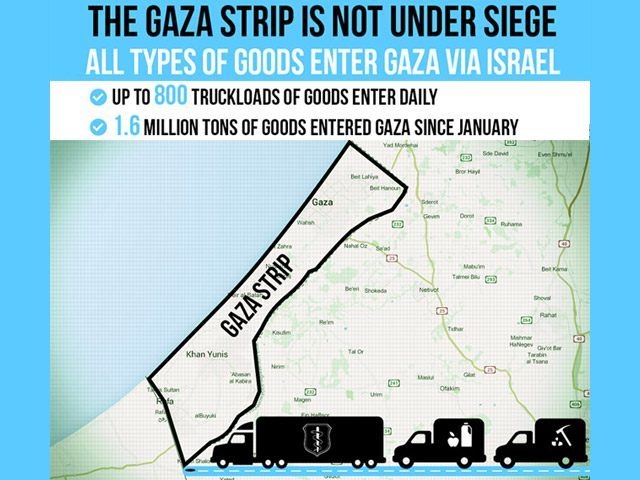 "I would like to commend the Israel Navy for their efficient action in detaining the ship that tried to reach the Gaza coast in contravention of the law." Use of force was unnecessary, and the vessel is currently being escorted to Ashdod Port.
IDF Spokesperson: After exhausting all diplomatic channels, the Israeli government ordered the Israeli Navy to redirect a vessel in order to prevent a breach of the naval blockade of the Gaza Strip.
"In accordance with international law, the Israeli Navy advised the vessel several times to change course. Following their refusal, forces visited and searched the vessel in international waters in order to prevent the intended breach of the maritime blockade of the Gaza Strip. The forces have reported that use of force was unnecessary, and that the process was uneventful. The vessel is currently being escorted to Ashdod Port and is expected to arrive within 12-24 hours."
Prime Minister Benjamin Netanyahu, this morning (Monday, 29 June 2015), issued the following statement:
"I would like to commend the sailors and commanders of the Israel Navy for their determined and efficient action in detaining the passengers on the ship that tried to reach the Gaza coast in contravention of the law. This flotilla is nothing but a demonstration of hypocrisy and lies that is only assisting the Hamas terrorist organization and ignores all of the horrors in our region. Preventing entry by sea was done in accordance with international law and even received backing from a committee of the UN Secretary General.
Israel is a democracy that defends itself in accordance with international law. We are not prepared to accept the entry of war materiel to the terrorist organizations in Gaza as has been done by sea in the past. Just last year we foiled an attempt to smuggle by sea hundreds of weapons that were destined for use in attacks against Israel's citizens.
There is no siege on Gaza. Israel assists in transferring goods and humanitarian equipment to Gaza - approximately 800 trucks a day that have recently brought into Gaza more than 1.6 million tons of goods. Moreover, Israel assists in hundreds of humanitarian projects, through international organizations, including the building of clinics and hospitals.
Israel is a state that seeks peace and acts in accordance with international law so that its people can live in safety and its children grow up in peace and quiet."
Excerpt from PM Netanyahu's remarks at the start of the Knesset Foreign Affairs and Defense Committee meeting:
"I would like to express my appreciation to the sailors of the Israel Navy for their perfect and precise operation in stopping the ship off the coast of Gaza. This entire flotilla is hypocritical. There is no need for these small boats to deliver consumer goods or humanitarian assistance to Gaza. Since Operation Protective Edge, Israel has delivered 1.6 million tons of materials to Gaza, more than any other country, in a clear manner, as our unequivocal policy. This means almost a ton of equipment for every resident, 800 trucks a day.
I would compare this to the cargo of this boat. Approximately 500,000 such boats laden with goods - this is what compares to what Israel has transferred. Thus, there is no need for this. Neither is there any problem, if they want to deliver humanitarian goods to Gaza, it is possible to do so via the land crossings, with Israel filtering out - of course - the possibility of transferring weapons through these crossings.
Instead, they chose to be defiant here. They could have sailed to Syria, where over 300,000 people have been slaughtered, millions have lost their homes and millions have been exiled from their country, but they chose to demonstratively provoke the State of Israel, the only true democracy in the Middle East, which is fighting terrorists that deliberately fire at its citizens and who intentionally hide behind Palestinian civilians.
Therefore, this flotilla is rife with hypocrisy and I am pleased to say that its public and propaganda effect is less because people around the world are beginning to understand the lie involved here."
Following is a copy of the letter that was issued last night:
"Welcome to Israel,
You seem to have gotten lost. Perhaps you meant to sail to a place not far from here - Syria, where Assad's army is slaughtering its people every day, and is supported by the murderous Iranian regime.
Here in Israel we face a reality in which terrorist organizations like Hamas try to kill innocent civilians. We defend our citizens against these attempts in accordance with international law.
Despite this, Israel transports goods and humanitarian aid into the Gaza Strip - up to 800 trucks a day. In the past year we enabled the entry of over 1.6 million tons of products, an average of one ton per person in the Gaza Strip. By the way, these supplies are equivalent to 500,000 boats like the one you came in on today.
Israel provides assistance to hundreds of humanitarian projects through international organizations, including the building of clinics and hospitals.
However, we will not allow the terrorist organizations to transfer weapons into the Gaza Strip by sea. Only one year ago, we thwarted an attempt to smuggle hundreds of weapons into the Gaza Strip by ship. These weapons were meant to target innocent Israeli civilians.
There is no siege on the Gaza Strip, and you are welcome to transfer any humanitarian supplies for the Gaza Strip through Israel.
Barring the entrance of boats and ships into the Gaza Strip is in accordance with international law, and was even backed by a committee commissioned by the United Nations Secretary General.
If you were truly concerned about human rights, you would not be sailing in support of a terrorist regime which summarily executes citizens in the Gaza Strip, and uses children as human shields.
If you were to travel around in Israel, you would see for yourself that the only stable democracy in the Middle East guarantees equality for all its citizens and freedom of worship for members of all religions; it is a country that upholds international law so that its people can live in safety and its children grow up in peace and quiet."
Following is an additional excerpt from Prime Minister Benjamin Netanyahu's remarks today, (Monday, 29 June 2015), at the start of a meeting of the Knesset Foreign Affairs and Defense Committee:
"I am not impressed by the potholes in the nuclear talks. To my regret, what we are seeing are Iran's increasing demands, and the major powers' concessions which are also increasing, in keeping with the Iranian pressure. This agreement is going from a bad agreement to a worse agreement, and is becoming worse by the day. In effect, it is paving Iran's way to being not only a major power with one or two nuclear bombs, but with an unlimited arsenal within a decade with the possibility of achieving several atomic bombs beforehand, by violating the monitoring which, in any case, is full of holes. Above all, in addition to this, the agreement also gives Iran many billions of dollars, apparently hundreds of billions of dollars, within a short time, which will allow it to finance its increasing aggression, first of all the murderous stranglehold it is using around the State of Israel, but also in other parts of the Middle East that are subject to its aggression, such as Yemen, Iraq and many other places.
Therefore, there is both a conventional threat and a non-conventional threat, which in my view will heighten the nuclear arms race in the Middle East. For all of these reasons, this is a bad agreement. I appreciate the fact that there is a broad consensus within the State of Israel against this agreement. There are also increasing voices in the West against this agreement; they understand the significance its implementation would have on global security, theirs as well. But, as has been said, this debate is still taking place. I think it is important that Israel's voice be heard, along with that of many others."
Photo
The Gaza Strip is not under siege
Copyright: Prime Minister's Office
Details

Written by

Prime Minister's Media Adviser
​We have been successful in keeping Israel out of the anarchy that is happening around us. We did so because we always knew measure things and act prudently. This is, and will remain, our policy.
Prime Minister Benjamin Netanyahu, this evening (Wednesday, 24 June 2015), met with Druze community leaders and told them at the start of the meeting:
"Your sons, all of our sons, serve and fight in the IDF and defend our state. We all uphold the law and we are all loyal citizens. And if there is someone who deviates from these rules and takes the law into his hands, it is our duty, of course, to condemn this and see to it that these offenders do not become the norm. This is something that we must prevent – the recurrence of such events.
I think that it is also especially important to prevent attacks on IDF soldiers or hindering them as they carry out their missions. We have been successful in keeping Israel out of the anarchy that is happening around us. We did so because we always knew measure things and act prudently. This is, and will remain, our policy.
However, I would also like to say a personal word to the community. I appreciate the community, its actions, its contribution to the state in general and to the security of the state in particular. I gave expression to this only recently in the five-year plan that allocates NIS 2 billion. This is a practical expression of this appreciation and of the understanding that we have a commitment to our Druze brothers as citizens of the State of Israel in the fullest sense of the word – not just equal rights but also full involvement in the life of the state. Out of this respect, partnership and brotherhood, I ask that we work together, as we have up until today, to ensure the security of the state and orderly operation of the IDF and our security arms – in every respect and in every place. I thank you for coming."
The spiritual leader of the Druze community in Israel, Sheik Muafaq Tarif, said, "We have the honor, Mr. Prime Minister, of coming to you. We know what you are doing. We know about the understanding and wisdom with which you leading on this issue. I am very familiar with everything that you are doing on behalf of the state and the community. We thank you also for the five-year plan. After what happened, we convened at the tomb of Jethro, Nebi Shueib, all of the community's religious leaders, local council heads and MKs and condemned what happened. We are all together and we have the honor that our sons serve in the IDF, and we are part of the IDF, and we will not lend a hand to those who would harm the IDF, whoever they may be. Of course, we condemned what happened. Our faith, traditions and values are against attacking an ambulance or the injured. This is not our way. We did not educate for this. We strongly condemn what happened and of course we hope that you will continue to wisely and prudently lead on this issue. We are at your service."
Among those also attending the meeting were Druze Local Councils Forum head Jabar Hamed, Defense Minister Moshe Yaalon, Deputy Minister Ayoub Kara and former MK Salah Tarif.
Photo Prime Minister Benjamin Netanyahu

Copyright: GPO/Haim Zach