Details

Written by

MFA
International Conference on Countering Radicalization and Violent Extremism Leading to Terrorism: The Challenge of Terrorists Acting Alone or in Small Cells.
The Israeli Ministry of Foreign Affairs hosted (November 9-11) an International Conference on Countering Radicalization and Violent Extremism Leading to Terrorism: The Challenge of Terrorists Acting Alone or in Small Cells, with delegates from 41 countries and 10 regional and international organizations, as well as representatives from civil society organizations. The Conference was hosted in cooperation with the Terrorism Prevention Branch of the United Nations Office on Drugs and Crime and the Organization for Security and Co-operation in Europe, and in consultation with the United Nations Security Council Counter-Terrorism Committee Executive Directorate. The hosting of the conference in Israel highlighted its important role internationally in the field of counter-terrorism.

During the Conference, high level officials and experts dealing with this critical issue in their different countries, examined the phenomena of terrorists acting alone or in small cells in a holistic manner. Each of the panel discussions focused on a specialized topic, such as detection, prevention and intervention; criminalization and prosecution of terrorists acting alone; countering the use of different internet platforms by terrorist groups for the purpose of inciting, recruiting and training individuals for terrorism; and the role of penitentiary services in rehabilitating and reintegrating violent extremist offenders. Participants exchanged information, views, lessons learned and good practices based on their national experience during an interactive breakout session with a case study of hypothetical attacks by a terrorist acting alone.

In recent years, states have strengthened their law enforcement measures to prevent the departure and travel of suspected foreign terrorist fighters. As a result, states might be confronted with a potentially growing number of individuals, who might rather seek to commit acts of terrorism at home. The threat posed by self-radicalization, terrorists acting alone or in small cells, and newly emerging terrorist groups, and the potential of the Internet to be utilized by recruiters and to promote violent extremist ideologies and incite the commission of terrorist acts, have all prompted greater international concern. This conference is considered as a major step towards building better understanding of this phenomenon, its origins and driving factors, and how international cooperation is key in order to counter it successfully.
Details

Written by

Simon Wiesenthal Center
YOUTUBE REMOVES HAMAS CHANNEL AFTER SWC PROTEST Media Briefing Urges Social Network Giants to Bar Palestinian Online Terror
At a press conference today, Rabbis Marvin Hier and Abraham Cooper urged the public to report hate sites (at www.Facebook.com/SimonWiesenthalCenter) on social media platforms which are fueling the current spate of attacks in Israel.
Center officials announced that SWC protests have led to the removal of additional pro-terrorist postings from Facebook, YouTube, Twitter and Instagram.

The Rabbis also denounced:

• The unfair and one-sided portrayal of Israeli terror victims in the media

• The U.S. State Department's outrageous depiction of the current situation as a "cycle of violence" - "It is not a cycle of violence, but a campaign of Palestinian violence," Center officials declared.

• The use of social media platforms to celebrate murderous attacks against innocent people and instructional terrorism tutorial videos

• The BDS' movement's endorsement of the barbaric acts of terrorism and renewed calls to boycott Israel
Center officials, who presented Facebook postings from Europe calling for attacks against Israelis in their countries, said, "We are concerned that if this trend continues, we could see violent incidents on our own shores."
Photo provided by Simon Wiesenthal Center
Details

Written by

Taglit
Leading The Future
43 students from the USA and Canada concluded a two-month internship at leading companies in Israel through the Birthright Israel Excel Fellowship Program
Today, Wednesday 5.8.15 marked the end of the fifth year of the Birthright Israel Excel Fellowship Program. The evening, at the Tel Aviv Stock Exchange was attended by prominent individuals such as Mr. Yoram Tietz, Chairman of Birthright Israel Excel Program and Managing Partner of EY Israel, Avi Zeevi co-founder and General Partner of Carmel Ventures, Jonathan Saacks Managing Partner at Genesis Partners, David Gappell, Director of the Schusterman Foundation-Israel and Mr. Gidi Mark, International CEO of Taglit-Birthright Israel.
This year, the management of the hosting companies welcomed 43 students from 27 top universities in the U.S. and Canada. They served as advisors and business mentors during a two-month internship. The students, chosen out of the thousands of applicants, stayed in Israel for two months, during which they met with Israeli leaders in various industries, visited important locations across the country and took part in professional workshops. Furthermore, they were paired with Israeli peers, officers from the intelligence unit of the IDF and students from the Interdisciplinary Center in Herzliya, who served as a bridge to Israeli society and culture. The students also received personal business mentoring and participated in a professional internship providing them with an understanding of the Israeli business world.
Israel's business leaders include: Avi Zeevi, Co-Founder and General Partner of Carmel Ventures, Tal Keinan, founder and CEO of KCPS Clarity, Leonard Rosen, CEO of Barclays Capital Israel, Modi Rosen, Co-Founder and Managing Partner at Magma Venture Partners, Gil Golan, Director at the Advanced Technical Center-Israel of General Motors, Yoram Tietz, Managing Partner of Ernst & Young Israel, Tomer Bar Zeev Co-Founder and CEO of IronSource and Eran Barkat, Partner at BRM group, to name a few.
"The Birthright Israel Excel Fellowship forms and empowers the future leaders of the Jewish world. Birthright Israel Excel is an extension to- and considered one of the most important projects of- Taglit-Birthright Israel. The Fellowship offers outstanding students the opportunity to discover the country and intern at leading Israeli companies, generating bonds that will serve as a catalyst in creating cooperation between the Diaspora and Israel," said Taglit-Birthright Israel's International CEO Gidi Mark. "With their return home, each student is linked to a local mentor, usually a senior businessman and philanthropist, active in the Jewish community and Israel. The mentors advise participants about their professional futures, the importance of social and philanthropic responsibilities and connect them to their Jewish identity and to the business and social sides of the State of Israel".
Taglit co-founders and philanthropists Michael and Judy Steinhardt and Lynn Schusterman, created Birthright Israel Excel five years ago with as goal to develop a cadre of future Jewish leaders, and empower them in the world of business, technology, and social entrepreneurship. The ultimate goal is to strengthen the Excel Fellows' connection and commitment to the Jewish people and the State of Israel, and to foster the development of a collaboration between international and Israeli companies. The program is supported by the Steinhardt Family Foundation, The Lynn and Charles Schusterman family foundation, and the Paul E. Singer Foundation.
About Birthright Israel
Birthright Israel connects young Jews to the State of Israel as well as to their Jewish identity through a free ten-day educational tour of the country. Over the past 15 years, Birthright Israel has opened the eyes of hundreds of thousands of trip participants to the people and the land of Israel. The trip aims to build an understanding, friendship, and lasting bond with the land and people of Israel and to reinforce the solidarity of the Jewish people worldwide. This allows for the creation of new friendships between participants and Israelis as well as deepens their understanding of the country and the Jewish religion and connects participants to their Jewish heritage. Birthright Israel is considered the most successful and largest Zionist project in the Jewish world.
Birthright Israel has a unique, historical and innovative partnership between the Government of Israel, thousands of individual donors and private philanthropists, and Jewish communities around the world through the Jewish Federations of North America, Keren Hayesod and the Jewish Agency for Israel.
The gift of a trip to Israel started with philanthropists Charles Bronfman and Michael Steinhardt. Each year, individuals from across the world donate to Birthright Israel with the shared belief that it is the birthright of all young Jews to be able to visit their ancestral homeland.
Since its inception in 1999, over 500,000 Jews from over 66 countries have participated in the free 10-day educational tour of Israel. Of these over 80,000 young Israeli soldiers (from prestigious units of the IDF) and students have joined various groups on their tours.
Over the years, several studies have been conducted at Brandies University, located in the USA, demonstrating the lasting effect on Diaspora Jews when focusing on their Jewish identity, their connection to Israel and their ability to promote the country.
Visit www.BirthrightIsrael.com.
Photo provided by Taglit
Details

Written by

MFA
Israel hosts Animals Committee of the CITES Convention
Israel will host the 28th meeting of the Animals Committee of the Convention on International Trade in Endangered Species of Wild Fauna and Flora (CITES). This is a precedent-setting event, as Israel's first global UN conference of this magnitude.
From August 30 - September 3, 2015, Israel will host the 28th meeting of the Animals Committee of the Convention on International Trade in Endangered Species of Wild Fauna and Flora (CITES).
This is a precedent-setting event, as Israel's first global UN conference of this magnitude. The project was initiated by the Israel Foreign Ministry's Division for the UN and International Organizations together with the Israel Nature and Parks Authority (INPA). Over 200 scientists from more than 40 countries are expected to attend, as well as representatives of UN agencies and NGO's. A reception will be held at the Foreign Ministry on Tuesday, September 1.
Among the issues to be discussed are the hunting of sharks, the smuggling and trade in elephants and rhinoceros, maintaining the wild populations of monkeys and rare parrots, the sale of snakes for the fashion trade, and the very lucrative practive of illegal hunting.
The State of Israel signed the CITES Convention in 1979 and appointed the INPA as the sole government agency in charge of implementing the Convention.
Israel is a small country that is very concerned with conserving its nature and as an active member of the CITES Convention it helps conserve wildlife populations across the world. Israel is situated in the Near East at the crossroads of three continents: Europe, Asia and Africa. While Israel's unique location has given rise to a rich variety of flora and fauna species, the growth of densely populated cities has severely reduced the amount of natural areas. In light of these threats, the INPA has implemented a strict policy which helps preserve the fauna and flora in Israel including rehabilitation and reintroduction of species and restoration of habitats, as well as stritct supervision over trade in species protected under the CITES Convention.
CITES was negotiated in 1973 to protect wildlife against over-exploitation and to prevent international trade from threatening species with extinction. It entered into force on 1 July 1975 and now has a membership of 151 countries. These countries act by banning commercial international trade in an agreed list of endangered species and by regulating and monitoring trade in others that might become endangered.
The Animals Committee of experts is composed of individuals from the six major geographical regions - Africa, Asia, Europe, North America, Central and South America and the Caribbean, and Oceania. It provides scientific advice to the Conference of the Parties, and undertakes periodic reviews of species.
Photo1:
Opening of CITES Animals Committee in Tel Aviv

Copyright: MFA
Photo 2 :
Israel Ambassador Manor and CITES Secretary-General Scanlon sign the Host Country Agreement in Geneva, July 2015
Copyright: Israel Mission to the UN, Geneva
Details

Written by

The Jewish Agency for Israel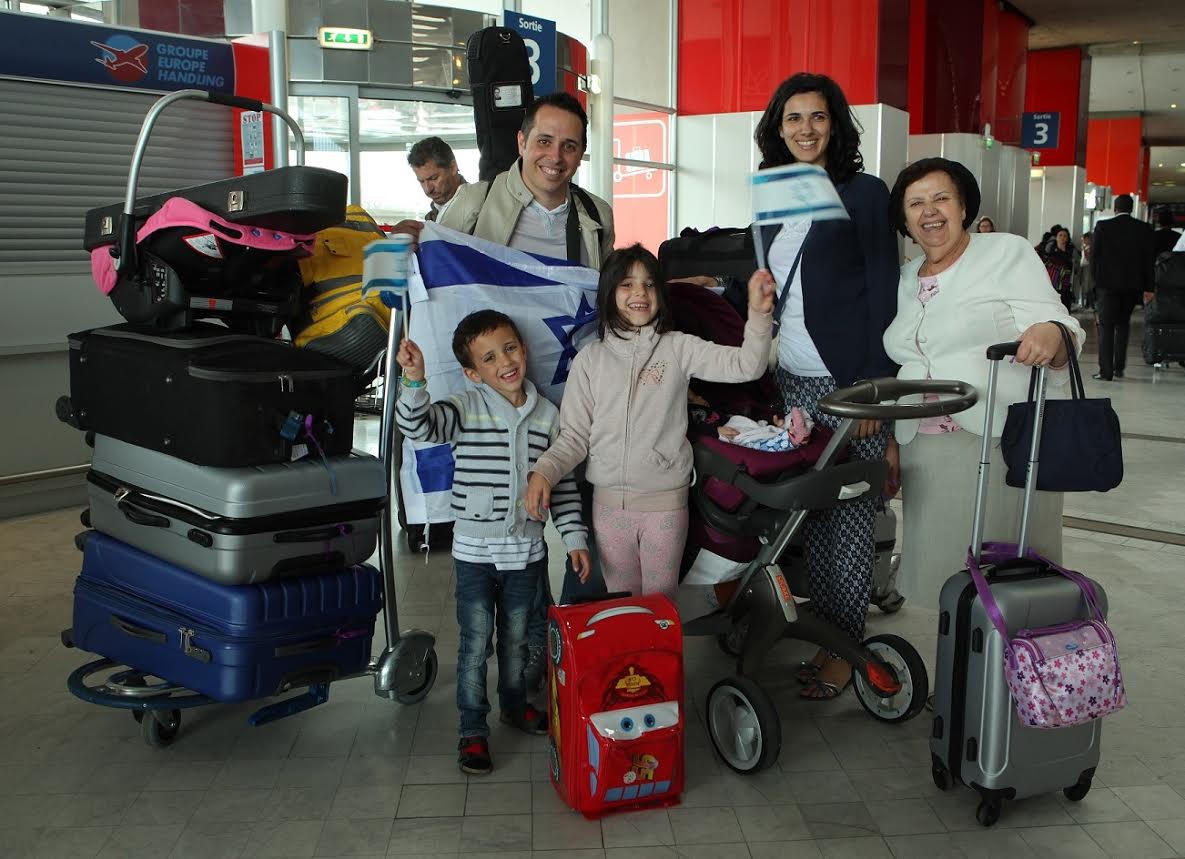 More than 200 Immigrants from France to Arrive in Israel Tonight Aboard Special Aliyah Flight
Aliyah up 11% compared to 2014; More than 20,000 French Jews have arrived in Israel over the past five years
JERUSALEM – The wave of French immigration to Israel continues: More than 200 French Jews, half of whom are children, will arrive in Israel tonight (Monday, July 27) aboard a special Aliyah flight organized by The Jewish Agency for Israel and the Ministry of Aliyah and Immigrant Absorption.
The current wave of Aliyah from France comes following cooperative efforts by the Ministry of Aliyah and Immigrant Absorption and The Jewish Agency to sustain the high rate of French Aliyah and increase Aliyah from around the world. More than 20,000 French Jews—primarily young people and families—have made Israel their home over the past five years. Over 7,200 French Jews made Aliyah in 2014 – an all-time record, and the first time since Israel's establishment that more than 1% of a Western country's Jewish population immigrated to the country in a single year. The coastal city of Netanya is the number one destination for French immigrants to Israel, followed by Tel Aviv-Yafo, Jerusalem, Ashdod, and Ra'anana.
According to data compiled by The Jewish Agency and the Ministry of Aliyah and Immigrant Absorption, some 4,260 immigrants from France have arrived in Israel so far this year, an 11% increase compared to the 3,830 who came during the equivalent period in 2014. Moreover, interest in Aliyah from France has jumped by some 30%: 3,160 new Aliyah files were opened in France during the first six months of 2015, compared to some 2,509 during the same period last year. Registration for Aliyah information sessions reached 6,150, compared to 4,425 during the equivalent period in 2014.
Minister of Aliyah and Immigrant Absorption Ze'ev Elkin said: "This plane with 200 immigrants from France is just one of many arriving in Israel this summer. This is the second year in a row that we are seeing a significant increase in Aliyah from France, and so the ministry and the entire government are working to further increase the rate of Aliyah and dedicate more resources to improving immigrant absorption. This year we are preparing to receive between 30,000 and 35,000 immigrants from around the world, the most in a decade."
Chairman of the Executive of The Jewish Agency for Israel Natan Sharansky said: "Over the past two years, The Jewish Agency has significantly expanded its operations in Europe in response to increasing interest in Aliyah on the part of European Jews. We are seeing an unprecedented wave of Aliyah from European countries, which indicates not only how Europe is becoming an uncomfortable place for Jews, but—even more importantly—the extent to which Israel is becoming a magnet for Jews interested in a meaningful Jewish life, in freedom, personal security, and a sense of belonging to a country that is integral to the future of the Jewish people."
PHOTO: French Jewish familie about to immigrate to Israel at Charles de Gaulle Airport outside Paris earlier today (July 27, 2015). Photo : Jeremy Fournée for The Jewish Agency for Israel.