Details

Written by

Herzliya Conference
Top Israeli Leaders to Speak at 15th Annual Herzliya Conference
The Middle East's leading security & policy gathering will run June 7th-9th at the IDC Herzliya Campus
Israeli Prime Minister, Benjamin Netanyahu, has confirmed his participation in the 15th annual Herzliya Conference which will take place at the IDC Herzliya campus June 7th-9th, 2015. The Prime Minister will deliver the Herzliya address which closes the conference.
Prime Minister Netanyahu will be the first among the many Israeli leaders who will be speaking at the event, including (in alphabetical order): MK Naftali Bennett – Minister of Education/Minister of Diaspora Affairs (Jewish Home), MK Arye Deri – Minister of Economy/Minister of the Negev and Galilee (Shas), MK Moshe Gafni – Chairman of Knesset Finance Committee (United Torah Judaism), MK Zehava Galon – Chairman of the Meretz Party, Maj. Gen. (res.) Amos Gilad – Director of the Political-Military and Policy Bureau -Ministry of Defense, MK Tzachi Hanegbi – Chairman of the Knesset's Foreign Affairs & Defense Committee (Likud), MK Isaac Herzog – Chairman of the Opposition, Labor Party and Zionist Union, MK Tzipi Hotovely – Deputy Foreign Minister (Likud), MK Tzipi Livni – Fmr. Minister of Foreign Affairs & Fmr. Minister of Justice (Zionist Union), MK Ayman Odeh – Head of the Joint Arab List, MK Amb. Michael Oren – Fmr. Israeli Amb. to the U.S.(Kulanu), MK Amir Peretz – Former Minister of Defense (Zionist Union), MK Ayelet Shaked – Minister of Justice (Jewish Home), MK Silvan Shalom – Vice Premier and Minister of the Interior (Likud), MK Ofer Shelach – Member Knesset Foreign Affairs and Defense Committee (Yesh Atid), Maj. Gen. Nimrod Shefer – IDF Head of Planning Directorate, Yehuda Weinstein – Israel's Attorney General, Lt. Gen. (res.) MK Moshe Ya'alon – Minister of Defense (Likud).
Israeli President H.E. Reuven Rivlin will also be addressing the delegates on opening night.
The Conference will also host many global leaders, from the political, military, economic, academic and media arenas. Keynote speakers this year include: former French President Nicolas Sarkozy, renowned economist Nouriel Roubini and U.S. political activist Kathleen Kennedy Townsend.
The proceedings will be in English or with simultaneous translation.
Registered journalists and invited to attend the conference, free of charge. To request a press pass, please e-mail your details (name, media outlet, e-mail address, contact information & GPO/Press card number) to the conference's International Press Spokesperson, Jeremy Ruden at This email address is being protected from spambots. You need JavaScript enabled to view it.. Registration is mandatory.
For more information and a complete schedule (subject to change) log onto: www.herzliyaconference.org/eng
Follow the Conference on:

Our Website - http://www.herzliyaconference.org/Eng/

Facebook - http://www.facebook.com/HerzliyaConference

Twitter - http://twitter.com/HerzliyaConf. - #HC15
The Herzliya Conference is the flagship of the Institute of Policy and Strategy (IPS) at the Lauder School of Government of IDC Herzliya. The Herzliya Conference addresses Israel's national agenda by encouraging public debate and influencing the country's public policy planning. This is achieved through convening Israeli and international elite policy makers, conducting cutting edge research, fostering a global network of contacts in a public forum by attracting the best and the brightest to take part in the conference and its discussions.
Details

Written by

MFA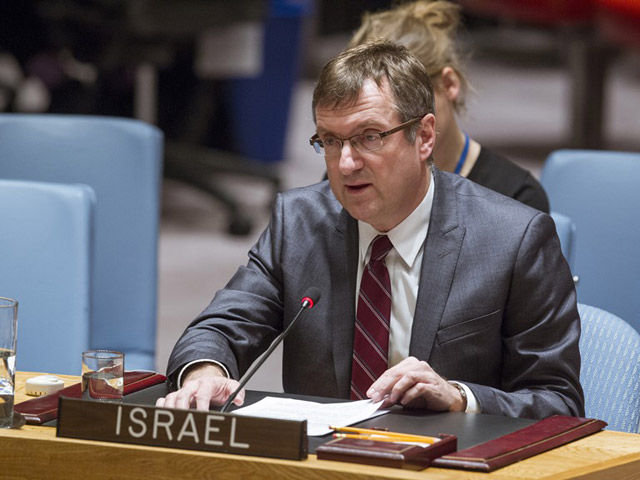 The most dangerous place in the world for journalists is the Middle East. The iron-fisted rule Hamas has on the Gaza Strip provides a powerful example of what happens when the press is not free to report what they see and hear. Israel is the only country in the region with a free press.
The United Nations Security Council (May 27, 2015) unanimously adopted a resolution condemning all violations and abuses committed against journalists and strongly deploring impunity for such acts.
Israel Ambassador David Roet addressed the high-level meeting:
Thank you very much Madame President, and congratulations to Lithuania for a successful presidency of the Security Council. I would like to thank Minister Linkevičius, for personally chairing this meeting.
I would like to take a moment to recognize that we have Marianne Pearl in the Security Council with us today. The brutal murder of Marianne's husband Daniel in Pakistan in 2002 shocked the world, but Marianne's tireless work ensures that his legacy lives on. Daniel is remembered very fondly in Israel. יהי זכרו ברוך - May his memory be blessed.
Madam President,
This discussion could not come at a more critical time for journalists in conflict situations. These brave men and women serve as the eyes, ears, and mouth of the entire world, in the very places that many would prefer us blind, deaf, and mute. Justice Louis Brandeis famously said that sunlight is the best disinfectant. Today, unfortunately, there are many places under a total eclipse. Without the work of courageous reporters, repressive regimes go unchecked, atrocities go unrecorded, and the public remains unaware of the reality on the ground.
Those who work in places of conflict and strife ensure the free flow of information- from distant battlefields around the globe to our Ipads in the comfort of our homes.
Madam President,
There are places in the world where a camera is considered a deadly weapon, where a tweet is an act of treason, and a microphone is grounds for arrest. Extremists groups target journalists not only to silence them but to declare war on the most fundamental values of the free world - the freedom of opinion and expression, the freedom to speak our mind, and the freedom to receive and impart information. They seek to force their barbaric ideology on us by dictating at the point of a gun what we can and cannot say. Make no mistake, these groups recognize no borders and their violence and intimidation is not restricted to any specific region of the world.
The shots at the Charlie Hebdo offices in Paris were meant to silence the community of journalists world-wide. However, as the hundreds of thousands of citizens of France proclaimed in the streets - we will not allow the enemies of free press to silence our freedoms.
Madam President,
In these times of instability, journalists are compelled to report from nations ruled by fear and repression, and from lawless lands ruled by warlords. Those whose duty it is to report on the horrific events in these areas face unprecedented dangers of being abducted, tortured, and brutally murdered.
The most dangerous place in the world for journalists is the Middle East. From Saudi Arabia to Iraq, and from Gaza to Iran, freedom of the press is under siege. The hope for new freedoms shriveled under the harsh reality of Middle Eastern autocrats and theocrats. They are determined to use any means at their disposal to silence those who would question their legitimacy.
Ten months ago in Iran, a Washington Post reporter, Jason Rezaian, was arrested along with his wife. He has been detained without bail, denied access to an attorney, accused of espionage and quote, "propaganda against the establishment." Just yesterday his shadowy trial opened. Not surprisingly, the hearing to decide his fate will be conducted behind closed doors.
In other parts of the Middle East, terrorists have seized control, and journalists face an even more barbaric fate. These fanatical zealots mock the very idea of human rights, and prefer rule by the sword over rule by law. Their idea of due process is a masked man beheading a helpless human being on his knees, and posting the execution on youtube.
Madam President,
The iron-fisted rule Hamas has on the Gaza Strip provides a powerful example of what happens when the press is not free to report what they see and hear. Israeli families spent last summer racing to bomb shelters, knowing they had only seconds to take cover from Hamas rockets.

Thousands of rockets were fired in broad daylight from hospitals, schools, and childrens' playgrounds. Yet, those who turned on their TV or opened their newspapers did not see reports of the obvious war crimes committed by Hamas.
Ask yourselves, why did so few pictures of these rockets, or the Hamas terrorists who launched them, ever see the light of day?
The answer to this question comes from the stories of the journalists themselves: Italian journalist Gabriele Barbati dared not report that Hamas-launched rockets killed Palestinian children in a refugee camp, until he was, in his own words "out of Gaza far from Hamas retaliation". An Indian film crew videotaped a Hamas missile launch just meters from their hotel room, but waited until they were beyond the reach of Hamas to air the damning footage.
Under such conditions, missiles launches go unseen, the use of human shields goes unreported, and falsehoods are accepted as truths.
While Hamas routinely harasses and intimidates journalists, the Palestinian Authority is no better. According to a U.S. State Department Human Rights report, PA security forces harass, detain, and prosecute journalists for trying to do their jobs. Furthermore, the PA abuses the idea of a free press by using state controlled media outlets to broadcast hateful rhetoric and dangerous incitement.
Madam President,
There is only one exception to the rule in the Middle East. According to Freedom House, an organization which monitors suppression of freedom around the world, Israel is the only country in the region with a free press. We in Israel understand that a free press is the cornerstone of democracy.
Those of us fortunate enough to live in an open society know that with a free press comes bad press. In Israel, we know this all too well. The press is free to challenge the strategic assessment of the head of the army, to debate the reasoning of the chief justice, and to give political advice to the Prime Minister and his cabinet. Israel is a model for how a democratic nation, even while facing immense challenges, can maintain a free and thriving press.
Threats to journalists and the free press are threats to our way of life. When a journalist cannot report the truth, and the public is left in the dark, tyranny, dictatorship, and abuse of human rights will follow.
It is the responsibility of the international community to work together to protect journalists across the globe. The United Nations was founded on the basis of allowing free and open debate to ensure a peaceful world. Only a determined commitment by this Council to safeguard the free press can ensure the promise of this vision for ourselves and for future generations.
I thank you Madam President.
Photo: Israel Ambassador David Roet addressing the UN Security Council (archive)
Copyright: UN Photo/ Loey Felipe
https://youtu.be/tOM_BH5xlQg
Details

Written by

MFA
For decades, Israeli innovators have developed technologies to directly harness the power of the sun, Israel's most abundant resource. It's on our shoulders to light a new path for people around the world toward a more sustainable future.
Ambassador Ron Prosor addressed the Second Annual United Nations Sustainable Energy for All Forum at the UN in New York.
First, allow me to congratulate you, the Secretary-General and the leadership of Sustainable Energy for All, for convening this forum.
The world faces serious energy challenges which demand immediate attention. The International Energy Agency estimates that one in five people do not have electricity. Another 2.6 billion use unsafe fuel to cook, inhaling toxic smoke. In order to realize our vision of a world in which everyone enjoys clean and safe energy, we must act now to spearhead this transformation.
Mr. Chair,
With few natural resources and mostly arid land, Israel has always had to do more with less. For decades, Israeli innovators have developed technologies to directly harness the power of the sun, Israel's most abundant resource. Solar water heaters, developed in the 1950s, have been installed in 90% of Israeli homes, and are required by law.
Israel is committed to pursue renewable energy sources. And we have set a national goal to raise total renewable energy generation by 400% by the year 2020.
In the Negev desert, engineers at the Arava Power Company built the country's largest solar installation, covering an area equal to twenty football fields. The energy it generates will offset over one hundred thousand tons of carbon emissions - the equivalent of planting almost a quarter million trees.
The Knesset - Israel's Parliament - is a model of energy efficiency. This year, the roof of the Knesset building was covered with enough solar panels to lower energy consumption by one-third and save half a million dollars annually.
In addition to solar power, Israel's first hydro-electric plant will be completed by 2018 and will increase power generation capacity and energy security.
Israel is a hub for renewable energy research and development, and is committed to sharing innovation and expertise with developing countries abroad. In Ghana, for example, an Israeli company gives meaning to the phrase, "one man's trash is another man's treasure." It takes useless organic waste and turns it into useful energy. In rural Africa, another Israeli company keeps the lights on even after the sun goes down. Innovative tulip-shaped towers absorb solar energy by day and produce electricity by night.
Mr. Chair,
In September, leaders from all over the world will gather in this very hall to adopt a transformative agenda that will guide the future of sustainable development. It is on our shoulders to light a new path for people around the world toward a more sustainable future.
As one of Israel's sustainable energy pioneers once said, and I quote, "To realize that the same sun shines equally on all of us, is owned by none of us, and can supply energy in abundance, inherently promotes peace. The sun doesn't recognize borders." May our desire to build a world where sustainable energy is available to all, be a reason for unity and solidarity.
Thank you.
Photo Ambassador Ron Prosor
Copyright: UN Webcast
https://youtu.be/lp70XZd3iVE
Details

Written by

Joint communique
Greece and Israel, as modern democratic states, represent the proud independence of two ancient nations. Both contributed greatly to Western civilization and have fiercely maintained their unique identities throughout the millennia.
On 21 May, we mark the 25th anniversary of upgraded diplomatic relations between the Hellenic Republic and the State of Israel. Although bilateral relations have existed since 1952, full diplomatic ties were established in 1990. In recent years, common democratic values and interests have led Greece and Israel to forge an important strategic partnership in the Eastern Mediterranean region. Today, the relations are characterized by wide-ranging cooperation in politics, defense, energy, finance, tourism, culture and academia.
High-level political contacts have become commonplace. In October 2013, the first Greece-Israel High Level Government-to-Government Council (G2G) was held in Jerusalem, headed by the Prime Ministers of the two countries. Both States look forward to holding the second High Level Government-to-Government Council as soon as possible. The bilateral political dialogue has been accompanied by economic cooperation, important deliberations on energy issues, enhanced military and defense cooperation, flourishing cultural exchanges, interesting academic and scientific contacts, an inter-religious discourse, and large waves of tourism.
Greece and Israel, as modern democratic states, represent the proud independence of two ancient nations. Their long histories are intertwined and their common traits are numerous. Both are peoples of books and letters who contributed greatly to Western civilization and have lived together in this part of the world for generations. They are both nations of a homeland and a diaspora. And they have fiercely maintained their unique identities throughout the millennia.
The Greek Jewish community and the Greek Orthodox Patriarchate of Jerusalem are bridges of friendship between the two countries.
The bilateral cooperation promotes mutual interests, progress, and stability in the wider region. Both States aspire to further promote and enhance relations of peace and good neighborliness with the nations in the area.
Following a quarter century of upgraded diplomatic relations, the Governments of Greece and Israel express satisfaction with their close and friendly relationship. Both States look forward to further enhancing their bilateral cooperation in the next 25 years, especially regarding people-to-people contacts, as well as cooperation in the fields of high tech and entrepreneurship, for the benefit of both peoples. The two nations are joined together in friendship as they face common challenges and strive to build a better future.
Details

Written by

Mashav
A delegation of 23 professionals from 10 Latin American countries arrived in Israel to get acquainted with Israel's intensive agricultural development and practical experience on the planning and management of fertigation.
The professional program, organized by MASHAV-CINADCO's Training Center in Kibbutz Shefayim (28 April-20 May), counts with the participation of 23 professionals representing national and local public institutions, universities and private companies from Colombia, Costa Rica, Dominican Republic, Ecuador, Guatemala, Honduras, Nicaragua, Panama, Paraguay, and Peru.

The professional program aims to share the experience which Israel has accumulated in the development of an agriculture based on the efficient management of fertigation, and to establish a framework for discussion and analysis of lines of action to be implemented under the conditions prevailing in the participants' own countries.
Irrigated agriculture utilizes nowadays approximately 70% of the total global water consumption. In view of the recurrence of more negative water balance periods (mostly due to the misuse of water resources, the influence of climate change and to the steady consumption increase of the urban and the industrial sectors) it is expected that in order to ensure the sustainable development of agriculture and to improve the living conditions of the rural population, most countries will need to implement systems which promote the efficient use of water and nutrients.

Fertigation, which utilizes drip irrigation infrastructure, is an agricultural technology which allows supply of water and nutrients according to crop demands throughout their growth cycle. The extensive use of fertigation systems allows incorporating lands which were previously regarded as low-productivity to the overall agricultural production while enhancing crops performance, saving water and fertilizers, utilizing marginal water, and contributing to environmental protection.
Photo : Participants in MASHAV-CINADCO's course on Implementation of Fertigation in Intensive Agriculture

Copyright: MASHAV