Details

Written by

Office of Governor Edmund G. Brown Jr
3-5-2014
MOUNTAIN VIEW- Governor Edmund G. Brown Jr. and Israeli Prime Minister Benjamin Netanyahu today signed a broad agreement to develop joint projects and conduct mutually beneficial research in California and Israel.
"Through this agreement, California and Israel will build on their respective strengths in research and technology to confront critical problems we both face, such as water scarcity, cybersecurity and climate change," said Governor Brown.
The agreement will boost economic, cultural and academic cooperation between California and Israel, with an emphasis on water conservation, alternative energy, cybersecurity, health and biotechnology, education and agricultural technology.
The agreement will also enable Israeli companies to access California's Innovation Hubs (iHUB), an innovation network that includes 16 clusters of research parks, technology incubators, universities and federal laboratories, together with economic development organizations, business groups and venture capital funds.
Photo captions can be found below:
1.) Governor Brown (left) and Prime Minister Netanyahu (right) sign memorandum of understanding. Photo Credit: Justin Short, Office of the Governor.
2.) Governor Brown delivers remarks at meeting with Prime Minister Netanyahu (left). Photo Credit: Justin Short, Office of the Governor.
3.) Governor Brown (left) and Prime Minister Netanyahu (right) sign memorandum of understanding. Photo Credit: Justin Short, Office of the Governor.
For high resolution copies of these photos, please contact Danella Debel, Office of the Governor at

This email address is being protected from spambots. You need JavaScript enabled to view it.

.
The agreement, signed today, is copied below:
Memorandum of Understanding On the Establishment of a Strategic Partnership for Joint Innovation, Exchanges and Cooperation Between The Government of the State of California, United States of America And The Government of the State of Israel
THE GOVERNMENT OF THE STATE OF ISRAEL AND THE GOVERNMENT OF THE STATE OF CALIFORNIA (hereinafter "the Participants") RECOGNIZE THAT:
WHEREAS, two-way trade between Israel and California totaled over $4 billion in 2013 - one of the largest two-way trade relationships between Israel and a U.S. State; and
WHEREAS, the State of California and the State of Israel share close ties and are global leaders in the alternative energy, environmental technology, and other technology-based industry sectors; and
WHEREAS, the State of California is home to the largest in-state innovation network in the United States, which offers technology-commercialization opportunities for the State of Israel; and
WHEREAS, the Participants seek to expand the current level of cooperation between Israel and California in, but not limited to, alternative energy, environmental technology, health, food and agriculture and other technology based industry sectors, business innovation, research and development.
THEREFORE, IT IS DECLARED AS FOLLOWS:
The Participants hereby sign this Memorandum of Understanding for the purposes of establishing a formal relationship between them to foster economic cooperation and economic development, facilitate joint industrial research and development, and enhance business relationships and educational opportunities to foster job creation and incubate global solutions from joint California-Israel innovation initiatives.
To achieve these aims:
1. The Participants intend to seek to convene bilateral, interagency and inter-ministerial working groups with international expertise to coordinate initiatives.
2. The Participants plan to facilitate collaborations between Israeli and Californian entrepreneurs and researchers through (though not exclusively limited to) the California innovation hub (iHub) network - a network consisting of self-funded, collaborative regional innovation clusters, uniting government, universities, foundations, national labs and the private sector.
3. The Participants intend to support and encourage their people and competent authorities to further develop interpersonal contacts and exchanges, and to promote mutual cooperation, understanding, and friendship by encouraging ad hoc task forces, trade delegations, and professional exchanges between Israel and California in key sectors including, but not limited to:
a.) Water Conservation and Management
b.) Alternative Energy and related Clean Technologies
c.) Health and Biotechnology Solution
d.) CyberSecurity
e.) Arts & Culture
f.) Education
g.) Agricultural Technologies
4. The Participants intend to support and encourage the creation of public-private partnerships between Californian and Israeli entities in these areas of economic development, social entrepreneurship, or academic research related to the above activities.
5. The Participants intend to support and encourage the strengthening of sister city programs between Israeli and California cities, which are designed to enhance opportunities for cultural and educational exchanges, economic partnerships, and social entrepreneurship on the local level.
6. The Participants intend to encourage collaboration between California and Israeli universities, public and private research institutions.
This Memorandum of Understanding is intended to become effective on the date it is signed and does not create any legally binding rights or obligations for either Participant. This Memorandum of Understanding was signed in Mountain View on the 5th day of March, 2014, corresponding to the 3rd day of Adar II of 5774.
_____________________
EDMUND G. BROWN JR.
Governor of California
United States of America
__________________________
BENJAMIN NETANYAHU
Prime Minister
State of Israel
Details

Written by

KKL
45 religious leaders from Judaism, Christianity and Islam in Argentina plant carob trees at the Yad Kennedy Memorial Planting Center.
For the group of 45 religious leaders from Argentina on an interfaith mission in Israel, the planting of three carob trees at the KKL-JNF Yad Kennedy Memorial Planting Center was a symbol of their dedication to the ideals of peace, coexistence and tolerance. The trip was organized by the Latin American Jewish Congress, and also included a meeting with Israeli Prime Minister Shimon Peres, a visit to Jordan to meet with King Abdullah and an audience with Pope Francis in the Vatican.



Ceremony participants. Photo: Rafi Ben Hakun, KKL-JNF Photo Archive
"Planting a tree here has a very deep significance. It is something mystical," said Father Guillermo Marco, Director of Service at the Pastoral University and former spokesman for Pope Francis when he was Buenos Aires Cardinal Jorge Mario Bergoglio, noting that Jesus too spoke of the special role of trees: when

a seed is planted

, birds find refugee in the tree which grows from it and people seek its shade. "One never knows what grows from the seed that is planted. Our desire here too is to plant peace for the future. And the fact that we have done it here, all together is meaningful."



KKL-JNF board member Hernan Felman greets participants as they come off the bus. Photo: Rafi Ben Hakun, KKL-JNF Photo Archive
Speaking at the ceremony prior to planting the trees,
Pedro Jose Abrahan
noted that Muslim Prophet Mohammed also gave great importance to trees, stating that not even in cases of war must trees be destroyed.
"I am privileged to be a part of this group of the three monotheistic faiths. And here we are pioneers saying that we are able to live together. With dialogue all is possible and can be built with love and desire. I hope this act can be a small contribution to something that will come to fruition and will give shade not only to us but to our children as well."


The group was welcomed by KKL-JNF board member Hernan Felman:


"Just as I am sure that you and the people you represent all want a better world, so too KKL-JNF is busy on a daily basis trying to better the world," he said. He noted that Israel is the only place in the world that has more trees in the 21st century than it did in the 20th century, with KKL-JNF having planted and cared for 240 million trees. Some 80 percent of Israel's agriculture is irrigated by

water

which has been purified, recycled or stored by KKL-JNF, he added and KKL-JNF has built countless

trails and paths

for hikers and cyclists, beautifying the country.

"In your important work you are also building trails of coexistence," he said.



Planting a tree. Photo: KKL-JNF Photo Archive
Lucas Randle
, president of Un Techo Para Mi Pais, a nonprofit group which mobilizes youth volunteers to combat poverty, said that only after they return to Argentina will the group be able to realize the magnitude of what their trip has accomplished.


"Dialogue opens hearts to be able to understand and love each other as Jesus tells us Christians," he said.


Jorge Tellerman
, President of the Cultural Institute of the Province of Buenos Aires, recalled that as almost the only Jewish child in his neighborhood, he organized his non-Jewish friends to help collect money to send to KKL-JNF in Israel to plant trees after his parents and grandparents told him about the importance of the little

KKL-JNF blue box

they kept in their home.


"The idea of peace, community and coexistence needs to be constructed, it is not a given," he said. "I hope this will allow us to duplicate and multiply our efforts."


Among those invited to take part in the special trip was KKL-JNF Argentina president Adolfo Filarent. He was happy to see the work that KKL-JNF has accomplished in Israel.
"This is our small contribution to support the ideals of interreligious dialogue and coexistence," he said.


Rabbi Daniel Goldman
, of the Bet El Community in Buenos Aires, noted that planting trees was a natural extension of their ideals: "Our work is to plant understanding and we hope to harvest what we plant."


Rabbi Sergio Bergman
, who was recently elected to serve in the Argentina National Congress, the first rabbi outside of Israel to serve in a government, noted that KKL-JNF was based on concepts of rabbinical teaching.



View from Yad Kennedy. Photo: KKL-JNF Photo Archive
"I think this act speaks of transcendence," he said. "We are finite; we are part of a chain. KKL-JNF predates the creation of the state and this land was promised in peace. The three Abrahamic faiths are here, for peace. Just like a tree has to be cared for, so too does peace need to be nurtured."
Omar Abboud
noted that the act of planting a tree with friends of all three faiths was a very emotional experience.


"It is a reminder to always give a place for growth, but more importantly it is important to see this fundamental and ethical work of planting a tree for the environment," he said.


The hope is that such a diverse religious group, meeting with government and religious representatives in the region can serve as an example that coexistence is possible, concluded Claudio Epelman, executive director of the Latin American Jewish Congress.


"And planting trees together with KKL-JNF is something that we are doing not just for ourselves, but for coming generations. It is our way of connecting to the future," he said.
Details

Written by

MFA
Jewish continuity is a challenge for the whole of world Jewry, Israeli and Diaspora Jew, Ashkenazi and Sephardi, religious and secular, Reform, Conservative and Orthodox, alike. The biggest threat to us as Jews, both in Israel and the Diaspora, is the demographic problem currently facing world Jewry.
Chairman of the Conference of Presidents Alan Sugarman,
Executive Vice-Chairman Malcolm Hoenlein,
Ladies and gentlemen,
Friends,
I would like to devote my address today to what I believe is our most pressing policy issue. I am not going to talk about Iran or the Palestinians, but about Jewish continuity. I am happy to be able to speak about the issue of Jewish continuity here in Jerusalem, the eternal capital of the State of Israel, because one of the eternal prayers that has kept us as a people throughout our exile are the words "Next Year in Jerusalem!"
Firstly, I would like to make it clear that when I talk about Jewish issues, like Jewish continuity, I refer to a challenge for the whole of world Jewry, Israeli and Diaspora Jew, Ashkenazi and Sephardi, religious and secular, Reform, Conservative and Orthodox, alike. There is no part of world Jewry that is illegitimate and should be placed outside of the tent, and all of us have our obligations to meet these challenges as one people in the full sense of the word.
That being said, I would like to state my firm belief that the biggest threat to us as Jews, both in Israel and the Diaspora, regardless of background, is the demographic problem currently facing world Jewry. Today, according to the Israeli National Bureau of Statistics there are around 6.1 million Jews in Israel. In the U.S, the exact number of Jews is harder to accurately assess, but according to the 2012 American Jewish Yearbook and Israel's leading demographer, Sergio DellaPergola, the total number of American Jews is around 5.4 million. The number of Jews estimated by the Pew Research Center during their recent survey is slightly less at 5.3 million.
However, the recently released results from the Pew survey on American Jewry make for pretty depressing reading. They demonstrate that there is a significant rise in those who have little or no Jewish content in their lives, marry outside the faith and are not raising their children Jewish, than from a similar survey taken ten years ago. The intermarriage rate has reached a high of 58% for all Jews, and 71% for non-Orthodox Jews, a huge change from before 1970 when only 17% of Jews intermarried.
On attitudes towards Israel we are witnessing a major generational gap. While 30% of respondents professed to be very attached to Israel and 39% said they felt "somewhat" attached, 31% answered that they felt not very or not at all attached to Israel. Asked whether caring about Israel was an "essential" part of being Jewish, only 43% answered in the affirmative, only one percentage point higher than those that responded "having a good sense of humor" was an essential part of being Jewish.
According to the researchers, older Jews are more likely than younger Jews to see caring about Israel as an essential part of what being Jewish means to them, with more than half of respondents over the age of 65 believing that caring about Israel was an essential part of their Jewish identity, whereas only 32% of respondents under the age of 30 shared the same belief.
Ladies and gentlemen, these statistics demonstrate that the Jews of America are facing nothing less than a demographic catastrophe.
For many years, Israeli officials have called on our brothers and sisters in the Diaspora, like many of you gathered here tonight, to donate your time, energies and funds to Israel. However, I turn to you today and say that, while we are enormously and forever grateful for your assistance, we believe it is now time to concentrate on the challenges facing your own communities, especially those emanating from the dangerous trends in the Jewish community demonstrated in the recent survey.
It is my strongest belief that the antidote to this rising assimilation, intermarriage and disengagement is education. It is said in the Jewish sources that Jerusalem was destroyed just because school-children were kept from their classrooms. Today, unfortunately, Jewish children are being kept from the Jewish classrooms because of the exorbitant and prohibitive costs of Jewish education in the U.S. It cannot be, it should not be, that a Jewish child will not be able to receive a good Jewish education because of financial reasons. This should be unacceptable to all of us who care for the Jewish future.
On my last visit to New York, I met with a Russian Jewish family in Brooklyn. They told me that for their three children to attend good Jewish schools it would cost them around $100,000. They simply could not endure such costs. They are not alone. This situation is being replicated across the Jewish world, whether in the U.S., Russia, France, Argentina, or elsewhere. If this situation persists, we will lose another six million Jews in a generation or two.
In order to prevent this tragedy, all Jewish children should have the capacity and capability to attend a school where they will receive an education that will teach them about Jewish history, values and traditions, to treasure their Jewish identity and to have a strong attachment to Israel and Zionism. We need to ensure that Jewish schools will be among the best in the world.
As Foreign Minister, when I travel to capitals around the world, I speak to our ambassadors and Consul-Generals and ask them where their children study. I was shocked to discover that over 90% of the time, the children of Israeli representatives study at the American or international schools, even when there are local Jewish schools. When I ask them why do they not send their children to Jewish schools, they simply tell me that the American or international schools are a higher standard. This is unacceptable.
Sadly this is also reflective of the general Jewish population in places like the U.S., where only around 12% of Jewish children attend Jewish schools, and when the Orthodox children are removed from the equation; it drops down to no more than a few per cent.
We need to create a global network of Jewish schools that are superior in standard to the American and international school network. Only through this effort can we ensure our endurance as a people.
The Jerusalem Talmud describes the unity of the Jewish people as a body. Like all bodies, if there is something wrong with one part, then the whole body will not be able to function fully.
We, the Government of the State of Israel, would like to assist in creating a program which ensures that any and every Jewish child will be able to receive a high-level Jewish and Zionist education. You are doing important work for Israel and your engagement with us deepens these ties. We are especially grateful for your continued support for programs like Birthright-Taglit and Masa, which have brought so many young Jews closer to Israel and their Zionist identity.
However, above all discussions on Iran and the Palestinians, your discussions with the Israeli Government and the Jewish Agency should be focused on saving future generations.
The annual budget of the State of Israel stands at over $100 billion. I believe that the Israeli Government should contribute $1 million for every day in a calendar year, making a total of $365 million, which we hope you, the Jewish community in the Diaspora, will match for this educational project. This cannot become just another small project and needs to be the central point of partnership between us.
These funds will be found in our budgets, it is just a matter of prioritizing Jewish education above all other issues. This must become the most pressing issue on the global Jewish agenda. From my point of view, this is more pressing than any other issue, including the Palestinian negotiations or the Iranian nuclear threat.
The essence of the partnership between the Israeli Government and Jewish leaders in the Diaspora should revolve around ensuring that together we contribute $2 million per day to save the Jewish people. I hope that when we create thee next budget, one of its cornerstones will be the allocation of $365 million for this program. This is something that my party, Yisrael Beytenu, will be very active in promoting.
We need a strong response to the looming demographic catastrophe and we need direct investment in our Jewish youth to ensure that they remain Jewish and acquire the tools to remain part of a vibrant Jewish community. I would like to accomplish this vision that I have laid out today and not merely say that I have a dream and then walk away happy that my words made some headlines.
However, the creation of an international network of Jewish schools is only the first part of my vision. In addition, my goal is to bring an additional 3.5 million Jews from the Diaspora in the next ten years so that the Jewish population in Israel will exceed 10 million.
I know this might sound unrealistic to some, and others will say that it is merely a slogan. However, I say:
"אם תרצו – אין זו אגדה" – "If you will it, it is no dream".
This has been the rallying call for the attainment of so-called unrealistic goals for over a hundred years and we have consistently managed to achieve the impossible, especially when our future depended on it.
These essential and existential goals, education and Aliyah, have to become the most important goals of the State of Israel and the Jewish Diaspora. I hope together we will move these projects forward.
Thank you.
Photo :FM Liberman addresses Heads of Mission conference at MFA
Copyright: MFA free usage
Details

Written by

KKL
"Sderot has a special place in the hearts of the Jewish people, and this park helps paint the city green."
The new Azrieli Park, a gift to Sderot from the Azrieli Foundation of Canada-Israel, was dedicated at a special ceremony in Sderot on Thursday, February 20. Participating in the ceremony were members of the 2014 JNF Canada Staff Mission, who came straight from the airport; Dana and Stephanie Azrieli, Sderot mayor Alon Davidi; KKL-JNF World Chairman Efi Stenzler; KKL-JNF Director General Meir Shpiegler; JNF Canada CEO Josh Cooper; Executive Director of the KKL-JNF Resources, Development and PR Division Avi Dickstein; KKL-JNF Southern Region staff, and residents of Sderot.

Unveiling the sign (L-R):
Sderot Mayor Ilan Davidi, KKL-JNF Director General Meir Shpiegler, Dana Azrieli,
JNF Canada CEO Josh Cooper, KKL-JNF World Chairman Efi Stenzler, Stephanie Azrieli,
& KKL-JNF Southern Region Deputy Director Eran Etner. Photo: Tania Susskind
"Sderot has a special place in the hearts of the Jewish people, and this park helps paint the city green," said KKL-JNF World Chairman Efi Stenzler at the dedication of the new Azrieli Park in Sderot.



The donor sign for the Azrieli Foundation of Canada-Israel in the brand new park. Photo: Tania Susskind
Stenzler noted that the cornerstone for the park was laid two years ago. "KKL-JNF views

urban parks

as very important. The greenery absorbs dust and pollution from the air, and lowers the temperature. Parks also bring economic benefits, raising the value of local real estate and closing the gap between Israel's center and the peripheral regions. I want to thank the Azrieli family for their generous contribution, which has helped improve quality of life for the residents of Sderot. This park will be the pride of the city, and it strengthens the Negev and Sderot."


The new park, which is located in the center of the city, includes spacious green lawns, trees, benches, picnic tables, playground equipment and more. Philanthropist and architect David Azrieli, who built the iconic Azrieli Towers in Tel Aviv and founded the Azrieli Foundation, was involved in every detail of the planning, making sure that the park was built according to the high standards he sets for all his projects.



Cutting the ribbon. Photo: Israel Malovani, KKL-JNF Photo Archive
Alon Davidi
, the mayor of Sderot, said that his city was a very quiet and beautiful place, "when missiles aren't raining down on us. I came to Sderot from Beersheba twenty years ago, and I remember this area as a neglected dirt lot. We want to attract more young people, and this park will help transform our city's future."


Dana Azrieli
, who was at the ceremony together with her mother Stephanie, spoke on behalf of the Azrieli family. "Our feeling is that you people have our backs. We donors can give money, but it's KKL-JNF that makes it happen. Our donation on behalf of Sderot is an expression of our optimism, of our belief in the future. It's a pleasure to be partners of KKL-JNF – you are professionals, and I want to thank you for giving us the opportunity to give."



Talking with local schoolchildren in the park. Photo: Israel Malovani, KKL-JNF Photo Archive
Josh Cooper
, CEO of

JNF Canada

and head of the Canadian mission, thanked the Azrieli family, "which is well-known and respected in Canada for the impact they've had on Israel. On behalf of JNF Canada, I want to tell the mayor and the people of Sderot that we'll always be here for you, whether it's building a water reservoir, portable bomb shelters, or this magnificent park. I saw this lot in the past and can't believe what a beautiful site it's become."


After the ribbon-cutting ceremony, the visitors went for a walk through the new park. The guests from Canada showed no signs of jetlag, even though they had just gotten off the plane. The mission includes 19 senior JNF Canada directors, some of whom are in Israel for the first time. The focus is on past, present and future KKL-JNF projects in the Negev, since the last mission concentrated on northern Israel. "JNF is growing in Canada in terms of both awareness and popularity," Josh Cooper said, "and young people are very interested in what we're doing. Prime Minister Harper was the honoree at this year's

Negev Dinner in Toronto

, which was attended by over 4,000 people."



Lynda Taller-Wakter
, Executive Director of JNF Ottawa and Atlantic Canada, said that besides activities in Ottawa, she was encouraging a renaissance of JNF activity in Atlantic Canada, which has a population of about 3,000 Jews. "We're planning a Negev Dinner in May in Halifax for the first time in 25 years. Jim Spatz, a philanthropist and community developer, will be our honoree. We're looking forward to a nice turnout of the entire Atlantic business community, who will be there to support Jim."


Jay Cairns
, Executive Director of JNF Edmonton and Western Canada said that his mother served as executive director for twenty-five years, and his father was a JNF honoree way back in 1954, "so I guess you could say we have JNF in our family. We're especially looking for people aged 30-50, and we need to talk in a language that appeals to them. For example, before

Tu Bishvat

, I said that this is a holiday that's uniquely Jewish, uniquely universal and uniquely human. What's special about KKL-JNF is that besides the activities that the organization is traditionally associated with, they're also involved in fields such as research and development, and KKL-JNF's know-how and expertise are freely shared with countries around the world. This is a message that speaks to everyone."
Details

Written by

Jonathan Danilowitz
Photo : Israel (Izzy) Borovich ,Dean, School of Managment and Economics at The Academic College of Tel Aviv Yaffo, Boaz Waksman, Ophir Tours - Owner & Arkia CEO Gadi Tepper.
"Five million tourists a year? I predict 25 million in the not-too-distant future!" Elyezer Shkedy, outgoing President & CEO of El Al Israel Airlines, was supremely confident in his address to the guests gathered at the Tel Aviv Fairgrounds on Tuesday morning for the opening ceremonies on the 20th annual International Mediterranean Travel Market (IMTM). "I've travelled the world," he added, "and Israel is the most fascinating place on earth". Many of the guests nodded sanguinely in agreement.
In accordance with tradition, the travel market opened with a lavish by-invitation-only breakfast hosted for ambassadors, the diplomatic community and the press, followed by the opening ceremony. Dr. Uzi Landau, Israel's Minister of Tourism, proudly told the assembly that 2013 was an all-time record for tourism to Israel. He described the country, with its history, archaeology, culture, gastronomy, beaches, religious freedom, sports and nature as "a true festival for every visitor". He thanked the visitors, pointing out that their presence was a win-win situation – for them and for Israel. Speakers included the deputy mayor of Tel Aviv ("Tel Aviv has one of the youngest populations in the world"), the chairman of the Israel Hotel Association, the president of the Jewish National Fund, and others. Eyal Shmueli, president of I.T.N (the organizers, together with ORTRA) pointed out that this year, the 20th successive event, is the largest ever. "There are some 1,200 exhibitors from about 50 different countries. All in all we expect over 1500 visitors coming to Israel especially to attend IMTM. That includes the Tourism Ministers from 20 countries".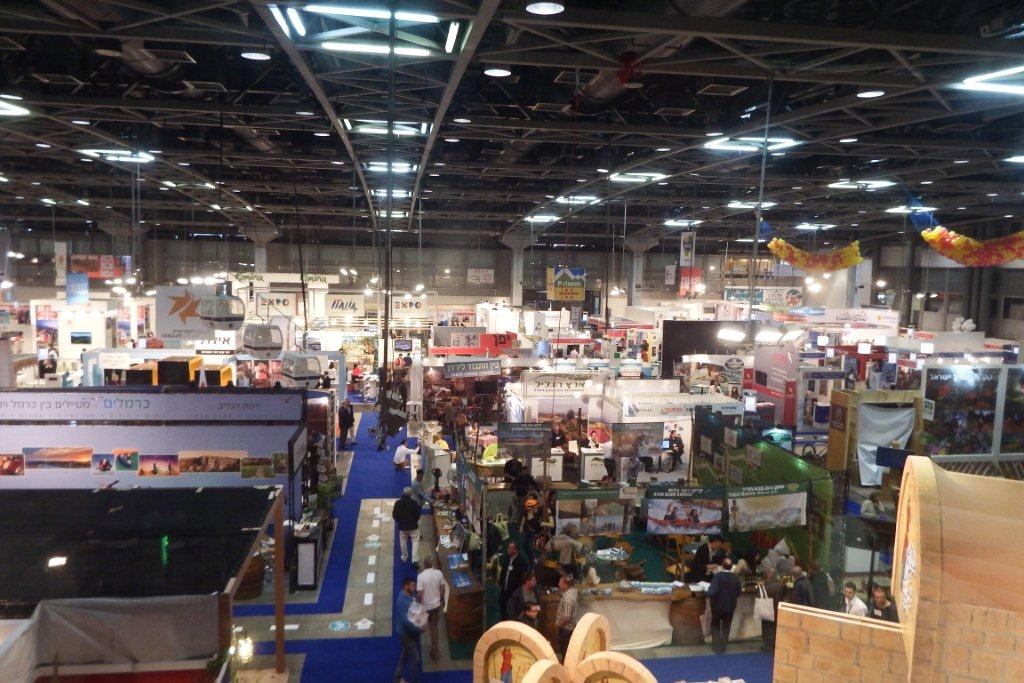 Although the official tourist authorities are vital for the success of travel fairs, the backbone of IMTM is provided by the Israelis who come to the fair in their thousands to see what's new for both domestic and overseas travel. It is those end customers who are the main attraction of the foreign tourism authorities. Israelis travel abroad way beyond the per-capita population of the country, compared to most other countries, and they are big spenders.
The biggest news of this year's travel market seems to be the agreement signed between Israel and the EU to "open the skies" to more flights and airlines, hopefully to increase competition and thus reduce travel costs for visitors to Israel and for Israelis travelling abroad.
2014 promises to be another record year for tourism. If you missed IMTM this year, here's a tip: the 21st tourist marketing fair will open on 10th February 2015, for 2 days only. Mark your calendar now.
Photos credit Silvia G.Golan