Details

Written by

Silvia G Golan
The Tel Aviv WeWork Creator Awards will be headlined by Balkan BeatBox and will also feature a job and skills fair, master classes, local vendors, an after-party with more live music, free food, and a big bash for toasting the winners.
October 26
from
17:00
-Tel Aviv Fairgrounds, Pavilion 2
The
Creator
Awards
event is open to anyone - tickets are free - to RSVP for a free ticket to a full day of workshops & after party with the stars visit:
we.co/telavivrsvp
Will feature musical performances throughout the day, headlined by
Balkan
Beat
Box
.
Cost: Free
WeWork Israel Creator Awards to be Held October 26 at Tel Aviv Fairgrounds
WeWork will be distributing $1.5 M at the all-day event, which will also feature live musical performances headlined by Balkan Beat Box as well a Job Fair, Creator Market and Master Classes, including one led by WeWork Co-Founder and CEO Adam Neumann and artist and songwriter Aviv Geffen
WeWork - the space, community, and services provider focused on helping people create their life's work - announced today that the Israel Creator Awards will be held on October 26 at the Tel Aviv Fairgrounds, Pavilion 2. The Creator Awards is a new, global initiative to recognize and reward the creators of the world, and includes over $20M of available awards for individuals and organizations around the world—WeWork members and others. The Tel Aviv event follows successful Creator Awards events across the United States and around the world.
At the event, finalists will be invited to present live in front of a panel of judges, with $1.5 million in prizes being distributed in three different categories - Incubate (individuals with an idea or a project that needs funding), Launch (businesses or nonprofits that have launched but are still learning) and Scale (businesses or nonprofits that have a proven record of success and are ready for the next level). The winners of the regional event will then be eligible to present at the Global Final in NYC for the chance to win additional funds.
Throughout the day, guests at the Creator Awards can learn new skills in Master Classes - including one to be given by WeWork Co-Founder and CEO Adam Neumann and artist and songwriter Aviv Geffen - as well as one by Shai Agassi, the former founder and CEO of BetterPlace.
Additionally, participants can shop member products in the Creators Market, and find new gigs in the on-site Creator Awards Job Fair. The second half of the day will feature live musical performances and the announcement of the winners, followed by a celebration in the evening.
The Creator Awards is intended to acknowledge and empower those who exemplify what it means to be a creator. Anyone who brings a new idea into the world, pursues his or her passion, and believes in something greater than oneself is a creator. From freelancers to founders, nonprofits to small businesses, artists to educators, creators are bringing new ideas into the world—and making it a better place—every day.
To date, Creator Awards Events have already been held in Washington, D.C, Detroit, Michigan and Austin, Texas, London and Berlin. The program will culminate with the Creator Awards Global Final on November 30 in New York City.
About WeWork
WeWork's mission is to give members the space, connections and services they need to create their life's work, while helping them collaborate with like-minded people who can help their businesses grow and succeed.
Founded in 2010 by Adam Neumann and Miguel McKelvey in New York, the company now employs more than 2,900 staff globally. WeWork currently has more than 160 physical locations in 53 cities around the world. WeWork seeks 'creators' from all industries and companies big and small to become members, with a suite of WeWork-specific membership benefits in each country and a local staff in each city.
More than 20,000 companies and over 150,000 members are now based at a WeWork, with member companies ranging from start-ups to household names including Delta, IBM, GE, Dropbox, and Samsung. More than 70% of WeWork's members collaborate with each other and its international locations serve as convenient bases for business travel, enabling a great degree of work flexibility for both multinationals and small-to-medium-sized businesses alike, as well as options for easy expansion into new markets.

For more information, visit:

wework

.com.

Details

Written by

Peres Center for Peace and Innovation
· President Rivlin began the memorial and said: "Everyone who sits here today has a responsibility to ensure that the Israeli innovation industry continues to be a pillar of fire lighting the way - this was the dream of my friend, Shimon Peres."
· Chemi Peres: "My father's legacy looks to the future, and it requires all of us."
· John Chambers, Executive Chairman of Cisco Systems: "Now is the time to introduce new communities into the world of innovation. When I visit Israel, I meet with heads of startups from all walks of life - and that's amazing to me. This is the true meaning behind startups in Israel "
· Gil Shwed, CEO of Check Point Software Technologies: "Technology allows me to stay here, to be a part of this nation, to be part of the dream of Zionism and of Israel, but technology allows me to also still be a part of this global world."
Details

Written by

Buzzy Gordon
The city of Ashdod is pleased to announce its 2017 People and Flavors Festival, to be held Wednesday and Thursday evenings, September 13-14, in Nahal Lakhish Park.
The festival will feature booths serving 40 ethnic dishes from around the world, prepared by 25 local chefs and restaurants. Entrance to the festival is free of charge, and the price for food will be only NIS 10 per serving.
The festival starts each evening at 19.00.
Details

Written by

Silvia
​PM Netanyahu will begin his trip in Buenos Aires where he will meet with President Macri. The two countries will sign a series of agreements on public security, customs and social insurance as well as an archives agreement regarding the Holocaust.
Details

Written by

Silvia Golan & Steven Aiello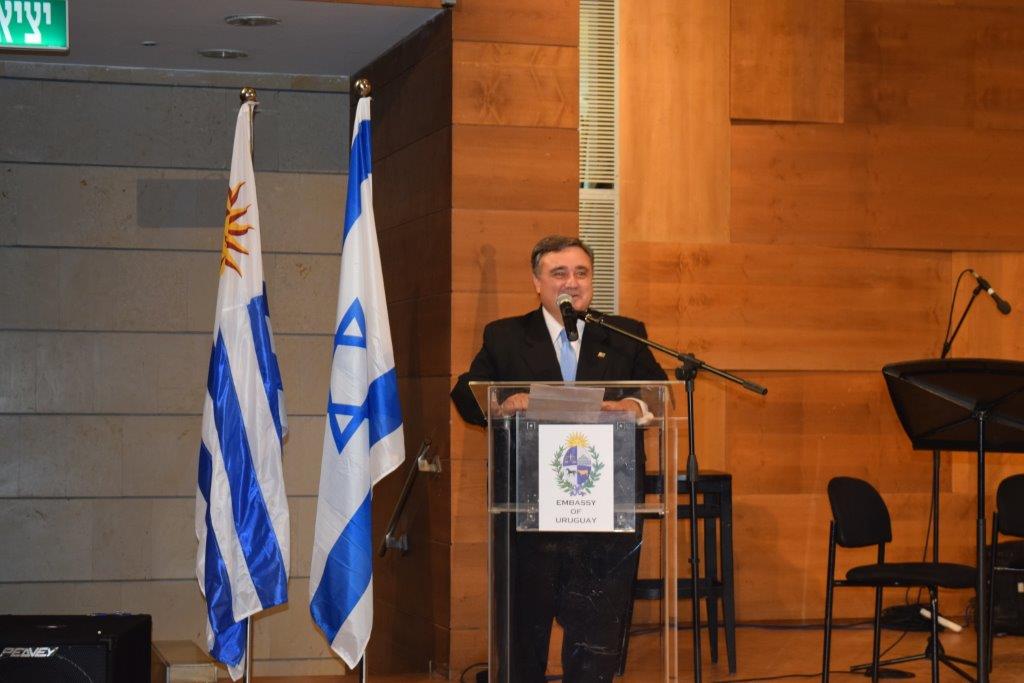 On Tuesday August 29th, Ambassador Néstor Alejandro Rosa and his wife Analia held a reception on the occasion of the National Day of the Republic of Uruguay, and a concert in commemoration of the centenary of the Famous tango "La Cumparsita" by Gerardo Matos Rodriguez, Uruguayan musician, composer and journalist.