The Cafe Rothschild chain has opened in newest restaurant in the suburb of Givatayim, a block away from the municipal border with Tel Aviv. The kosher chain, which serves dairy but no meat dishes, has been expanding rapidly into the center of the country from its base in the North.
Cafe Rothschild, whose slogan is b'n'divut -- meaning, "generously" -- is known for its freebies, large portions and value. Guests are greeted with a complimentary drink on arrival, and free popcorn is distributed in the evenings. Instead of the conventional happy hour, beer (part of an alcohol menu that includes spirits and wine) is always two-for-one.
The categories of the bilingual menu comprise breakfast, salads, pastas, appetizers, sandwiches, tortillas, pizzas, focaccias and fish dishes. In addition to the usual hot and cold beverages, there are fresh-squeezed juices, smoothies and shakes. Vegan and gluten-free options are also available.
Desserts appear on a Hebrew-only menu, but can be explained in English by the staff. The super-sized sweets are prepared by pastry chefs off-site.
Among the special offerings of Cafe Rothschild are Italian Tuesdays -- when pasta is NIS 29 and glasses of wine NIS 10 -- and Greek Fridays, featuring mezze.
Website: http://www.rothschild-cafe.co.il/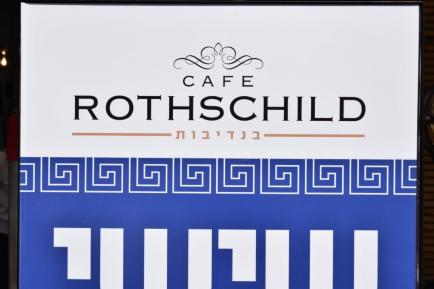 Photos Silvia Golan