Society
Details

Written by

KKL-JNF.
Royal Visit: H.H the Belgium prince Michel de Ligne plants a tree at KKL-JNF's Belgium Forest
Wednesday, July 13th, 2016, H.H Michel Charles Eugène Marie Lamoral, Prince de Ligne of Belgium planted an olive tree in KKL-JNF's Belgium Forest in Neve Ilan. Other honorable guests joined the planting ceremony, among them KKL Belgium president and the Organization of Belgians in Israel (OBI) and other dignitaries.
His highness is a Belgian - French aristocrat and businessman, member of one of the most prestigious families of the Belgian nobility - the House of Ligne, which is one of the oldest Belgian noble families, dating back to the eleventh century.
H.H Michel Charles Eugène Marie Lamoral stated: "The tree we are planting today will live for a thousand years. It is an eternal symbol to the bravery of our forefathers. Our responsibility towards the other is important. We should be standing united in order to preserve the right for life. The location of this tree is a symbol of courage and solidarity"
KKL Belgium supports projects for land development, tourism, preservation and environmental rehabilitation in Israel including the Neve Ilan Park. In honor of the event, President of KKL Belgium, Jacqui Benzennou said: "There is no better place to commemorate Prince Eugene and his wife than Belgium Park in Neve Ilan, a village near Jerusalem overlooking the Holy City, the forest symbolizes the connection between Belgium and Israel. Planting a tree in this forest is a living testament to the desire to advance and develop the country, which is KKL-JNF's mission".
Organization of Belgians in Israel (OBI), a non-profit Belgium organization which assists new Olim, students, lonely soldiers, Zionist youths and Holocaust survivors living in Israel to receive support from Belgium. Sally Zajfman, President of OBIaddressed the Prince emphasizing that: "Your visit today threads a string between remembrance, friendship and hope – three core values to the Jewish people. Remembering the past, friendship in the present and a hope for a good future"
Belgium Forest in Neve Ilan is located to the west of Jerusalem. It has groves, a recreation area and lookout points that were all established thanks to the help of donations from KKL-JNF's Friends in Belgium. As a gesture of appreciation for their generosity, KKL-JNF dedicated the forest to the Jews of Belgium, and in the 1990s, a special center was established there in their honor.
Photo Caption: H.H the Belgium prince Michel de Ligne plants a tree at KKL-JNF's Belgium Forest
Photo Credit: Yossi Zamir, Courtesy of KKL-JNF
Details

Written by

KKL
Senior Italian delegation at Inauguration Ceremony of the KKL-JNF Expo Forest at Yatir
Thursday, June 23rd, the EXPO forest planting ceremony was held at Yatir Forest in the presence of the Italian Minister of Agriculture, Food and Forestry as well as other dignitaries.
During the day, more than 200 trees were planted from a verity of broad-leaf species such as, Terebinth, Carob, Fig and Almond (trees which fit the theme of the EXPO convention), it will also include the inauguration of the rehabilitationproject to restore the forest - improving drainage and restoration of agricultural terraces in the next 2 years (2016-2017) – the restoration project of more than 300 Dunams (30 Hectare) of forest, harnessed over 45 thousand people from more than 50 countries which gave a unique donation in the KKL-JNF Israeli pavilion in the Expo.
Attending the ceremony were the Italian Minister of Agriculture, Food and Forestry, H.E. Maurizio Martina, the Italian Ambassador to Israel,H.E. Francesco Maria Talo', KKL-JNF Director General, Meir Shpigler including representatives and donors of JNF Italy.
The Italian Minister Maurizio Martina played a prominent role in Expo Milano 2015. The event was a huge unprecedented success with more than 21 million visitors in six months in a wonderful festive atmosphere and in perfect security. Never a universal Expo had such a great accomplishment. Expo Milano has been visited by a great number of heads of State and government from all over the world, including Prime Minister Netanyahu, who was escorted there by Minister Martina. The Expo was also a wonderful opportunity for Israel to show its unique expertise in fields which are crucial for the future of mankind such as feeding the planet in a sustainable way.
Therefore it is only natural that the Israeli pavilion and the Italian Embassy in Israel partnered with KKL-JNF in insuring the success of Israel's participation to Expo Milano 2015. A long-lasting follow-up of Expo Milano is the Forest that KKL planted in Yatir and is going to be dedicated to the Exposition.
Italian Minister Maurizio Martina: "We hope that the important message of protecting the world's resources will be implemented and assist us to act for a better world for future generations"
KKL-JNF Director General Meir Shpigler: "It is symbolic that this forest, which represents ecological values and the safekeeping of the environment, we inaugurate in the biggest forest in Israel, which is a marvel by itself since it is planted in a desert region. KKL-JNF works to distribute its forestry knowledge around the world and in the upcoming month a students' delegation from Lombardy, Italy, to learn from KKL-JNF foresters planting methods, forestation in harsh climate conditions and more."
The Ambassador of Italy in Israel, Francesco Maria Talo' joined the ceremony and commented that he "hopes every Italian child in the world will be able to plant his tree" and that "after the great successes of Israel and Italy in Expo Milano raising fundamental issues for the future of our planet in fields such as water management, agriculture and food sustainability, we can once again stress the slogan that we launched last year: Israel and Italy are EXPOnential Partners!"
Photo Caption: Left to right - KKL-JNF Director General Meir Shpigler; Italian Minister of Agriculture, Food and Forestry, H.E. Maurizio Martina; Ambassador of Italy in Israel, Francesco Maria Talo'; KKL-JNF Department Director, Karine Bolton Laor – Receiving the Certificate
Photo credit: David Greenspan, KKL-JNF
Details

Written by

Jonathan Danilowitz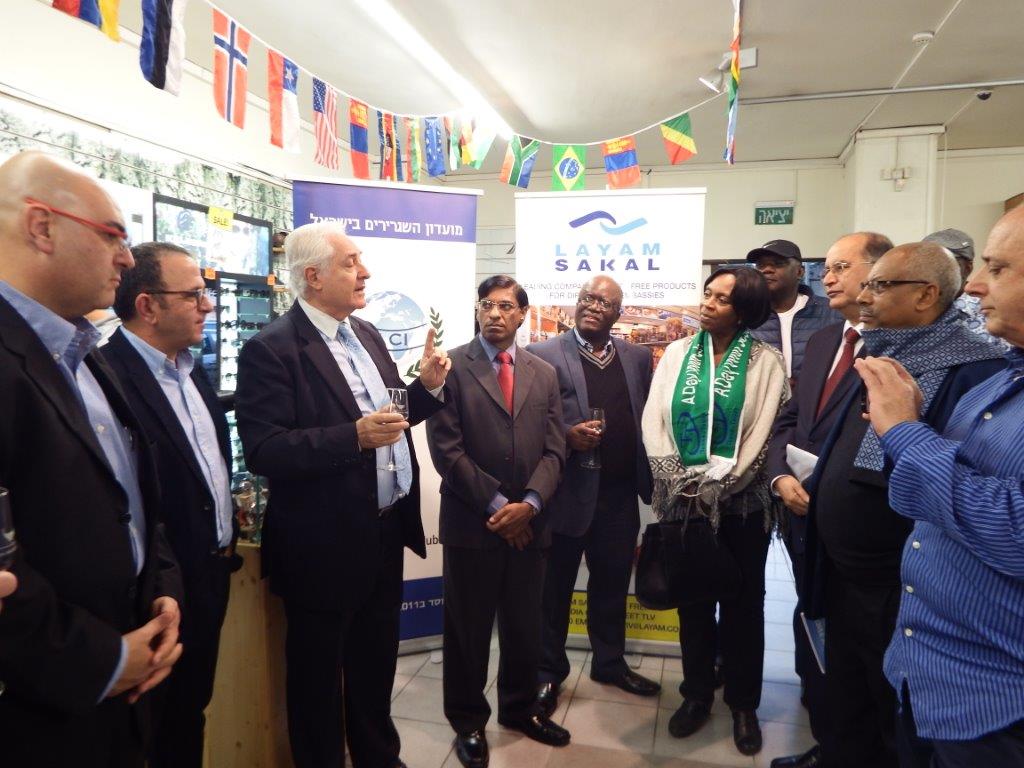 Christmas at Layam Sakal Duty Free for diplomats
Israel is the Jewish homeland, but Christmas is well recognized here. Out and loud in recognizing this holiday is the Ambassador's Club of Israel, under the able auspices of Ambassador Yitzhak Eldan. Last Sunday, in a planned celebration to wish the Israeli Diplomatic Corps a happy holiday season, Mr. Eldan, together with the president of Layam Sakal, Mr. Meir Sakal, arranged a party day for diplomats at the Layam Sakal diplomatic store. Guests were invited for a tour of the store, and at 16:00 a toast was raised to the diplomatic community for a joyous holiday season.
As is the practice worldwide, stores like this, where everything is duty free and tax free and where no VAT is charged, exist for the exclusive convenience of accredited diplomats. Attractive shelves, attractive products and very attractive pricing make shopping there an incentive. Items range from the simple (deodorant, toothpaste), through supermarket specials (coffee, imported cheeses), clothes, shoes, perfumes, alcoholic beverages; even washing machines and gifts of all kinds.
Among the fascinating gifts we found were products marketed by entrepreneur Avi Marom Milberger, chairman of Marom F.G.P. Ltd. The Dead Sea, at 424 meters below sea level, is the lowest place on earth. The sea has a high concentration of natural minerals – and these are the magical components of many products, including cosmetics and – surprise! – candies. Marom Ltd is now marketing various candies, marzipan, chewing gum, energy bars – and of course, salt.
Not just ordinary salt, and there lies the surprise. The richest mineral from the lowest point on earth, in a range of exciting flavors, including rosemary, spinach, dill, paprika, garlic and pepper, amongst others. There is pink salt and black salt and golden salt; wild fire salt and hot chili salt. All marketed under the 424 brand.
Diplomats searching for unique gifts for colleagues and friends will find that Marom products come in attractive gift packs of all sizes. They are unique to Israel (although are to be marketed worldwide in duty free diplomat stores too). The taste is there, the look is there and the price is right. A perfect gift combination.
At the party were ambassadors from many countries, including from Nepal, Sri Lanka, Zambia, Moldova and Ethiopia. Wines and refreshments added to the festivities, and guests were given gifts of Dead Sea cosmetics and other Dead Sea products.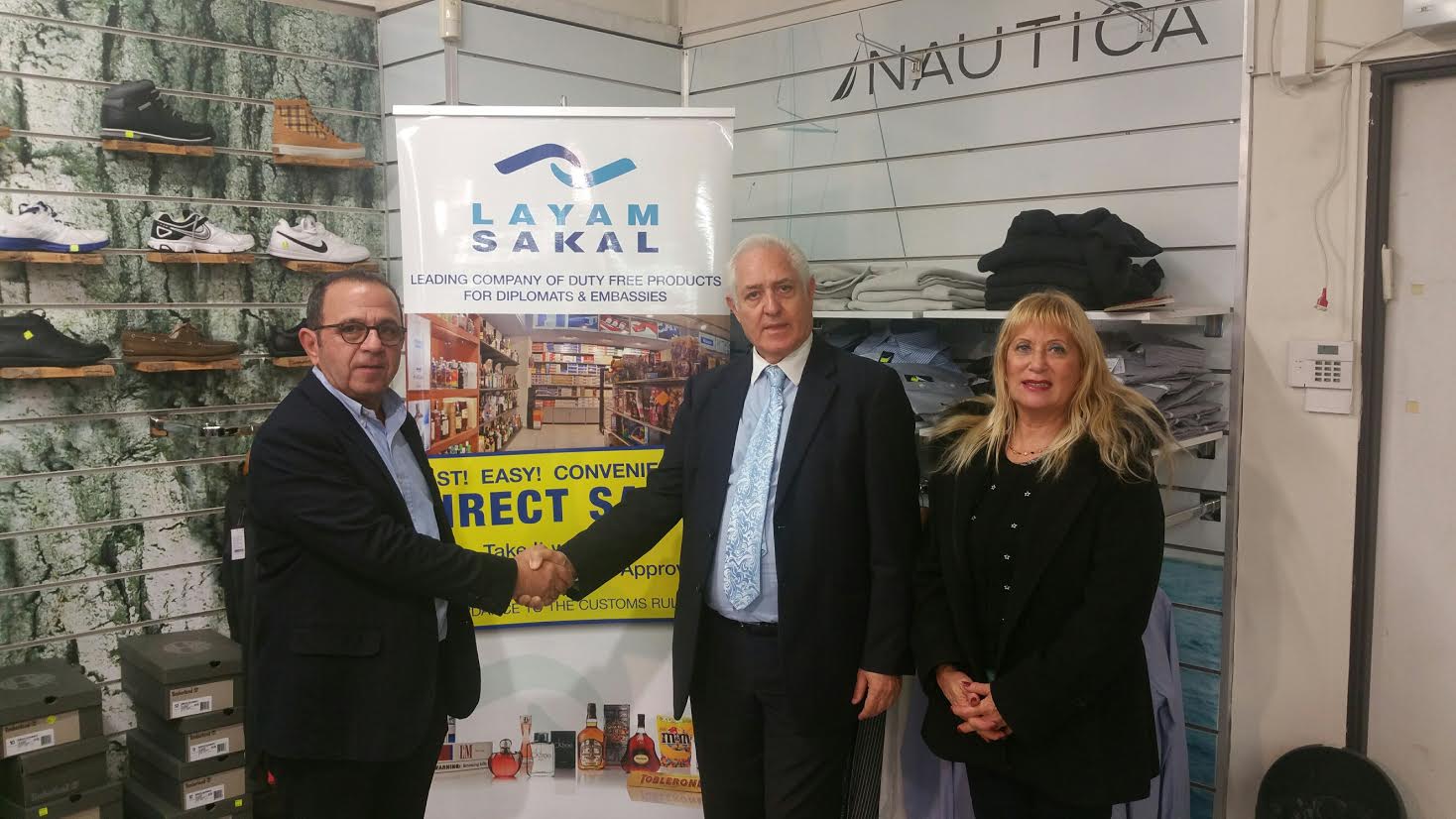 Wishing you a Merry Christmas and a happy New Year.
Photos by Silvia G Golan
Details

Written by

Tel Aviv Municipality
200,000 Participators celebrated Gay Pride in the Tel Aviv Parade, marking the beginning of European Pride Season
The largest-ever Tel Aviv Pride Parade took place today, June 3rd, with the participation of over 200,000 people from Israel and abroad, making it the largest in the Middle East. Among the participators were the Tel Aviv Pride Ambassadors,Alan Cumming and Lea DeLaria. The spotlight of this year's Nonstop City's Pride Parade was "Women for a Change", highlighting the role of women in the LGBTQ community. The Tel Aviv Pride Parade marked the beginning of the European Pride season.
The Gay Pride Parade started at 10am at Meir Park (home of the Tel Aviv Gay Community Center) with music, shows and speeches. The parade kicked off at 12pm with floats by the Beef, Shirazi, Lizi, Zoti, Tel Aviv Sauna and Beshela.
The parade was followed by a huge beach party at Charles Clore Park till sunset.
Mayor of Tel Aviv-Yafo, Ron Huldai, upon launching the Parade: "My friends, we have been marching for some years now, and we will keep on marching in pursue of equality. We will keep marching these streets of Tel Aviv with the hope that the pluralism, tolerance and liberalism of this city will spread to the country, the Middle East and the world".
Alan Cumming: "I'm so glad that I've waited to visit Israel until now, as coming to Tel Aviv as a very proud Pride ambassador is the best way I can imagine. I'm so honored to be so honored, and had a great time part-aying!"
Lea DeLaria: "I couldn't be more honored and excited to be a Pride Ambassador for Tel Aviv Pride. Jewish girls are hot!"
The Tel Aviv-Yafo Municipality allocates many resources into promoting and supporting the gay community, in an over-all yearly investment of $1 million. The Tel Aviv Pride Parade is the only parade in the world that is fully sponsored by the Municipality. In the last few years Tel Aviv has significantly deepened its investments to promote gay tourism to the city, while an estimated number of 35,000 tourists are expected to arrive this year in Tel Aviv to take part in the pride events.
In 2011 Tel Aviv was selected the Best Gay City in the world by GayCities.com.
Photo Guy Yeschiely
Details

Written by

Sima Lahat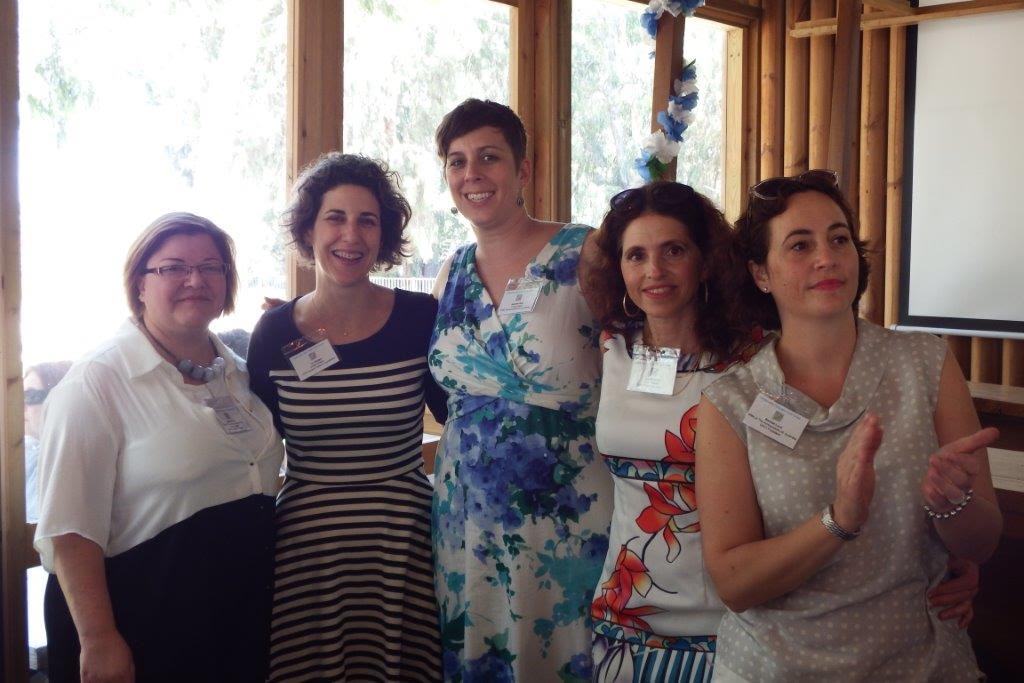 The Wives of Ambassadors and Diplomats were hosted in "Tapuz" Coffee House
The Annual Congress of the Ambassadors' Wives, took place in the heart of the Eucalyptus Grove within Herzliya Park, in "Tapuz" Coffee House.
Only in Israel such an important, impressive and enjoyable, and at the same time so different event, can take place …
The Ambassadors and Diplomats Wives met in such a pastoral site, in Herzliya Park, with its peaceful lawns. During the event, although previously announced, the National Home Front drill took place, and the alarm sounds to alert the public to enter the protected spaces. All this in accordance with the National Home Front expression: "ready during routine – ready in emergency".
The Ambassadors' Wives reacted to this alarm as if they have always exercised this drill, which head me thinking how well they have mingled in our society – with its honey and its sting …
I sat, by chance, besides the Canadian Representative. I expressed my love and that of the Israeli people, to the Canadian people and to its Prime Minister Mr. Steven Harper, on the friendship and partnership of both countries. She told me that her children too, have become attached to Israel, and that the return to Canada will be difficult for them. Who needs more than this to express such a close friendship on political and personal level?
The upgraded activities of the Ambassadors' Wives over the years, and their contributions to the success of this consolidating and enjoyable event, were utterly expressed in the ceremony.
The volunteer teachers of Hebrew and English were sequentially called to receive gifts and appreciation diplomas for their praiseworthy activity. I watched women from all over the world, uniting and talking in this annual event, which crosses countries and cultures.
At the end of the ceremony all sung the song "Shalom Haverim" ("Good-by Friends") – how symbolic.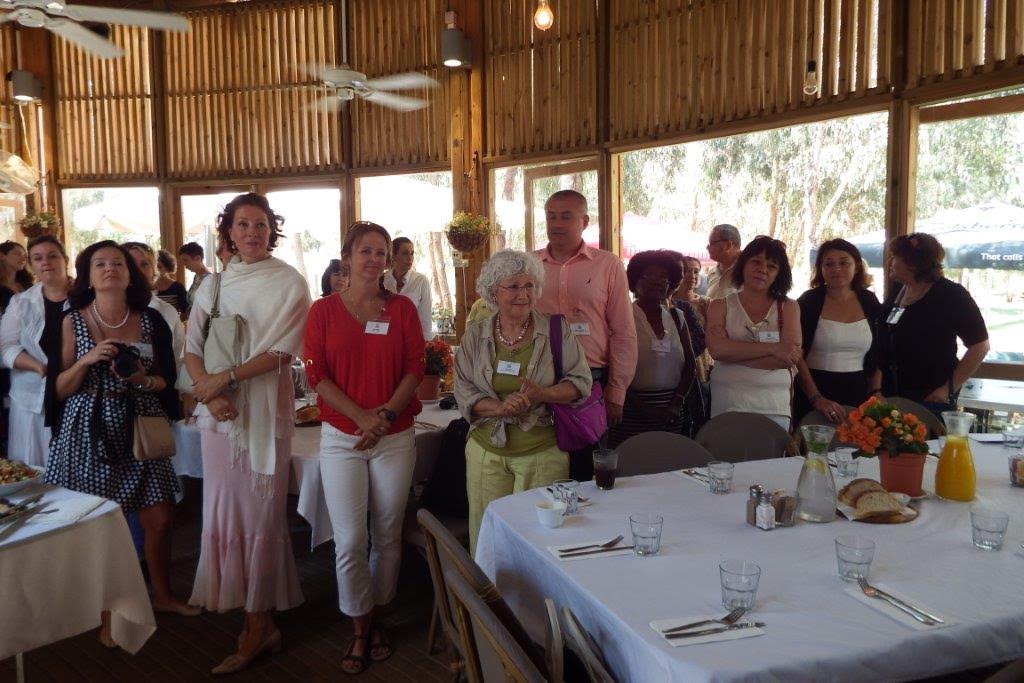 About "Tapuz" Coffee House:
"Tapuz" Coffee House, located in the heart of the Ucalyptus Grove in Herzliya Park, is built within a beautifully designed wooden structure, and offers its customers a culinary entertainment in nature. This year, it was chosen to host the Annual Congress of the Ambassadors' Wives. Michal Weitz, owner of "Tapuz" Coffee House led the event, and served an Israeli breakfast with her experienced and polite crew.
"Tapuz" Coffee House offers a culinary experience in nature without leaving the city, and suits all kinds of meetings: family (friendly for children), couples, romantic or business-like. In the place, you can relax on arm chairs with low tables dispersed in the lawn, or enjoy sitting on chairs with tables below a wooden pergola watching what goes on in the park.
These days, "Tapuz" Coffee House launches a new and refreshing summer menu that includes a variety of dishes aimed also to the vegan and heath-minded customers. It also organizes private and business events (up to 200 guests).
Address: Jabotinsky St. (Herzliya Park)
Opening hours: Sunday thru Thursday, and Saturday: 9 am - 11 pm
Friday: 9 am - 4 pm
Phone: 09-9744050
Parking: Free and ample
Link to the original article in Hebrew written by Sima Lahat
: http://www.sima-blog.com/#!נשות-השגרירים-מתארחות-בקפה-תפוז/c1kod/5575b6760cf2df2eae3b4b88
Photos by Silvia G Golan