Society
Details

Written by

Former president Shimon Peres office
On the Occasion of International Women's Day: Ninth President Shimon Peres and International Supermodel Naomi Campbell salut Israeli women trailblazers in their fields
The Ninth President Shimon Peres opened the "Women Leading Change" event with the remark:

"We have no future in a world that discriminates against women"

"No one is allowed to discriminate against women, not in Israeli society, and not around the world. Discrimination against women harms all of us and the future of our children"
As part of an interview with Israel's Ninth President, the guest of honor, Supermodel Naomi Campbell said:
"Leaders such as yourself, Mr. Peres, and those like Nelson Mandela, are what make the world a better place. You inspire me."

"My mother is an anchor in my life, she raised me on her own and made me believe in myself and never to give up."
Ninth President Shimon Peres and International Supermodel Naomi Campbell today (8.3) saluted women trailblazers at the "Women Leading Change" event held on the occasion of International Women's Day at the Peres Center for Peace. During the event, the Ninth President and the Supermodel held a joint interview on stage, during which they discussed the importance of advancing women's rights and the need for gender equality. Following the interview, nine women leading change in various fields including education, society, business and the media took the stage, sharing their message and answering the question - How can woman leaders help to advance change in their industry? The event was attended by over 200 leading women in Israeli society including: Minister Gila Gamliel, the Diplomatic Spouses Club, City Mayors, CEOs of leading companies and more.
The Ninth President began the conversation between the two by saying: "Women are the future. There are women pilots, and we can learn a lot from them, they are strong, have courage, have precision, and are brave. A place without women is a place without a future. A world without women is a world without a future. I believe that women can teach us the difference between power and strength. Men know how to express themselves through power, but women have even more strength."
Campbell noted at the event that: "I overcame many obstacles in my life, but I never threw up my hands and gave up. I was blessed with wonderful people who work with me and accompanied me along the way, and my mother, who is my anchor, and who showed me that, even a single parent can be a wonderful mother. I think that you must have courage and love what you do, you must be one hundred percent committed. The sky is never the limit."
At the end of the conversation, Ninth President Peres gave Supermodel Campbell an award and congratulated her on her advocacy promoting women and helping communities affected by natural disasters around the world: "Thank you for all that you do for women around the world. Your work is appreciated the world over".
Campbell thanked Peres and said: "I believe that once a person is blessed, that person must help others. I learned this from inspiring leaders such as yourself and Nelson Mandela."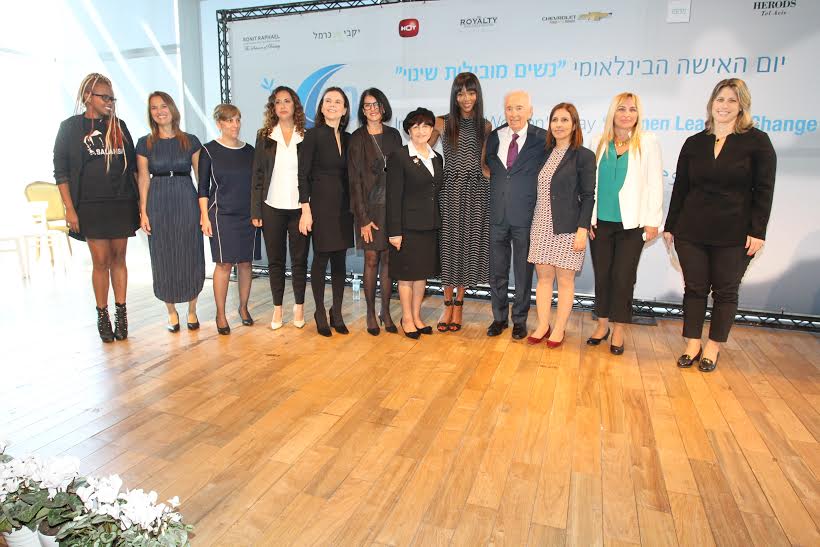 Among the women who received an award were: Ofra Strauss, Chair of Strauss Group and Chair of Jasmine, an organization promoting entrepreneurship among Jewish and Arab women business owners. Adina Bar Shalom, founder of the Haredi College in Jerusalem. Tal Granot- Goldstein, CEO of HOT. Nadia Kanani- Director of Hand in Hand, a bilingual school in Jerusalem. Tal Schneider, leading Israeli political journalist and blogger. Prof. Annan Felah, a woman trailblazer among the Druze community. Yael Ovadia- Executive director of "Letet Ahshav" (To Give a Future), which works to develop entrepreneurship and small businesses by women. Iris Beck-Codner- Group EVP, Global Marketing and Communications at "Teva" Pharmaceutical.
Photo Rafi Deloya
Details

Written by

Jonathan Danilowitz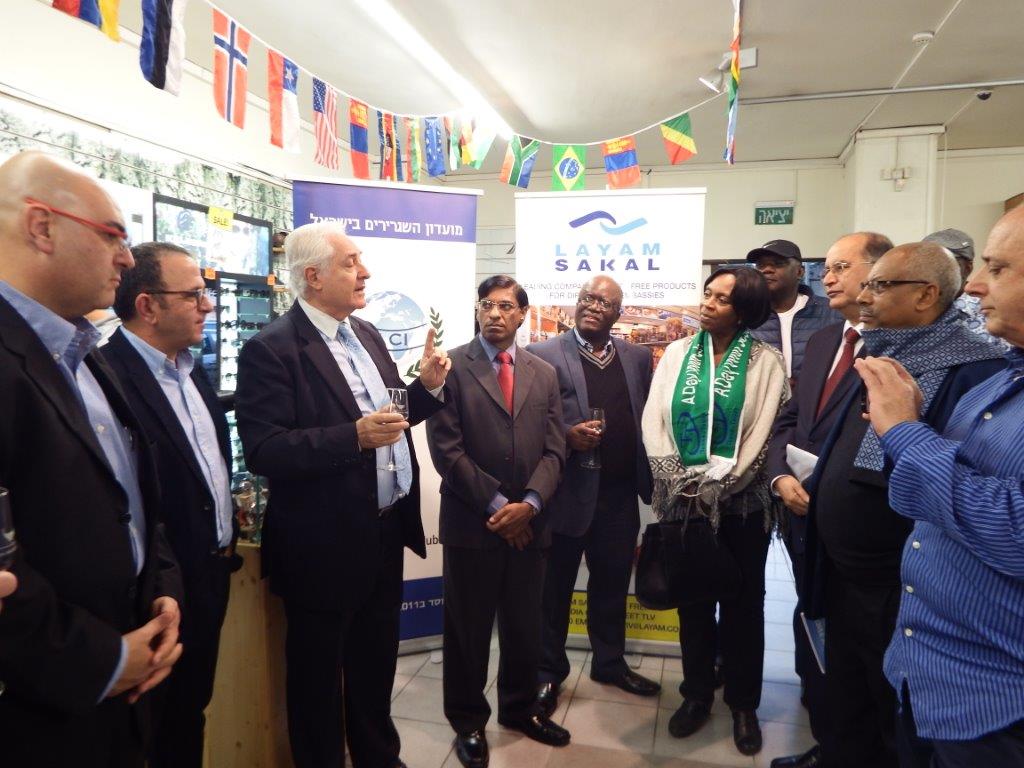 Christmas at Layam Sakal Duty Free for diplomats
Israel is the Jewish homeland, but Christmas is well recognized here. Out and loud in recognizing this holiday is the Ambassador's Club of Israel, under the able auspices of Ambassador Yitzhak Eldan. Last Sunday, in a planned celebration to wish the Israeli Diplomatic Corps a happy holiday season, Mr. Eldan, together with the president of Layam Sakal, Mr. Meir Sakal, arranged a party day for diplomats at the Layam Sakal diplomatic store. Guests were invited for a tour of the store, and at 16:00 a toast was raised to the diplomatic community for a joyous holiday season.
As is the practice worldwide, stores like this, where everything is duty free and tax free and where no VAT is charged, exist for the exclusive convenience of accredited diplomats. Attractive shelves, attractive products and very attractive pricing make shopping there an incentive. Items range from the simple (deodorant, toothpaste), through supermarket specials (coffee, imported cheeses), clothes, shoes, perfumes, alcoholic beverages; even washing machines and gifts of all kinds.
Among the fascinating gifts we found were products marketed by entrepreneur Avi Marom Milberger, chairman of Marom F.G.P. Ltd. The Dead Sea, at 424 meters below sea level, is the lowest place on earth. The sea has a high concentration of natural minerals – and these are the magical components of many products, including cosmetics and – surprise! – candies. Marom Ltd is now marketing various candies, marzipan, chewing gum, energy bars – and of course, salt.
Not just ordinary salt, and there lies the surprise. The richest mineral from the lowest point on earth, in a range of exciting flavors, including rosemary, spinach, dill, paprika, garlic and pepper, amongst others. There is pink salt and black salt and golden salt; wild fire salt and hot chili salt. All marketed under the 424 brand.
Diplomats searching for unique gifts for colleagues and friends will find that Marom products come in attractive gift packs of all sizes. They are unique to Israel (although are to be marketed worldwide in duty free diplomat stores too). The taste is there, the look is there and the price is right. A perfect gift combination.
At the party were ambassadors from many countries, including from Nepal, Sri Lanka, Zambia, Moldova and Ethiopia. Wines and refreshments added to the festivities, and guests were given gifts of Dead Sea cosmetics and other Dead Sea products.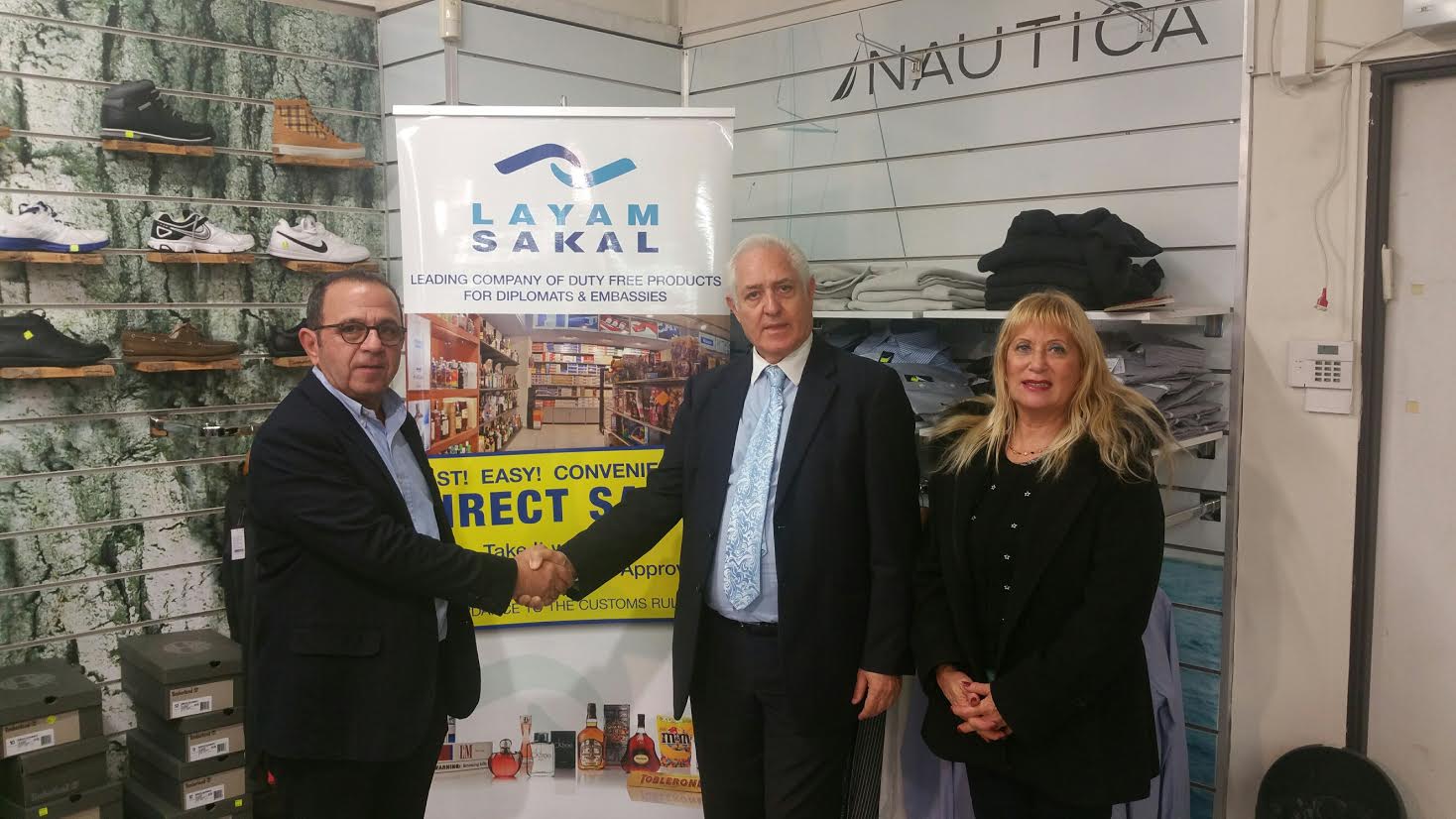 Wishing you a Merry Christmas and a happy New Year.
Photos by Silvia G Golan
Details

Written by

Philippine Embassy
A rich blend of select Arabica beans handpicked from the coffee farms of Benguet Province, got the nod of coffee connoisseurs in Israel after the Philippine Embassy had presented the brew as the country's official entry to the first Diplocoffee Tel Aviv -- an international tasting competition/exhibit held on 25 February 2015.
Organized by the Ambassadors' Club of Israel whose objective is to initiate business forums for foreign diplomatic missions in Israel, the Diplocoffee Tel Aviv featured global leaders in the coffee industry such as Angola, Brazil, Cameroon, Colombia, Congo, Costa Rica, Dominican Republic, El Salvador, Ethiopia, Guatemala, Honduras, India, Italy, Kenya, Nepal, Nigeria, Panama, Peru, Thailand, and Vietnam. The event was widely covered by the media and attended by major coffee importers and distributors, as well as coffee shop owners throughout Israel.
The Benguet Arabica beans were sourced from the Philippine Coffee Board, Inc. which supported the Embassy in the international coffee exhibit by providing the official entry to the tasting event and magazines/guides on the Philippine coffee industry. The PCBI is a private sector-led group currently serving as the Philippines' National Coffee Development Board responsible for developing the country's coffee industry and promoting it both in local and international markets.
The Philippines, which used to be the world's fourth largest coffee producer and exporter, currently produces around 20,000 metric tons of coffee every year in contrast to its total consumption of 100,000 metric tons. However, the PCBI is taking the lead in reviving and expanding the country's coffee industry through various initiatives and development programs.
Benguet Arabica was chosen as the Philippines' official entry to the Diplocoffee Tel Aviv as the province and its neighboring farms are considered to be among the sources of the country's finest Arabica coffee. With mountains scaling between 5,000 to 7,000 feet, the Cordillera region gets enough moisture and cloud cover to produce richly flavored Arabica beans and other coffee varieties.
Apart from Benguet Arabica, the Embassy also exhibited other products such as the popular and strong flavored Barako coffee and the exotic Alamid coffee which is one of the most expensive and highly coveted coffees in the world. To provide guests, especially potential buyers/importers, with more information about the Philippine coffee industry, the Embassy distributed a CD/kit containing details of the products exhibited, including their manufacturers, a directory of local coffee exporters from DTI and copies of the publications provided by the PCBI.
The Embassy also took advantage of the opportunity to promote Philippine tourism by giving out It's More Fun in the Philippines brochures and including tourism videos in the kit distributed during the event.
The Embassy hopes to contribute to this national thrust through promotion activities such as the recently concluded Diplocoffee Tel Aviv and other economic programs that would attract potential importers and promote Philippine coffee and other local products in the global market.
History of Philippine Coffee
The Philippines is one of the few countries that produces the four varieties of commercially-viable coffee: Arabica, Liberica (Barako), Excelsa and Robusta. Climatic and soil conditions in the Philippines - from the lowland to mountain regions - make the country suitable for all four varieties.
In the Philippines, coffee has a history as rich as its flavor. The first coffee tree was introduced in Lipa, Batangas in 1740 by a Spanish Franciscan monk. From there, coffee growing spread to other parts of Batangas like Ibaan, Lemery, San Jose, Taal, and Tanauan. Batangas owed much of its wealth to the coffee plantations in these areas and Lipa eventually became the coffee capital of the Philippines.

By the 1860s, Batangas was exporting coffee to America through San Francisco. When the Suez Canal was opened, a new market started in Europe as well. Seeing the success of the Batangeños, Cavite followed suit by growing the first coffee seedlings in 1876 in Amadeo. In spite of this, Lipa still reigned as the center for coffee production in the Philippines and Batangas barako was commanding five times the price of other Asian coffee beans. In 1880, the Philippines was the fourth largest exporter of coffee beans, and when the coffee rust hit Brazil, Africa, and Java, it became the only source of coffee beans worldwide.

The glory days of the Philippine coffee industry lasted until 1889 when coffee rust hit the Philippine shores. That, coupled with an insect infestation, destroyed virtually all the coffee trees in Batangas. Since Batangas was a major producer of coffee, this greatly affected national coffee production. In two years, coffee production was reduced to 1/6th its original amount. By then, Brazil had regained its position as the world's leading producer of coffee. A few of the surviving coffee seedlings were transferred from Batangas to Cavite, where they flourished. This was not the end of the Philippines' coffee growing days, but there was less area allotted to coffee because many farmers had shifted to other crops.

During the 1950s, the Philippine government, with the help of the Americans, brought in a more resistant variety of coffee. It was also then that instant coffee was being produced commercially, thus increasing the demand for beans. Because of favorable market conditions, many farmers went back to growing coffee in the 1960s. But the sudden proliferation of coffee farms resulted in a surplus of beans around the world, and for a while importation of coffee was banned in order to protect local coffee producers. When Brazil was hit by a frost in the 1970's, world market coffee prices soared. The Philippines became a member of the International Coffee Organization (ICO) in 1980.

Today, the Philippines produces 30,000 metric tons of coffee a year, up from 23,000 metric tons just three years ago.

Source: Philippine Coffee Board
Photo :Ambassador Neal Imperial (left) invites guests of the Diplocoffee Tel Aviv to the Philippine Booth and promotes
Benguet Arabica and other coffee products exhibited such as Amadeo Coffee Liqueur, Barako Coffee,
and Alamid Coffee, one of the most expensive and most sought after specialty coffees
in the world. At the right is Ambassador Yitzhak Eldan, President of the
Ambassadors' Club of Israel.
Photo : Ambassador Neal Imperial and Second Secretary and Consul Pamela F. Durian-Bailon at the Philippine
Booth (left photo). The Philippines' poster for the Diplocoffee Tel Aviv (right photo).
Photos copyrigth Philipine Embassy
Details

Written by

Sima Lahat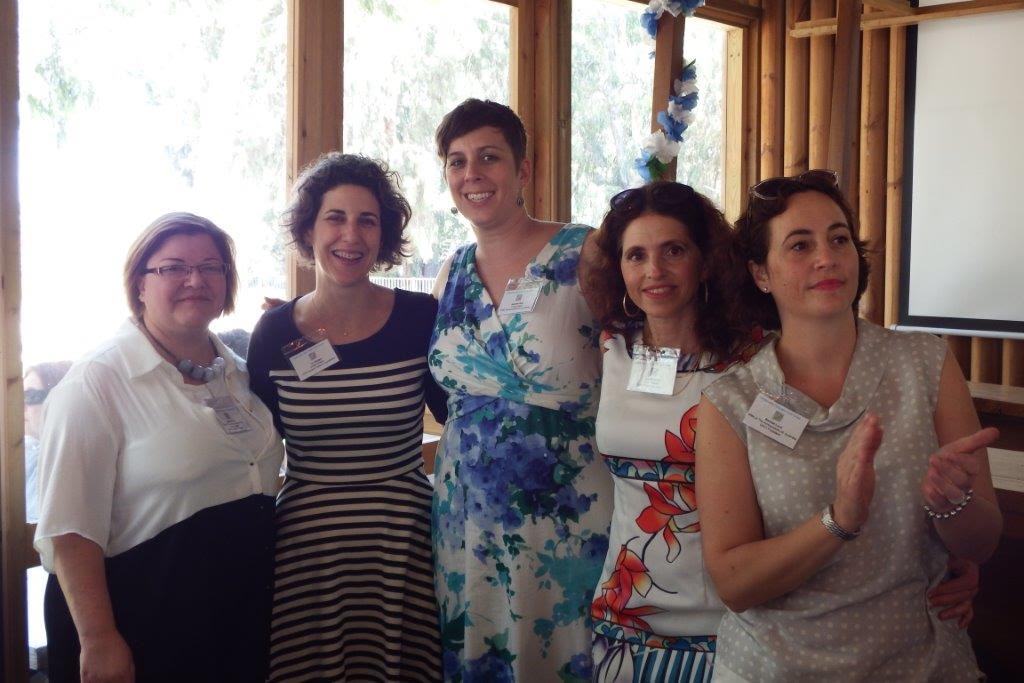 The Wives of Ambassadors and Diplomats were hosted in "Tapuz" Coffee House
The Annual Congress of the Ambassadors' Wives, took place in the heart of the Eucalyptus Grove within Herzliya Park, in "Tapuz" Coffee House.
Only in Israel such an important, impressive and enjoyable, and at the same time so different event, can take place …
The Ambassadors and Diplomats Wives met in such a pastoral site, in Herzliya Park, with its peaceful lawns. During the event, although previously announced, the National Home Front drill took place, and the alarm sounds to alert the public to enter the protected spaces. All this in accordance with the National Home Front expression: "ready during routine – ready in emergency".
The Ambassadors' Wives reacted to this alarm as if they have always exercised this drill, which head me thinking how well they have mingled in our society – with its honey and its sting …
I sat, by chance, besides the Canadian Representative. I expressed my love and that of the Israeli people, to the Canadian people and to its Prime Minister Mr. Steven Harper, on the friendship and partnership of both countries. She told me that her children too, have become attached to Israel, and that the return to Canada will be difficult for them. Who needs more than this to express such a close friendship on political and personal level?
The upgraded activities of the Ambassadors' Wives over the years, and their contributions to the success of this consolidating and enjoyable event, were utterly expressed in the ceremony.
The volunteer teachers of Hebrew and English were sequentially called to receive gifts and appreciation diplomas for their praiseworthy activity. I watched women from all over the world, uniting and talking in this annual event, which crosses countries and cultures.
At the end of the ceremony all sung the song "Shalom Haverim" ("Good-by Friends") – how symbolic.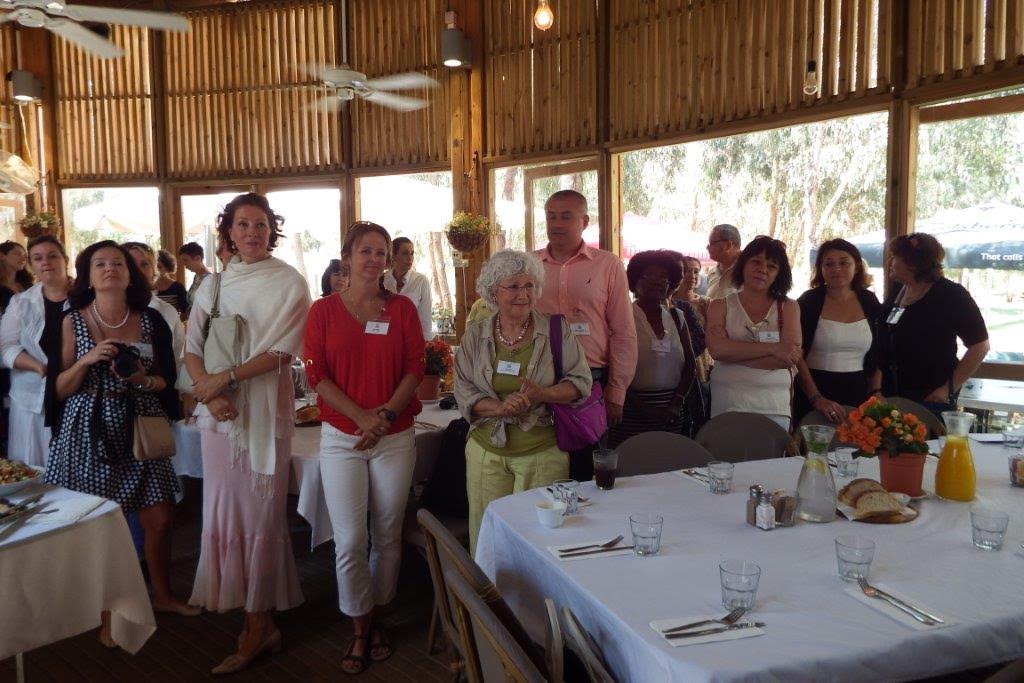 About "Tapuz" Coffee House:
"Tapuz" Coffee House, located in the heart of the Ucalyptus Grove in Herzliya Park, is built within a beautifully designed wooden structure, and offers its customers a culinary entertainment in nature. This year, it was chosen to host the Annual Congress of the Ambassadors' Wives. Michal Weitz, owner of "Tapuz" Coffee House led the event, and served an Israeli breakfast with her experienced and polite crew.
"Tapuz" Coffee House offers a culinary experience in nature without leaving the city, and suits all kinds of meetings: family (friendly for children), couples, romantic or business-like. In the place, you can relax on arm chairs with low tables dispersed in the lawn, or enjoy sitting on chairs with tables below a wooden pergola watching what goes on in the park.
These days, "Tapuz" Coffee House launches a new and refreshing summer menu that includes a variety of dishes aimed also to the vegan and heath-minded customers. It also organizes private and business events (up to 200 guests).
Address: Jabotinsky St. (Herzliya Park)
Opening hours: Sunday thru Thursday, and Saturday: 9 am - 11 pm
Friday: 9 am - 4 pm
Phone: 09-9744050
Parking: Free and ample
Link to the original article in Hebrew written by Sima Lahat
: http://www.sima-blog.com/#!נשות-השגרירים-מתארחות-בקפה-תפוז/c1kod/5575b6760cf2df2eae3b4b88
Photos by Silvia G Golan
Details

Written by

(By Rivka Borochov) MFA Newsletter
A peek at the Gindi TLV Fashion Week, where Israel's hottest designers got to strut their stuff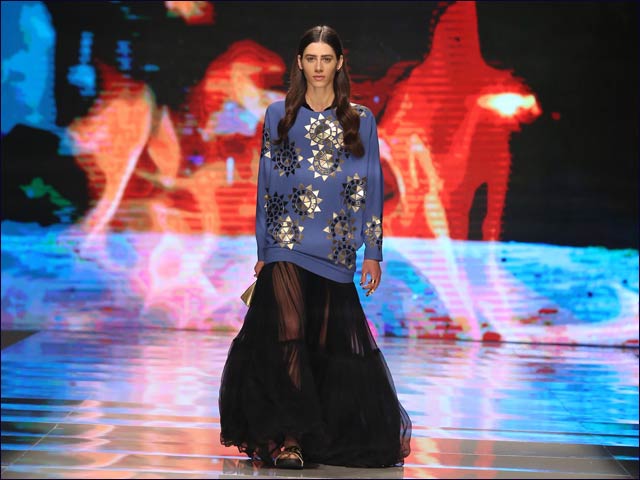 Dorit Bar Or fashion show. Photo: Avi Valdman
Israelis, typically, are not slaves to fashion. A light cotton dress with flip-flops will do on any summer's day if you are a woman, or a T-shirt and jeans if you are a guy –– even for work or a wedding.
But when Israelis want to be fashionable, they can dress up and design to the nines. Adding in cultural as well as weather relevance, Israel got to show off its fashion flair at the third Fashion Week Tel Aviv in March 2014, called Gindi TLV Fashion Week.
Fashion Week in Tel Aviv included all the fanfare one would expect in New York, Milan or Paris –– with opening and closing parties for the 33 Israeli fashion designers that took part. The event was held in a massive tent –- the future location of a planned Fashion Mall.
Over the course of three days there were runway shows by new and established fashion designers including Daniella Lehavi, Sasson Kedem, Raziela, Comme Il Faut and Karen Oberson.
It was evident how much the informal beach culture influences Israeli fashion design, says Mira Marcus, international press director for the Tel Aviv Municipality.
"It's easy to see people going to work at their startups wearing flip-flops or even going barefoot. We have 300 days of sunshine in Tel Aviv every year. So that informality translates to what people wear and what they design in Tel Aviv.
"This makes fashion in general in Tel Aviv so informal, leaning toward summer and light clothes year 'round. And this isn't something new to the fashion scene, but in existence since the beginning of Tel Aviv and its fashion creation," she explains.
Missoni and Maskit make a splash
"The overall impression was great," says Marcus. "One of the most established fashion houses in Italy, Missoni, wanted to showcase their clothes on a stage in Tel Aviv. They are like the rock stars of the fashion world."
Marcus notes that many international buyers and members of the press came to cover Fashion Week. With 33 events, and each one attracting about 1,000 people, the impact was very much felt in the city, she says.
The fashion darling of the event was the newly revived Maskit label, which also celebrated the 97th birthday of its founder, Ruth Dayan.

Dayan, the first wife of the late eye-patch-wearing icon Moshe Dayan, started Maskit in 1956 as a fashion and decorative art house to showcase the varied craft traditions of the people making up the population of the new state.
The label often borrowed from Arabian motifs. The idea was to create products with a regional influence, using fine fabrics like silk from Paris.

Maskit closed its doors in 1994, but reopened this year after 20 years of inactivity. The items are affordable, but high-end and well made. The label has a home store in Tel Aviv's German Colony, where it sells its fashions and displays Maskit memorabilia.
Models on the runway showing off 25 historical Maskit designs included everyday women and some more famous ones – such as wives of prominent Israel politicians -- but not professional models.
The bigger mission was to encourage awareness of the Israeli design market, and to show just how innovative it can be.

"Israelis are not just in tune with the world's fashion trends but are also leading their own fashion trends," Marcus says.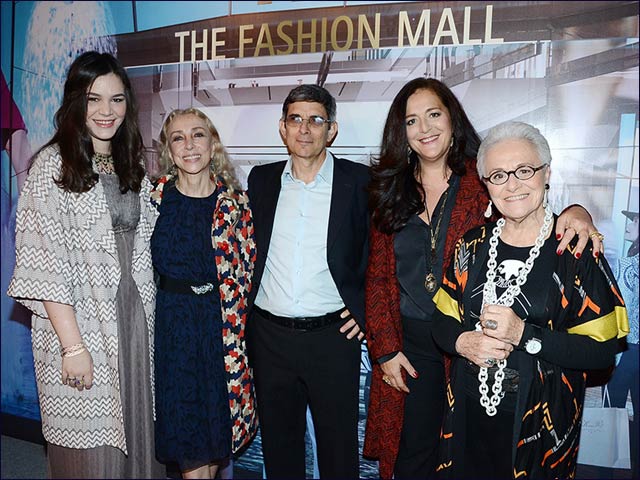 Photo : Missoni fashion show with Vogue Italia Editor Franca Sozzani, second from left.