InCarEye -an exclusive technology which combines artificial intelligence (AI) with a video analytics sensor, monitors the driver's in-cabin, real-time movements and reactions to mobile phones while driving
Cutting-edge technology developed by senior executives in Israel's automotive industry, veterans of the Traffic Division of the Israel Police and former IDF officers, will reduce the main cause of traffic accidents in the world – mobile phone distractions while driving. InCarEye, the only technology in the world that combines artificial intelligence (AI) with a video analytics sensor, scans and analyzes in real-time the movements and reactions of drivers to their mobile phones while they are at the wheel.
This is a one-of-a-kind system that alerts drivers of possible danger from their behavior. After two consecutive alerts, a third external one is activated using the four emergency buttons in the vehicle to warn drivers and pedestrians nearby.
The InCarEye solution is designed for Tier 1 automobile manufacturers, the OEM and aftermarket market, vehicle fleets, insurance companies and insurance tech, bus companies, and truck owners, among others. This system easily interfaces with advanced telemetry systems such as Ituran, Pointer, Questar, and others so it can also issue alerts to the insurance companies about the driver's behavior. Its multiple capabilities in collecting driver behavior data will make it an extremely valuable tool, especially for vehicle fleets and OEM manufacturers, for whom this type of information is essential. This development is a significant breakthrough since the systems that exist today detect mobile phone use only about six seconds after the phone is touched. In addition, because some require the installation of a dedicated application, this is definitely a groundbreaking innovation that can be integrated into various other applications in the future.
InCarEye is designed to identify all types of distractions, sound a real-time warning and even reconstruct behavior history and predict expected behavior, with the main emphasis at this stage placed on mobile phone distraction. The InCarEye team combines specialists from auto-tech industry, such as retired Deputy Superintendent Ilan Mor, a former senior official in the Transportation Department of the Israel Police; Shlomi Ofir Afriat, founder and chairman of the company; Ofer Segal, CEO and co-founder; Zohar Raz, partner and safety expert, who is an accident investigator for Israel's National Road Safety Authority; and Eyal Avidov, a partner and business executive for the international market.
The InCarEye system includes hardware embedded in the vehicle that operates independently of it, without any need for the driver's involvement. AI algorithms ​​teach the system to recognize the driver's behavior, while unique sensors and tiny smart cameras know how to identify the driver's movements and even analyze and transmit them. When necessary, it will generate an alert in the cabin, sound a voice warning or activate another indicator. Based on this unique approach, InCarEye delivers a high level of detection capability and level of accuracy that will transform the company into a significant player in the world of autonomous vehicles, in which the need for monitoring passenger behavior will only increase in comparison to where it is today.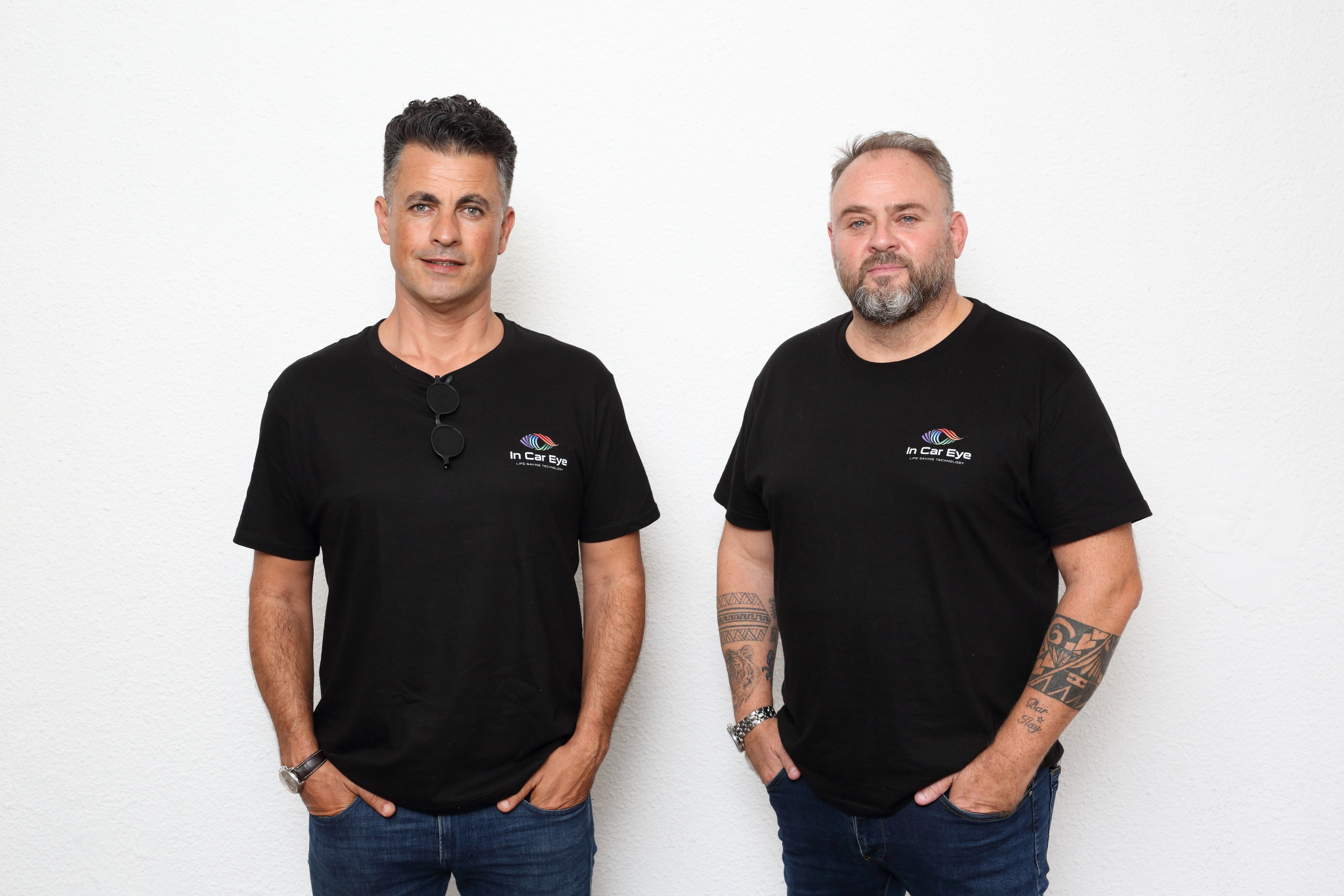 This development was born out a real need. The number of people killed in road accidents worldwide is increasing at a constant rate. Most of them could have been prevented in advance. Statistics indicate about 25%-35% of all traffic accidents are caused by cell phone use. Prompt government intervention and legislation are required, therefore, to require drivers, organizations and car manufacturers to implement technologies that reduce distraction while driving. In Europe, every vehicle driving on the road will be required to be equipped with a distraction prevention system and a black box for the vehicle beginning in 2023. In the U.S., states such as Texas and California have also begun to adopt this standard in order to protect lives of many.
Ilan Mor, the retired Deputy Superintendent in the Transportation Division of the Israel Police, states:
"There is a severe worldwide addiction to cell phones and, as it becomes more widespread, the risk of road accidents and their scope rises as well. In Israel, the amount of road accidents due to cell phone use is about 35%, about 1.6 million accidents per year. In the United States, the cost of road accidents to the economy is estimated to be approximately $300 billion annually, a particularly high figure that we aim to reduce with this new development."
Shlomi Ophir Afriat, founder and chairman of the company InCarEye, explains:
"The main innovation we present is characterized by analyzing the body movements of the driver and passenger in the vehicle space and predicting abnormal behavior. While existing technologies focus on monitoring the driver at and above the shoulder, InCarEye monitors the driver's seat, and from this we obtain a deeper understanding for the purpose of predicting abnormal behavior. To do so we harnessed the best experts, with decades of experience, to lead an agenda to being about significant change and offer a comprehensive horizontal solution. We anticipate that in the near future, given the superior analytic capabilities of the system, we will be able to expand the scope of monitoring distraction from cell phone use to other aspects, such as responding to autonomous vehicles, detecting children left in the car, and more."
Ofer Segal, CEO and Co-Founder of the InCarEye company, notes:"The uniqueness of the system means that it can be installed in any vehicle, including heavy vehicles. Its strength is that it can be adapted to both the manufacturers and the aftermarket. In light of the increasing number of traffic accidents, we expect the Israeli government to follow the lead of the European Union, either by charging vehicle owners for the installation of various technologies, or by offering partial subsidies or other benefits in insurance premiums, for example. This will protect what is our most precious possession ‒ life itself ‒ and drastically reduce the number of road accidents. The launch of InCarEye in Israel is strategic and important, but simultaneously, we are preparing to introduce our systems worldwide, with our main focus on Europe, the United States and Canada."
Website: www.incareye.com
LinkedIn: https://il.linkedin.com/company/in-car-eye-ltd
Facebook: https://m.facebook.com/InCarEye
Link to a video illustrating the technology: https://youtu.be/uUfwfwbbSSQ
About InCarEye
A hi-tech startup, InCarEye provides a comprehensive and innovative technological solution to addressing driver distraction in order to reduce the volume of traffic accidents worldwide. Its unique technology, which combines built-in artificial intelligence (AI) systems with a video analytics sensor, scans the driver's body and processes advanced analytics relating to the driver's movements while the vehicle is in motion. In addition, this solution also helps teach drivers to shed the life-threatening habit of using a cell phone while on the road.
InCarEye was founded by a group of senior automotive, technology and transportation executives — among whom are Shlomi Ophir Afriat, Ilan Mor, a former senior officer in the Traffic Division of the Israel Police, Zohar Raz, Ofer Segal, and Eyal Avidov — who joined together to further their common mission to eradicate the deadly worldwide phenomenon of fatal road accidents and provide a solution for driver distraction.
The company, which is privately owned and self-funded, is currently undertaking a recruitment round and it already has attracted the interest of strategic parties both in Israel and abroad.
Photo credit: Gilad Artzi.
photo of Ofer Segal Ceo and co founder+ Shlomi Ophir afriat- Chairman and founder of Incareye.
Video credit InCareEye