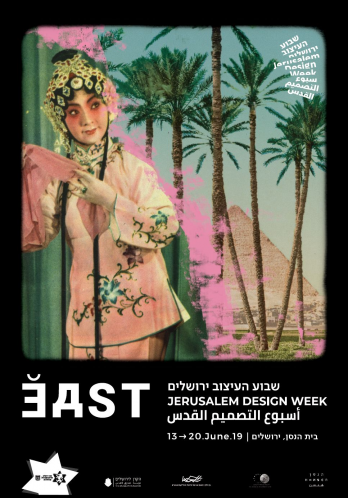 Jerusalem Design Week is initiated by the Hansen House for Design, Media, and Technology (www.hansen.co.il), and is taking place between June 13-20, 2019 in Jerusalem. Last years events (2016- 2018), were very successful with over 20,000 visitors during the week and a diverse program of exhibitions, conferences, workshops, and performances both from local and international designers.
As part of the yearly theme of EAST, Jerusalem Design Week sees great importance and opportunity with projects exploring the Eastern European context.
Kajet is a Romanian based journal focused on research into eastern European encounters, founded and led by Petrica Mogoș andLaura Naum. Following their second issue dealing with Utopias and Eastern futurism, Kajet was invited to create an interactive installation, "Histories of Easternfuturism", dealing with the past and future of eastern Europe in general and Romania specifically. Using archive and pop materials, Kajet would create a series of videos exploring those contrasts, while inviting visitors to place themselves inside those scenes through an interactive experience. The Romanian project "Histories of Easternfuturism" will be presented as part of an international section, in a specific space dedicated to it, next to representatives from India, Japan, and China.
"Histories of Easternfuturism" Kajet
"Histories of Easternfuturism" is a critical lens into the past and future of Eastern Europe. With its narratives that visually unfold the contradictions of the region, the video installation relies on a collaborative effort between machine and audience, between technology and its users.
The immediacy of feedback – this back and forth ludic ploy – is invaluable, as the reciprocal loop of participation represents the exchange that puts the whole installation into motion. In order for the narratives to be deconstructed, and for the meaning to be produced, "Histories of Easternfuturism" raises the following questions: Who chronicles history and for whom? How do we interact with recent history and how do we make sense of the past? How do we decode archival footage and how do we use public interconnection in order to produce meaning?
Jerusalem Design Week - opening hours:
Thursday, June 13, 7:30 PM – 11:00 PM
Friday, June 14, 10:00 AM – 4:00 PM
Saturday, June 15, 10:00 AM – 10:00 PM
Sun – Thur, June 16-20, 4:00 PM – 10:00 PM
The Jerusalem Design Week has been held under the management of the Hansen House Center for Design, Media and Technology since 2011. Hansen House hosts a spectrum of diverse activities throughout the year to promote the design sector in Jerusalem and in Israel. Jerusalem Design Week is the main event in Hansen House's tapestry of annual activities and constitutes its flagship project, as the largest and most influential public design event in Israel. In 2016, the Jerusalem Design Week expanded and became an international event that takes place in several locations throughout Jerusalem, and offers a multitude of events, performances, and local and international design exhibitions. Each year, the Jerusalem Design Week focuses its attention on a central theme that examines particular situations of international relevance specific to Jerusalem and/or Israel, with the idea that the cultural landscape unique to Israel and Jerusalem allows for this kind of living laboratory to explore urgent global issues, and with the belief that design must respond to such issues. Jerusalem Design Week is an initiative of the Ministry of Jerusalem and Heritage Affairs and The Jerusalem Development Authority. The event is supported by The Jerusalem Foundation and managed by the Ran Wolf Company.
About the Romanian Cultural Institute
With its central headquarters in Bucharest, the Romanian Cultural Institute evolved continuously over the past years and today it is represented in 19 major cities abroad: Berlin, Beijing, Brussels, Budapest, Szeged, Chisinau, Istanbul, Lisbon, London, Madrid, New York,
Photo & Poster provided by the Romanian Cultural Institute