A crowd of Diplomats, Knesset members, business executives and others gathered to celebrate The Republic of China's (Taiwan) 99th National Day.

Representative Mr. Liang-Jen Chang received the guests in the Conventions Hall at the Dan Panorama hotel, Tel-Aviv.
Many Taiwanese companies exhibited their products to the attendees, such as Kymco and Asus.

After the reception, Representative Mr. Chang addressed the crowd and welcomed them to the 99th anniversary of the founding of The Republic of China (Taiwan). His speech started with explaining the new foreign policy mapped out by President of Taiwan, Mr. Ying-jeou Ma. This policy calls for an end to the conflict with Beijing and more flexible diplomacy.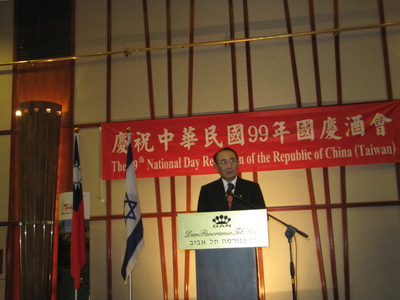 Mr. Chang mentioned that in June 2010, Taiwan and mainland China signed a historical agreement for economic cooperation (ECFA).
Representative Chang stated that the trade between Taiwan and Israel would reach a volume of $1.3 billion USD. However, he added that there is much more room for improvement in these areas.
Mr. Chang praised Israeli and Taiwanese cooperation in the areas of water technologies and youth affairs.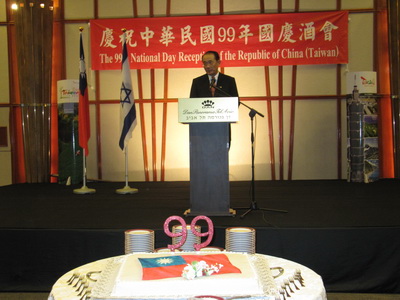 After the speech, Knesset member, Dr. Nachman Shai, chairman of the Israel-Taiwan friendship group, was invited on stage.
Dr. Shai congratulated the republic of China on their 99th national day. As the chairman of the Israel/Taiwan Friendship Group, Dr. Shai declared that the importance of the relationship between the state of Israel and The Republic of China is flourishing and joined the hope shared by Mr. Chang to create a stronger bond between the countries.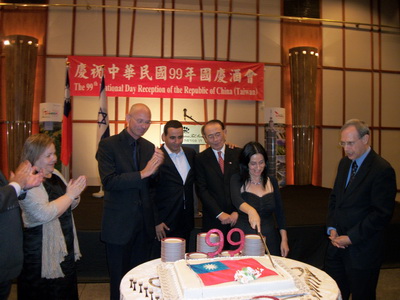 Dr. Shai ended his speech by raising his glass to the continuation of the solid friendship between Taiwan and Israel.

The following speaker was Knesset member Ms. Orit Noked, Deputy Minister of Industry, Trade and Labor. Ms. Noked spoke of Taiwan's great economic abilities and the country's similarity to Israel.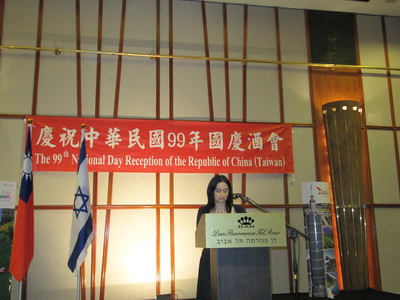 Ms. Noked said that the many virtues of the people of Taiwan allow them to be one of the strongest economic powers in the far east region.

The crowd also had the privilege of hearing about the experiences of Mrs. Maya Cohen, an Israeli student who got a scholarship to study in Taiwan.

After the speeches, the guests were free to enjoy the fine oriental style food.
Photo Silvia Golan