On Monday 29 April 2019, the European Union Delegation to Israel and EU Member States' Ambassadors held a joint Yom Hashoah remembrance event with the Convoi 77 Project for victims of the Holocaust who were deportees from Drancy to Auschwitz. The event was hosted by EU Ambassador to Israel Emanuele Giaufret, at his residence in Herzliya.
Convoi 77 Project, founded and headed by Mr. Georges Mayer, focuses on education and remembrance for the people who were deported from Drancy to Auschwitz on July 31, 1944. 1309 deportees are commemorated with the support of various ministries of education in EU MS and other European countries, by connecting high school students from the towns and villages of the deportees with the victims' stories. Their memory is being revived in a very tangible way, through students' research so that individual lives will be remembered.
The event also included Violins of Hope, a project of a world-renowned violin maker, Amnon Weinstein who has spent the last two decades locating and restoring violins that were played by Jewish musicians in concentration camps and ghettos during the Holocaust.
Speaking at the event, Ambassador Emanuele Giaufret, Head of EU Delegation said: "We should never forget that Holocaust remembrance is not an effort unto itself, but is fundamental in the fight against anti-Semitism. In addition to the millions murdered in the Shoah, there were also millions who were nearly murdered, maimed, traumatized, orphaned and humiliated. Information and education are key elements in our fight against Antisemitism. Our Union was built as a reaction to the horrors of the Holocaust and the second world war. Remembering it and fighting Antisemitism is our duty towards the European Jewish citizens and indispensable to protect our common European values. The EU will continue to show resolve and to step up its efforts to promote education, combat bigotry and protect EU Jewish citizens."
Georges Mayer President of Convoi 77 said: "What motivates us is our desire that the history of these 1309 people won't be lost forever in the maelstrom of the Shoah; the wish to see these lives, violently interrupted, remembered in the form of narrative biographies, photographs, written traces, or, why not? shows or artistic works; concern for the urgency of transmission, at a time when the last witnesses of this period disappear. And the conviction that this period of history should be taught, beyond compassion and duty to remember, through active pedagogy."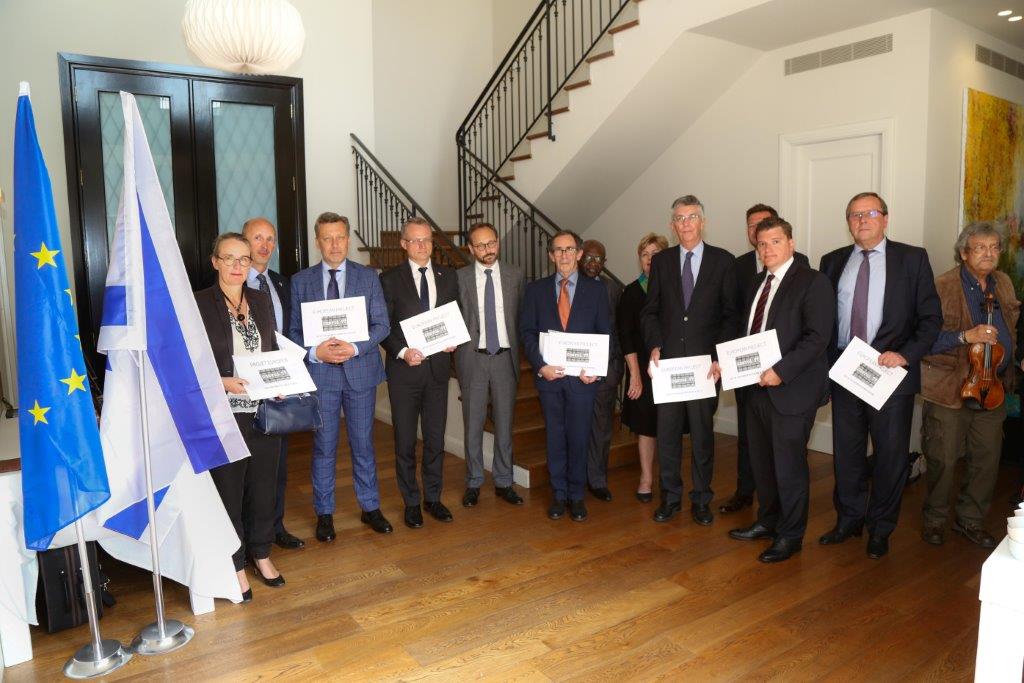 Background
The European Commission has a range of actions to combat Antisemitism, such as monitoring how European legislation combating Antisemitism is implemented and guiding the Member States on how to tackle anti-Semitic hate crime and hate speech.
In 2015, First-Vice President Timmermans and Commissioner Jourová appointed a Commission Coordinator on Combating Antisemitism to liaise with Jewish communities and strengthen the collaboration with international organizations, Member States' authorities, and NGOs.
In May 2016 the European Commission concluded a Code of Conduct with IT companies to take down illegal hate speech and created a High-level expert group to improve recording of hate crime across the EU. See: https://ec.europa.eu/info/policies/justice-and-fundamental-rights/combatting-discrimination/racism-and-xenophobia/countering-illegal-hate-speech-online_en
In January 2017 Commissioner Jourová endorsed the International Holocaust Remembrance Alliance's definition on Antisemitism as a useful tool for educational purposes in countering Antisemitism. The European Union also acquired Permanent International Partner status with the International Holocaust Remembrance Alliance in November 2018.
On 6 December 2018, the European Council unanimously adopted a Declaration on the fight against antisemitism and the development of a common security approach amongst EU member states to better protect Jewish communities and institutions.
Upon request of the European Commission, the Fundamental Rights Agency published, on 10 December 2018, the largest survey ever held among European Jews on their perception and experience of Antisemitism. The survey will serve as a basis for further fact-based policy making to counter anti-Semitism.
The 12th EU – Israel High-Level Seminar on Combating Racism, Xenophobia and Antisemitism took place in Brussels in December 2018.